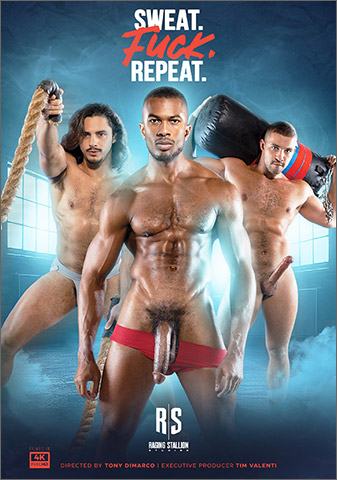 Studio: Raging Stallion
Directed by: Tony Dimarco
Year of Production / Release: 2022
Country of Production: U.S.A.

CAST:
Caden Jackson
Luca del Rey
Andre Donovan
Jarrod James
Lawson James
Colby Melvin
Drew Valentino
Sean Xavier
Eman Zod
INFORMATION FROM RAGING STALLION:
In this gym, there's only one mantra that these hot jocks live by – 'Sweat. Fuck. Repeat.'! From awardwinning director Tony Dimarco, this muscled-up film follows the nation's horniest athletes and football fans as they work out, tailgate, and worship each other's ripped bodies. Up first, MVP Caden Jackson is getting in some time with personal trainer Andre Donovan when he suddenly feels the trainer's tongue rimming his jockstrap-covered ass. Over at the team's favorite spa, masseur Luca del Rey knows just what to do to help football fucker Sean Xavier loosen up after practice. The locker room always sees the most action though and the second a towel-clad Drew Valentino steps out of the showers, he goes to slap and tap the beefy ass of Colby Melvin. Even the number one fans of these all-star athletes like Lawson James and Jarrod James get in on the action when they're tailgating and barebacking in the middle of a parking lot. After the big game, Sean Xavier and Zod Blakk are heading back to the gym to pump some iron and pump some dick into each other's holes. When it comes to bulking up and unloading in this gym, you just always have to remember the motto – 'Sweat. Fuck. Repeat.'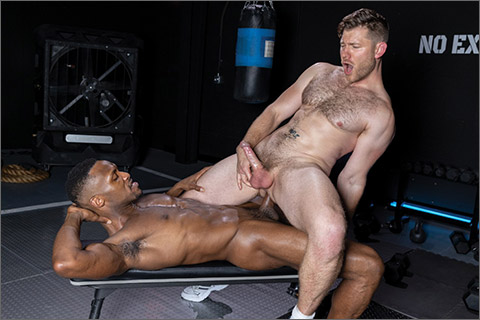 SCENE 1: Andre Donovan fucks Caden Jackson
Sweaty stud Caden Jackson has been working out with Andre Donovan for the better part of an hour when the personal trainer decides to pull down Caden's shorts to get a taste of his salty hole. Confused but intrigued, Caden gives into the sensation of Andre's tongue in his crack and leans in as Andre buries his face, fingers, and cock between his furry cheeks. Wearing only a jersey and a white jockstrap, Caden works up an even greater sweat as Andre rapidly pulls his big dick in and out of his beefy butt. After some ass-to-mouth action, Caden is covering Andre's abs in his cum right before leaning back to swallow down his trainer's hot load.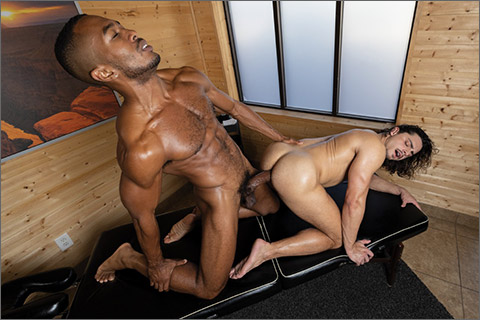 SCENE 2: Sean Xavier fucks Luca Del Rey
After a long week of intense training, hot jock Sean Xavier is just looking to relax with a deep massage and even though masseur Luca del Rey is new to the job, he knows exactly how to help the athlete loosen up. His hands glide over Sean's entire body and even graze his bubble butt before the football pro flips over and grows a quick hard-on that he happily allows Luca to service. Luca swallows down his 10 inches and 69s with Sean on the spa's massage table until he's ready to get pounded. Sean guides his bareback cock into the masseur's hole and dominates his muscular ass. Glistening in a shiny layer of sweat, Luca smothers his fur-covers abs in his own load and with Sean ready to release, sits on the athlete's face until the jock's big dick is bursting.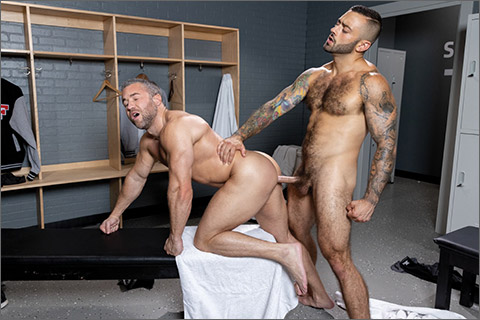 SCENE 3: Drew Valentino fucks Colby Melvin
When beefy gym bro Colby Melvin receives a fat slap on his ass in the locker room, he knows that it could have only come from one guy – Drew Valentino. Fresh out of the shower, Drew helps Colby enter his post-workout routine by worshiping his muscles, sniffing his pits, and fingering his glistening ass. Drew then thrusts his hard cock into Colby's hole and only pulls out so Colby can taste his own insides as he sucks down Drew's used cock. Back to being barebacked, Colby lets out a few deep drunks and works up a serious sweat as Drew drills him down in the empty, musky locker room. Colby soon begins showering his gym fuck with fresh cum before Drew spreads the salt and pepper daddy's legs and nuts all over his worn-out hole.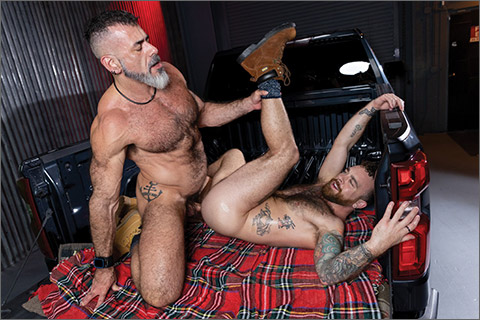 SCENE 4: Lawson James fucks Jarrod James
While listening to the big game in the bed of Lawson James' truck, tailgater Jarrod James decides that it's his turn to go deep. Right in the middle of this abandoned parking lot, Jarrod sucks off Lawson's daddy dick and rims the bearded stud's massive bubble butt. Now his turn to fuck around, Lawson has Jarrod drop to all fours and begins using his fingers to toy with his bro's tight hole. With Jarrod's back arched and his ass hanging off the truck's bed, Lawson slides his bareback cock into Jarrod and fucks him for any passerby to see. The grunting top pounds the furry football fan and fills his mouth with his cock until the bottom is ready to unload. Drained, Jarrod makes it his mission to eat Lawson's cum as he swallows down the hunk's stiff dick.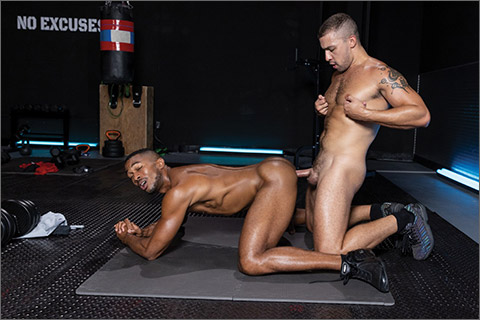 SCENE 5: Eman Zod and Sean Xavier flip-fuck
When Sean Xavier needs someone to pump him up at the gym, he can always count on Zod Blakk to pump him full of dick as he pumps iron. Even as Zod's long rod fills his throat in the middle of the dim gym, Sean doesn't stop lifting weights and only pauses to watch Zod service his oversized cock. The two naked men 69 before Zod gets into position to be rimmed and barebacked by the ripped jock. It's Zod's turn to take control as he sucks Sean from the back and slides his raw cock into his sweaty ass. The muscled flip-fuckers work up a sweat and before long, Zod is pulling out his big dick to blow and Sean is erupting his own massive load all over his glistening abs.

WATCH THE SCENES AT:
RAGING STALLION'S MEMBERS SITE
Members at RAGING STALLION'S MEMBERS SITE can watch these scenes and download extensive Photo Content from this production and get discounted pricing on all DVD and Print purchases.