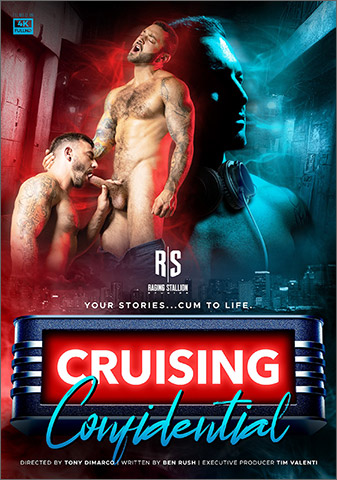 Studio: Raging Stallion
Directed by: Tony Dimarco
Year of Production / Release: 2022
Country of Production: U.S.A.

CAST:
Rodrigo Amor
Cole Connor
Luca del Rey
Ian Holms
Derek Kage
Zachary Minx
Riley Mitchel
Buck Richards
Drew Valentino
Alpha Wolfe
INFORMATION FROM RAGING STALLION:
'CRUISING CONFIDENTIAL', a steamy and provocative weekly podcast, has skyrocketed to the top of the streaming charts in no small part because of its stunning host Derek Kage and his deeply resonant voice. From the minds of award-winning director Tony Dimarco and acclaimed screenwriter Ben Rush, this immersive new feature takes you inside the world of this wildly descriptive podcast and its true stories of fiery hook-ups and down-and-dirty cruising. Take, for example, Drew Valentino in his car, waiting in a desolate parking lot for stranger Ian Holms to pull up and take his hairy cock. Their public bareback fuck becomes one of the podcast series' most visceral episodes. Unless, of course, you've heard the one about Zachary Minx – the guy who's looking to get railed by his straight next-door neighbor, Buck Richards. Derek Kage even includes his own personal tale of joining Luca del Rey and Rodrigo Amor for a public threesome in their gym's shower. But then there are also stories about Riley Mitchel and Alpha Wolfe, two strapping beasts who have an animalistic encounter at a seedy motel that leaves even the walls dripping. Derek Kage's talent for storytelling keeps audiences rapt week after week, but also makes sound engineer Cole Connor's heart – and dick – race. It's not long until Derek gets his tongue around a whole new story, this time one that touches him deep inside. With a never-ending catalog of the dirtiest cruising stories out there, it's obvious why Derek Kage is able to keep his entire 'CRUISING CONFIDENTIAL' audience edging for more, episode after episode.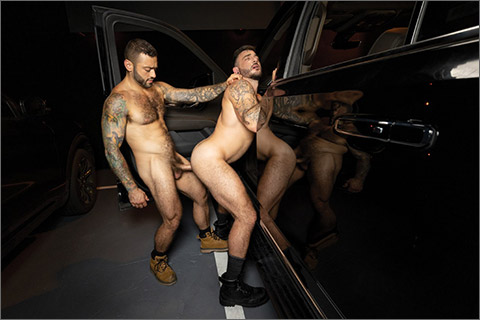 SCENE 1: Ian Holms and Drew Valentino
For the latest episode of 'Cruising Confidential', provocative podcast host Derek Kage is using his sultry voice to tell the tale of Drew Valentino's hunt for cock in a dim construction company parking lot. Sitting in his car, Drew knows that this is the perfect spot to find a man that knows how to work with his hands. Soon enough, he spots Ian Holms pulling up, giving a knowing glance, and getting out of his car to service Drew's cock through his driver's side window. Ian opens the door to go down on the brooding, tattooed stranger before bending over to let Drew tongue and bareback his hairy hole. The vacant parking lot fills with the echoes of Drew slamming himself into Ian's ass as the two men work up a serious sweat between their vehicles. Soon, the force of Drew's long cock has Ian unloading directly onto the parking lot's asphalt with Drew pulling out to deliver his cum directly into Ian's open mouth.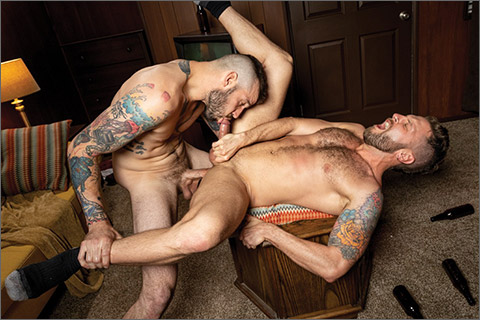 SCENE 2: Buck Richards fucks Zachary Minx
https://members.ragingstallion.com/en/video/ragingstallion/Cruising-Confidential/216195
This week's episode of the 'Cruising Confidential' podcast has host Derek Kage recalling a story from Zachary Minx – the man who can't stop thinking about getting railed by straight neighbor Buck Richards. Chilling in Zach's apartment, watching the game, and cracking open a beer, Zach is shocked when his masculine neighbor switches the game to some vintage gay porn. Zachary takes the hint and drops to his knees to swallow Buck's impressive eight inches and his low-hanging balls. Buck returns the neighborly love by sucking Zach's cock before going down to rim, finger, and bareback his ass. With his body covering the coffee table and drenched in sweat, Zach strokes out his load as Buck pulls out of his raw hole to unload his nut all over his satisfied neighbor.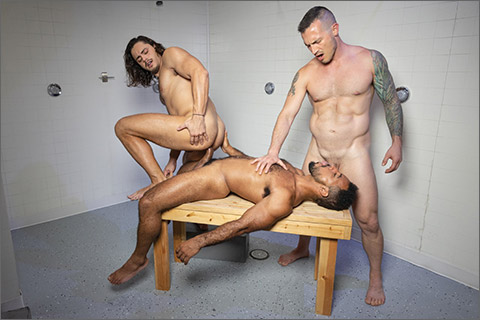 SCENE 3: Rodrigo Amor, Luca Del Rey and Derek Kage
Derek Kage's latest segment of 'Cruising Confidential' has the podcast host sharing his own personal experience with Luca del Rey and Rodrigo Amour in his gym's shower. The podcaster's deep voice reveals that this public hookup all began with Rodrigo and Luca exploring each other's bodies in the shower with Rodrigo rimming the long-haired jock and Luca sucking his gym crush's 9.5 inches. It's then that Derek walks into the locker room, strips down, and joins the two muscle fuckers. Still in shower, Luca bends over to get stuffed at both ends with Rodrigo barebacking him and Derek pumping his mouth full of cock. Now on his back on a nearby bench, Luca spreads his legs as Rodrigo busts all over his ball sack, Derek cums on his face, and he nuts all over his own thick body hair.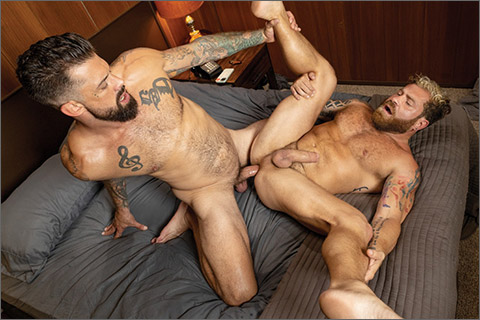 SCENE 4: Alpha Wolfe fucks Riley Mitchel
Alpha Wolfe's recent highway adventures are the subject Derek Kage's latest installment of his 'Cruising Confidential' podcast. After a long day on the road, big rig trucker Alpha finds out that the only motel for miles is sold out and he has to spend the night with fellow driver Riley Mitchel. Once Alpha hits the shower though, the mood suddenly shifts as Riley sees Alpha's naked body, reaches for the hairy trucker's cock, and kneels on the dingy motel floor. Now on the worn bed, the bearded bros 69 before Alpha takes his long cock to Riley's hole. The neon light of the 'no vacancy' sign creeps into the room and reflects off Alpha's glistening body as he delivers his final bareback thrusts, adding his own hot load to the fresh one already pooled on Riley's stomach.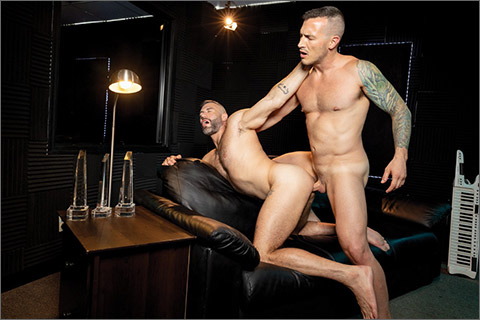 SCENE 5: Derek Kage and Cole Connor Flip-Fuck
After listening to hours of seductive storytelling from 'Cruising Confidential' host Derek Kage, audio engineer Cole Conner can't stop himself from reaching down and gently stroking his throbbing cock. To Derek's pleasure, Cole walks to the other side of the recording booth with his stiff dick and begins undressing Derek — all while the podcast host continues to narrate the steamy situation. The two move over to the studio's black leather couch where Derek orally services both Cole's pole and hole. With no one else around and the microphone still recording the raw sounds of their skin-on-skin encounter, the two flip-fuck bareback across the sofa until Derek is unleashing a torrent of cum across Cole's cheeks at the same time Cole is squirting his own load.

WATCH THE SCENES AT:
RAGING STALLION'S MEMBERS SITE
Members at RAGING STALLION'S MEMBERS SITE can watch these scenes and download extensive Photo Content from this production and get discounted pricing on all DVD and Print purchases.