Studio: Falcon Studios
Directed by: Tony Dimarco
Year of Production / Release: 2014
Country of Production: U.S.A.

CAST:
Luke Adams
Alexander Gustavo
Brandon Jones
Lance Luciano
Ryan Rose
Johnny V
Sean Zevran
FROM FALCON STUDIOS:
He's more than a pornstar: he's a 'COCKSTAR.' His sexual swagger is unmatched and nothing makes him cum more than showing off his talents for the world to see. Legendary director Tony Dimarco directs this super group of Cockstars who don't hold anything back. Lance Luciano and Sean Zevran explode in a burst of lust. Brandon Jones brings Alexander Gustavo to new heights of orgasmic sensation, then delivers a delicious load to Luke Adams' mouth. Johnny V rides Lance Luciano's cock to the point of no return. Luke Adams spreads his legs 180 degrees to accommodate Ryan Rose's massive tool. 'COCKSTAR' offers full-on, passionate sex with guys who know how to work each other's cocks, mouths and asses like no others. Every 'COCKSTAR' here is putting on the hottest show, and it's all for you!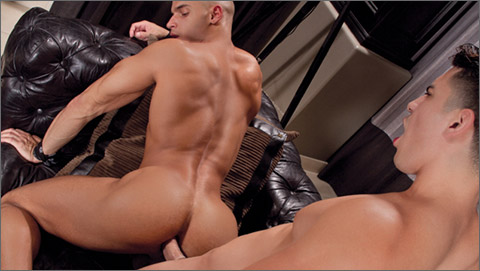 SCENE 1: Lance Luciano fucks Sean Zevran
The sight of Sean Zevran triggers Lance Luciano's bulging hard on. This situation calls for an impromptu fuck session. They strip bare while kissing, revealing Lance's smooth skin and Sean's bristling fur. Taking it to the next level, Sean strokes himself, prods Lance's taint and gives an expert blowjob. When Lance slaps Sean's ass, the glutes barely move: they're solid muscle. The only soft part is between the cheeks, where Lance dives in with his tongue. Rearing up, he spears Sean's hole with his cock, doggy style. Sean arches his back to get the fullest effect of Lance's lunging. They all but tie each other in knots, jousting from one position to another until their cocks explode cum together.

SCENE 2: Brandon Jones fucks Alexander Gustavo
Brandon Jones backs Alexander Gustavo up against the wall, making out and groping each other. Clothes come off, revealing smooth, muscled torsos and hard cocks. Brandon curls his tongue around Alexander's foreskin and eagerly swallows his cock. Lifting Alexander's hips, Brandon burrows his tongue deep into the crack of Alexander's ass. Alexander pivots to suck Brandon's cock, then opens up his tight ass for Brandon to fuck him hard and deep. Sitting on Brandon's cock, Alexander works his broad shoulders and muscular back to achieve the deepest, most intense penetration. Brandon is supercharged with pheromones and testosterone, and he swings Alexander around as if he were weightless. Without ever releasing Brandon's cock, Alexander discharges giant spurts of cum. Brandon helps him squeeze out the last drop before adding his own load to Alexander's jizz-covered abs.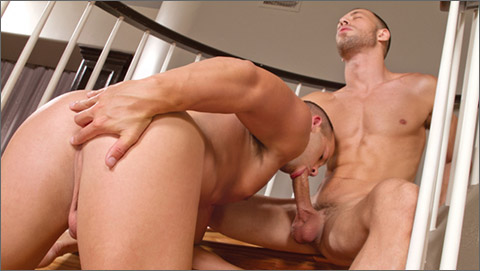 SCENE 3: Brandon Jones & Luke Adams (all oral)
Luke Adam's clothing can't disguise the hot, muscular body it conceals. All is revealed when Brandon Jones wraps him in an embrace and peels off the layers. Luke's cock, already at max hardness, practically pops into Brandon's mouth, leaving his fat, lazily hanging balls to bump against Brandon's chin. Brandon is equally hard, and Luke is hot to suck him. Luke swallows the entire shaft, then mashes his tongue into Brandon's nut sack. They kiss and repeat. Luke wraps a hand around Brandon's cock and sucks harder and faster, adding firm strokes to increase the buildup of cum in Brandon's balls. Brandon's breaths grow short; he shouts as he squirts multiple blasts of cum into Luke's face and mouth. With Brandon's load still dripping from his pecs, Luke strokes himself and pumps a load across Brandon's lips. They lick it up together, kissing and sharing the taste.

SCENE 4: Lance Luciano fucks Johnny V
Lance Luciano is lounging in bed when his sexual desire walks into the room. Lance commands him to stop and strip, all the way down to his huge boner. Lance brings out his own manhood to stroke. Only then is Johnny V's face finally revealed. Their hot throats envelope each other's hard cocks. Johnny throws a leg across Lance's body like he's mounting a horse and lowers his hole onto Lance's fat waiting cock. Lance bucks and thrusts. Then he flips Johnny on his shoulders stand and plows him from above, his cock plunging vertically all the way in and out. When Lance finds the perfect angle and depth, Johnny's cock spurts thick ropes of jizz across his washboard abs, causing Lance to add his own giant load to Johnny's cum-spattered torso.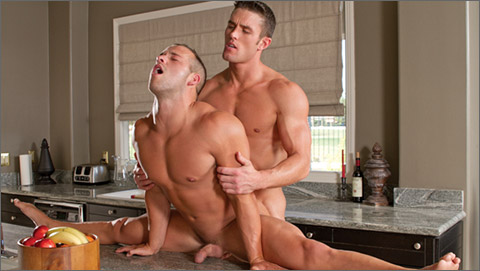 SCENE 5: Ryan Rose fucks Luke Adams
Ryan Rose teases Luke Adams about the way he eats a banana, and calls for a more graphic demonstration. Peeling their shirts off, they come together in a lustful embrace. Ryan tugs Luke's shorts off and sucks his rock hard cock until it glistens. Ryan's tongue dives into Luke's hole — lapping, swabbing, licking, probing and eliciting moans of approval. Ryan's cock goes in next and the action goes to another level. Luke spreads his legs 180 degrees to accommodate Ryan's huge tool, utilizing the kitchen counters to reach incredible new positions. When Luke can't contain his release any longer, he shoots an enormous load of cum across his abs. Luke slides to the floor, just in time to capture the huge wad of cum shooting from Ryan's cock.

WATCH THE SCENES NOW AT:
FALCON STUDIOS
Falcon Members can watch scenes from this Release anytime online.
DVD Releases debut online prior to DVD Release.