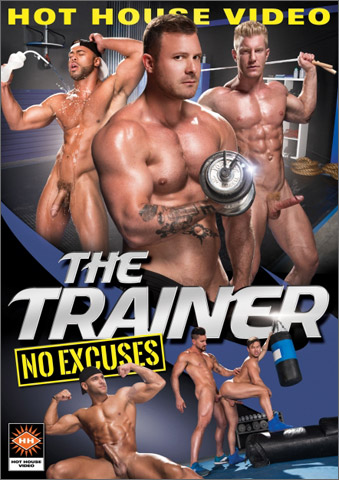 Studio: Hot House Entertainment
Directed by: Nick Foxx
Year of Production / Release: 2017
Country of Production: U.S.A.

CAST:
Micah Brandt
Rex Cameron
Josh Conners
Skyy Knox
Alex Mecum
Dakota Rivers
Jeremy Spreadums
Johnny V
Arad Winwin
Austin Wolf
Sean Zevran
INFORMATION FROM HOT HOUSE:
Get ready to get ripped and sweaty with the bodybuilders and instructors of 'THE TRAINER: NO EXCUSES'. These intense, motivated fitness pros and muscle studs are all working hard to get the hottest physique, and they let off steam by sucking and fucking each other's perfect bodies. Director Nick Foxx leads this fit cast in these fitness fuck sessions that satisfy completely. In this second edition of 'The Trainer', there are no excuses for not brining it all and hitting it hard. Micah Brandt and Alex Mecum are working out when the bulges in their pants get bigger than their bulging biceps. Alex slips his throbbing muscle inside Micah's tight bubble butt and pounds him to a ball draining finish on the gym mat. Trainer Sean Zevran pushes his client, Skyy Knox, beyond the limits of working just his muscles. He gets his client into the locker and flashes his thick, uncut cock. Skyy services his muscled-up trainer with his eager mouth before he takes the throbbing dick deep inside his ass. 'THE TRAINER: NO EXCUSES' will work you out and take your sexual fitness to the next level!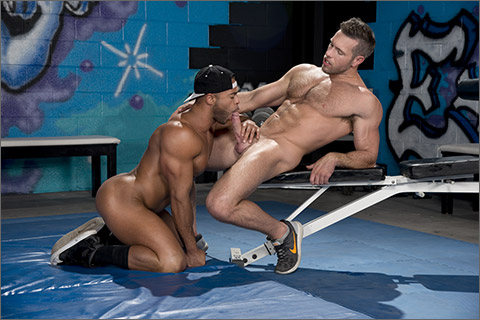 SCENE 1: Alex Mecum fucks Micah Brandt
Alex Mecum is lifting weights at the gym with his buddy, Micah Brandt. Micah promises Alex a present if he can do 30 reps of bench pressing. Alex takes the challenge and the two studs continue their workout until the chemistry in the air is overbearing. The horny muscle jocks kiss on the floor of the gym as they rub their bulging shorts and help each other out of their tight shirts. Alex is the first to unleash his already dripping beast of a cock, and Micah instantly follows by peeling off the rest of his workout gear. The sight of Alex's big thick dick makes Micah's mouth water. He drops to his knees before he takes the big hardon down his throat. All the cock sucking makes Micah hard as a rock. The two muscle studs 69 on the gym equipment as they suck and gag and drool all over each other's engorged dicks. Alex has fucking on his mind and he knows that he needs to get Micah's bubble butt ready for the action. Micah turns around and sits on his Alex's face to let him tongue fuck his hole. After a nice long rim session, Alex can sense that Micah is open and ready for entry and invites Micah to sit down on his big throbbing cock. Micah wants maximum penetration into his loosened-up asshole and lies on his back on a gym mat so that Alex can fuck him even deeper. The horny studs go at it hard until Alex's more primal instincts kick in and he rolls Micah over on the mat. Alex wraps his big bulging biceps around Micah and dominates him as he fucks his hole into submission. Micah's eyes roll into the back of his head and he dumps his load of cum all over the gym floor as Alex keeps up the relentless pounding. Micah's ass feels amazing and the internal throbbing sensation of Micah cumming on the floor is all it takes for Alex to dump his load. He pulls out and covers Micah's smooth, muscular back with a massive, pent-up load of jizz.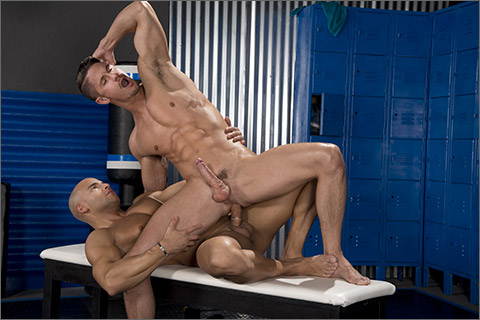 SCENE 2: Sean Zevran fucks Skyy Knox
Ripped stud, Sean Zevran, is training his muscled-up client, Skyy Knox, at the gym. They work their bulging biceps and perfect pecs before they call it a day and hit the locker room. The well-worked, sweaty hunks peel off their dirty gym clothes as Skyy tries to make small talk. Sean knows what he wants and shows off his thick, uncut cock to get Skyy's undivided attention. The massive hardon makes Skyy hard as a rock and the two gym rats start making out. Skyy needs that pulsing pole down his throat so he gets on his knees to service Sean on the bench by the lockers. Sean face fucks his eager-to-please client and cops a feel of his smooth, tight ass while he plows his face. Sean is throbbing hard and ready for more. Before he goes any further, he needs a taste of Skyy's sweet hole. The anticipation of getting Sean inside his body is almost more than the smooth stud can handle. Sean can sense that Skyy is ready for his hearty meat and slips it inside Skyy's open hole. He pounds his client from behind as Skyy's hard cock bounces and flops with every thrust. Skyy wants to feel the giant cock deeper inside him and hops on for a ride. He bounces up and down taking the big dick balls deep as he jacks his own rod. Sean is ready to be in control one last time and flips Skyy over, plowing the tight hole and hitting all the right spots. Skyy hits his limit with the relentless pounding and can't hold back any longer. He sprays his cut abs with a torrent of jizz that leaves him a sticky, wet mess. When Sean sees the giant load, he gives himself the okay to pull out and walk up to Skyy's panting face. He gives his client a massive creamy facial and then kisses up his cum. If this is the reward for a good workout, there's no doubt more people would be hitting the gym every day!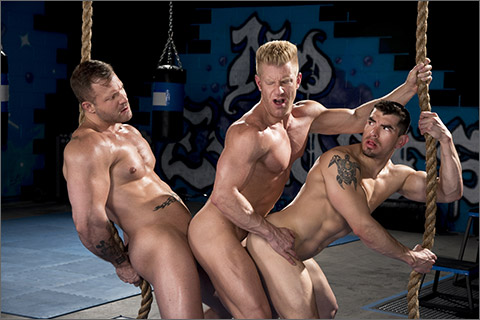 SCENE 3: Austin Wolf fucks Johnny V fucks Jeremy Spreadums
Austin Wolf is training Johnny V and Jeremy Spreadums at the gym. He has them doing all the regular things to stay in shape like climbing rope, doing chin-ups and lifting weights. Austin pats them on the ass with every good rep. All the physical contact and exposed muscles gets the threesome ready for fun and they peel off their shirts as they kiss and feel each other's boners through their gym shorts. Jeremy can't take the suspense of what the other cocks must taste like and he gets on his knees to suck off his two gym buddies. He takes turns slurping on each of their growing cocks and gets the guys ready for more action. Austin is horny as hell and wants to explore more of what Jeremy has to offer. Austin has Jeremy bend over, and like a true trainer, tells Jeremy what to do as he fingers and licks his client's fuzzy hole. Jeremy gets on the ground and spreads his legs wide open to let both Johnny and Austin rim his ass. Once the guys have Jeremy's hole nice and opened up with their tongues and fingers, Austin crams his thick cock inside Jeremy's back door. Johnny doesn't want to be left out of the fun and takes his turn with Jeremy when Austin steps aside to let him have a turn. The muscle studs tag team Jeremy's asshole as they pile drive the young jock. Johnny hops in the middle of the sandwich to fuck Jeremy as he gets his hole plunged from his trainer. The three horndogs form a chain with Johnny in the middle getting the best of both worlds until all three are ready to blow. Jeremy lies on the ground with the two other studs above him. Johnny lets loose and drains his balls all over his buddy, slathering his nipples with cum. The trainer is the next to go and lets loose all over Jeremy's face before Jeremy finally gives himself the go ahead to get the relief he needs all over his own muscled-up body. The three spent hunks writhe on the floor with their cocks dripping as they kiss and bask in the afterglow of the benefits of a healthy workout.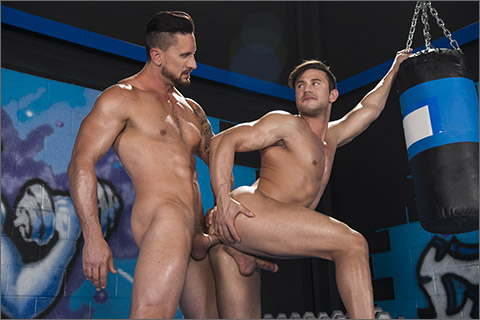 SCENE 4: Dakota Rivers fucks Josh Conners
Muscle hunk, Josh Conners, is training for boxing as he hits the bag and punch pads while Dakota Rivers eggs him on to go harder. It doesn't take long before they're both shirtless and making out with Josh running his mouth down Dakota's hot body and feeling his protruding cock. They both pull out their raging hard-ons and jack each other off before Josh drops to his knees to slurp up what Dakota has to offer. Josh goes deep to train his throat with loads of stringy spit and precum to lube it all up. Dakota has an agenda and is ready to get his new boxing client's asshole opened up with his tongue. He bends the hot boxer over with the boxing bag for support as he gets Josh primed and ready for some hardcore fucking. Without words, the hunks instinctively know what they both want next and Dakota takes the reins by slipping his thick, dripping cock deep inside Josh's open and throbbing hole. He pumps away as Josh's cock and balls dangle and swing between his legs with each thrust from his trainer's hard cock. Josh wants maximum penetration and lies back with his legs in the air to let Dakota plunge him even deeper. Josh remains hard all the way through the ass reaming and is ready to blow at any second. He wants to enjoy the full treatment and holds off as long as he possibly can. That's a tall order, and finally, with all the constant pounding, Josh's cock lets loose a torrent of cum that covers his heaving muscles and glistening body. Josh letting go of all his inhibitions is the cue that Dakota needs to follow suit. Dakota pulls out and blasts Josh's tight pecs with all the cum he can muster and the two kiss as both of their warm, white loads drip down Josh's ripped body and onto the floor.

SCENE 5: Arad Winwin fucks Rex Cameron
Rex Cameron is giving a sports massage to Arad Winwin after a long, hard workout. Arad is oiled up on the table as Rex works his muscles with a deep tissue massage. All the work from Rex's strong hands is getting Arad worked up. It's hard for him to relax as Rex works his way down Arad's bulging body. Rex can see that Arad has popped a boner that's splayed out on the table like a tail between his legs. Rex doesn't want to waste the opportunity of having such a hot muscle stud horny on his table and gets Arad to roll over onto his back so he can really work the muscle that counts. Rex adds a bit more oil and rubs it into Arad's pecs without losing sight of the big hard cock that's throbbing just below his abs. As Rex goes down on his client, Arad enjoys every second of the royal treatment and flexes his muscles to get Rex even more horned up and ready for the next step. Rex peels off his gym clothes and gets on his knees to take Arad's stiff one even further down his throat. Arad face fucks his massage therapist and fills his mouth and throat with his hard cock. Ready to go a bit further, Arad bends Rex over the massage table to lick his smooth, tight ass.After a nice long rimming and fingering session, Arad declares that he's "going to fuck that ass". He stands up and shoves his meat deep inside Rex's tight hole and pumps away, stretching it out with every intrusion from his big cock. The studs go deep and hard on the table with Arad taking control and dominating Rex every turn of the way. Arad fucks Rex until he can't hold off cumming any longer. With Arad pumping his hole, Rex shoots a geyser of cum that covers ripped torso and even squirts up to his face. With his massage therapist covered in jizz, Arad needs to finish off. He pulls Rex down to the floor and beats his meat into Rex's wide open mouth. Even after cumming all over Rex's mouth and face, Arad continues to be the alpha male and flexes his muscles as Rex keeps worshiping his body and taking all of Arad's commands.

WATCH IT NOW / MORE INFO AT:
HOT HOUSE ENTERTAINMENT
Hot House Backroom Members can see this film anytime online.
With extensive additional photography from every scene.