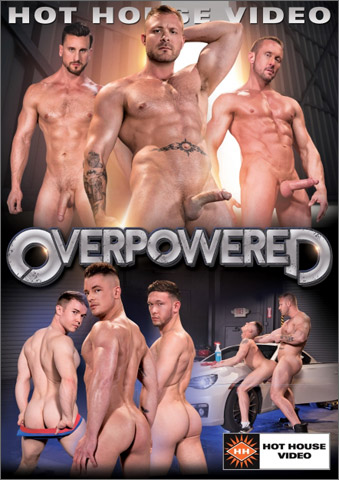 Studio: Hot House Entertainment
Directed by: Nick Foxx
Year of Production / Release: 2017
Country of Production: U.S.A.

CAST:
Rex Cameron
Gabriel Cross
Myles Landon
Mikey JR
Dakota Rivers
Austin Wolf
Sean Zevran
INFORMATION FROM HOT HOUSE:
Power, sex and control! Dominant fuckers seize their opportunities and these willing subs get manhandled in 'Overpowered'. Whether you like to be in control or you're into letting go and taking orders, you'll want to get 'Overpowered'. Whether they dominate in size or experience, Director Nick Foxx explores sexual power dynamics with eight horny fuckers as they take on their roles…getting it and taking it…HARD. Rex Cameron is washing a clients ride when Austin steps in and helps himself to a heavy dose of Rex's ass. Delivery boy Micky Jr stops in to drop off a package of parts to mechanic Myles Landon but ends up getting used by Myle's massive package. Whether you're an assertive dom or prefer to be submissive, 'Overpowered' is sure to satisfy.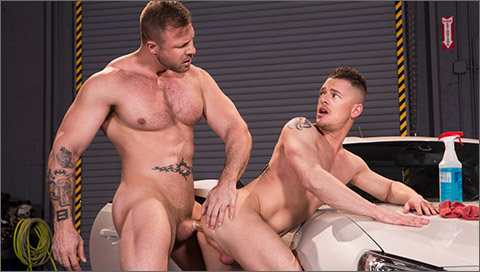 SCENE 1: Austin Wolf fucks Rex Cameron
While washing the windshield on a client's car, lustful apprentice Rex Cameron gets 'Overpowered' by muscle mechanic Austin Wolf, who quickly takes control of the situation. Working together on the car, testosterone in the air is making for a steamy setup. The burly mechanic walks straight over to his co-worker and pushes him down on the cars hood and pulls Rex's jeans to his ankles. Rex lifts one leg up on the spotless sports car to give Austin total access to his willing ass. With his tongue as his tool, Austin lathers up Rex's hole with thick spit. Austin drives the action and takes a break from probing Rex's hole with his tongue to get Rex on his knees to service his fat fuck stick. More than willing to service his superior's cock, Rex takes Austin's cock down his throat to the base until he gags on it. When Austin has had enough of Rex's warm mouth, they move to a sliding workbench and Rex slams his ass on Austin's dick. With his cock deep inside Rex, Austin reaches back and stuffs a finger in his hole to give Rex the ultimate stretch. They move it back to the car and Rex continues to take a rough pounding while on top of the car. As Austin keeps drilling his fuck hole, Rex shoots a thick load onto his smooth abs. Austin unloads on Rex's thigh and wipes it up to give Rex a taste and finish with a cum drenched kiss. Read More

SCENE 2: Myles Landon fucks Micky Jr
Myles Landon is hard at work in the garage when Micky Jr stops in to deliver some parts. After Myles receives the package, he gets Micky to stay and give him a quick hand with a van he's working on. After Micky helps out, he heads for the door, but Myles grabs the delivery boy, pulls him into his throbbing package and gropes his firm ass. Micky's libido is 'Overpowered' by the ripped mechanic, Mickey drops to his knees deepthroating Myles 9-inch tool. Myles fills Micky's mouth with cock before returning the favor with a sopping wet hummer. Myles continues to please the delivery boy when he bends him over against the van and lathers Micky's hole with his long tongue. Myles uses his tank top as leverage around Micky's neck as he parks his big meat in Micky's open hole. Micky gets drilled doggy style until he falls to his knees one last time to catch Myles' thick load into his open mouth. Covered in cum, Micky uses the cum on his face as lube to shoot his load out onto the shop floor.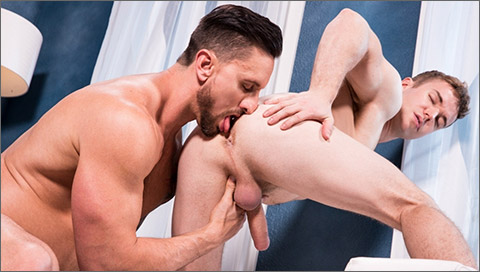 SCENE 3: Dakota Rivers fucks Gabriel Cross
Cute ginger, Gabriel Cross, is a house boy whose only job is to make his sugar daddy happy. Gabriel is enjoying an orange soda on the couch watching some porn when his hot muscle daddy, Dakota Rivers, storms in the room. Dakota is mad as hell because Gabriel has racked up his emergency credit cards buying frivolous toys for himself and his friends with Dakota's money. Dakota demands more than a few answers, when he throws the bills to the side and slams his crotch in guilty Gabriel's face. Gabriel knows he has a lot of work to do to get on his daddy's good side again and doesn't waste a minute taking the muscle stud's big hard cock down his throat. Dakota face fucks and gags the money-grubbing boy with his big daddy dick before he bends him over and eats his hot ass. When Gabriel is nice and wet and opened up, Dakota slides his meat inside the ginger's hairy hole and pumps his ass hard. Gabriel needs it deeper and turns around to ride the massively thick cock as Dakota overpowers his tight asshole balls deep and stretches his hole wide open. It's almost more than Gabriel can take and his cock explodes as his ass is getting pounded. Gabriel begs for Dakota's load and licks his daddy's big full sack as Dakota erupts all over Gabriel's hungry face. The toned boy licks up his keeper's cum with the satisfaction of knowing he has a place to stay for at least another night.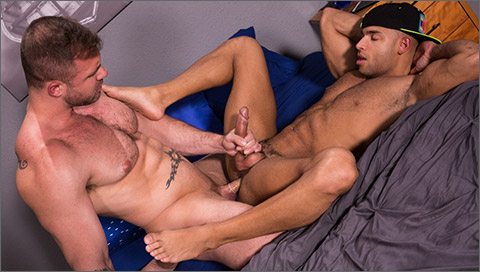 SCENE 4: Austin Wolf fucks Sean Zevran
Austin Wolf is getting ready for a night out with his buddies and decides to hop in the shower. While he's lathering up, his roommate, Sean Zevran, enters Austin's bedroom and goes through his nightstand. Sean helps himself to some cash and finds Austin's used jockstrap. He gives it a sniff and throws it in his other pocket just as Austin comes back from getting clean. Austin can't believe his eyes and is livid with what he's just witnessed. Sean knows he's in trouble and without lodging a protest, gets on his knees. Austin drops his towel to reveal an already rock hard dick that he shoves inside his roommate's face. Sean sucks on Austin's big dick and gags as Austin rams it down his throat. The ripped stud bends Sean over the bed and licks his smooth asshole to get him nice and opened up. Austin slips his fingers inside the dark skinned muscle jock before he slides his throbbing cock deep inside. He fucks the hell out of a moaning Sean, who is loving every inch of Austin's big pole. They go from doggy to missionary, and as Austin pumps away, Sean's big balls pull tight to his body and he unleashes squirt after squirt of creamy white jizz. The sight of Sean spraying his own tight abs makes Austin ready to blow. He pulls out and blasts his DNA all over Sean's dripping wet cock, mixing their cum together in a sticky pool of gooey goodness. Austin thinks Sean has learned his lesson, but if that's the punishment for a bad deed, then Sean will be back in to steal more of Austin's stuff very soon!

WATCH IT NOW / MORE INFO AT:
HOT HOUSE ENTERTAINMENT
Hot House Backroom Members can see this film anytime online.
With extensive additional photography from every scene.