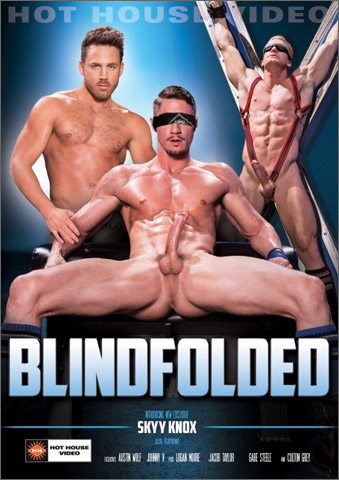 Studio: Hot House Entertainment
Directed by: Nick Foxx
Year of Production / Release: 2017
Country of Production: U.S.A.

CAST:
Colton Grey
Skyy Knox
Logan Moore
Gabe Steele
Jacob Taylor
Johnny V
Austin Wolf
INFORMATION FROM HOT HOUSE:
Deprived of sight and forced to rely on their other sexual senses, these hunks get 'BLINDFOLDED' and submit to the mercy of their anonymous hookups. Director Nick Foxx leads you and seven of the hottest Hot House men into the realm of sensory deprivation fucking. Skyy Knox gets surprised when Austin Wolf introduces another cock into their anonymous action. Skyy gets double the pleasure when Logan Moore and Austin fill unknowing Skyy with both their cocks. With eyes covered, Gabe Steele waits ass up for his anonymous fuck. Jacob Taylor arrives, giving him cock in every way, coats Gabe in cum and leaves. Get 'BLINDFOLDED', let loose of all control, and submit yourself to pure, anonymous ecstasy.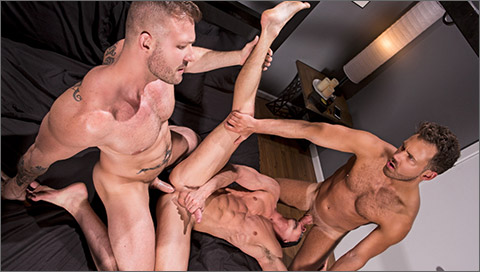 SCENE 1: Austin Wolf & Logan Moore spit-roast Skyy Knox
Blindfolded and sprawled onto the bed doggy-style, Skyy Knox eagerly awaits his anonymous stuffing. Beefy stud Austin Wolf sneaks in from behind and dives straight into Skyy's hairless fuck hole, lathering Skyy's ass with spit. After prepping Skyy's hole, Austin hits record on his phone as he pushes his fat member into Skyy's ass. Starting off slow, Austin picks up speed hooking Skyy by the mouth with his finger as he drills his eager center. Austin invites his friend Logan Moore to have a turn while Skyy is still blindfolded. Austin films Logan having his turn then joins in taking turns pounding their unknowing bottom. The Skyy's surprise, Austin reveals his double-cock secret by feeding him his cock while Logan stuffs him from behind. Not opposed in the slightest, Skyy takes every single thrust as the hunks take turns on his holes. With Skyy on his back and Austin pumping his hole, Logan oozes a thick load onto Skyy's face and mouth. Austin feeds Skyy the creamy spunk until Skyy blows his load onto his washboard abs. When it's Austin's turn, he tweaks his nipples and drips his load into Skyy's awaiting mouth. Covered in cum, Skyy removes his blindfold and is pleased with the revelation of his unknown fuckers.

SCENE 2: Jacob Taylor fucks Gabe Steele
Gabe Steele is on his hands and knees with his back arched when Jacob Taylor finds him blindfolded on the bed. After massaging and teasing Gabe's body, Jacob tears a massive hole in the ass of Gabe's briefs. As soon as Jacob see's Gabe's awaiting hole, he dives in tongue first. With his hole slick with spit Gabe is lead off the bed and down onto his knees again, where his lips are met with the pulsating cock head of Jacob's uncut tool. In swift, eager sluprs, Gabe gulps down Jacob's swollen member until he gets bent over the bedframe taking powerful thrusts from Jacob's cock. Jacob lays Gabe down on the bed and lays down his cock into Gabe's fuck hole continuing to pump intensely. Unable to hold back, Gabe shoots his load onto his scruffy abs where Jacob adds his thick load to the mix. Coated in cum, Jacob kisses Gabe and leaves him blindfolded waiting for more.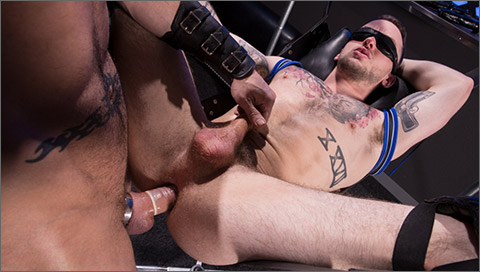 SCENE 3: Austin Wolf fucks Colton Grey
Blue-eyed bottom Colton Grey is hoisted up in a sling as Austin Wolf aggressively makes out with him and covers his eyes with a blindfold. At the total mercy of Austin, Colton throws his arms up and lets Austin drill his tongue and finger deep into his tasty ass. It doesn't take long for Austin to work his fat meat into Colton's slick, lubed asshole. The sling sways and rattles with each vigorous pump. Austin gets kinky and switches it up by putting an a few ice cubes into Colton's warm hole to cool it down a bit and keep fucking him silly. Colton loves the combination of the ice with Austin's cock and suspends himself out of the sling to be impaled by Austin's hole stretcher. They switch it up and move to a leather sawhorse where Austin stuffs Colton from behind. Colton turns on his back on the padded fuck bench and takes all of Austin's powerful thrusts deep inside him until he blows a massive load onto his chiseled abs. Austin finishes with an oozing load into Colton's hungry mouth.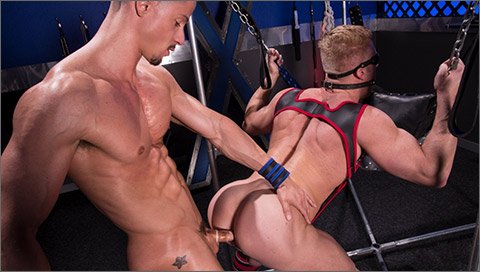 SCENE 4: Skyy Knox fucks Johnny V
Skyy Knox and Johnny V make out passionately until Skyy takes control and throws Johnny in a sling with a blindfold on. Johnny hoists his legs in the straps with the help from Skyy giving him easy access to Johnny's awaiting hole. Finger, tongue, finger, tongue is the tease for this unknowing bottom. After a rigorous bow and rimjob, Skyy instantly shoves his thick tool deep inside Johnny. Moans and screams echo from Johnny as Skyy's thrusts get faster and harder. Skyy wants more so he rips Johnny from the sling and ball gags him before bending him over and slamming Johnny's lossened fuck hole. Unable to see or speak, Johnny jacks and shoots thick ropes of hard earned cum. Skyy empties his balls all over Johnny's face and chest and licks it off. Eventually, Johnny's blindfold and gag are removed and the two share a sweaty, cummy kiss.

WATCH IT NOW / MORE INFO AT:
HOT HOUSE ENTERTAINMENT
Hot House Backroom Members can see this film anytime online.
With extensive additional photography from every scene.