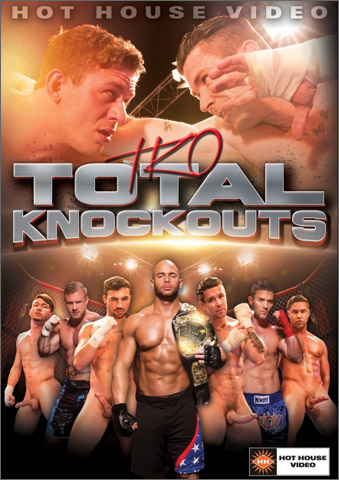 Studio: Hot House Entertainment
Directed by: Nick Foxx
Year of Production / Release: 2017
Country of Production: U.S.A.

CAST:
Josh Conners
Trenton Ducati
Ian Greene
Alexander Gustavo
Mikey JR
Ryan Rose
Austin Wolf
Sean Zevran
INFORMATION FROM HOT HOUSE:
It's the ultimate fight, everything's on the line and these fine athletic studs will do anything they can to finish off their opponents. They're jacked up, they're hot as hell and they're horny as fuck…they're 'TKO Total Knockouts'. They will fuck you until you beg for mercy and throw in the towel. Nick Foxx directs eight relentless, horny studs who punch, grapple, wrestle, suck, and fuck their way to mixed martial arts victory. Ian Greene is the up and comer vying for the win against Ryan Rose, but Ryan's USMC training gives him the upper hand over Ian and his tight ass. Austin Wolf asserts his solid, massive body in dominance against Josh Conners, claiming his prize with a no-holds-barred fuck. Trenton Ducati imparts some pro tips upon Alexander Gustavo, winning the fight and giving Alexander a hands-free cum shot. Mikey Jr. takes a beating from Sean Zevran, bending over to take Sean's cock doggy style and receiving a load to the face. Watch the excitement, intensity, and heavy action as the studs of 'TKO Total Knockouts' fight for the sexual dominance.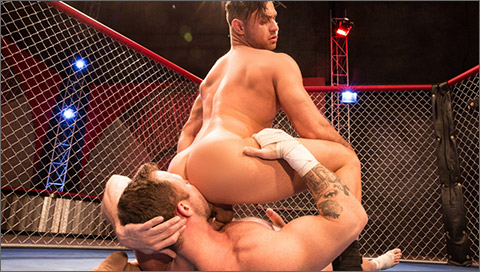 SCENE 1: Austin Wolf fucks Josh Conners
Austin Wolf and Josh Conners face off in a fight of ultimate sexual conquest. In three rounds, Austin Wolf's imposing physique gives him the edge over Josh Conners, pinning him to the mat. When Austin wins the fight, he asserts his dominance with some breath play, controlling Josh's air with a hand against his throat. Claiming his prize, Austin plays with his nipples as Josh swallows Austin's massive cock. Bending down, Austin uses his finger to work his spit into Josh's ass. When Austin lies down on the mat, Josh sits on his face while sucking Austin's cock. Spreading Josh's cheeks wide, Austin saturates the tight pink center with spit. With Josh's hole ready, it's time to fuck! Getting down on all fours, Josh takes Austin's cock doggy style. Austin grabs both of Josh's arms and bends them behind Josh's back, pinning him to the mat. Austin then leans forward, bearing down on Josh's hole with the full weight of his body. Turning Josh over, Austin fucks him deep and hard until they're about to blow. Josh explodes with a thick load that puddles on his stomach. Kneeling over Josh's face, Austin aims his load right at Josh's lips and hits the bullseye. TKO scored.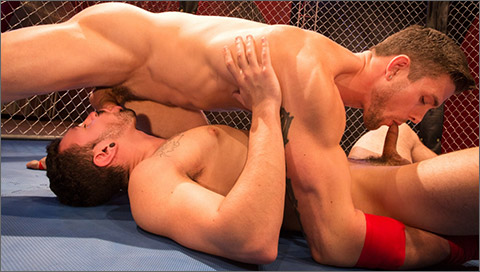 SCENE 2: Ryan Rose fucks Ian Greene
Enter the cage for the ultimate fight: the winner gets to fuck the loser! Ryan Rose and Ian Greene are the contenders duking it out for sexual glory. Ryan wins round one, using his USMC training to get the better of Ian Greene. Round two sees Ian putting up a good fight, but he ultimately succumbs to Ryan again. By round three, it's clear that Ryan is the victor, and to the victor go the spoils. In this case, that's Ryan's cock deep down Ian's throat. Long trails of spit drip towards the mat as Ian wraps his thick lips around Ryan's tool. With deep thrusts of his hips, Ryan pushes his cock ever deeper into Ian's mouth. Getting down on the floor, they get in the 69 position and suck each other's cocks. Ryan spreads Ian's ass and starts fingering his hole, working in the blowjob spit for lube. Eager for a taste, Ryan dives into Ian's ass with his tongue, making sure it's wet and slippery to take his cock. Standing over Ian, Ryan fucks Ian like a jackhammer, pile-driving his cock against Ian's g-spot. When Ryan lies down on his back, Ian sits down and rides Ryan's cock, using gravity to grind Ryan's tool deep inside. With Ryan still inside him, Ian blows his load across Ryan's rock hard abs. Ryan grabs his meat and shoots his wad across Ian's face. It's a TKO.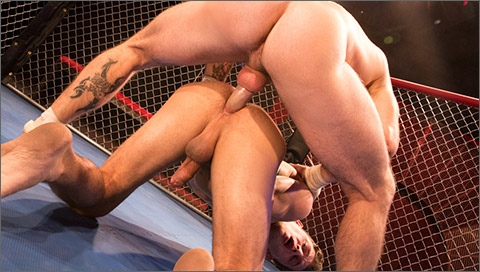 SCENE 3: Trenton Ducati fucks Alexander Gustavo
Trenton Ducati and Alexander Gustavo circle the ring, psyching each other out in an ultimate showdown for the fucking title. Trenton wins the first round, pinning Alexander to the ground. They lose their shorts for round 2, wrestling on the ground in their jockstraps. For round three they're fully nude, Trenton takes the win just before both studs fall on each other, sucking each other's cocks and pressing their lips together in passionate kissing. Trenton buries his face in Alexander's ass, and Alexander gulps down Trenton's thick cock, dripping thick spit onto the mat. Stretching Alexander's ass wide, Trenton spits directly into his hole, then shoves his tongue inside. With Alexander's hole fully lubed, Trenton gives it to him doggy style, slamming his cock deep into his firm butt. To gain even deeper penetration, Trenton puts his foot on Alexander's shoulder. Standing up, Alexander grips the chain link cage surrounding the ring as Trenton continues his pounding. Trenton fucks Alexander so hard that he shoots hands-free, dripping his thick, white semen across the ring. Kneeling down, Alexander opens his mouth for Trenton's massive, spurting cum shot. TKO and done.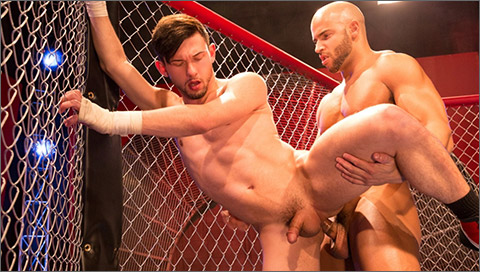 SCENE 4: Sean Zevran fucks Micky Jr
Sean Zevran has the muscle and the size advantage, but sneaky Micky Jr can dodge and weave to stay one step ahead. Who will be the winner? Sean's dominance serves him well as he takes down his agile opponent, and Micky rewards Sean's victory with a wet, sloppy blowjob. But Sean's eager to taste Micky's ass, so he makes Micky do a handstand to get his ass right in Sean's face! After getting Micky all lubed up, Sean shoves his fat cock into Micky's hole and lets him have it even harder than before when they were fighting in the ring. Gripping the cage for support, Micky takes Sean's pounding like a champ. Sean raises Micky's left leg into the air, forcing him to stand on one leg as he's getting fucked! Then it's back down on the mat for Micky as he puts his legs in the air and jerks his cock with Sean deep inside him. Micky blows his hot, white load across his tight stomach. Sean kneels right above Micky's face and jerks his thick cum right into Micky's open mouth. Cum splatters across Micky's lips and down his scruffy chin as he sucks Sean's massive cock clean. Clearly this match was a TKO and a win-win scenario.

WATCH IT NOW / MORE INFO AT:
HOT HOUSE ENTERTAINMENT
Hot House Backroom Members can see this film anytime online.
With extensive additional photography from every scene.