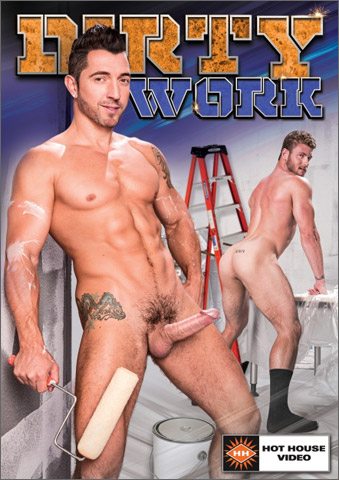 Studio: Hot House Entertainment
Directed by: Nick Foxx
Year of Production / Release: 2017
Country of Production: U.S.A.

CAST:
Chris Bines
Derek Bolt
Gabriel Cross
Jimmy Durano
Ace Era
Coby Mitchell
Nick Sterling
Austin Wolf
INFORMATION FROM HOT HOUSE:
These horny handymen have a talent for 'DIRTY WORK'. They labor all day, and they work each other over hard any chance they get. Director Nick Foxx gets down to business with eight pieces of rough trade for cum-spurting, hole-stretching, working-man action. Defiant painter Jimmy Durano responds to a scolding from his boss, Ace Era, by shoving his cock into Ace's face and ass! When Chris Bines gets bored on the job, he starts horsing around with his boyfriend Gabriel Cross, blowing one load in his face and another after fucking Gabriel's tight hole. Sparks fly between Austin Wolf and Derek Bolt in the workshop, and Derek is more than eager to get a taste of the big tool in Austin's pants. Nick Sterling uses two tools–his cock and a big mechanized dildo–to coax one of the biggest cumshots you've ever seen out of Coby Mitchell. If you hire these men to do your 'DIRTY WORK,' you might find them slacking off at the job, but at least they'll be hard, horny, and ready to bust a nut!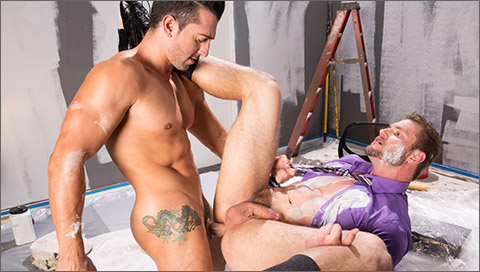 SCENE 1: Jimmy Durano fucks Ace Era
Jimmy Durano should have finished painting the office already, but he's barely halfway done. Jimmy's boss, Ace Era, is furious with him, but Jimmy doesn't give a fuck: he shows Ace what he thinks of him by rolling a giant stripe of paint across Ace's expensive dress shirt and tie. Ace is so mad he tries to fight Jimmy, but Jimmy has the upper hand because he knows how to subdue his blustering boss. Grabbing the back of Ace's head, Jimmy pushes Ace's face into his crotch. Whipping out his dick, Jimmy slaps it across Ace's lips, and since Ace is such an eager cock whore, he can't resist opening his mouth and allowing Jimmy's meat down his throat. Jimmy strips off his shirt, revealing his perfectly smooth torso and bulging muscles. Ace bends over a desk and Jimmy eats his ass. Paint splatters across ace's face and arms as their rampant connection gets more and more intense. Jimmy strokes his hard, uncut cock as he presses his face into Ace's ass. After teasing Ace with the tip of his cock, Jimmy thrusts his thick meat inside Ace's hole. He pounds Ace with vigorous, slamming pumps, and the tattoo that says 'FUCK ME' across Ace's ass bounces with the force of the impact. Turning over, Ace throws his right leg over Jimmy's shoulder and gets totally drilled by Jimmy's cock. The intense pressure makes Ace spill his seed, shooting it across his muscular torso. Getting down on his knees, Ace opens his mouth as Jimmy blows his load; cum spills everywhere. When Jimmy stands and heads toward the door, Ace asks, 'Where are you going?' 'You fucking finish the job,' says Jimmy, as he slams the used condom against the sticky paint on the wall.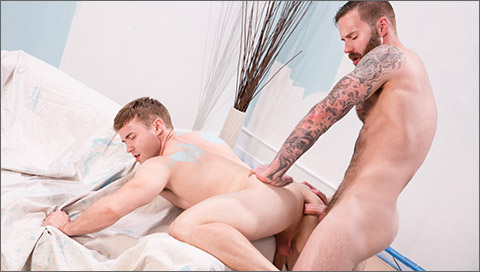 SCENE 2: Chris Bines fucks Gabriel Cross
Painting is a boring-as-hell job, so to make things more interesting, Chris Bines tags his boyfriend Gabriel Cross with the roller. Gabriel retaliates, and things escalate quickly. After a quick tussle, Chris grabs the back of Gabriel's head and gives him a deep kiss. A bulge shows in Gabriel's white shorts, and Chris heads straight for it, shoving Gabriel's cock down his throat. Gabriel plays with Chris' nipples and rubs his hands through Chris' hairy chest. Leaning against a couch, Chris feeds his cock to Gabriel's thirsty mouth. Gabriel sucks Chris' cock using plenty of spit, and the intense oral pleasure makes Chris shoot a huge load all over Gabriel's face. But Chris isn't done with Gabriel yet; bending him over the couch, Chris spreads Gabriel's ass and pushes his tongue into the tight pink center. With spit for lube, Chris uses his finger to feel inside Gabriel's sweet hole, and he can't resist putting his dick inside. With a hot body like Gabriel's in front of him, it's no surprise that Chris is already ready for round two. Gabriel flips over and puts a leg over Chris' shoulder, enjoying the sensation of Chris' big, hard cock pushing deep inside him. Sitting down on the couch, Chris invites Gabriel to sit on his cock, and Gabriel's uncut meat slices through the air as he rides Chris. Jerking his cock with Chris still inside him, Gabriel shoots a massive load, then massages Chris' hairy body while he jerks out a second huge cum shot.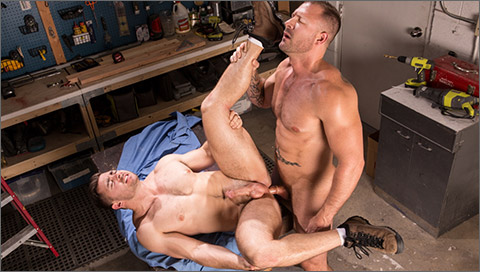 SCENE 3: Austin Wolf fucks Derek Bolt
Derek Bolt is making precise measurements in the workshop when sparks fly between him and Austin Wolf. Austin notices the look on Derek's face and invites him over. As they make out, Austin guides Derek's hands to his bulge, and Derek pulls Austin's cock out of his jeans. Sinking to his knees, Derek swallows Austin's cock as Austin plays with his nipples. Reaching down the back of Derek's jeans past his jockstrap, Austin finger's Derek's tight hole. Eager to get a taste, Austin pushes his face into Derek's ass as Derek kneels on the workbench. Stripping off Derek's shirt, Austin grabs his nipples from behind and tweaks then as Derek's huge boner pokes out front his jockstrap. Derek is eager for what comes next: Austin shoves his thick, hard cock between Derek's firm ass cheeks and starts fucking him doggy style with fast, powerful thrusts. Switching things up, Austin lies flat on his back as Derek raises and lowers himself on Austin's mighty tool. Putting Derek on his back, Austin pumps away with intensity. Derek jerks his cock, and his balls flop up and down. With Austin still inside him, Derek blows a massive, thick load that lands on his hairy treasure trail. Standing over Derek's face, Austin strokes his cock until he shoots a massive rope of cum across Derek's face. Austin leans down for a final kiss, tasting his semen on Derek's lips.

SCENE 4: Nick Sterling fucks and dildo drills Coby Mitchell
Nick Sterling is stroking his tool in the workshop, watching some porn on his phone. Suddenly, Coby Mitchell busts in on him. 'I was just about to cum,' says Nick. 'I'm glad you didn't,' replies Coby. Nick takes off Coby's shirt, and they stroke each other's cocks while making out. Coby gets on his knees and takes Nick's cock into his mouth, drenching it with spit and sucking it down all the way to the base. Nick gets down to worship Coby's cock next, tugging on his balls and deepthroating Coby's hard shaft. Then, they get creative, with Nick using a dildo on the end of a power tool to drill Coby's ass. Then Nick gives him the real thing, slamming his meat into Coby's willing hole. The tight skin around Coby's hole flexes and stretches as Nick pounds away. With Coby's leg over Nick's shoulder, Nick can fuck him harder and deeper than ever. When he's about to cum, Nick pulls out and shoots a massive, spurting load that drenches Coby's cock and balls in hot cum. Grabbing the dildo drill once again, Nick powers it up in Coby's hole, resulting in a giant geyser of cum that explodes into the air.

WATCH IT NOW / MORE INFO AT:
HOT HOUSE ENTERTAINMENT
Hot House Backroom Members can see this film anytime online.
With extensive additional photography from every scene.