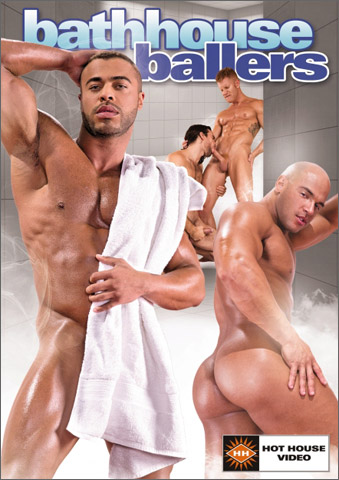 Studio: Hot House Entertainment
Directed by: Nick Foxx & Tony Dimarco
Year of Production / Release: 2017
Country of Production: U.S.A.

CAST:
Micah Brandt
Woody Fox
Brendan Phillips
Scott Riley
Johnny V
Austin Wolf
Sean Zevran
INFORMATION FROM HOT HOUSE:
Around every corner there is another hot stud to hook up with anonymously in 'Bathhouse Ballers'. Take a trip cruising through this steamy sex spa and find a baller to hit it with. Director Nick Foxx takes you into the sauna and the communal showers with seven of the sexiest muscle men in the world! Brendan Phillips shows off his ass to Micah Brandt in the communal showers, and Micah uses his tongue, his fingers, and his cock to thoroughly explore Brendan's hole. Giant muscle man Austin Wolf gives Scott Riley a peep show in the sauna, then leads him into the shower room for a dominating fuck session. Johnny V drips precum all over the sauna as he sucks Woody Fox's massive cock and delights in an epic anal reaming. Micah Brandt returns to the sauna with beefy hunk Sean Zevran for a flip flop session that culminates in two epic cumshots. When you see how sexy these 'Bathhouse Ballers' are, you'll want to head on down and get serviced right.
Read Less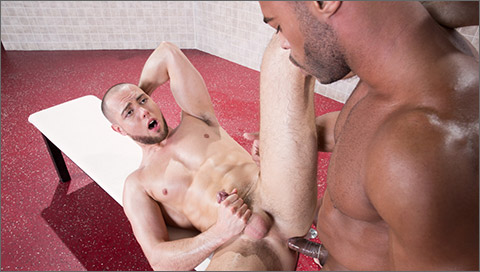 SCENE 1: Micah Brandt fucks Brendan Phillips
Brendan Phillips hits the communal bathhouse showers to get cleaned up. Micah Brandt is already there, stroking himself under the water. Turning around, Brendan shows Micah a flash of his tight, pink asshole. With a devilish grin, Micah pulls Brendan close for a deep, passionate kiss. Getting down on his knees, Brendan gets a throat full of Micah's hard, thick cock. Bending over a bench, Brendan shows off his tasty ass to Micah, who dives in tongue first for a spit-fueled rim job. Putting his legs in the air, Brendan strokes his cock as Micah eats his ass, depositing plenty of thick spit. Sliding his cock into Brendan's ass, Micah delivers a pounding fuck that stretches Brendan's hole. Doggy style gives Micah even more power to his intense thrusting. With Brendan's tight ass on his cock, Micah goes over the edge and shoots a huge load onto Brendan's ass cheeks. Micah uses his cock to smear his load around on Brendan's ass, then kneels down to get a taste of Brendan's load. Micah's finger in his ass, Brendan lets loose with his hot, white load, which Micah laps up eagerly. Running his tongue along Brendan's body, Micah works his way upwards until their lips meet and they taste Brendan's cum together.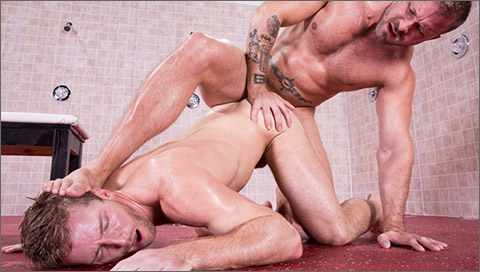 SCENE 2: Austin Wolf fucks Scott Riley
A white towel barely covers Austin Wolf's throbbing manhood as he stretches out in the sauna. His hairy, muscled body is on full display as cut, lean hunk Scott Riley sits down on the bench across the room. Sensing Scott's presence, Austin's hand grazes past his nipples on their way down to his crotch, adjusting his boner underneath the towel. Scott begins playing with his cock as Austin's towel falls off completely and his thick cock swings through the air. Standing up, Austin gives Scott a full-on look before wrapping himself in a towel and heading to the communal shower. Austin stands under the warm running water and strokes himself as Scott rounds the corner. Scott and Austin's boners are both at full attention as they stand across from each other, flexing their muscles. Turning around, Scott shows off his ass to Austin, who gazes at Scott's round, firm butt with anticipation. Reaching over, Austin grabs Scott by the balls and pulls him close. Standing together under the water, they finally kiss. Scott tongues at Austin's nipples, and Austin uses his fingers to probe Austin's ass. Sinking to his knees, Scott opens his jaws and inhales Austin's massive man meat. Austin grabs his nipples to enhance his pleasure as he throat-fucks Scott's handsome, scruffy face. Bending over a changing bench, Scott spreads his cheeks for Austin to explore with his tongue. With Scott's ass lubed up, Austin uses his thumb to probe Scott's hole, then slides his thick cock in. To fully dominate Scott, Austin positions him with his face on the floor and his ass in the air for a pile-driving fuck. Moving back to the bench, Scott lays on his back and jerks out a thick, white load. Austin strokes himself until he shoots his wad in Scott's mouth.

SCENE 3: Woody Fox fucks Johnny V
With beads of sweat across their chests, things are heating up with Woody Fox and Johnny V in the sauna. Pulling the towel off his hairy, muscled body, Woody Fox reveals his enormous, throbbing boner. Eager to show himself off, ginger-haired muscle man Johnny V reveals his own enormous manhood as he leans over to swallow Woody's cock.
   As Woody's cock massages the back of Johnny's throat, Johnny's cock starts leaking precum in a long, dangling strand. Eager to get a taste of that, Woody goes down and wraps his lips around Johnny's cock while stroking himself. Thick spit lubes the shaft of Johnny's thick cock as Woody sucks, and Woody uses some of that spit to lube up Johnny's ass. Bending over, Johnny gives Woody full access for a slobbering rim job as even more precum drips out of Johnny's cock. Sitting down on the bench, Woody invites Johnny to go for a ride on his cock, and Johnny uses his thick, muscular legs to raise and lower himself on Woody's enormous dick. Switching to doggy style let's Woody show off his athletic thrusting as Johnny's hard meat swings through the air. As Woody fucks faster and faster, Johnny strokes his cock and shoots a massive, spurting load. Woody grabs his cock and blasts an enormous cumshot onto Johnny's firm ass cheek. With their session complete, Johnny heads off to hit the showers as Woody catches his breath in the sauna.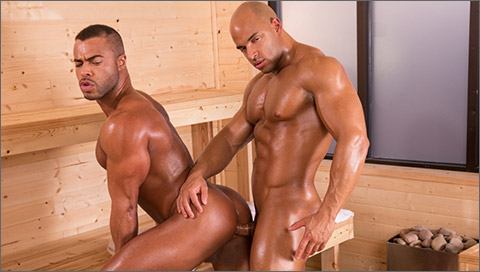 SCENE 4: Sean Zevran fucks Micah Brandt
Micah Brandt sits down next to Sean Zevran in the sauna. Sean, eyes closed, glistens with sweat across his smooth, broad, muscular frame. Micah reaches over to grab a handful of Sean's massive cock, and Sean returns the favor. Bending over, Micah wraps his lips around Sean's throbbing meat and somehow manages to fit it inside his throat. As Micah stimulates the sensitive tip of Sean's cock with his tongue, Sean reaches around to play with Micah's ass. Sean's huge nuts hang loose in the hot, humid air of the sauna. Standing up on the sauna's second level, Micah feeds his rock hard cock to Sean, then spins around so that Sean can rim his ass. With Micah's hole lubed and ready, Sean slides his cock in doggy style. Micah's gorgeous ass ripples with every thrust. Sean's eager to get fucked too, so he spreads his legs and enjoys a sloppy rim job from Micah. Rolling his body, Micah delivers powerful, sensual thrusting that makes Sean moan with pleasure. As drops of sweat drip across Micah's huge chest, Sean strokes his cock until an explosion of hot, white semen splatters across his washboard abs. Ever the ass hound, Micah licks Sean's hole while stroking himself, then stands up to deliver his thick load directly to Sean's heavy nut sack. After using his cock to rub his load into Sean's balls, Micah bends over to share another passionate kiss.

WATCH IT NOW / MORE INFO AT:
HOT HOUSE ENTERTAINMENT
Hot House Backroom Members can see this film anytime online.
With extensive additional photography from every scene.