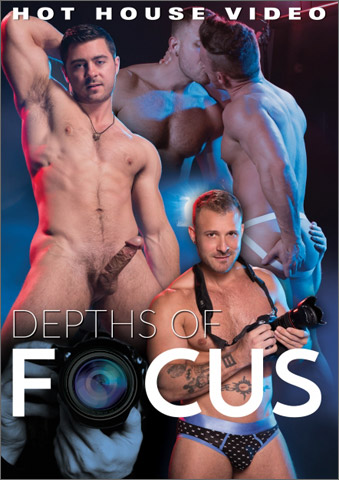 Studio: Hot House Entertainment
Directed by: Nick Foxx
Year of Production / Release: 2017
Country of Production: U.S.A.

CAST:
Derek Bolt
Jordan Boss
Micah Brandt
Gabriel Cross
Jacob Taylor
Johnny V
Alexander Volkov
Austin Wolf
Sean Zevran
INFORMATION FROM HOT HOUSE:
Go behind the scenes of a steamy Hot House shoot in 'Depths of Focus' and get a special all-access look at what happens behind closed doors when shooting the hottest porn stars on the planet! Director Nick Foxx helms this tell-all expose of the intense sexual encounters that occur on and off set. Photographer Austin Wolf and his production assistant Gabriel Cross nail their photoshoot with Alexander Volkov, then nail each other in a searing three-way, with Alexander as the meat in their fuck sandwich. Production assistants Jacob Taylor and Jordan Boss use their break from set to start some steamy action of their own. Sean Zevran gets fitted for his photo shoot by Derek Bolt, but the attraction is too much and Sean quickly find himself fitting his cock deep in Derek's ass. Models Micah Brandt and Johnny V wrap their photo shoot, but it's not long before their wrapped in heated off-set fucking with Micah plowing Johnny relentlessly. If you ever wanted to know what is really going on when porn stars are on the set, don't miss 'Depths of Focus.'
Read Less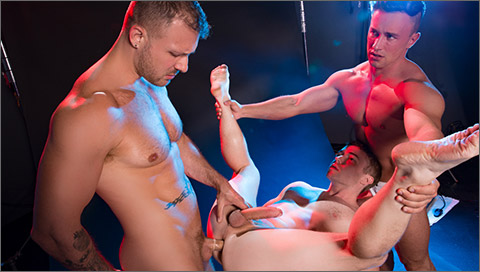 SCENE 1: Austin Wolf fucks Alexander Volkov & Gabriel Cross
It's quiet on the Hot House set as Austin Wolf preps his photography gear. Production assistant Gabriel Cross introduces today's subject: Alexander Volkov. 'Today's going to be a closed set. You guys can go,' announces Austin to the other crew. After loosening Alexander's tie, Austin steps behind the camera and starts shooting. After a few poses, Austin instructs Gabriel to remove Alexander's shirt. As Gabriel opens Alexander's shirt to reveal his smooth, muscular torso, their eyes meet and they share a smile. Alexander's next look is an edgy black bodysuit, and after that Alexander steps into a tight, white jockstrap. They wrap the shoot, and Alexander turns around to show off the huge bulge in his jockstrap. 'Did you enjoy that?' asks Austin. Alexander affirms, and Austin and Gabriel both move in to make out with the ripped hunk standing before them. Unbuttoning his fly, Austin shoves down his jeans and puts his cock in Alexander's mouth. Gabriel bends down to suck Alexander's hard meat, then stands up and makes out with Austin while Alexander alternates between sucking their cocks. Gabriel proves he has a perfect mouth for cocksucking too, trading places with Alexander and using his mouth to stimulate the sensitive tips of Alexander and Austin's cocks. Bending over a stool, Alexander sucks Gabriel's cock as Austin rims Alexander's ass. With Alexander lubed up, Austin slides his thick meat into Alexander's backdoor. Gabriel plays with Alexander's nipples as they make out, sharing long, passionate kisses. Alexander shows off his versatility when he becomes the meat in a fuck sandwich between Austin and Gabriel. Switching things up, Gabriel spreads his legs as Austin and Alexander take turns fucking him. Gabriel strokes his rock-hard dick and busts a nut, shooting his cum onto his stomach with Alexander still inside him. Kneeling down, Gabriel opens his mouth to catch Alexander and Austin's hot loads, letting their semen splash across his tongue and roll down his face. Read Less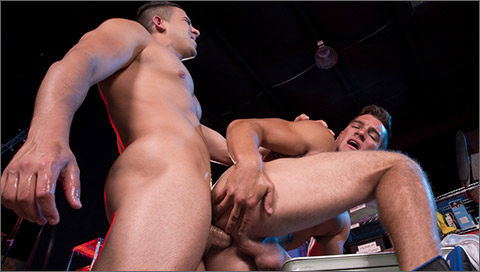 SCENE 2: Jacob Taylor fucks Jordan Boss
As Director Austin Wolf photographs Alexander Volkov in the studio, production assistants Jacob Taylor and Jordan Boss retreat to the gear room where they initiate some steamy action of their own. Jordan playfully shows Jacob his ass, and Jacob takes the invitation, pulling down Jordan's shorts. They make out while stripping their shirts off, revealing smooth, jacked bodies. Eager to show off his cock sucking skills, Jordan whips out Jacob's cock and cups the base while working the sensitive, uncut head with his wet lips. Spit slides down Jacob's shaft and off his balls. Trading places, Jacob returns the oral favor for Jordan. Spinning around, Jordan spreads his ass and gives Jacob full access to the tender, pink hole. While applying slick spit with his tongue, Jacob uses his thumb to push the saliva into Jordan's ass. With Jordan's ass practically begging to get fucked, Jacob mounts him doggy style and slides in. With ever-increasing intensity, Jacob works Jordan's hole as sweat glistens from their muscular shoulders. Jordan's verbal affirmations make it clear just how much he craves Jacob's fat dick inside him. Flipping on his back, Jordan takes Jacob's cock directly to his most sensitive, stimulating area. Jerking his cock, Jordan shoots a massive load that projects across his thick arms. Jacob shoots like a fountain, delivering massive arching ropes of cum that splatter across Jordan's beefy torso. With their own behind-the-scenes fun finished, it's time to get back to work. Read Less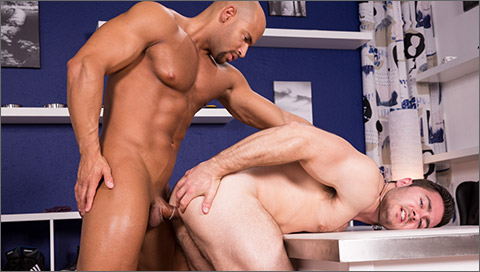 SCENE 3: Sean Zevran fucks Derek Bolt
With a big shoot coming up, Sean Zevran pays a visit to his top-notch tailor, Derek Bolt. Of course, to get the most accurate fit, Sean must take everything off. Sean's been making eyes at Derek since he walked in the door, and as soon as his pants come off, Sean's massive cock begins to swell and rise. Derek goes in to measure Sean's inseam, and with all that thick meat just hanging there in his face, Derek can't resist getting a taste. Derek's cock sucking skills are awe-inspiring as he makes Sean's massive tool disappear down his throat. Sean thrusts his hips as Derek strips off his shirt. Spinning around in front of the mirror, Derek spreads his ass for Sean. Diving in tongue first, Sean lubes up Derek's tight, pink hole with plenty of spit. Mounting Derek in doggy style, Sean beings to pound Derek's hole with powerful thrusts. To feel Sean even deeper inside him, Derek braces himself against a table, encouraging Sean to let loose. Their muscles bulge and flex as they work up a sweat. When Sean reaches his climax, he pulls out and blows a huge load right on Derek's muscular ass. Sean plays with Derek's nipples, which sends him over the edge, shooting his thick, white load onto his stomach. They press their lips and bodies together, relishing the moment of spontaneous sexual release.

SCENE 4: Micah Brandt fucks Johnny V
The photographer shoots action shots of muscle hunks Johnny V and Micah Brandt as they pose together on set. After the photographer calls 'that's a wrap', Johnny and Micah head back to wardrobe and get undressed. While stripping down, the two sneak glances at one another until they're both naked and rock hard, running their hands around each other's bodies. Micah is first to sink to his knees and slurp on Johnny's swollen member. When it comes time for Johnny to return the favor, he's left gagging and hurling strings of spit onto Micah's cock and balls. With Johnny's cock at attention, Micah switches his focus to Johnny's hairless hole. Slinking his tongue in and around Johnny's eager ass, lubing it up for the pounding to come. Once Johnny's hole is primed with spit, Micah mounts him from behind and pummels Johnny's butt while they're leaning against a mirror. Things get hotter when Micah throws Johnny on his back and pounds his prostate hard. Johnny takes every last thrust from Micah until he blows a massive wad all over his ripped physique. Micah whips his tool out of Johnny and adds his spunk to the collection of cum on Johnny.

WATCH IT NOW / MORE INFO AT:
HOT HOUSE ENTERTAINMENT
Hot House Backroom Members can see this film anytime online.
With extensive additional photography from every scene.