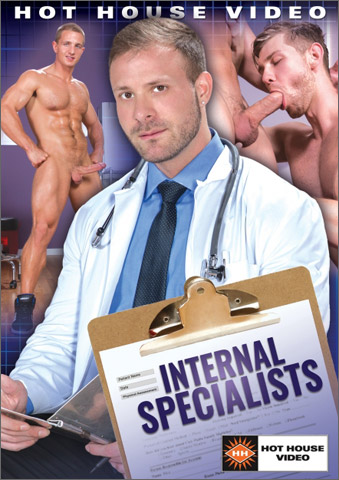 Studio: Hot House Entertainment
Directed by: Nick Foxx & Tony Dimarco
Year of Production / Release: 2017
Country of Production: U.S.A.

CAST:
Skippy Baxter
Adam Bryant
Asher Devin
Dorian Ferro
Woody Fox
JJ Knight
Landon Mycles
Jacob Peterson
Armond Rizzo
Austin Wolf
INFORMATION FROM HOT HOUSE:
The Doctor is in…inside his patient's ass. These 'INTERNAL SPECIALISTS' take their work seriously, and while they're stand up professionals, sometimes they're attractions and urges take over. They know it's wrong, but it feels so right to do everything they can to thoroughly assist their patients and coworkers in taking care of their sexual needs. Nick Foxx and Tony Dimarco deliver medical office fantasies where the patients, doctors and assistants are delving deep inside each other and specializing in getting off with maximum intensity. Woody Fox visits Dr. Dorian Ferro for a physical, but Dr. Ferro is the one who gets deeply probed by Woody's hot cock. The sexual tension between patient Asher Devin and physician's assistant Skippy Baxter grows so immense, neither man can ignore it, so Asher puts Skippy's legs in the air and fucks his brains out! Armond Rizzo needed a new doctor, and his friends all had rave reviews of their 'experience' with Dr. Austin Wolf. After Dr. Wolf administers his cock from the front, from the back, and even upside down, Armond is yet another fully satisfied patient! With a sore back, Landon Mycles needs some special attention, and Dr. JJ Knight knows just the trick to work out his deep aches and pains: an intense pounding with Dr. Knights humongous dick. Medical assistants Adam Bryant and Jacob Peterson are the only ones left in the 'Internal Specialist' office, and they can't wait to fulfill some fantasies of their own. After they strip off their scrubs, Adam delivers a powerful and satisfying fuck to his coworker's eager ass. Visit these 'INTERNAL SPECIALISTS' and you'll be in for a medical ejaculation like you've never experienced before.

SCENE 1: Woody Fox fucks Dorian Ferro
Woody Fox visits Dr. Dorian Ferro for a routine physical so he can play baseball. 'What position do you play?' asks Dr. Ferro. 'I'm a pitcher,' Woody says with a wink and a smile, trying to get a rise out of his hot doctor who he expects plays for his 'team'. Seeing just how far he can push his doctor fantasy, he continues to see if Dr. Ferro will bite. When Dr. Ferro has Woody drop trou to cup his balls, Woody's cock swells and throbs. After a little fondling and hesitation, Dr. Ferro finally gives in to his desires. Eager to play catcher to Woody's pitch, Dr. Ferro wraps his lips around Woody's enormous cock. While stroking Woody's shaft with his left hand, Dr. Ferro uses his soft tongue and lips to stimulate the sensitive tip. Dropping trou, Dr. Ferro bends over the table: it's time for Woody to play doctor and examine Dr. Ferro's hole with his tongue. Parting Dr. Ferro's furry cheeks, Woody presses his wet mouth into the crack and spreads his saliva all around. Grabbing his rock hard cock, Woody thrusts himself into Dr. Ferro's hole, all the way down to the base. Dr. Ferro puts one leg up on the exam table to spread his cheeks and take Woody's dick as hard as possible. Flipping over to missionary position, Dr. Ferro's huge cock whips through the air in rhythm with Woody's pumping. With Woody still inside him, Dr. Ferro blows his wad, spurting thick, white cum everywhere. Woody pulls out and adds his own load to the puddles of cum streaking across Dr. Ferro's torso.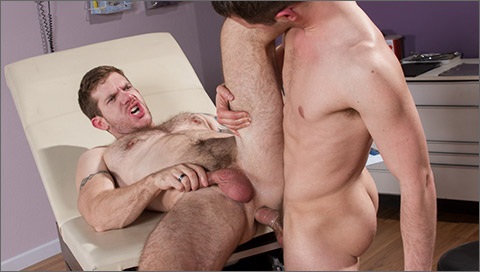 SCENE 2: Asher Devin fucks Skippy Baxter
Asher Devin arrives for his appointment at the Internal Specialists. While checking him in, physician's assistant Skippy Baxter can't help checking out Asher's cute butt. Skippy leads Asher to the exam room. Realizing he forgot his pen, Skippy leaves Asher alone for a few minutes. While Skippy is out, Asher strips down to his nearly see-through white briefs. When Skippy comes back in, he does a double take when he notices Asher's massive bulge. The examination begins as Skippy notes Asher's weight and listens to his heart. The sexual tension between nurse and patient gets more intense with each passing minute. Taking a chance, Asher grabs Skippy's hand and moves it to his throbbing boner. 'Damn boy, you're packing big!' exclaims Skippy. Throwing caution to the wind, they make out passionately as Asher strips off Skippy's scrubs. Asher's briefs come off, and Skippy goes down to get a taste of Asher's big, hard dick. Trading places, Asher takes a turn swallowing Skippy's thick meat, wrapping his hand around Skippy's shaft, and using his lips to suck on the fat mushroom head. Skippy raises his legs in the air so Asher can work his tongue up into Skippy's eager hole. Apparently, Skippy needs some sexual healing even more than his patient! Turning around, Skippy leans over the examination table and takes Asher's bone doggy style. Asher rams his cock into Skippy HARD, eliciting uncontrollable moans of pleasure. The tension builds until Skippy lets loose with massive spurts of cum, shooting all the way up past his shoulders. Asher grabs his rod and blasts Skippy's cock and balls with thick, white gobs of cum.

SCENE 3: Austin Wolf fucks Armond Rizzo
New patient Armond Rizzo makes his first visit to Dr. Austin Wolf's office. Armond, who just got new insurance, says he chose Dr. Wolf because so many of his friends recommended Dr. Wolf's 'amazing work.' Armond is hoping he can have the same kind of 'experience' his friends have had with Dr. Wolf, whose powerful, muscular physique is impossible to ignore, even under his white lab coat. The routine physical begins as Dr. Wolf removes Armond's shirt to take his vitals, which also gives Dr. Wolf the chance to admire Armond's ripped body. As Dr. Wolf takes Armond's temperature, Armond slyly reaches down and fondles Dr. Wolf's massive bulge, and things really heat up! Unzipping Dr. Wolf's fly, Armond exposes the throbbing boner and bends down to savor the taste. Dr. Wolf grabs the back of Armond's head, guiding him to suck his cock deeper and deeper. Piece by piece, Dr. Wolf removes his clothing as Armond continues his oral service. A bit of nipple play gives Dr. Wolf extra pleasure as they take their doctor-patient relationship to the next level. Climbing on the exam table, Armond spreads his ass and Dr. Wolf beings his internal examination. With his fingers and his tongue, Dr. Wolf stretches Armond's hole. A surgical steel probe allows Dr. Wolf to go even deeper. Standing up, Dr. Wolf slams his cock into Armond's ass, eliciting gasps of pleasure from his patient. 'Yes doctor, fuck me!' Armond groans, as Dr. Wolf administers a rough, sweaty pounding. Displaying his acrobatic strength, Armond does a handstand as Dr. Wolf slams into his prostate from behind. The relentless pounding nearly takes Armond's breath away. Leaning back on the exam table, Dr. Wolf positions Armond on his cock and slams into him from below, and the intense stimulation on Armond's prostate makes him blow a thick, sweet load. Grabbing his cock, Dr. Wolf unloads with gushing spurts of cum that splash directly onto Armond's freshly fucked hole.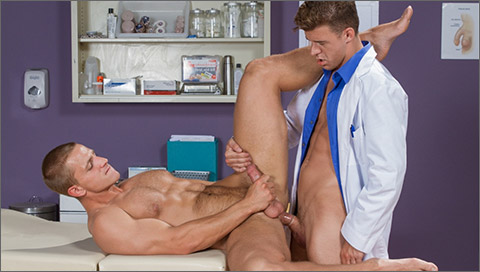 SCENE 4: JJ Knight fucks Landon Mycles
Dr. JJ Knight reviews some x-rays with his patient, Landon Mycles, whose back was sore due to muscle tension. Dr. Knight prescribes a massage treatment, which he personally delivers: a convenient excuse to deepen the doctor-patient relationship! With Landon flat on his stomach, Dr. Knight grabs two handfuls of Landon's jockstrapped ass. Parting Landon's furry cheeks, Dr. Knight dives in face first, administering liberal quantities of spit with his tongue. Landon's need for deep, sexual healing clearly requires a specialist's touch; when Dr. Knight takes his dick out, Landon eagerly swallows the monster meat. Dr. Knight's huge cock drips with spit as Landon opens wide and sucks. Returning to Landon's ass, Dr. Knight probes the tight, juicy center with his thumb, then jerks Landon's cock while eating his ass. Teasing Landon's hole with the tip of his cock, Dr. Knight knows it's time to give Landon an internal examination. Landon's ass spreads wide to accommodate the extreme girth of Dr. Knight's rock-hard rod. As Dr. Knight pushes deeper into Landon's ass, Landon's hefty balls swing back and forth. Turning over on his back, Landon throws a leg over Dr. Knight's shoulder. The intensely deep penetration of Dr. Knight's relentless thrusting makes Landon blast a huge load all over his sweaty abs, moaning and gasping uncontrollably. When Dr. Knight blows his load, it arcs through the air in a powerful jet, drenching Landon from his chest to his cock. With Dr. Knight's good loving, Landon's aches and pains are cured for good.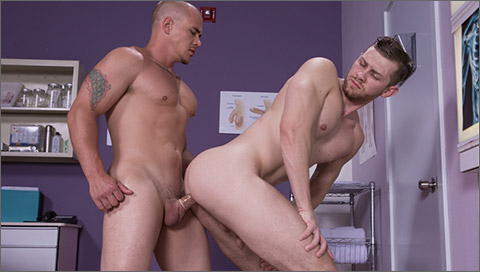 SCENE 5: Adam Bryant fucks Jacob Peterson
As the doctor leaves for the day, he sternly instructs his assistants Adam Bryant and Jacob Peterson to clean up the examination rooms and get the office ready for tomorrow. When the door closes behind the doctor, Adam and Jacob look at each other mischievously. They know they'll be reprimanded if they don't do their job, but the temptation of the empty office is too much to resist. Without a word, they make their decision: screw work! They want to fuck! Slamming their faces together, they kiss passionately while stripping off their scrubs. Jacob inhales Adam's fat cock all the way down to the base. Adam slaps Jacob's ass and shoves his tongue deep into Jacob's crack. With his boner throbbing, Adam gets Jacob spit-lubed and ready for an internal examination. Sliding his dick into Jacob's tight hole, Adam commences an intense doggy style pounding. Bracing himself against the wall, Jacob savors every second that Adam's cock is inside him, stretching out his hole and massaging his prostate. Adam lies flat on the exam table and Jacob jumps up to go on a ride. Grinding his hips, Jacob uses his ass to milk Adam's cock while jerking himself off. Jacob's hot, white load gushes from his uncut cock while Adam is still inside him. Dismounting from Adam's cock, Jacob sucks on Adam's balls, watching intently as Adam's cock swells and throbs. With giant spurts, Adam shoots his load onto his chest, and Jacob laps it up, savoring the taste on his tongue. Damn the consequences; it was worth it!

WATCH IT NOW / MORE INFO AT:
HOT HOUSE ENTERTAINMENT
Hot House Backroom Members can see this film anytime online.
With extensive additional photography from every scene.