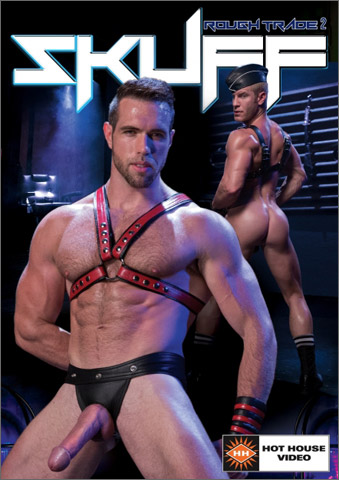 Studio: Hot House Entertainment
Directed by: Nick Foxx
Year of Production / Release: 2017
Country of Production: U.S.A.

CAST:
Micah Brandt
Adam Bryant
Jordan
Mikoha Kan / Mikoah
Sebastian Kross
Alex Mecum
Johnny V
Sean Zevran
INFORMATION FROM HOT HOUSE:
Get down and dirty again with the twisted leather men of part 2 of 'Skuff: Rough Trade'. Nick Foxx and eight hunks rendezvous for the climax of this all-out leather fuck-fest in the finale of this installment of the famed Skuff series. These horny, hardcore fuckers are ready to go all the way with each other, boldly pushing their limits until they shoot hot, huge loads from their rock hard cocks. Sean Zevran and Alex Mecum trade head and flip flop in a sweaty, hazy warehouse, giving in entirely to their deviant pleasure. Adam Bryant shows Johnny V who's the boss of his hole and ends a wild fuck session with a power pounding. Jordan hits all of Micah Brandt's spots producing not one, not two, but three orgasms and hefty loads of cum. Sebastian Kross knows how to prep get a power bottom like Mikoah Kan with throat fucking, an intense rim job and hole-stretching toy play before giving him the fuck of his life and a huge load in his mouth. Join the men in the epic finale of 'Skuff: Rough Trade, Part 2' that will leave you dripping sweat and oozing loads of warm cum.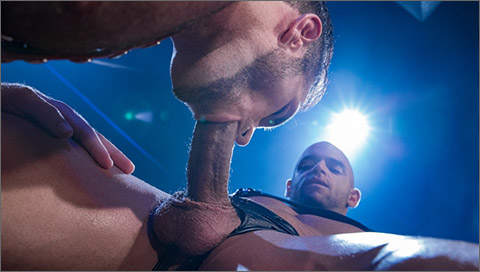 SCENE 1: Alex Mecum fucks Sean Zevran
Hairy-chested Alex Mecum, clad in red and black leather, presses his ripped body against Sean Zevran. Sean, wearing all black, kisses Alex passionately. Their beefy muscles and bulging jockstraps prove that these two studs are intent on intense, connected sex. Getting down on his knees, Alex rips the codpiece off Sean's jock and inhales Sean's hard, stiff cock. The oral worship gets Sean in the mood to reciprocate, and he expertly tongues the tip of Alex's swollen mushroom head. Bending Sean over, Alex shoves his scruffy face into the crack of Sean's perfect bubble butt, coating it with thick spit.
   With Sean's ass slick and slippery, Alex drives his cock deep into Sean's prepped hole. Sean takes Alex's cock doggy style, and the muscles in his body flex as he submits to Alex's drilling. Sweat glistens on their ripped bodies as they pick up speed and intensity. After getting his hole stretched, Sean trades places with Alex for round two. Resting on his back, Alex throws his right leg over Sean's shoulder, opening himself up to maximum penetration from Sean's powerful dick. Sean moves to sit down and Alex stands over him as they both work their cocks. Sean shoots first, spewing thick, white cum onto his ripped abs. The sight of Sean's load pushes Alex over the edge, and he jerks out a gushing stream of cum that splatters across Sean's muscled torso.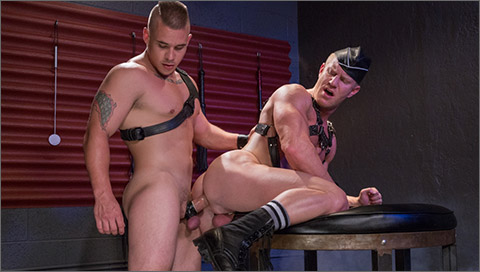 SCENE 2: Adam Bryant fucks Johnny V
Muscly barber Johnny V is strapped in leather, and he's shaving tatted hunk, Adam Bryant's head as he strokes his cock in the barber chair. Adam's cock and balls bulge through his constricting cock ring during the haircut. Johnny checks his work, ditches his jock and hits his knees to polish Adam's boots and dick. Johnny lowers his wet mouth onto Adam's hard cock as he polishes his boots. Once Adam's cock and nutsack are coated in Johnny's spit, Adam bends Johnny over a padded Lazy-Susan and spreads his ass open wide to slink his tongue into. Licking from the tip of Johnny's cock, all the way up to his winking hole, Adam buries his face in between Johnny's cheeks. With Johnny's hole lubed up in spit, Adam glides his meat rod into Johnny's pink center with one swift thrust. Pounding from behind, Adam holds Johnny in place by his leather harness. Johnny switches to his back and gives Adam direct access to drill his prostate. Johnny's screams intensify until he loses control and explodes thick ropes of pearly white cum onto his washboard abs. Seeing Johnny climax sends Adam over the edge and he bursts his hot load all over the inside of Johnny's thigh.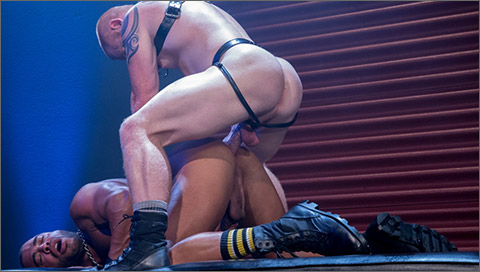 SCENE 3: Jordan fucks Micah Brandt
Micah is eagerly awaiting someone to come in and fill his hole with another cock. We don't know how long he's been there. He could be 10 dicks in by the time Jordan approaches and takes the bait. Micah entices him arching his back, serving up his hole in partially tore underwear with 'FUCK ME' written on them. Jordan eagerly obliges and tears those tighty whities into oblivion. He wants nothing in the way of getting at Micah's perfect ass. He goes primal and tears into Micah's hole face first attacking it. He spits on it heavily, teases it, and rims that hole as Micah is moaning and begging for more. He's in Jordan's able hands now. He offered up the goods and now he's strapped in for the ride of what's to come. After Jordan feels adequately satisfied lubing up Micah's hole with spit, he rams his 9′ cock all the way to the pubes opening Micah right up. He's relentless in his fucking. Even after Micah cums uncontrollably, Jordan keeps pounding away. Micah cums again and Jordan isn't done until he says he's done. He lays Micah flat and fucks him deeper and deeper past the point of pleasure and pain. When he's satisfied, he offers up his sweaty hole for Micah to take in, pleasing his dom and getting off on the experience. Micah cums a third time. Jordan fucks Micah's mouth and shoots a big load on his face and down his throat. Jordan leaves that used fuck hole behind and heads off to his next conquest leaving Micah to hop up on the platform waiting to get filled up by the next hot stranger.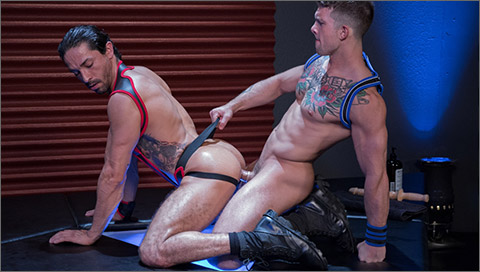 SCENE 4: Sebastian Kross fucks Mikoah Kan
Mikoah Kan is down on hands and knees and untying Sebastian Kross' jock to reveal what hot, huge surprise lies underneath. After Mikoah unleashes the beast, Sebastian shoves his long cock down Mikoah's windpipe without hesitation. The throat fucking commences and Mikoah takes Sebastian's massive member fully and energetically. Sebastian returns the favor and gives Mikoah an intense and soaking wet rim job to loosen up his hole. Getting him ready for the power pounding to come, Sebastian breaks out a huge toy, working over Mikoah's hole with a massive Manrammer, stirring it around in Mikoah's gut. With Mikoah's hole prepped for genuine cock, Sebastian fits his hefty meat into Mikoah's eager hole. Mikoah stays down while Sebastian pile-drives his ass from behind. Switching positions, Mikoah hops on top and lets Sebastian fuck up into him until he lies on his back and takes Sebastian's thick load in his mouth. With both of them drained, they share a cummy kiss.

WATCH IT NOW / MORE INFO AT:
HOT HOUSE ENTERTAINMENT
Hot House Backroom Members can see this film anytime online.
With extensive additional photography from every scene.