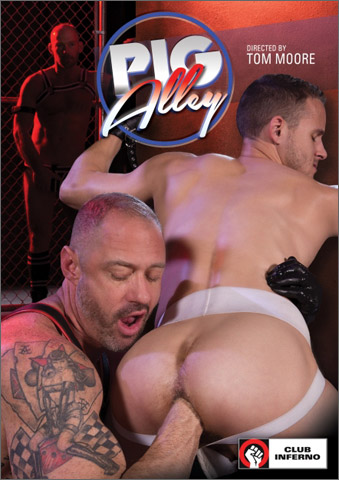 Studio: Hot House Entertainment / Club Inferno
Directed by: Tom Moore
Year of Production / Release: 2017
Country of Production: U.S.A.

CAST:
D Arclyte
Brian Bonds
Nate Grimes
Seamus O'Reilly
Mike Tanner
INFORMATION FROM HOT HOUSE:
For dirty fist pigs who are craving their gut-punching fix, there's no better place to go than 'PIG ALLEY.' Director Tom Moore recruits the finest fist-fuckers and hungry holes he could find and sets them loose in a playground where they can fulfill their deepest desires. Sit back and join D Arclyte as he aggressively works Nate Grimes' hole, leaving the young buck gaping and satisfied. Next, D is the one bending over to take Nate's fists wrists deep inside his big loose man cave. Mike Tanner expertly services Brian Bonds' needy hole, and Brian returns the favor in a frenzy of fisting and spurting cum. Seamus O'Reilly joins forces with Mike Tanner in a quest to stretch Nate Grimes' nice little asshole. With both studs working his gaping hole overtime, Nate's extreme pleasure takes him over the top and he shoots a thick, white load. Then, it's Nate's turn to fisting top both Mike and Seamus in a double fisting finale that has Nate receiving a facial from both this piggy studs. For deep anal penetration that pushes men to their limits, don't miss your opportunity to see extreme ass stretching that you won't soon forget when you visit 'PIG ALLEY.'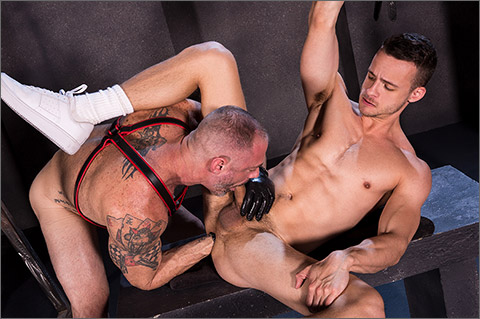 SCENE 1: D Arclyte fists Nate Grimes
Muscled leatherman D Arclyte aggressively makes out with young stud Nate Grimes, pressing their faces tightly together and licking each other's pits. Nate gets down on the ground and wraps his lips around D's hard cock. D returns the favor, expertly deepthroating Nate's stunning meat. Long strings of saliva drip to the floor as Nate thrusts his hips and works his cock down D's gullett. Turning Nate around, D uses some of that spit to lube Nate's tight hole and presses his tongue deep between Nate's ass cheeks. D immobilizes Nate by strapping his wrists into suspended restraints. As Nate shows off his bubble butt, D lubes up his hands and works his fist into Nate's hole. Curling his fingers into a wide, round fist, D punches Nate's hole, creating a massive stretch that leaves Nate gaping. As Nate pushes his ass out, D rubs Nate's swollen sphincter with the tips of his fingers. Reapplying copious amounts of lube, D renews his anal assault, and Nate eagerly bounces on D's fist. As D works Nate's hole faster and harder, Nate strokes his huge cock and lets loose a thick, white load.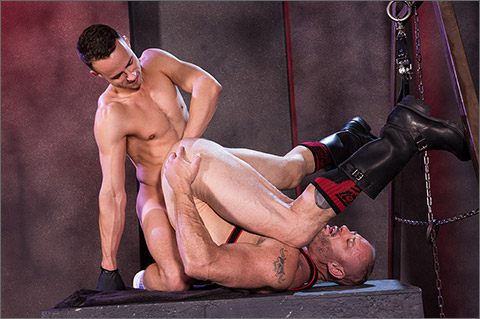 SCENE 2: Nate Grimes fists D Arclyte
Muscle daddy, D Arclyte, grabs Nate Grimes by the neck and shoves his tongue down the hung jock's open throat. D is in an aggressive mood and today he wants Nate's fist shoved firmly up his ass. The pair makes out for a bit until D turns around and offers his hole for Nate to open up with his tongue. It's a nice long rimming session that leaves the leather daddy's asshole open, throbbing, and ready to be fed. Amid a torrent of dirty talk from both horny pigs, Nate puts on his rubber gloves and pulls out a giant bucket of lube. He dips his hands in the sticky goo and gets them good and slathered up before he sticks his fingers inside D's gaping butt. It barely takes a second before Nate's whole fist is swallowed up by D's hungry man cave. The horny jock is loving every second of pleasuring his daddy by alternating his hands in and out as strings of lube fall from D's cavernous asshole and Nate's strong arms. D is in complete ecstasy as his mouth gapes and his eyes roll back in his head with every plunge from the fit stud's fists. D needs it a little deeper and a lot more rough so he lies down on a bench with his legs in the air and lets Nate plunge his hole even harder. Nate gets wrists deep inside his daddy as he hurriedly switches hands and keeps up the intensity of the extreme fisting session. All the hole stretching and deep penetration gets D hard as a rock and ready to burst. D stands above Nate as the cum hungry hunk takes a massive load of D's creamy jizz in his eager mouth and on his smooth, tight chest.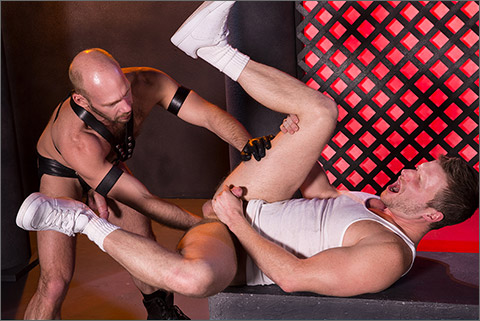 SCENE 3: Mike Tanner fists Brian Bonds
Brian Bonds, clad in white briefs and a white tank, makes out with Mike Tanner, who wears a kinky black leather harness with matching jockstrap. Mike pulls down the waistband of Brian's briefs and shoves his tongue deep down Brian's hole. With Brian's ass lubed and ready, Mike shoves his cock between Brian's ass cheeks and gives him an intense doggy style fucking. Pulling on his black gloves, Mike lubes up his hands and begins exploring Brian's hole from the inside. Putting his legs in the air, Brian jerks his cock as Mike penetrates deep into Brian's most sensitive areas. Lube drips from Brian's gaping hole whenever Mike pulls out and reapplies. Brian stands, using gravity to help push him down even deeper on Mike's thick, hairy arm. Rolling on his back again, Brian feeds his cock to Mike while Mike drives elbow deep into Brian's ass. Stroking his meat, Brian deposits his load into Mike's hand, who then uses it as lube to push his fist back into Brian's ass.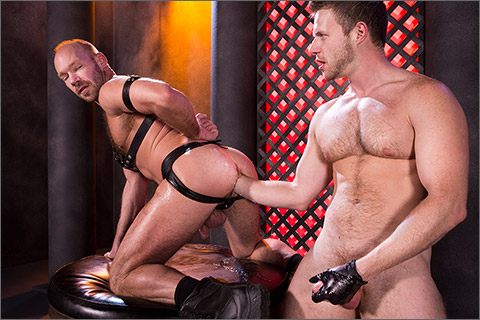 SCENE 4: Brian Bonds fists Mike Tanner
Brian Bonds stands naked against a wall as Mike Tanner makes out with him. Eagerly sinking to his knees, Brian pushes his face into Mike's jockstrapped ass and uses his thumb to push his saliva inside Mike's hole. Climbing on top of Mike, Brian sucks Mike's cock while Mike eats Brian's ass and sucks his cock. As Mike puts his legs in the air, Brian puts on his gloves and works his hand into Mike's hole. Mike jerks his hard, hairy cock as Brian penetrates Mike's man cave up to his wrist. Brian starts alternating hands, sliding them in and out in a smooth, fluid motion. Standing up on a platform, Mike pushes down deeper and heavier on Brian's slick, gloved hands. Thick lube slides across Mike's hairy ass. With Brian's hands deep inside him, pressing tightly against his prostate, Mike jerks his cock and explodes with ropes of cum, which Brian catches with his mouth.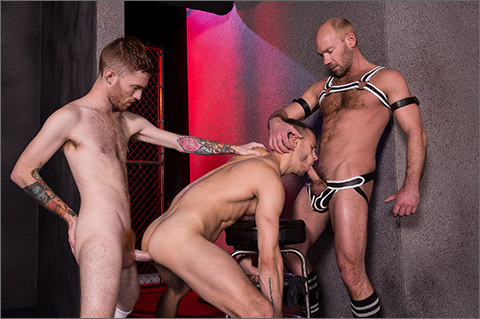 SCENE 5: Mike Tanner & Seamus O'Reilly fuck & fist Nate Grimes
Nate Grimes gets down on his knees to service Seamus O'Reilly's thick ginger cock. Showing off his tattoo sleeves, Seamus plays with his pierced nipples to add to the sensation. Mike Tanner appears, dressed in a harness and jock, and the guys eagerly focus their attention on sucking his hard cock. Showing off his ass, Nate elicits a deep rim job from Mike. With Nate's hole wet and fuckable, Seamus steps up and uses his fat cock to give Nate a good drilling. Mike looks on, coaching them, then gloves up his hands to explore Nate's ass. First one finger, then four, then Mike's entire fist disappear up Nate's eager hole. Seamus shoves his huge cock deep down Nate's throat, plugging him from both ends. Switching places, Seamus moves to Nate's ass and uses his heavily tattooed forearms to widen Nate's hole. Nate opens himself up to take both Seamus' hands at once, and shows off the gaping rosebud that results. As Seamus pushes inside Nate almost up to his elbows, Mike facefucks Nate's mouth. Nate bends over a barstool, and Mike and Seamus take turns pushing their fists deep into his stretched hole. Turning around, Nate sits down on Seamus' arm as Mike works Nate's nipples. The intense stimulation makes Nate unleash a gusher of cum all over the floor.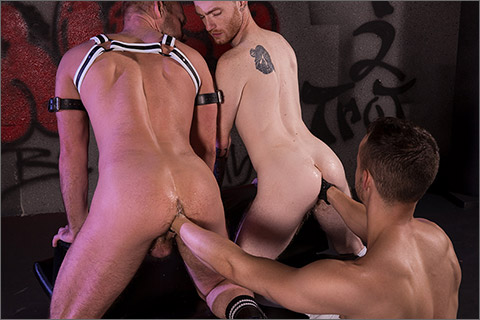 SCENE 6: Nate Grimes fists Mike Tanner & Seamus O'Reilly
In PIG ALLEY, Mike Tanner has his sizeable cock planted in Seamus O'Reilly's hole and Nate Grimes is feeding him his thick tasty meat. The insatiable pig that he is, Seamus' huge dick is hard as a rock as he takes it from both ends. Mike starts pounding away at Seamus' ass to thoroughly get his hole primed for a proper fisting. Nate asks, "You almost 'bout ready for my fist?" and Seamus replies affirmatively…as much as he can with Nate's cock deeply lodged in his throat. Mike pulls out to switch spots with Nate, Seamus leaves his legs in the air and Nate comes around to prep Seamus even more…with his tongue. Delivering a wet sloppy rim job, Nate pulls his face out of Seamus' hole just to replace it with his hand. An expert fisting bottom, Seamus takes it like a champ while he swallows Mike's cock. Now on all fours, Seamus is getting his ass punched by Nate and the back of his throat smashed by Mike's dick. Mike's not going to escape this three-way fisting throw down without getting his ass stretched. He switches spots with Seamus and gets the same treatment, Nate gets to punching Mike's hole as he swallows Seamus massive dick. Before it's all over, Nate coaxes both Mike and Seamus to bend over and take his fists at the same time. In a display of simultaneous extreme hole stretching, Nate's fists go deep inside both sloppy holes for a marathon fisting session until Nate sits on the floor fists punching up into the standing Mike and Seamus while they jerk their loads onto his face in an explosive finale.

WATCH IT NOW / MORE INFO AT:
HOT HOUSE CLUB INFERNO DUNGEON
Hot House Club Inferno Dungeon Members can see this film anytime online.
With extensive additional photography from every scene.