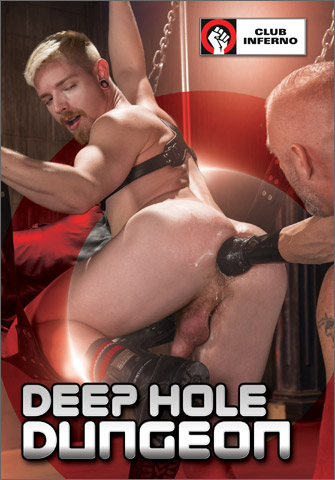 Studio: Hot House Entertainment / Club Inferno
Directed by: Tom Moore
Year of Production / Release: 2017
Country of Production: U.S.A.

CAST:
D Arclyte
Joey D
Gage Lennox
Issac Lin
Seamus O'Reilly
Cody Winter
INFORMATION FROM HOT HOUSE:
For these insatiable fisting pigs, nothing but a descent into 'DEEP HOLE DUNGEON' can give them the intense, hole-busting sensations they crave. Director Tom Moore wrangles six of the perviest fuckers out there to use and be used like the dirty butt sluts they are. Blond, smooth Cody Winter opens his hole up for daddy D Arclyte to do as he pleases, then returns the favor to earn the reward of a face full of his daddy's cum! Hairy otter Gage Lennox stretches out ginger stud Seamus O'Reilly's tight ass until Seamus' meaty cock shoots a thick load. Seamus expertly services Gage's needy man cave, culminating in an epic orgasm that leaves Gage breathless. Gage and Issac Lin both step up to be put through their paces by muscle hunk Joey D. First, Joey warms them up using twin fucking machines, stretching their holes out with big, black dildos ramming into their asses like pistons. Once their holes are begging for his fists, Joey serves up a double-helping of gut-punching, simultaneously working Gage and Issac's holes until their holes are wrecked and their cocks erupt with cum. To get your rocks off, you need to go down to the 'DEEP HOLE DUNGEON' and get it on with these kinky fist addicts!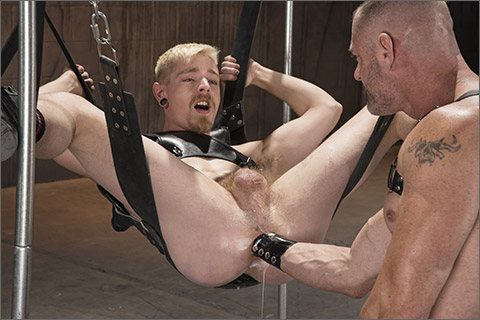 SCENE 1: D Arclyte fists Cody Winter
Blond and smooth, Cody Winter sprawls across a leather bench. His sir, D Arclyte, rubs his hands along Cody's lean body. Their shiny black harnesses squeak against the leather bench as Cody rips off his codpiece to reveal his throbbing, uncut cock. D expertly administers a blowjob to his boy, then flips him over to eat Cody's eager hole. Eager to please his daddy, Cody moves to a sling where he opens up his ass for D's fat fist. As D slides his knuckles past Cody's muscle ring, the sub's moans get more and more intense. Every movement of D's hand against Cody's guts elicits gasps and yelps of mind-blowing pleasure. Faster and faster, D pumps his fist into Cody's hole, passing his wrist. Passing his leg over D's arm, Cody faces forward and fucks himself on his sir's big fist. "You gonna cum for daddy?" asks D. "Oh yes please," replies Cody. With Cody's hole gaping, D wraps his hands around Cody's neck and constricts his airflow, and the feeling of being totally at the mercy of his sir impels Cody to shoot a massive, spurting load into the air. When Cody's orgasmic moans subside, D asks him, "You ready to take care of daddy?" "Yes sir!"

SCENE 2: Cody Winter fists D Arclyte
"Good boy!" D Arclyte leads his sub, Cody Winter, to the sling for a reciprocal session: "Show daddy how much you appreciate what I did for you!" "Yes sir," says Cody, inhaling D's thick, hard meat. D's fat balls slam into Cody's chin as he face-fucks his boy. D turns around and gives eager Cody a taste of his daddy hole. Cody rims D's ass like his life depends on it, burying his face in the crack and sliding his tongue up and down. Moving to a leather bench, Cody gloves up and works his fist into D's hole. As he buries his fist inside D, Cody's erect cock swells and bounces in the air; his veiny foreskin is so long that it completely covers his glans even when hard. Kneeling down to get an even more intense angle, Cody speeds up the motion of his fist inside D's man cave. Rolling onto his side, D encourages Cody to go even deeper, and his pleasure is evidenced by his grunting vocalizations. "You wanna help daddy cum?" "Aww fuck yeah!" explains Cody, eager to receive his sir's load. Crouching on all fours, Cody opens his mouth as D lets loose with blasts of hot white cum. With his face drenched in cum, all Cody can say is, "Daddy's so hot!"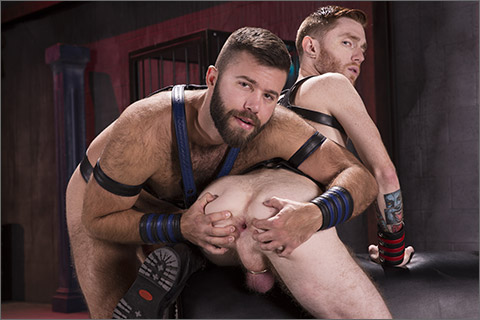 SCENE 3: Seamus O'Reilly rides Gage Lennox's fist
In a dark, dank dungeon, two men explore each other's bodies with their tongues. Clad in leather jockstraps and harnesses, ginger-haired Seamus O'Reilly and furry muscle hunk Gage Lennox begin to work each other into a frenzy. Gage unleashes Seamus' massive, thick, throbbing cock and wraps his lips around it. Showing off impressive deepthroating, Gage sucks down Seamus' cock to the base. Seamus' fire-red pubes stand out against the dark fur of Gage's thick beard. Turning Seamus around, Gage dives face-first into Seamus' ass. With rabid licks, Gage begins lubing Seamus' hole for what's to come. Gloving up and lubing Seamus' hole, Gage enters the flesh ring with his fist. Alternating between hands lets him quickly stretch out Seamus' hole until his entire fist is buried inside. When Gage switches hands again, Seamus shows off his red rosebud. Perched atop a fuck bench, Seamus sits on Gage's fist as Gage simultaneously swallows Seamus' cock. Utilizing his muscular build, Gage picks Seamus up and throws him over his shoulder, keeping his fist buried deep in Seamus' hole the entire time. Returning Seamus to his feet, Gage kisses him vigorously, then lays him on his back for the final stretch. With Gage's left fist buried up to the wrist in Seamus' ass, Seamus strokes his hefty cock and lets loose with a hot, white load that spills onto his lightly hairy torso.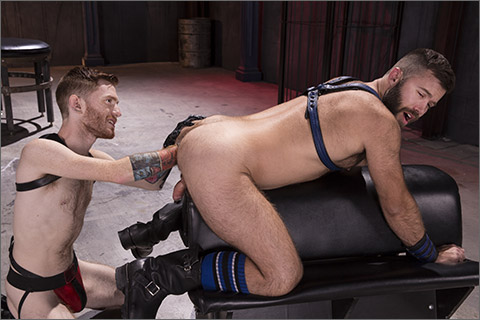 SCENE 4: Seamus O'Reilly fists Gage Lennox
Deep in the dark dungeon, ginger stud Seamus O'Reilly goes down on furry hunk Gage Lennox. Seamus gets Gage good and hard, then bends him over to lube up Gage's hole with spit. Gage reaches back and presses Seamus' face deeper into his hairy ass. Parting Gage's fuzzy cheeks, Seamus says, "We're gonna have it gaping! You like that don't you, fuckin' pig!" Gage replies with enthusiastic grunts and moans; he's begging to get his hole punched, and Seamus is eager to oblige. Pulling on his black gloves and lubing up his hands, Seamus expertly burrows his fist into Gage's ass. Gage wants it deeper, faster, harder, and Seamus pushes him to his limits. Gripping Gage's muscle ring, Seamus spreads it open and reveals Gage's bright, red guts. Seamus then rests his elbow on the edge of the fuck bench, and Gage lowers himself down, using his body weight to push Seamus in as deep as possible. Rolling onto his back, Seamus proceeds to wreck Gage's hole, delivering an unbelievably intense sensation to the perfect spot to make Gage lose control. "Fuck, you're gonna make me cum!" says Gage. His grunts and moans become more and more intense until he climaxes, coating his furry torso with cum. "Fucking spent!" explains Gage, gasping for breath after his massive orgasm.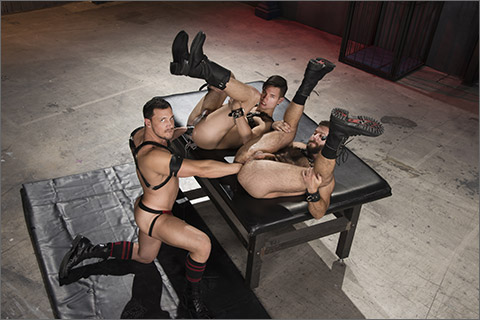 SCENE 5: Joey D fuck machines Issac Lin & Gage Lennox
Hairy, muscular Gage Lennox and smooth, lean Issac Lin show off their asses to big, beefy Joey D. Joey has a special surprise for their training session today: twin fucking machines! But first, the boys need to service Joey's cock. They take turns choking on Joey's fat, hard meat, eager to do whatever it takes to please him. Before using the fucking machines to fill their asses, Joey makes Gage and Issac lube up their dildos by showing off their cocksucking skills. When Issac's dong is ready, Joey spins him around and guides the big, black dildo into his hole. As Issac watches, Joey slides his cock into Gage's hole and fucks him as Gage continues to practice his cocksucking on the fucking machine. Saliva drips from Gage's mouth to the floor, forming into a sloppy puddle. With Gage's hole opened up, Joey spins him around and guides him onto the fucking machine. The speed ramps up as Joey feeds his cock to Issac, then to Gage. Joey has one more trick in this session to destroy Joey and Gage's holes. Joey reconfigures the fucking machines so that they penetrate straight up into the air, penetrating more deeply than ever into their eager holes. As the machines reach the limit of their abilities, the boys start begging for daddy's fist – and Joey is eager to give it to them!

SCENE 6: Joey D fists Issac Lin & Gage Lennox
Big daddy Joey D lets his boys out of their cage. Furry cub Gage Lennox and smooth, lean Issac Lin jump on the leather bench, assume a doggy style stance, and spread their asses. Lubing up his black-gloved hands, Joey simultaneously works his fists into both their holes. Giant strands of lube stretch down as Joey ramps up, twisting his fists like corkscrews into the dual eager holes. The bottoms squint their eyes and bite their lips, focusing on the intense anal wreckage Joey is perpetrating on their holes. Gage shows off his gaping man hole, ringed with hair slicked down from the lube. Rolling onto their backs, the two fist-hungry butt sluts throw their legs in the air and give Joey total control over their asses. Their stomachs heave with deep breaths as Joey's expert fist pummeling works its magic. 'Gonna carve me out?' asks Gage. 'Gonna carve that hole out? Fuck yeah!' Joey puts them in an even more adventurous position: as he lays on his back, Gage and Issac squat down onto his raised fists and fuck themselves by rocking back and forth. Flipping onto their backs again, Issac and Gage point their asses at the ceiling as Joey gut-punches their holes into total submission. 'Look at those nice, stretched-out holes,' says Joey as he admires his work. With Gage and Issac's holes wrecked, all three men stroke their cocks, building to an immense climax. Joey blows his load first, releasing his cum with guttural moans. Issac and Gage release jets of cum simultaneously, grunting like wild animals, then lean in for praise from daddy Joey.

WATCH IT NOW / MORE INFO AT:
HOT HOUSE CLUB INFERNO DUNGEON
Hot House Club Inferno Dungeon Members can see this film anytime online.
With extensive additional photography from every scene.