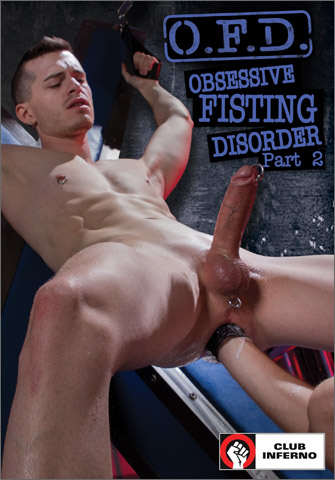 Studio: Hot House Entertainment / Club Inferno
Directed by: Tom Moore
Year of Production / Release: 2017
Country of Production: U.S.A.

CAST:
Axel Abysse
Preston Johnson
Brandon Moore
INFORMATION FROM HOT HOUSE:
'O.F.D. – OBSESSIVE FISTING DISORDER' is on the rise. These sexy perverts are overwhelmed with the compulsion to submit their holes to every fist, and gut punch every butt they see. In 'O.F.D. – OBSESSIVE FISTING DISORDER, PART 2,' Tom Moore directs three addicted fisting pigs getting probed and prodded inside and out, with no cure for their obsession in sight. Brandon Moore shows up at Dr. Strangeglove's clinic begging for help: his life has spun out of control because he's so obsessed with getting his ass filled. Dr. Strangeglove sends Brandon to a training facility to get a "deeper understanding" of his issues with help from doctor's assistant Axel Abysse. Brandon gets his "treatment," then returns the favor for Axel in a bowel-busting flip-fist-fuck. Preston Johnson hits it off with Brandon, and the two of them find happiness in each other's fists. Preston examines Brandon's guts on Dr. Strangeglove's desk, then the two of them hit the gym for extreme rose budding and deep hole pummeling. It's time to open your ass and receive treatment for your 'O.F.D. – OBSESSIVE FISTING DISORDER.'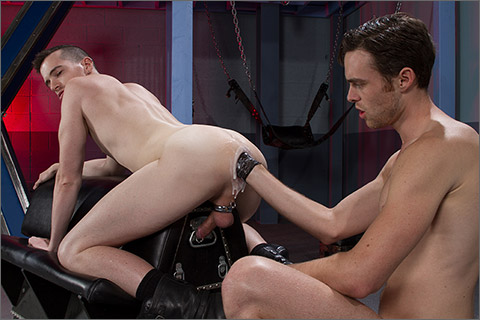 SCENE 1: Axel Abysse fists Brandon Moore
Chronic fisting bottom Brandon Moore is spending so much money and time on his obsession, his life is falling apart. Desperate for help, he visits the clinic of Dr. Strangeglove once again. In a last-ditch attempt to address Brandon's addiction, Dr. Strangeglove sends Brandon to a training facility to get a 'deeper understanding' of his issues. Brandon begins his treatment with Dr. Strangeglove's assistant, Axel Abysse, who licks his fingers and probes Brandon's hole.
   Spreading Brandon's cheeks, Axel bathes Brandon's crack with his tongue. To examine Brandon's man cave, Axel lubes up a giant metal spreader and pushes it in. When Axel squeezes the handle, the spreader widens up, showing Brandon's red guts. A massive, thick butt plug is next in line, and Brandon eagerly submits. Gloving up and coating his hands with sticky white lube, Axel reaches in and buries his hand up to the wrist. He trades his right hand for his left, and begins alternating quickly back and forth. Rolling on his back, Brandon jerks his cock as Axel dominates Brandon's sloppy hole with bucket-fulls of lube.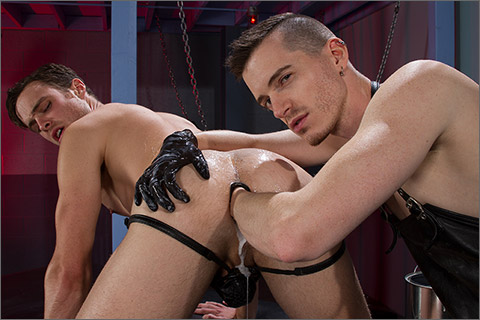 SCENE 2: Brandon Moore fists Axel Abysse
Axel Abysse crouches on a fisting bench with his ass in the air, showing off his Prince Albert, his pierced taint, and his heavy metal cock ring. Brandon Moore gloves up and starts hole-punching Axel, alternating quickly between hands. As Brandon picks up speed, flashes of Axel's red guts start to appear in his gaping man cave. Suddenly Axel pushes out his blooming rosebud, and Brandon smears it with lube. His sphincter stretching wide, Axel grinds his piggy hole even deeper around Brandon's fist. Flipping on his back, Axel reaches down and uses both hands to stretch open his bowels and massage his giant rosebud with his fingers.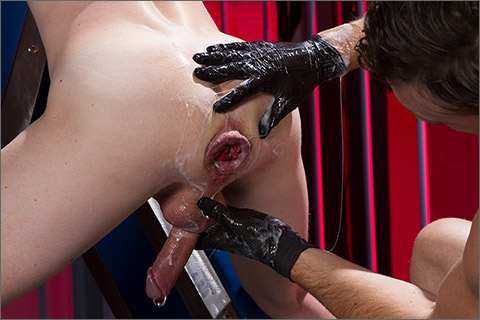 SCENE 3: Brandon Moore fists Axel Abysse
Brandon Moore braces his left leg high on a St. Andrew's cross, allowing Axel Abysse full access to his chute. With his gloved hand dripping in lube, Axel reaches up into Brandon's back pocket. Rivers of viscous lube stream down Brandon's legs. With both feet on the ground, Brandon squats down low with his back on the cross, grinding his hole on Axel's fist. When Axel's fist fucking has Brandon about to bust, he lies down on the ground in a puddle of lube and jerks his cock until his load explodes across his chest. The orgasm shakes Brandon's body, and now he wants to make Axel cum. Facing the cross, Axel grabs the handles and sticks his ass out for Brandon's fist. Brandon lubes up and Axel lowers himself down on Brandon's hand. Jerking his pierced cock, Axel shoots a big load and Brandon licks it up.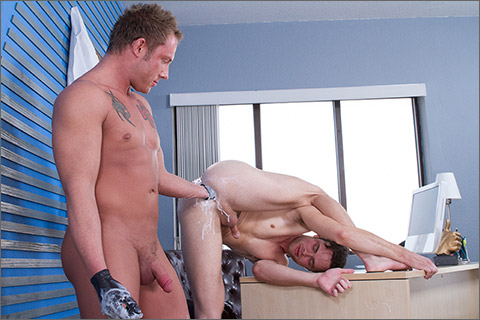 SCENE 4: Preston Johnson fists Brandon Moore
Brandon Moore obsessively fondles Preston Johnson's hands. They tell Dr. Strangeglove that they are finally happy now that they've found each other, since each can keep up with the other's obsessive need for fisting. 'Well, this case of 'Obsessive Fisting Disorder' is closed,' proclaims Dr. Strangeglove, slipping away to allow Brandon and Preston some privacy. Brandon greedily opens Preston's trousers and gives him a nice slurping blowjob. Preston tongue-fucks Brandon's ass as Brandon bends over the desk. Slipping on his gloves and lubing up his hands, Preston gut punches Brandon's hole all the way to the wrist. Brandon's eyes roll back in his head as he gets opened up, putting one leg up on the desk to give Preston total control. Preston starts going faster, alternating hands. Rolling on his back, Brandon starts jerking his cock. With one hand fully inserted, Preston teases Brandon's rear end with his other finger. Brandon's sphincter stretches wide open, showing his hot red guts.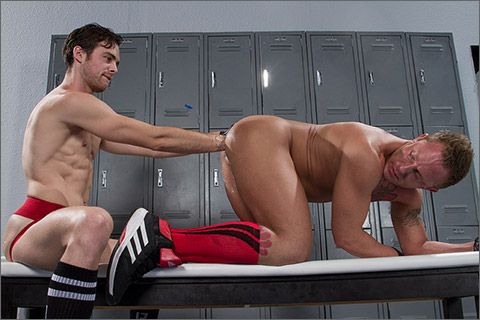 SCENE 5: Brandon Moore fists Preston Johnson
Preston Johnson and Brandon Moore head to the deserted gym locker room. Preston strips down to his jock and Brandon rims his hole. Lubing up, Brandon slides a hand down Preston's chute. Putting his fist inside Preston makes Brandon's boner throb inside his loose, red athletic shorts. As Brandon opens up Preston's sphincter with tons of lube, Preston pushes out his huge rosebud. Putting his leg up on the bench, Preston proudly shows off his piggy tattoo: a red rose with the flower in the shape of a fist. Reaching into his jock, Preston strokes his cock while Brandon plays handball with his ass. White lube drips down Preston's thick, muscular legs as the two fist pigs admire themselves in the full length mirror hanging on the wall. They end up on the floor in a puddle of lube, making out and massaging Preston's blooming rosebud.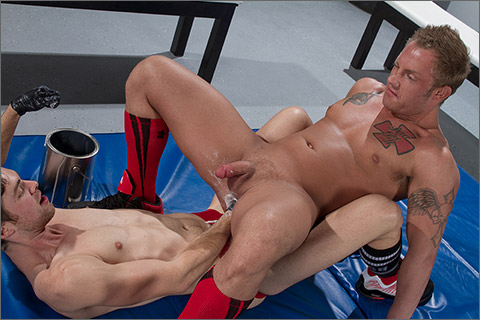 SCENE 6: Preston Johnson flip-fist Brandon Moore
Brandon Moore is bent over on all fours on the bench in the locker room, and Preston Johnson approaches with his gloves on and his lube ready. Stretching Brandon's crack, Preston buries his fist in Brandon's manhole. Brandon submits to Preston's fist, raising and lowering himself on Preston's hand. Preston's bicep flexes as Brandon's butt stretches and flexes. Flipping on his back, Brandon puts his right leg over Preston's shoulder. His facial expressions show how much he loves feeling Preston's thick hands deep in his hole. Lying head to toe on a floor mat, Brandon and Preston 69-fist each other, each with their right hand in the other's guts. Preston pushes out his rosebud and his eyes roll back in his head as his pleasure climaxes. With Brandon's fist in his ass, Preston jerks out a big white load that mixes with their thick, sticky lube.

WATCH IT NOW / MORE INFO AT:
HOT HOUSE CLUB INFERNO DUNGEON
Hot House Club Inferno Dungeon Members can see this film anytime online.
With extensive additional photography from every scene.