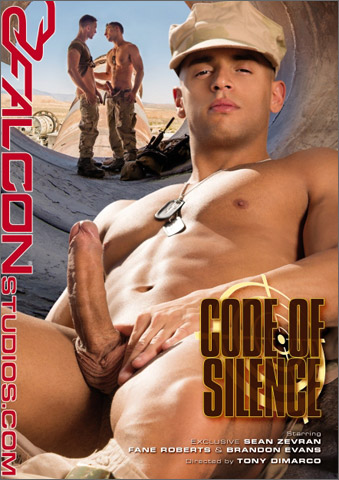 Studio: Falcon Studios
Directed by: Tony Dimarco
Year of Production / Release: 2017
Country of Production: U.S.A.

CAST:
Brandon Evans
Kyle McMillan
Pierce Paris
Tommy Regan
Fane Roberts
Ryan Rose
Sean Zevran
FROM FALCON STUDIOS:
The brotherhood of Marines has a code…a 'CODE OF SILENCE'. What happens between Marines stays between Marines, and for this hot, horned-up platoon stationed deep in the desert there's plenty to keep quiet: that no one dare speak of all the intense fucking and sucking they do. Tony Dimarco commands this extremely sexy desert unit to deliver action hotter than the desert they patrol. The helping hands, hard ons and hot holes of these soldiers help relieve the stresses of military life. While most of the grunts just want release with their fellow infantry, two Marine buddies Fane Roberts and Brandon Evans, realize their bond runs deeper than their fooling-around friendship, so they vow to keep their romance secret. All the while, Sergeant Sean Zevran is onto them, and he's willing to use his authority to get any satisfaction he desires. Ryan Rose and Tommy Regan are on a military patrol in the hot desert sun. There's no one around for as far as the eye can see. Ryan commands his subordinate to remove his pants and then has his way with Tommy's perfectly toned ass. Sergeant Sean Zevran and Kyle McMillan are on a mission at a deserted post. Sean takes out his big uncut piece and orders it be serviced. Kyle willingly takes the order of his superior and gives an intense blowjob. With a newfound romance, Brandon Evans and Fane Roberts find themselves alone in some desolated ruins. Brandon takes Fane's manhood inside his mouth before Fane bends his lover over and goes for deep penetration in Brandon's bubble butt. Kyle McMillan sneaks up on Pierce Paris with a camera only to discover him playing with a Fleshjack. Kyle gives Pierce a helping hand and soon Kyle is bent over taking Pierce's thick dick deep inside him. Sergeant Sean Zevran grabs Brandon Evans from behind and blackmails him into sexual submission by revealing he knows of Brandon and Fane's romance. Brandon doesn't want his secret out so opens both his mouth and his ass for the domineering Sergeant to claim as his own. Hot desert landscapes combine with steamy, sweaty Marine sex to strengthen the bonds between military brothers and the 'CODE OF SILENCE' they keep.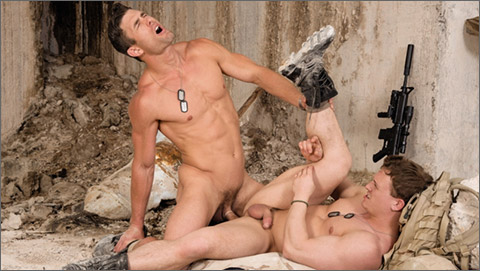 SCENE 1: Ryan Rose fucks Tommy Regan plus Brandon Evans & Fane Roberts
Handsome soldier Fane Roberts is assigned to his new post with fellow stud grunt Brandon Evans. After spending so much intimate time together, their attraction and feelings are undeniable. Unable to resist any longer, they secretly swap head in the barracks. Fane moans loudly as he shoots a creamy load down Brandon's virgin throat. Sergeant Zevran passes by nearly catching them in the act. Meanwhile, out in the hot desert sun, Ryan Rose and Tommy Regan are on a military patrol. There's no one around for as far as the eye can see so the Marines take off their protective gear to get more comfortable. Ryan takes it a step further and unbuckles his belt to pull his dick out of his fatigues. Tommy tries to ignore Ryan jacking off behind him and when Ryan asks Tommy to show his ass, Tommy refuses. Ryan is the commanding officer and orders Tommy to remove his pants. Tommy obeys the order and bends over to let his superior officer rim his cute, fit bubble butt. Tommy admits that the rim job feels good, and as it continues, it gets him in the mood for more action. Tommy turns around to offer up his growing erection. Ryan can't wait to get Tommy in his mouth and treats his subordinate to a nice long blowjob as he leans against a shelled-out cement wall. All the sucking gets Tommy in the mood to take a taste of Ryan's hard dick. He services the ripped stud on his knees until Ryan instructs Tommy to turn around. Ryan slips his big stiff rod inside Tommy's tight ass and has his way with him as the muscled up military jock bends over to take it deeper inside his body. Ryan keeps a steady pace and uses Tommy's perfectly fit form to get himself off. He pulls out and covers the military stud's groin and abs with a river of white and creamy satisfaction.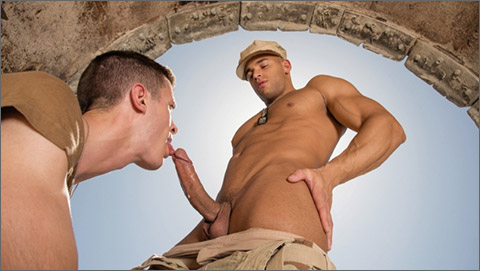 SCENE 2: Sean Zevran & Kyle McMillan (all oral)
Sean Zevran and Kyle McMillan are on duty at a deserted post in the desert. It's extremely isolated and Sean admits that he brought Kyle out to the middle of nowhere to help him relax. Sean commands Kyle to put down his weapon and open his mouth. Sean is already hard as rock and he slips his big, curved, uncut Marine dick inside his subordinate's warm, wet mouth. Sean gets completely naked as Kyle continues to service the hunky stud in the hot afternoon sun. Beads of sweat form on Sean's shaved head as he focuses all his attention on the amazing blowjob Kyle is providing. Sean needs a bit more relaxation and spreads out on his back. Kyle is into the experience and peels off his shirt to situate himself between his commander's legs. Kyle doesn't want to miss an inch of Sean's nice stiff dick and uses his mouth and tongue to service Kyle's big swollen balls and shaft. He licks and sucks until Sean moans out and unleashes his load. Kyle catches every last drop inside his hungry mouth and spits it back out onto Sean's shuddering body and freshly serviced dick.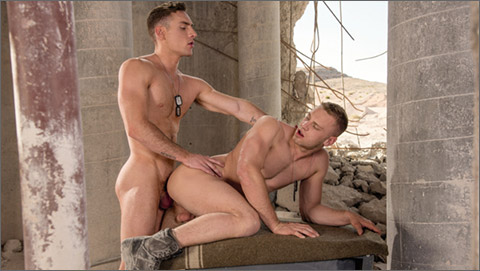 SCENE 3: Fane Roberts fucks Brandon Evans
There's a place in the desert where soldiers can go to get away from the everyday stress of military life. It's isolated and free from enemy control and today Brandon Evans and Fane Roberts find themselves alone in their spot together. Brandon is on his knees servicing Fane's big dick. He gets Fane throbbing hard and unable to think of anything but giving head. Fane wants a taste of his military buddy's big pole and pushes him back against a pillar to get what he wants. Brandon pulls his pants down around his ankles and peels off his shirt as Fane gets to work getting what he needs. The sensual licking drives Brandon wild and he offers up his hairy little ass and bends over to let Fane rim him. Fane's tongue goes deep as he readies Brandon for what's about to come. Brandon begs for Fane to fuck him and Fane isn't one to disappoint. He slides his dick inside his buddy's fuzzy little ass and pumps him as Brandon moans and grunts with each thrust. Brandon's dog tags dangle around his neck as he takes it from behind. Fane wants to get a little deeper inside Brandon and he flips the stud around to get as far in as he possibly can. The deep penetration hits just the right spot and it makes Brandon erupt with an explosion that covers his toned stomach and chest. Once Fane sees the pleasure he's given to his fellow Marine, he pulls out and makes an even bigger mess all over Brandon's writhing body. His thick semen rolls out of his tip and pools up with Brandon's juicy sweetness as the studs finish up an afternoon job well done.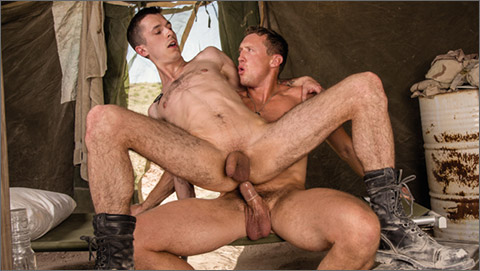 SCENE 4: Pierce Paris fucks Kyle McMillan
Kyle McMillan has a camera and he's sneaking up on Pierce Paris in his tent on the military base to see what Pierce is up to. Kyle is in for a surprise when he finds his buddy fully immersed deep inside a FleshJack. Pierce pleads for privacy but Kyle insists that there's no such thing in the military. Kyle offers up some help and when Pierce has his eyes closed, he slips the FleshJack off of Pierce's stiff dick and starts using his hands and mouth. Pierce has no complaints and rolls with the new development. When Kyle sees that Pierce isn't going to put up a fight, he gets more into the work of pleasing the hung stud. Kyle's mouth and fist feel amazing enveloping the thick dick and Pierce takes off his shirt as the action gets more heated. Kyle comes up for some air and the two studs make out as Kyle gets out of his uniform. Pierce is so aroused that he's ready for anything. When he sees Kyle's uncut dick, he immediately opens wide and goes down to service the fit jock. Once he has his fill, he bends Kyle over and gets busy eating him out. His tongue goes deep and he loosens Kyle up for insertion. Pierce enters his toned friend and pumps away, even commenting on how tight Kyle feels. Pierce has Kyle lie back with his legs in the air for maximum penetration. The big dick goes as deep as possible while Kyle strokes his own rod to get himself close. Pierce says that he wants to make Kyle cum, and that's enough for Kyle to let loose and cover his own body with pleasure. Once Pierce has done his job, he's ready to finish up. His big dick explodes on Kyle's face as sweat runs down Pierce's muscled body. Kyle can't get enough of Piece's plump dick and continues to suck and taste the stud's cum in the extreme desert heat.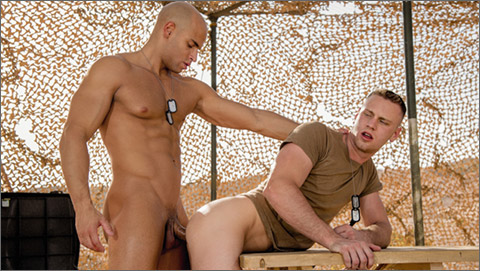 SCENE 5: Sean Zevran fucks Brandon Evans
Sergeant Sean Zevran comes up behind his subordinate, Brandon Evans, and grabs his ass. Brandon is taken off guard. "I see everything in in this camp," Sean says. "I know you two have been sneaking out in the middle of the night to suck each other off." Sean pulls Brandon's pants off and asks if he likes sucking dick. Brandon denies it once but after a berating from Sean, he finally admits that he does indeed like sucking dick. Sean pushes Brandon to his knees and slides his thick, uncut pole all the way down Brandon's throat. Brandon gets his face reamed and then takes a taste of Sean's big low hanging balls. Brandon loves every second of the impromptu action and takes every inch that Sean has to offer. Sean bends Brandon over a table and rims his hot hole. The sergeant works Brandon's ass and finally asks if he's ready for his dick. Brandon yells out "Yes, Sergeant!" before Sean slips his massive member deep inside. Brandon wants to please his superior officer, and the sergeant isn't going to finish without having his way. He wants one more position to truly feel everything that Brandon has to offer. He gets Brandon on his back and enters the muscle stud to go as deep as he possibly can. The pounding makes Brandon blow his load all over his hot, ripped torso. Sean won't be left out of the action and pulls out to drop his load all over Brandon's well-worked and still heaving body.

WATCH THE SCENES NOW AT:
FALCON STUDIOS
Falcon Members can watch scenes from this Release anytime online.
DVD Releases debut online prior to DVD Release.

WATCH IT AT: AEBN / SMUTJUNKIES THEATER
BUY IT / WATCH IT AT: GAY HOT MOVIES