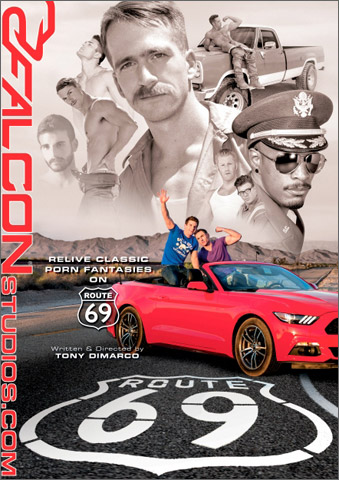 Studio: Falcon Studios
Directed by: Tony Dimarco
Year of Production / Release: 2017
Country of Production: U.S.A.

CAST:
Dustin Holloway
JJ Knight
Skyy Knox
Derek Maxum
Alex Mecum
Fane Roberts
Ryan Rose
Nate Stetson
Johnny V
FROM FALCON STUDIOS:
College buddies Fane Roberts and Dustin Holloway set out on a casual road trip down California's legendary Route 66 but little do they know it will be a journey the will never forget. As they drive their Mustang convert-ible through the desert the conversation turns to sex and Fane confesses he spent one entire summer jacking off to his favorite classic Falcon porn scenes. As he describes the action to his horned-up travel companion the radio experiences interference and starts playing 70's gay porn music. Suddenly Route 66 becomes 'Route 69' where classic gay porn scenarios come to life, reenacted by today's hottest stars.
Award winning director Tony Dimarco brilliantly navigates the vaults of classic Falcon scenes, giving them a modern twist that would make yesterday's stars proud. Running on fumes, Fane and Dustin stop to get gas where smoking-hot attendant Nate Stetson pops his crank shaft deep into Johnny V's cylinder. That night the guys check in to a fleabag hotel where after a shower, Fane complains about the hot water to JJ Knight, the creepy motel manager. JJ pulls out his massive pipe and shows Fane the perks of being a guest. Back on the road they pull over so Dustin can piss. At the urinal, he notices Derek Maxum's dick hanging from a glory hole and they suck each other off on the dirty public restroom floor. When Fane and Dustin stop at a diner for a bite to eat, all-American waiter Ryan Rose accidentally sprays Fane with a soda and cleans him up by getting him out of his clothes and fucking him over a table in the diner. After running out of gas on the road, Fane takes the gas can and hitchhikes to town. Handsome hung Alex Mecum offers Fane a lift and to show his appreciation Fane sucks him off by the side of the road. Meanwhile, waiting for Fane to return, Dustin gets bored so he whips it out and starts jacking off. Like a porn mirage, Skyy Knox appears out of the desert and gives Dustin more than a helping hand when he bends him over the car and fucks him by the highway. Reunited, Dustin and Fane get a motel and take their friendship to a whole new level. Dustin makes a move and the two create their own steamy hot fuck-session worthy of becoming a true Falcon classic. Pack your bags, grab a buddy and hit the road – you never know what can happen on 'Route 69'!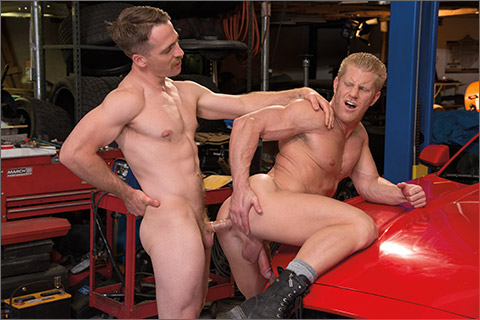 SCENE 1: Nate Stetson fucks Johnny V
Fane Roberts and Dustin Holloway have been riding on fumes, luckily the happen upon and lone gas station in the middle of the desert on Route 66. The smoking hot gas attendant equipped with his very own 70s handle bar mustache, Nate Stetson offers to fill them up, the pair eagerly agree. When Nate notices that the car is running a little hot, he has the guys pop the hood where he and the mechanic, Johnny V, take a look at what's wrong. After discovering that the dip stick is missing, Johnny drives the car into the garage where all the suggestive car talk gets Nate revved up. The two studs start making out and getting naked as Fane and Dustin look on in amazement. Nate is hard as a rock and can't wait to get some full service from Johnny's eager mouth. Johnny is hungry for what Nate has to offer and gets down on his knees to suck on the thick stick in front of him. Nate loves all the attention he's getting but doesn't want to be left out of the dick licking action. After sucking on the nice hard dick, Nate throws down the hood and bends Johnny over to give him a rim. When Nate senses that Johnny is ready to take him on, Nate shifts gears and pops his crank shaft deep inside Johnny's tight cylinder. It's a perfect fit and Johnny moans out in approval with every thrust that Nate doles out. After throttling Johnny over the car, Nate decides to go a little deeper inside Johnny's trunk and lays him out on the garage floor. Nate slips his dick deep inside and pumps away until Johnny blows a gasket and leaks a load all over his rock-hard body. That's all it takes for Nate to go with the flow as he pulls out and covers Johnny's ripped abs with a load of fresh, warm fluid.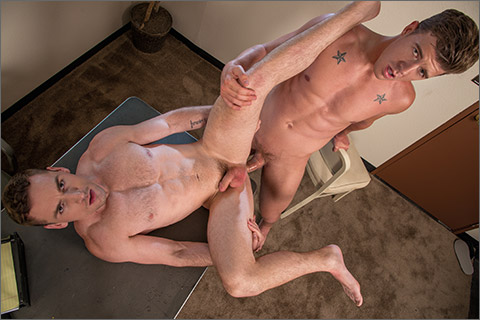 SCENE 2: JJ Knight fucks Fane Roberts
Fane and Dustin stop for the night at a roadside motel on Route 66. Fane is turned on by his buddy's hot body as Dustin gets out to the shower. And when Dustin talks about the hot gas station scenario, Fane gets totally horned up and makes up an excuse take a breather. He heads to the front desk to complain that the room doesn't have hot water. The slick and sexy hotel manager, JJ Knight, listens intently while he fucks Fane with his eyes. JJ can see some potential to get some action and slowly approaches Fane as he pours himself a drink and edges closer to the hot hunk. It's hard to miss the massive bulge in JJ's pants and when he pulls his extra-large member out from hiding, Fane is right there to suck it. JJ's dick is so big and thick that it's hard for Fane to fit the whole thing in his mouth. After getting JJ hard as a rock, Fane knows that the dick will fit much better in his tight ass. Fane bends over to offer himself up to the hung manager who gets him nice and open and lubed up with plenty of tongue and spitting action. When JJ is convinced that Fane is loose enough to take his massive pole, he stands up and slowly slides it deep inside his new guest. JJ goes slow and gentle at first and when he notices that Fane is used to the dick inside him, JJ picks up the pace and pumps Fane's ass harder and faster. Fane is ready to get stretched as much as possible and rolls over on his back to take the dick even deeper. The massive rod going in and out of him makes Fane explode with pleasure as he covers his stomach with sticky fun. JJ sees the mess and soon follows with a load of his own all over Fane's spent balls.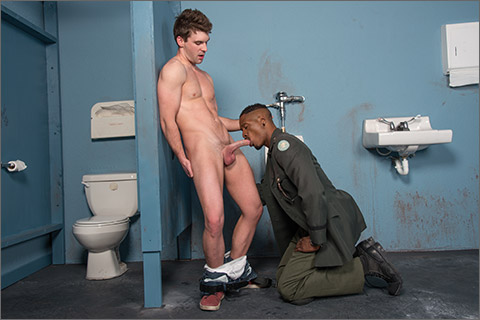 SCENE 3: Derek Maxum & Dustin Holloway toilet gloryhole action
After several hours of driving Route 66, Fane Roberts and Dustin Holloway pull over at a rest stop so Dustin can take a piss. As Dustin stands at the rest stop urinal, he notices Derek Maxum head into the stall next to him and as Dustin is washing his hands, he sees Derek's big meaty dick slide through a hole in the wall. Dustin isn't sure if he should run or get on his knees but when he hears Derek's deep voice command him to "suck it", Dustin does as he's told and takes the giant rod in his mouth. It grows thicker and harder with every slurp from Dustin, and as a pool of spit collects on the floor under the two hunks, Dustin peels off his shirt and unzips his pants for easy access to his own growing boner. Derek his ready to get a look at the eager stranger sucking his dick and comes out from inside the stall. He's ready to taste a dick as well and happily services Dustin's raging hard-on. All the sucking gets Derek in the mindset to take the random public encounter to another level and bends Dustin over the wall to eat his ass. As the two studs get completely naked, they go back to taking turns sucking each other off. With his dick worked to the max, and a hunky naked stranger in front of him, Derek lets go of any inhibitions he may have left and blasts his load all over Dustin's tight pecs and body. The thrill of the public sucking in the dirty bathroom combined with the feel of Derek's warm load running down his body is all it takes for Dustin to finish up. Dustin moans out and polishes the floor with his own creamy brand of liquid before the strangers part ways never to see each other again.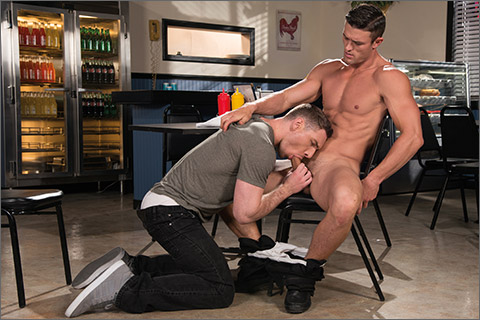 SCENE 4: Ryan Rose fucks Fane Roberts
Dustin Holloway and Fane Roberts stop at a diner on Route 66 for a quick bite to eat but when Fane gets a look at the waiter, Ryan Rose, he knows there will be more on the menu than just his lunch. Dustin excuses himself to hit the bathroom and when he's away, Ryan explodes a soda all over Fane, soaking his shirt and jeans. Embarrassed at his own clumsiness, Ryan helps Fane out of his shirt and starts cleaning him up by patting down his pants. When Ryan cops a feel of Fane's hard cock, the fireworks start and Ryan immediately gets to work sucking on Fane's thick pole. The sight of the muscle stud in front of him is a fantasy that, until now, Fane had only daydreamed about. "Let me get a taste of that ass," Ryan says as Fane happily bends over. Ryan is hungry and greedily eats Fane out with unparalleled passion. His tongue feels good opening Fane up and when Ryan senses that his customer is ready for the main dish, he slips his rock-hard dick deep into Fane's tight back door. Ryan plows the patron over the back of a chair as both studs grunt and groan. Ryan wants to see Fane's face so he clears a table with his arm and throws Fane down facing up. He continues to plow Fane's tight hole, hitting all the right spots, until Fane erupts with a load cream that covers his own tight body. Ryan sees the pleasure he's given to Fane and pulls out to deliver an order of special sauce that floods out onto Fane's rippled abs. When Dustin returns to the table, he finds Fane sitting in a happy daze…daydreaming again!

SCENE 5: Fane Roberts & Alex Mecum (all oral)
When Fane Roberts and Dustin Holloway run out of gas on their road trip in the desert, Fane grabs a gas can and heads down the highway to hitchhike to the nearest filling station. As luck would have it, Alex Mecum picks Fane up in his pickup truck. After a brief and suggestive introduction, Fane realizes that Alex has more than just giving him a ride on his mind. To show that he means business, Alex unbuckles his pants and Fane immediately shows his appreciation for the ride by giving Alex some road head. Alex doesn't want to be distracted and pulls the truck over to the side of the road where the two hunks hop out and get naked in the sun. When Alex sees Fane's ass, he knows he needs a taste and bends Fane over to eat him out. That gets both hunks even harder and Alex goes down on Fane to satisfy his cravings. "Let me suck your dick some more," Fane begs, as Alex once again offers up his massive, thick dick. Fane has an incredible mouth and after working Alex a bit longer, Alex explodes all over Fane's face. Knowing that he's done an incredible job at pleasing the good Samaritan, and with the taste of his cum in his mouth, Fane jacks his rod into the gravel of the side of the road and leaves his mark in nature as the two hung studs kiss in the desert heat.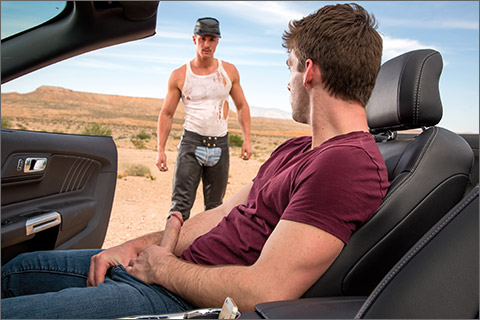 SCENE 6: Skyy Knox fucks Dustin Holloway
Dustin Holloway is in the car by the side of the road waiting for Fane Roberts to return from getting gas. He's jacking off in the front seat when he looks up to see Skyy Knox walking across the barren desert. As Skyy approaches, he asks if Dustin needs a helping hand and reaches down to feel the stud's hard dick. Skyy wants to do more than give Dustin a handie and opens wide to take Dustin's rod in his mouth. After giving Dustin a nice head session, Dustin wants access to what Skyy is packing and the guys take the fun to the side of the road. Dustin can't wait to get Skyy in his mouth and gets on his knees to service the horny stranger in the dirt. When Dustin gets Skyy as hard as he can be, Skyy bends the hunk over the car and slips his big dick into Dustin's open and ready ass. "Take that power," Skyy yells out as he picks up the pace and slams Dustin even harder. Dustin wants to feel Skyy deeper inside and lies back on the hood of the car. Skyy spits on Dustin's ass to lube it up and then once again slips inside the horny stud. The steady rhythm makes Dustin's eyes roll into the back of his head as he jacks his rod and blasts all over his tight ripped body. Skyy sees Dustin's handiwork and pulls to unleash a load of his own. Dustin wants to feel it hit his body and goes down on his knees in front of the muscle hunk to get his smooth chest doused with Skyy's pleasure.

SCENE 7: Fane Roberts fucks Dustin Holloway
Dustin Holloway and Fane Roberts get a motel for the night on 'Route 69'. As best friends, they've always avoided sleeping together, but after a road trip filled with each of them sucking and fucking multiple strangers, they finally admit to having a secret desire to be together. Dustin makes the first move and takes down Fane's pants where he finds that his buddy is hard as a rock. Dustin gets down to help Fane out with his hard-on and takes him all the way down his throat. Fane wants to satisfy his own curiosities and takes Dustin to the bed to get a taste of his best friend. The duo assumes the 69 position so that they can both suck all the dick they want. Dustin is determined to get Fane inside of him and rolls over to let Fane open up his ass with his tongue. After getting nice and loosened up, Dustin hops on and rides Fane, taking him as far inside as he possibly can. Fane wants a little more control and rolls his buddy onto his back where he can pump him just the way they both like it. Fane keeps up a steady pace until Dustin moans out, rolls his eyes to the back of his head, and pumps his load onto his own stomach. When Fane sees the pleasure that Dustin has just enjoyed, he pulls out and follows Dustin's lead as his own cum squirts out and mixes with his buddy's. It's been a long road trip and once these two finally got together, they're lives will be changed forever.

WATCH THE SCENES NOW AT:
FALCON STUDIOS
Falcon Members can watch scenes from this Release anytime online.
DVD Releases debut online prior to DVD Release.