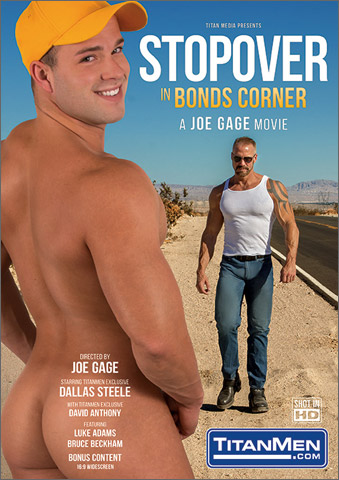 Studio: Titan Media
Directed by: Joe Gage
Year of Production / Release: 2016
Country of Production: U.S.A.

CAST:
Luke Adams
David Anthony
Bruce Beckham
Max Sargent
Dallas Steele
Mitch Vaughn
FROM TITAN MEDIA WEB SITE:
What's waiting to combust in the California desert? A drifter on his way to help a friend. A student unable to control his urges. A coach who crosses the line. Feel the heat during a Stopover in Bonds Corner, where legendary director Joe Gage continues his blue collar chronicle with TitanMen exclusives David Anthony and Dallas Steele. Hitchhiker Dallas Steele gets a lift from Mitch Vaughn—who wants something in return back at his shop, where they both end up taking a long, hard ride. Distressed student Luke Adams has ulterior motives for showing up at Max Sargent's house, but the daddy is happy to indulge the bottom—and stuff both of his holes. Coach David Anthony has a parent conference with father Bruce Beckham, whose son is causing trouble. The father wants—and gets—a demonstration of his son's bad behavior. When Luke Adams arrives at David Anthony's house, he finds his coach and Dallas Steele rock hard—the two hung studs taking turns stuffing him at both ends.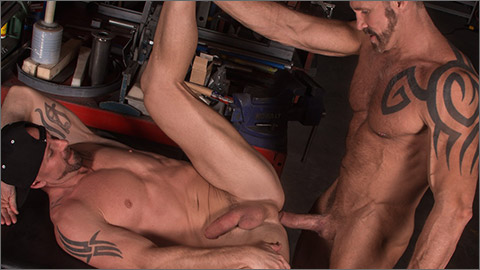 SCENE 1: Dallas Steele & Mitch Vaughn flip-fuck
After a memorable doomsday bunker encounter, Dallas Steele hitchhikes across the dessert after his Jeep breaks down. He gets picked up by Mitch Vaughn, who watches the stud relieve himself before hopping in. The driver makes a pit stop to his shop: "You kind of like showing off your equipment, don't you?" The two stare at each other as they stroke their big cocks, then swap sucks as Mitch's extended tongue begs for more. Dallas eats the smooth jock's hole, then reams his ass ("Oh my God, your cock is so big!") before offering his own hole. Mitch feeds the bottom his own cum, then bursts all over his face as Dallas begs "Shoot that load in my mouth!"

SCENE 2: Max Sargent fucks Luke Adams
Daddy Max Sargent opens the door to find jock student Luke Adams in distress, claiming he just ran from a stranger in a car who flashed him. "Here, I'll show you," he says, taking out his cock. "Was it hard, like this?" asks Max, taking out his own beast. "He was going to make you suck his dick." Max guides the wide-eyed Luke down on his cock, then sucks him back. Luke slurps him again, his nose planted in Max's bush. Max eats and fucks the bottom, whose hard cock pulses as the top thrusts in deep. Luke sits down on it as his own boner bobs up and down. "You gonna come in my mouth?" asks Max, whose beard is soon coated before Luke yells "Give it to me, sir!"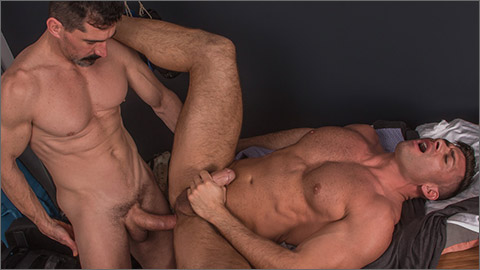 SCENE 3: David Anthony fucks Bruce Beckham
David Anthony talks with parent Bruce Beckham, whose son (Luke Adams) is becoming sexually suggestive with his coach. "I think you're gonna have to show me," says Bruce, who is soon staring at David's massive dick. He whips out his own as they stare at each other, David's boner throbbing up and hitting Bruce's beast. The two worship each other's monsters, side shots capturing their deep throats on display—Bruce fingering a stand of spit stuck to David's mouth. David pounds Bruce's hole, their pecs shaking before he goes in deep and stays there—the two soon shooting.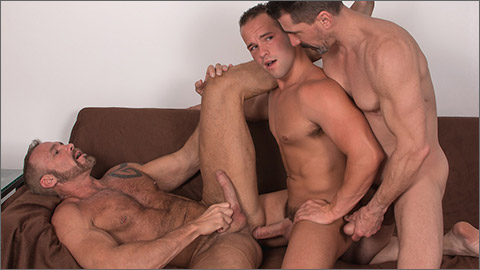 SCENE 4: David Anthony fucks Dallas Steele & Luke Adams
Lounging at his bud David's house, Dallas takes out his dick—but is interrupted by a knock at the door, a surprised Luke coming to apologize for his behavior towards his coach. "You're gonna have to prove it, son," says David. "I want you to go over to my friend…now suck it." Luke takes turns on their huge cocks, opening wide as he chokes. The two suck him back, Luke soon fucking Dallas as David feeds the bottom. Luke then gets on all fours, the two studs taking turns stuffing him at each end: "Suck my buddy's dick!" yells David as he fucks him. "That's it, boy!" David fucks Dallas—Luke opening wide as the two shoot, stuffing both of their cum-soaked dick heads in his mouth at once.

MORE INFO, PREVIEW OR WATCH RIGHT NOW:
TITAN MEDIA
Scenes Premier online prior to DVD release and are available to view anytime in the Member's Area.
Members can watch scenes from almost all Titan Media releases anytime online.