Studio: COLT Studio / Buckshot Productions
Directed by: Rip Colt / Various
Year of Production / Release: 1999
Country of Production: U.S.A.

CAST:
Franco Corelli
Carl Hardwick
Billy Herrington
FILMS IN THIS COMPLIATION: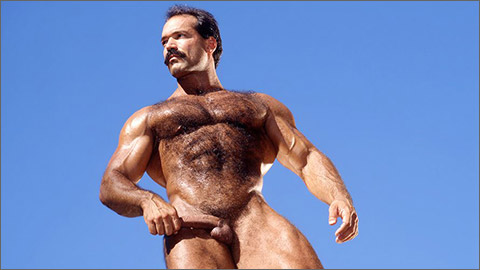 A DAY IN THE LIFE OF CARL HARDWICK
Often we're asked what are models really like. Of course they're all different but since there's such overwhelming interest in Carl we thought he might be a good example to answer the question – and so this new video came into being. The show is in several sections illustrating his various at home activities.
You'll see him shooting some hoops, pruning some trees, doing stretching exercises and practicing his contest poses, etc. All everyday goings-on, with one big difference: when you're a massive, powerful, muscular, hairy hunk like Carl is, anything you do is awesome (especially if you're nearly naked).
The last section of the video with Carl fireside, at the end of the day, has us asking a question – what or who is he thinking of while he's doing that?
Ever wonder what a typical day is like for a COLT Legend? Well its like most days for any regular all-American Joe. A little Bar-B-Que, shooting hoops in the drive-way, pruning the hedges, a little workout in the back yard. The usual stuff, only when you have a world class body like Carl Hardwick, with thick muscles covered in rich dark fur, every day activities are jsut a whole lot hotter. And what red blooded man doesn't set aside some time each day to give his manhood a little tug and stroke action. After a light workout Carl likes to take his tug and stroke action in the hot tub, where his dark hair and thick muscles pop in the wet steamy haze. For an extended stroke session Carl retires to his living room where he sprawls out for a long indulgence of self pleasure.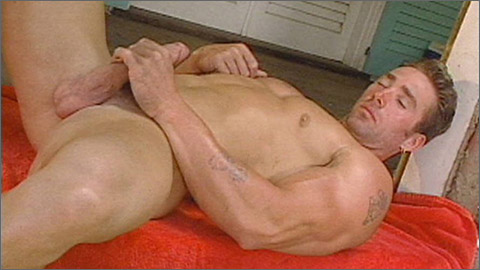 THE BIG ONE
In California, earthquake country, one hears about "the next one", when will it happen, how strong will it be, will it be "the Big One?" Nobody knows of course but for Billy Herrington, the "Big One" is his regular Saturday date, a date with someone even more spectacular than he (if you can imagine that.) When our film begins we see Billy cleaning his huge Harley and yes, before you ask, he almost always does this naked. As he lovingly washes the wheels, the seat, the chrome, you'll be lustly watching him! Once finished he drives to his friend's house only to find no one home. Right then a call to his cell phone explains the situation, but Billy can't wait. The sound of the voice is such a turn-on he decides to ease the pressure. You'll know the feeling…
New Jersey native, Billy Herrington is out washing is Harley in the buff (as we often do here in Southern California). Once done, he takes his hog out for a spin to a friends near by cabin where the phone rings and Billy answers. The conversation is definitely arousing Mr. Herrington, with many body shots of Billy stroking and caressing himself. Conversation done, Billy finishes what the phone call started. This was filmed in the beginning of Herrington's career, and probably when he looked his freshest.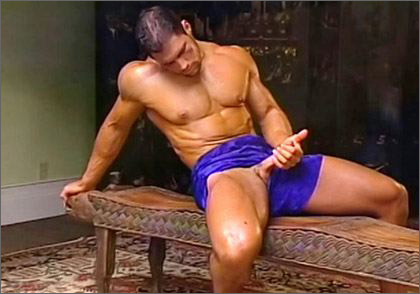 ON HIS OWN
Franco agrees to look after a large estate while the owners are away. Part of his daily routine is a run on the grounds. He works up a sweat and returns to the main residence to cool down and relax with a chilled drink. But the jogging has fired him up, and even when a brisk shower doesn't reduce the inner heat he decides to take matters in hand. So will you!
As Franco's first film for Buckshot, we've pulled out all the stops. One of Hollywood's most talented composers was commissioned and delivered an extraordinary score adding a haunting texture to the video's visual impact.
It's rare for Rip Colt to comment on his own line, so when he says "this is one of the best we've ever done…art and eroticism are seamlessly joined" – that's saying a lot!"

MORE INFORMATION / WATCH IT / DOWNLOAD IT :
COLT STUDIO
COLT Studio members can watch this presentation online.
Extensive Photo Archives are available for download on all Classic Colt and Newer Colt Studio Productions.
BUY IT / DOWNLOAD IT :
COLT STUDIO STORE
Many of the Classic Colt and Newer Colt Studio Productions are still avaialbe for purchase in enhanced editions.