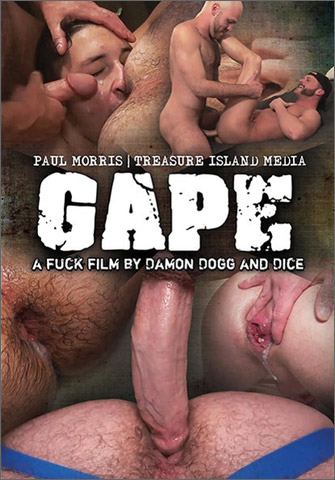 Studio: Treasure Island Media
Directed by: Damon Dogg & Dice
Year of Production / Release: 2020
Country of Production: U.S.A.

CAST:
Giovanni Bangmore
Jaime Brazil
Julian D'Marco
Topher DiMaggio
Drew Dixon
Jack Dixon
Ashton Ducati
Jack Dyer
Atlas Grant
Josh Hunter
Ryan Jamison
Riley Landon
Mason Lear
Parker Logan
Christian Matthews
Jake Morgan
Jason Morgan The Morgan Twins
Justin Morgan The Morgan Twins
Marco Napoli
Dayton O'Connor
Chase Parker
Brodie Ramirez
Aaron Reese
Robert Rexton
Dean Rogers
Dante Rosa
Dale Savage
Adrian Silver
Joel Someone
Silver Steele
Eddy Sterling
Diego Tovar
T. Willcox
Cesar Xes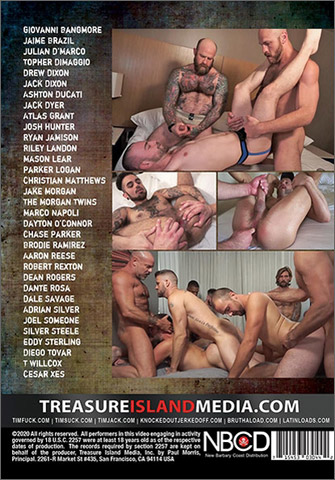 INFORMATION FROM TREASURE ISLAND MEDIA:
Damon Dogg and Dice invite you to kick back with GAPE – a fuck extravaganza dedicated to those men who live to open hole with cock. GAPE features 8 ALL NEW hard-core scenes including one balls-to-the-wall over-the-top 17-man wham bam gangbang of THE MORGAN TWINS. Other highlights include a 4-WAY swap-the-key fuck with CHASE PARKER, DALE SAVAGE, ATLAS GRANT and JAKE MORGAN. Power bottom MASON LEAR turning power top JULIAN D'MARCO into his bitch. TOPHER DIMAGGIO breeding BRODIE RAMIREZ; and ASHTON DUCATI fucking the hell out of DREW DIXON. The cast of 36 horny fuckers also includes JACK DIXON, PARKER LOGAN, JOEL SOMEONE, MARCO NAPOLI, DIEGO TOVAR, CESAR XES and SO SO SO many more. Yeah, GAPE for me.

SCENE 1: Jack Dixon, Riley Landon, Parker Logan
RILEY LANDON gets completely impaled and worked over by poppa bears PARKER LOGAN and JACK DIXON. Parker has Riley squat down and ride his pole, opening him up for Jack's fat pierced meat. Riley is then fucked on all fours and on his back – taking each man's cock one after the other. Both men empty their balls in Landon's hungry hole, leaving the bottom wet and wanting more.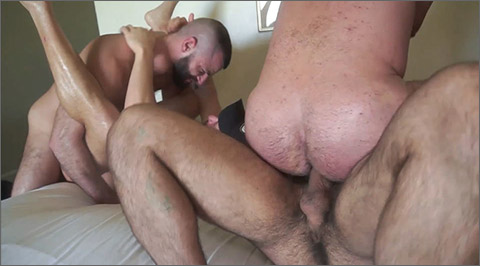 SCENE 2: Chase Parker, Dale Savage, Atlas Grant, Jake Morgan
DALE SAVAGE assumes the position and quickly surrounded by CHASE PARKER, ATLAS GRANT and JAKE MORGAN. Atlas is the first to fuck and open up the hole. Jake fucks Dale next and Chase being the pig he is, offers his cunt up to Atlas. Atlas rims Chase's ass and then lets Jake get into the slut's ass. Chase and Atlas fuck the 2 bottoms side by side until both have been eagerly bred.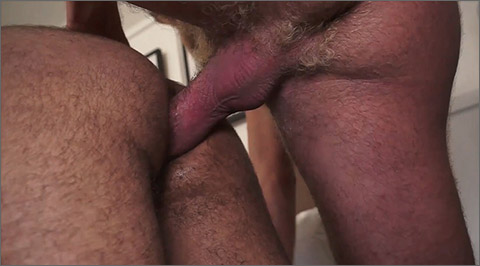 SCENE 3: Silver Steele, Dante Rosa
Beautiful DANTE ROSA exposes his furry butthole wide open for mouth, spit and tongue. SILVER STEELE fucks the eager bottom and even stops to take Dante's pre-cum and use it for lube. Silver fucks and grinds until Dante cannot hold back and squirts all over himself. Silver ends things by dumping his own load in the bottom's gaping ass.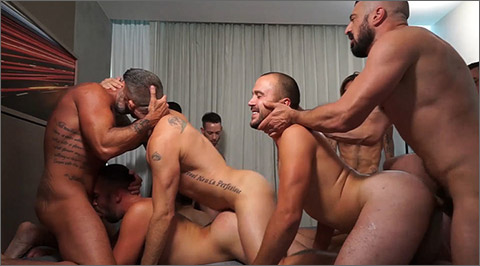 SCENE 4: Jason Morgan, Justin Morgan, Joel Someone, Josh Hunter, Marco Napoli, Eddy Sterling, Dean Rogers, Aaron Reese, Robert Rexton, T Willcox, Dayton O'Connor, Christian Matthews, Cesar Xes, Adrian Silver, Ryan Jamison, Diego Tovar, Giovanni Bangmore, Jaime Brazil, Jack Dyer
17 men and 2 bottoms. The kind of gangbang that only Treasure Island could make. The Morgan Twins – Jason and Justin – two holes no waiting. File in, line up, and fuck till you cum. And in some cases – cum twice for the twins. Featuring JOEL SOMEONE, JOSH HUNTER, MARCO NAPOLI, EDDY STERLING, DEAN ROGERS, AARON REESE, ROBERT REXTON, T WILLCOX, DAYTON O'CONNOR, CHRISTIAN MATTHEWS, CESAR XES, ADRIAN SILVER, RYAN JAMISON, DIEGO TOVAR, GIOVANNI BANGMORE, JAIME BRAZIL and JACK DYER.

SCENE 5: Chase Parker, Parker Logan
We love PARKER LOGAN and what a demanding top man he is. It is like his partner's hole is just a toy for him to play with and for his sizeable cock to use. CHASE PARKER succumbs and gives up his ass and the Dom top takes full advantage, pumping and plowing until he cums, enjoying burying his load as deep as he can go. The top saved this load up for days and it is a lot of cum!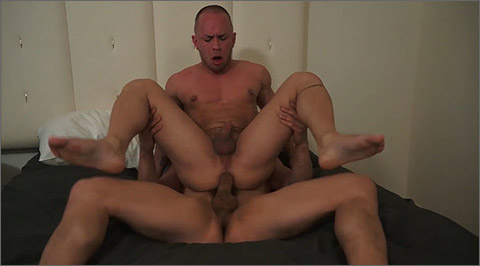 SCENE 6: Topher Dimaggio, Brodie Ramirez
BRODIE RAMIREZ offers up his holes for TOPHER DIMAGGIO to fuck and breed. Brodie is all in, willing to get fucked any way Topher wants to. Topher fucks the bottom on his belly and then stops to let him taste his own ass. Brodie then gets on top and rides that cock, milking it with his ass trying to get the alpha man's milk.

SCENE 7: Ashton Ducati, Drew Dixon
Brit bottom boy DREW DIXON loves the big black uncut cock and one look at ASHTON DUCATI's joint and the pig goes to town. Drew sucks Ashton's cock hard. Ashton rims Drew's hole. Then the fucking begins. "Oh fucking gape out that hole." Ducati fucks non-stop. Drew begs him to keep it in and fuck it hard and breed it deep and fuck him with his own cum.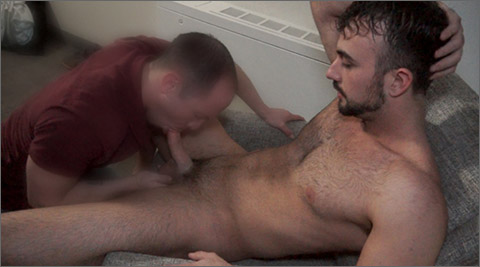 SCENE 8: Derek North aka Mason Lear, Julian D'Marco
MASON LEAR is a multi-shooter who likes to use his own cum for lube. We've been enjoying JULIAN D'MARCO in other TIM appearances as a power top with a big dick. No sooner does Mason get his cock in Julian's hole than he is cumming. Completely on purpose. Mason then uses his own sperm all around his hard cock to continue fucking Julian's ass until he fucks a second load out.

WATCH THE SCENES BUY THE DVD AT:
TREASURE ISLAND MEMBER'S SITE & STORE
Members at TREASURE ISLAND'S MEMBERS SITE can watch these scenes and download extensive Photo Content from this production and get discounted pricing on all DVD and Print purchases.
ENDLESS STREAMING MEMBERSHIP: TREASURE ISLAND MEDIA @ NAKEDSWORD
DVDs & ON-DEMAND: TREASURE ISLAND MEDIA @ TLA VIDEO