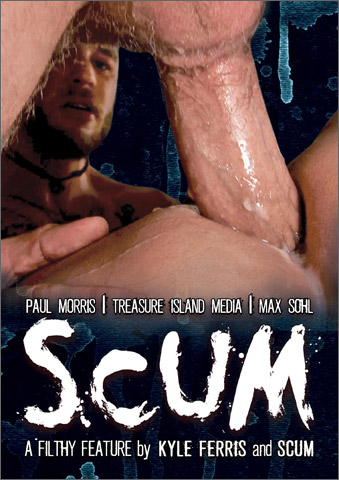 Studio: Treasure Island Media
Directed by: Kyle Ferris, Scum
Year of Production / Release: 2020
Country of Production: U.S.A.

CAST:
Blaze Austin
Hans Berlin
Billy Blanco
Sam Bridle
Luca D'Amore
Romeo Davis
Teddy Forest
Harlem Jock
Hunny Bear
Jamaican Boi
Seth Knight
Jake Lawrence
Noah Lucas
Ty Madison
Roman Maverick
Riley Mitchel
Tyler Monroe
Logan Moore
Jake Morgan
Ayler Park
Ryan Powers
FX Rios
Alex Tikas

INFORMATION FROM TREASURE ISLAND MEDIA:
There is always room for SCUM! When you're a load chasing fuckhole you never stop at just one. That first load is just lube for the next. SCUM is a collection of three way fucks (and one double loaded four way) that leave our bottoms loaded and dripping with SCUM. Filmed by NYC men Kyle Ferris and Scum and produced by Max Sohl.
   HANS BERLIN, BILLY BLANCO, SAM BRIDLE, ROMEO DAVIS, HARLEM JOCK, RILEY MITCHEL, LOGAN MOORE, JAKE MORGAN, AYLER PARK (making his FUCK debut with TIM), RYAN POWERS, FX RIOS, and ALEX TIKAS are just a few of the hung studs and hungry holes that are featured in these SCUM soaked spank scenes!
   We're also thrilled to welcome several filthy first timers making their TIM movie debut: HUNNY BEAR, LUCA D'AMORE, ROMEO DAVIS, JAKE LAWRENCE, and NOAH LUCAS are all hot pigs that we're glad to have on board.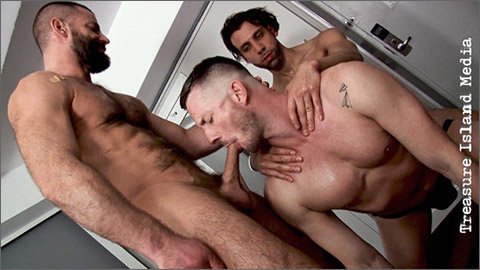 SCENE 1: Luca D'Amore, FX Rios & Jake Morgan
LUCA D'AMORE's pure affection for being a total dick pig shines through as JAKE MORGAN and FX RIOS encourage him by shoving their dicks down his throat. He graciously gobbles down their meat, savoring the taste with every stroke of his lips. But that is just the beginning. Luca leaps at the chance to take their rock hard cocks up his ass. Jake mounts his hole and drives himself in deep. He leaks so much pre-cum into Luca that it drips out onto our camera. Using Jake's body fluids as lube, FX slides his huge uncut cock into Luca with no trouble at all. The two hung tops take turns using both Luca's holes making sure he's left filled with a sloppy mix of their DNA. Luca is such a happy horned up pig bottom; we think you are going to love watching him get plowed.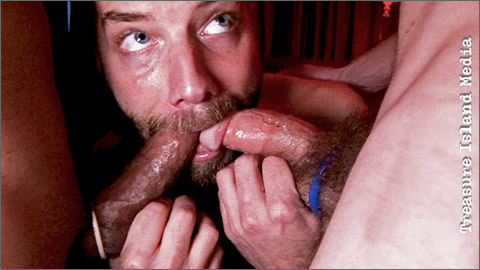 SCENE 2: Ayler Park, Billy Blanco & Tyler Monroe
AYLER PARK swallows BILLY BLANCO & TYLER MONROE to the hilt as he chugs both their cocks in anticipation for the beating his butthole is about to take. Ayler goes legs up, offering himself to both men. Billy gives Ayler the deepfillernyc treatment warming up the hungry bottom for Tyler's rock hard dick. They fuck his furry butt full of raw dick and have him begging them to inseminate his hairy hole – which – of course they do!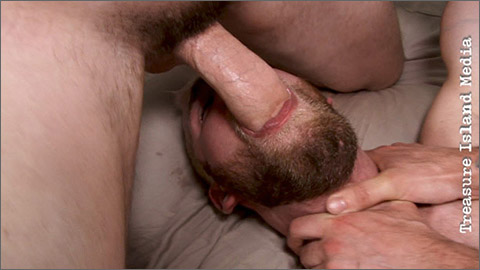 SCENE 3: Ty Madison, Romeo Davis & Teddy Forest
Canadian bacon ROMEO DAVIS and Brooklyn boy TEDDY FOREST have big plans and even bigger dicks for TY MADISON. They sandwich this lil' piglet with Teddy rimming his sweet hungry hole and Romeo ramming his hard dick down his throat.
   Eager and excited to get sodomized, Ty presents his hole for a barely lubed pounding from Teddy's massive meat. Stretched, poppered up and ready for more, Ty then takes a ramming from Romeo.
   These two taunt and agro-fuck Ty's butthole until they're ready to bust and load him up with baby batter.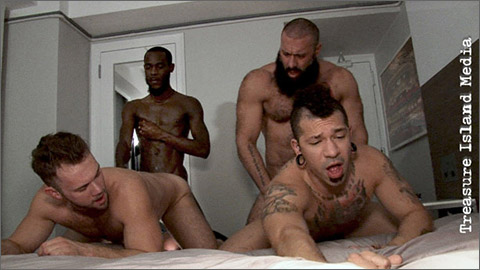 SCENE 4: Blaze Austin, Roman Maverick, Alex Tikas & Jamaican Boi
BLAZE AUSTIN and ROMAN MAVERICK get all their hungry whore holes filled and drilled by the thick dicked top team of ALEX TIKAS and JAMAICAN BOI. Blaze has no trouble throating Jamaican's full 11 inches while Roman greedily gets gag-fucked on Alex's beefy cock. Like two pigs at the trough, these boys devour those dicks, just making their holes hungrier and hungrier to be fucked. Both bottoms bend over ready to get rimmed and rammed! Alex and Jamaican Boi line up for the butthole buffet and eat the sweet muscle holes to their hearts' content. Once the boys have been slicked, it's time they get dicked! Finally Roman and Blaze take the deep steady double cum filled fuck.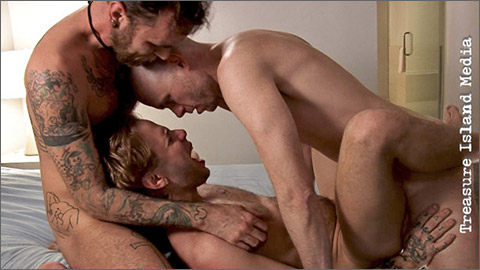 SCENE 5: Noah Lucas, Jake Lawrence & Ryan Powers
We welcome new cummers NOAH LUCAS and JAKE LAWRENCE to TIM and paired these two newbie horn dogs with one of TIM's personal favorites – and America's Sweetheart – RYAN POWERS. Who better to show 'em how it's done? Noah's a hungry hot lil' dick pig who loves getting his holes worked over hard and filled with cum. Jake is big dicked top big who's always horny and gets rock hard at the drop of a hat. The guys take turns going back and forth. Fucking. Kissing. Sucking – egging each other on and dumping huge nuts in Noah's hungry hole.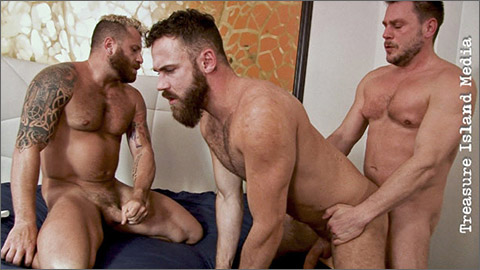 SCENE 6: Logan Moore, Hans Berlin & Riley Mitchel
When faced with this much foreskin, RILEY MITCHEL delivers some furious fellatio. HANS BERLIN returns the favor but they don't wait long, before throwing Euro trash LOGAN MOORE on all fours, feeding him cock & tongue fucking him deep, all in prep for the spit roasting to come. Slicked up, Hans slides in Logan's ass, holding his head down on Riley's dick while he pummels and pounds his way into his guts. The tag teaming tops swap out and Hans has Logan taste his ass on his dick, while Riley takes him up the rear. They hump his hungry hole hard & deep; fucking each other's cum into Logan and pound his prostate until everyone has shot a load.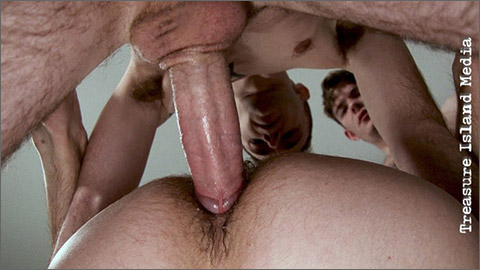 SCENE 7: Tyler Monroe, Sam Bridle & Teddy Forest
SAM BRIDLE and TEDDY FOREST target TYLER MONROE's hole for some serious punishment with a double dickdown from their monster cocks. These boys have serious weapons of ass destruction swinging between their legs and they're planning an attack! Tyler doesn't scare easy and is on his knees sucking down both huge hogs, making sure they're rock hard and raging for the fuck to cum! Sam lubes and fingers Tyler's tight hole, teasing him as Teddy lines up his battering ram of cock to enter and break Tyler's walls down. Tyler pants as he's slowly stretched open and completely filled with meat, demonstrating he can take it as good as he gives it. Sam takes his turn at bat and beats his dick in Tyler's hole while Teddy feeds him a mouthful of dick, tag teaming the pig until he's well done and dripping in their juices.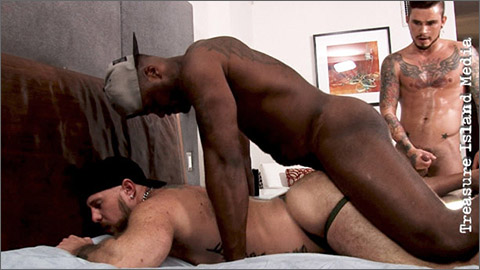 SCENE 8: Hunny Bear, Harlem Jock & Seth Knight
Come get your hunny! Making his TIM debut, HUNNY BEAR is one sweet piece of ass! HARLEM JOCK and SETH KNIGHT declare open season on bear hole and leave this fuzzy fucker filled with SCUM. The 2 designated tops make out while Hunny gets their dicks ready by servicing them side-by-side. They then turn to his hole, rimming it and then fingering it to get it ready for their dicks. Seth has a preliminary sperm bust into the hole getting it wet for Harlem Jock to breed. With the bottom loaded, he dumps a second full helping of SCUM deep up his guts.

WATCH THE SCENES BUY THE DVD AT:
TREASURE ISLAND MEMBER'S SITE & STORE
Members at TREASURE ISLAND'S MEMBERS SITE can watch these scenes and download extensive Photo Content from this production and get discounted pricing on all DVD and Print purchases.
ENDLESS STREAMING MEMBERSHIP: TREASURE ISLAND MEDIA @ NAKEDSWORD
DVDs & ON-DEMAND: TREASURE ISLAND MEDIA @ TLA VIDEO