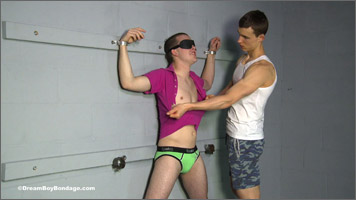 Studio: Dream Boy Bondage / Kenneth Benjamin Media
Directed by: Kenneth Benjamin
Year of Production / Release: 2015
Country of Production: U.S.A.

CAST:
Daniel
with Dom Master: Jared


INFORMATION FROM
KENNETH BENJAMIN / DREAM BOY BONDAGE:
BIRTHDAY BOY – PART 1 – PLAYTIME: 18:11
Today is Daniel's 18th birthday. But he's not celebrating with cake or a party. Instead, he is hauled into a concrete bunker, blindfolded and shackled. You see, Daniel is a troublemaker at his high school. He is often truant. He smarts off. And, last week, he hit a teacher. The school district has waited for him to turn 18 to submit him for punishment because, as an adult, he can be stripped naked, severely tortured and sexually abused. In other words, his 18th birthday – his first day as an adult – will be pure hell. A beautiful boy, hairless and innocent, Daniel is stripped to his tiny briefs and bolted to a concrete wall. "Do you see what is on that table?" the man standing before him says in an emotionless voice. Daniel holds back tears as he looks over at the collection of whips, clothespins and clamps. Next week: Pinned, cropped, humbled.
BIRTHDAY BOY – PART 2 – PLAYTIME: 20:02
Beautiful young Daniel is bolted against a wall, his cock and balls hanging over the top of his tight briefs. He moans in pain from the brutal whipping of his chest and stomach and from the clothespins digging into his nipples and navel. "Please…" he begs, but his suffering is about to get much worse: The sadistic man torturing him covers his cock and balls with 15 clothespins! "This is all your fault," the man tells Daniel. "I know; I'm sorry. It's hurting so much," the boy replies. Then it get's even worse: A larger, much nastier clip is put right on the tip of his cock. A few hours later Daniel discovers the only thing worse than putting the pins on is taking them off. Next week: Spanked.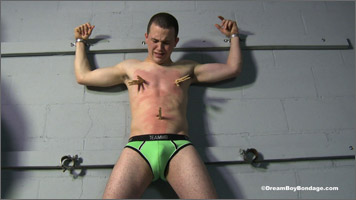 WATCH OR DOWNLOAD IT NOW AT:
DREAM BOY BONDAGE
On-Line Presentation, Members can Download.
Extensive photography of most scenes and models.

Hot or Not? Let us know.
[Total:

1

Average:

5

]
INFORMATION FROM KENNETH BENJAMIN \/ DREAM BOY BONDAGE: BIRTHDAY BOY \u2013 PART 1 – PLAYTIME: 18:11 Today is Daniel\u2019s 18th birthday. But he\u2019s not celebrating...","image":{"@type":"ImageObject","url":"https:\/\/films.gayeroticarchives.com\/wp-content\/uploads\/2016\/08\/585502b.jpg","width":200,"height":200},"aggregateRating":{"@type":"AggregateRating","ratingValue":5,"ratingCount":1,"bestRating":5,"worstRating":1},"brand":"","sku":"","":""}