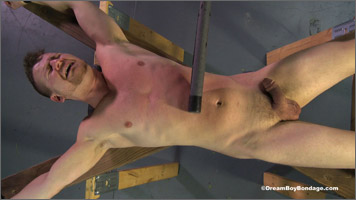 Studio: Dream Boy Bondage / Kenneth Benjamin Media
Directed by: Kenneth Benjamin
Year of Production / Release: 2015
Country of Production: U.S.A.

CAST:
Thomas


INFORMATION FROM
KENNETH BENJAMIN / DREAM BOY BONDAGE:
FOUR YEARS LATER – PART 1 – PLAYTIME: 16:27
Four years ago, 20-year-old Thomas was convicted of sexually assaulting a co-ed – a completely trumped-up charge. The girl, a daughter of a prominent politician, got pregnant and someone had to take the blame. Thomas was brutally tortured then thrown in prison for a "reduced" sentence of one year. Ever since, the once promising young man has been on a downward path that has led him back to the same torture chamber and the same cruel man who tortured him four years ago. The man is very pleased when he sees Thomas, still muscular and beautiful at 24, strapped to a horizontal X-cross, naked but for the tight briefs that barely hide his massive cock and balls. He has been sentenced to two-hours of non-stop beating. The man will punch, flog, whip and pummel him in any way he pleases. Then Thomas will be subjected to his greatest nightmare: crucifixion, a torture that nearly destroyed him four years ago. Next week: A long, steel rod.
FOUR YEARS LATER – PART 2 – PLAYTIME: 14:18
Thomas is now spread-eagled naked on the X-cross, his stomach and chest bright red from a long whipping. "Time for you to take over, Jared. Get the steel pipe," the man in charge says in a deep, terrifying voice. A young man in black pants and boots, his shirtless torso rippling with muscle, approaches Thomas, carrying a long, steel rod encased in hard rubber in one hand and stroking the prone boy's torso and cock with the other. "Please…" Thomas begs, but he's cut off as the steel bar comes crashing down on his abs. Jared continues the pounding mercilessly, sending Thomas into spasms of pain. The man in charge is so turned on he reaches over and strokes Thomas' s huge cock as Jared beats him. When the beating is finally over, the man does something totally illegal – crushing Thomas's beautiful cock and balls with two spring-loaded glue clamps while he and Jared take a two-hour coffee break.
FOUR YEARS LATER – PART 3 – PLAYTIME: 14:23
Thomas is up on his feet now, wrists cuffed behind his back to a steel chain hanging from the ceiling. His neck is bolted to the chain by a steel collar, keeping him fully upright. A steel spreader bar separates his ankles, with his huge cock, also cuffed to the chain, dangling between his legs. He doesn't know it yet, but he is a human punching bag – and prison guard Jared is about to get a very good workout on him. Jared comes in shirtless – he means business – his hands covered with hard rubber gloves, not boxing gloves that are meant to soften a blow, but rock-hard punching gloves meant to increase the impact of each punch. Thomas shakes his head in disbelief. "I have one instruction for you Jared," the man says: "No mercy." Jared is very good at following instructions. Next week: Whipped, readied for the cross.
FOUR YEARS LATER – PART 4 – PLAYTIME: 15:45
Thomas is dazed and confused from his intense beating at the hands of his prison guard, Jared. He hangs half-limp from his wrists, cuffed together high over his head to a steel chain stretched down through his butt crack and attached to a steel cuff around his cock and balls, which are pulled upward by the chain when he slouches and downward by the 10-pound lead weight dangling between his legs. Jared punches the prone boy several more times, then lays into him hard with the flogger. By the end, Thomas barely moans after each blow. Jared leaves him hanging in his chains for hours. After this brief "rest," the naked, young prisoner is laid on the cross, flat on his back, displayed like a trophy, awaiting eight hours of unrelenting hell. Next week: Crucified again.
FOUR YEARS LATER – PART 5 – PLAYTIME: 17:04
Thomas lays passively on the cross from which he will hang for eight full hours in constant, unrelenting pain. He was crucified on this very cross four years ago and the horror of its simple power has haunted him ever since. He seems strangely calm but in reality he is paralyzed by fear and dread as the man torturing him announces "Prepare the prisoner for crucifixion." "Please, please don't do this to me," he mumbles in an almost emotionless voice, but he knows no mercy will be shown, that all he can do is submit. Jared straps his wrists and ankles to the wood. Then the electric winch whirls into action and in less than a minute Thomas is hanging. The pain begins immediately. Next week: Pulled apart.
FOUR YEARS LATER – PART 6 – PLAYTIME: 16:36
Thomas gets hard while in total agony on the cross, but he just can't cum; the pain is too great. So he will now spend 10 hours, not 8, crucified and it's all his fault.
Thomas's lean, muscular body looks so good up on the cross, stretched taut. All that's needed for him to be the perfect specimen of pain is seeing that huge cock get erect while he suffers. "Get hard!" the man screams at the crucified boy as Jared works his cock. Thomas manages to get erect, even as the horrible pain of the cross sinks into every one of his muscles. Then the man raises the stakes even higher: "You better cum, boy, or I'm adding two hours to your sentence!" he says with a sneer. Terrified of having to suffer even longer, Thomas tries desperately to make his fat cock perform, but the pain and humiliation is just too great. His failure costs him dearly: He will now have to spend 10 hours, not 8, bolted to the cross, glistening with sweat, in total agony.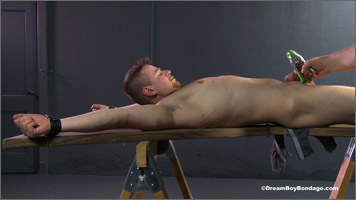 WATCH OR DOWNLOAD IT NOW AT:
DREAM BOY BONDAGE
On-Line Presentation, Members can Download.
Extensive photography of most scenes and models.

Hot or Not? Let us know.
[Total:

3

Average:

3.7

]
INFORMATION FROM KENNETH BENJAMIN \/ DREAM BOY BONDAGE: FOUR YEARS LATER \u2013 PART 1 – PLAYTIME: 16:27 Four years ago, 20-year-old Thomas was convicted of sexually assaulting a co-ed...","image":{"@type":"ImageObject","url":"https:\/\/films.gayeroticarchives.com\/wp-content\/uploads\/2016\/08\/585505b.jpg","width":200,"height":200},"aggregateRating":{"@type":"AggregateRating","ratingValue":3.70000000000000017763568394002504646778106689453125,"ratingCount":3,"bestRating":5,"worstRating":1},"brand":"","sku":"","":""}