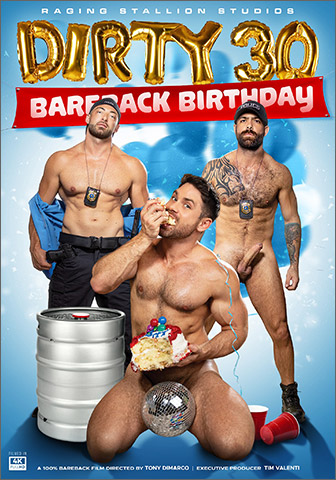 Studio: Raging Stallion
Directed by: Tony Dimarco
Year of Production / Release: 2022
Country of Production: U.S.A.

CAST:
Austin Avery
Beau Butler
Cole Connor
Max Konnor
Lucca Mazzi
Jake Nicola
Reign
Isaac X
INFORMATION FROM RAGING STALLION:
Turning the big 3-0 doesn't mean that you must leave behind all the bareback hookups and wild orgies from your 20s and this 'Dirty 30 Bareback Birthday' proves it. Award-winning director Tony Dimarco is bringing together eight insatiable hunks for a birthday bash where the dress code only requires you to wear your birthday suit and a face full of your best friend's fresh load. Beau Butler thinks that boyfriend Cole Connor is taking him away for a quiet couple of days filled with froyo and snuggles, but what he doesn't know is that all his best friends are waiting to surprise him with a cum-filled weekend getaway. Before anyone even has the chance to strip down, the party is crashed by stripper cops Jake Nicola and Lucca Mazzi. Having always wanted to fuck a cop, Austin Avery takes Jake Nicola away for an intense bareback fuck session that ends with Austin Avery pushing a hot load of jizz out of his used hole. Once Max Konnor and Cole Connor successfully break off from the rest of the horned-up group, Cole Connor manages the impossible by swallowing every last bit of his friend's 10-inch monster cock. Stripper cop Lucca Mazzi is using both his police baton and hard cock to fill up the incredibly beefy ass of Beau Butler. Once the birthday boy gets to riding the faux officer's meaty cock, it isn't long before he's shooting ropes all over Lucca Mazzi's ripped abs. Reign is excited to finally become friends with benefits with Isaac X and wastes no time stuffing all 8 of his inches into his pal's open mouth and thick ass. Once they're done with each other, Reign and Isaac X go out to celebrate with birthday boy Beau Butler. The hunks stuff him at both ends, give him a creamy facial, and breed him before Max Konnor, Cole Connor, Austin Avery, Jake Nicola, and Lucca Mazzi all come out ready to add some extra coats of icing to Beau Butler's cumcovered body. Once every one of his friends has unloaded their balls on him, the extremely drained Beau Butler exclaims that this 'Dirty 30 Bareback Birthday' is officially the most satisfying party that him and his fat cock have ever had.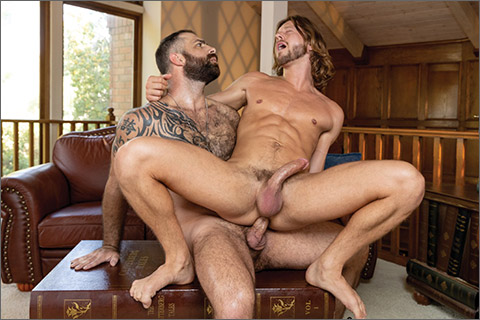 DIRTY 30 BAREBACK BIRTHDAY / SCENE 1: Jake Nicola fucks Austin Avery
When Austin Avery wants to break away from a crowded birthday orgy, he grabs stripper Jake Nicola to go somewhere a little more private. Already out of his sexy cop costume, Jake shoves his face between Austin's cheeks as the partygoer begs him to fill his ass. More than happy to satisfy his boy, the bearded top slides every inch of his meat into Austin's wet hole. The bottom's bubble butt jiggles and his moans progressively get louder with each bareback thrust from the hairy top. Now fucking Austin on the coffee table, Jake digs his dick deep into the stranger's ass as he breeds and blasts cum all over his insides. Austin then finishes himself off before throwing his legs back to push out the fresh load that his new stripper friend left inside his hungry hole.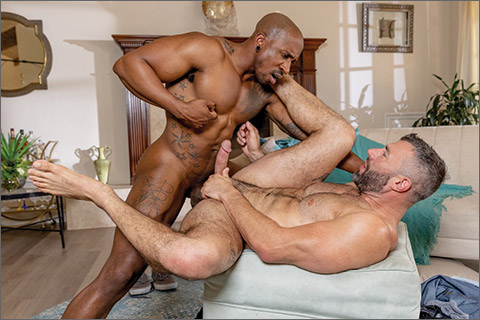 DIRTY 30 BAREBACK BIRTHDAY / SCENE 2: Max Konnor fucks Cole Connor
Hung king Max Konnor can't wait to make his dick disappear inside of every orifice that scruffy hunk Cole Connor has to offer. Cole doesn't disappoint as he shows off his impressive deepthroating talents by swallowing the entirety of Max's 10-inch monster cock. Max returns the favor by stuffing his face in Cole's hairy crack and rimming his mouthwatering hole. With his backdoor prepped and ready, Max slowly inserts his oversized dick into Cole's ass. The moaning bottom leans against the couch for support as a focused Max turns up the intensity until the room is filled with the sound of him clapping Cole's cheeks. Still getting barebacked by Max's oversized meat, Cole shoots his load all over his hairy abs. Max pulls out right after to add to the collection of cum and shower his bottom with his seed.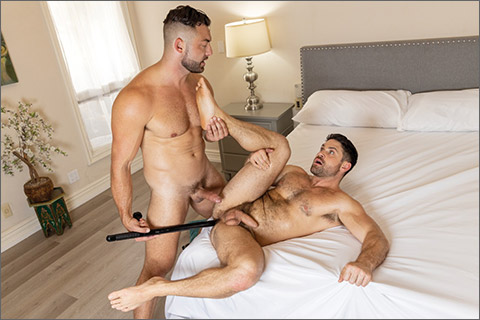 DIRTY 30 BAREBACK BIRTHDAY / SCENE 3: Lucca Mazzi fucks Beau Butler
Hairy beefcake Beau Butler is naked, hard, and ready to climb Lucca Mazzi like a tree. Lucca slaps his big dick against Beau's tongue as Beau goes in to swallow and service every inch of him. Lucca then surprises his new partner by pulling out a police baton and using the end of it to drill Beau's hole. He twists and turns the unconventional toy before ditching it to bareback Beau with his giant cock. Beau's incredibly beefy ass bounces up and down as he rides the top's meaty dick. When Beau's tight hole proves to be too much for Lucca, he pulls out to spray down the bottom's ass with a thick coat of cum right before Beau unloads his own mess of jizz all over Luca's defined abs.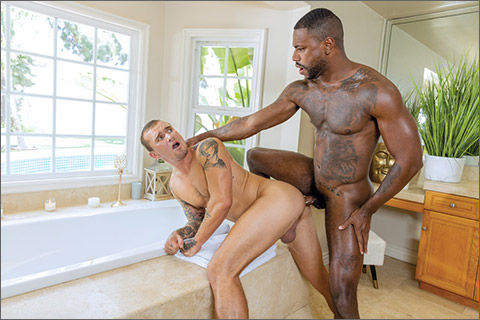 DIRTY 30 BAREBACK BIRTHDAY / SCENE 4: Reign fucks Isaac X
After years of sexual tension, lifelong pals Reign and Isaac X have finally broken through and become friends with benefits. Isaac drops to his knees to service Reign's gigantic dick, but he can barely take all 8 inches of it as Reign pumps himself in and out of his mouth. The muscle bottom tries to keep a strong face as he's bent over the tub with Reign's big, bareback dick sliding into his tight hole. Reign then pounds his best friend on the bathroom counter until both men have worked up a serious sweat. Ready to blow his wad, Reign takes Isaac to the floor and covers his face in the biggest load Isaac has ever seen. With ropes of thick cum still covering his face, Isaac continues to suck off Reign until he's shooting pools of cum all over the tiled floor.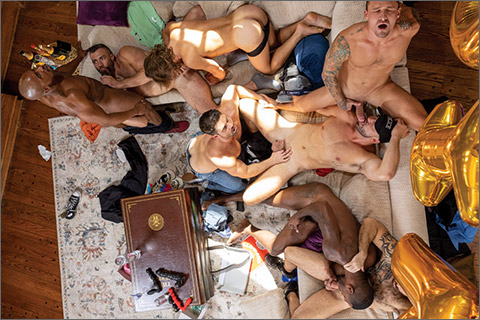 DIRTY 30 BAREBACK BIRTHDAY / SCENE 5: Beau Butler ganbang with Max Konnor, Jake Nicola, Isaac X, Cole Connor, Reign, Austin Avery & Lucca Mazzi
]It's Beau Butler's 30th birthday and his closest friends have all gathered to do what friends do best – ice the birthday boy like a cake. Reign and Isaac X are the first to come out and both immediately begin celebrating the occasion by filling up Beau at each end. Now laying fully naked on the coffee table, Beau moans as he's bred by Reign's bareback cock and given a facial from Isaac. Right after Beau shoots his own load all over himself, Max Konnor, Cole Connor, Austin Avery, Jake Nicola, and Lucca Mazzi all come out ready to stroke their hard cocks. The group of close friends surround the cum-covered Beau and proceed to unload their balls one by one onto his exposed face and hairy body. With every hunk having fully drained themselves onto Beau, the satisfied birthday boy officially exclaims that this cum fest is the best birthday he's ever had.

WATCH THE SCENES AT:
RAGING STALLION'S MEMBERS SITE
Members at RAGING STALLION'S MEMBERS SITE can watch these scenes and download extensive Photo Content from this production and get discounted pricing on all DVD and Print purchases.