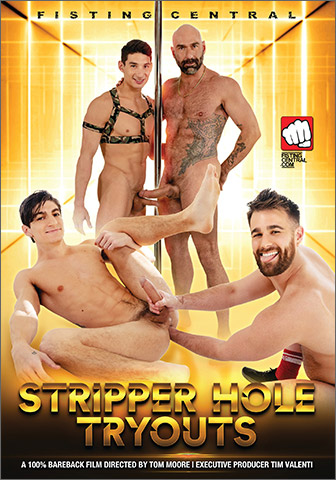 Studio: Raging Stallion's Fisting Central / Fetish Force
Directed by: Tom Moore
Year of Production / Release: 2022
Country of Production: U.S.A.

CAST:
Declan Blake
Jim Fit
Drew Sebastian
Aiden Ward
INFORMATION FROM FISTING INFERNO:
If you want to work the pole at this packed and trendy gentlemen's club, you're gonna have to bare it all and test your limits at the 'Stripper Hole Tryouts'. Director Tom Moore takes you into the back room where four hopeful studs and their sloppy holes earn their place on the stage. After a quick interview, Declan Blake is taking all of Aiden Ward's hole-stretchers to completion. To seal the deal on the job, Declan busts out Aiden's hole on the pole. When eager Jim Fit auditions to dance, his hole gets more than he bargained for. After cumming hands free, Jim returns the favor to bust out Drew's muscle-butt. If you're looking for a hot new gig, try your luck at the 'Stripper Hole Tryouts' and it could be you, getting your ass blown out on stage!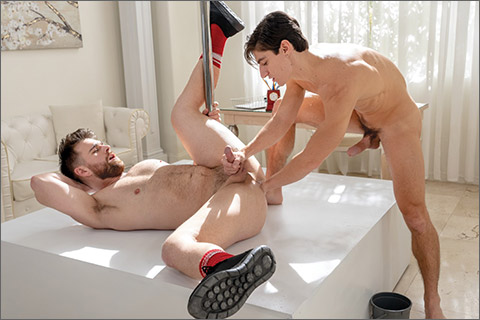 SCENE 1: Aiden Ward fist Declan Blake
When hopeful candidate Declan Blake arrives to his interview with club manager Aiden Ward, the exchange quickly turns into a full-blown tryout with Declan doing his best to try and impress Declan. At first, Aiden is not amused by Declan, that is, until Declan starts shedding his clothes and revealing his insatiable ass in a red jock. Aiden wants to see just how bad Declan wants this gig, so he leaves his post from behind his desk and spreads Declan's cheeks to eat and finger his ass. Declan clearly wants more, so Aiden whips out his hard cock and sticks it in Declan's inviting ass bareback. Preparing Declan everything that goes down in the back rooms, he replaces his cock with his fists up into Declan's hole. It seems Declan is going to fit in just fine at this club as Aiden uses his cock and fist at the same time to gape Declan's crack. With nothing to brace him but the stripper pole, Aiden lays back and receives the managers punches until his rosebud is begging to come out. As his hole is getting used, Declan grabs his cock and strokes until a thick load shoots all over his furry torso.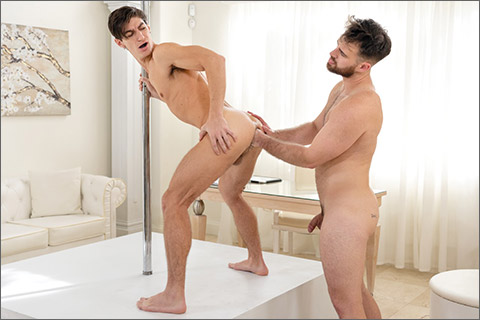 SCENE 2: Declan Blake fists Aiden Ward
As club manager Aiden Ward is leaning on the stripper pole with his rock-hard meat out, Declan Blake does his best to deepthroat the thick monster in his face. The tasting continues as Aiden spins around the pole to and offers his scruffy hole to get devoured. As Aiden arches his back even further, Declan quickly lubes up and plants his fist in Aiden's butt. Aiden's ass welcomes Declan's handball eagerly. Each time Declan gives Aiden's hole a slight break, the manager's sloppy ass pokes out a meaty rosebud that slowly goes back into place. Switching positions, Aiden slides up and down the pole and onto Declan's hand while his cock is planted in Declan's mouth. Declan gets envious of Aiden's hole being stretched, so he rides Aiden's hard cock bareback while he fist fucks Declan's ass. Aiden continues taking the deep stretching until his cock won't hold back anymore and his releases his cum all over himself.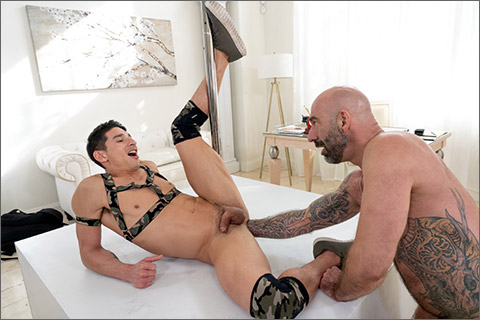 SCENE 3: Drew Sebastian fucks and fists the cum out of Jim Fit
Club manager Drew Sebastian is eager to find some hot, new talent for his club and is excited to meet eager auditionee Jim Fit. After Drew explains what the club is all about, Jim quickly starts working the tryout pole. With Drew as his director, Jim strips down and shows off what he can do. When Drew gets a glimpse of the dancer's hole, he can't help but to dive in and take a taste of the goods. Jim keeps teasing Drew with his tight hole until Drew's big cock is out and up Jim's ass bareback. As Jim struggles to take all of Drew inside him, Drew takes out his cock and works his hand into Jim's willing hole. Drew can tell Jim has a hungry hole, so he alternates between his hands and his thick cock in and out of Jim's hole. As the fists go deeper, Jim's ass only gets hungrier, hopping on Drew's fat hand and riding it. When Jim's rosebud makes an appearance, Drew makes sure to appreciate his work and play with the blooming bud. With Drew's fist shoved deep inside of him, Jim cums hands free all over his leg.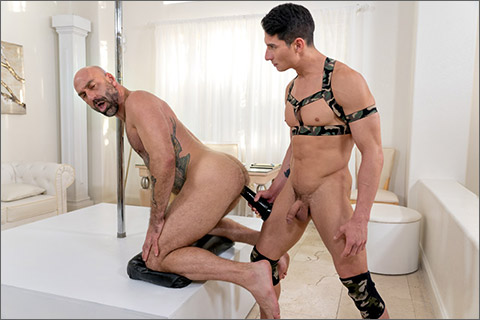 SCENE 4: Jim Fit fists Drew Sebastian
Experienced club manager and hot daddy Drew Sebastian wants to show dancer Jim Fit that he can still roll with the young bucks. Bending over to show off his ass, Jim takes the invitation to get his fist deep into Drew's hairy ass. As Jim goes deeper and deeper, Drew grabs onto the stripper pole and opens up. To get a deeper angle, Drew sinks down onto Jim's fist and bounces up and down while Jim sucks his cock. As Jim passes Drew's threshold, Drew's legs shake while he strokes his massive cock. Lying on his back, Drew gives Jim full control of his tight ass as the dancer works on opening Drew up. Jim is wrist deep in Drew's ass when the club manager yanks on his pole so hard his thick ropes shoot all over his hand that Jim rushes to lick up and not waste.

WATCH THE SCENES AT THE NEW:
FISTING INFERNO