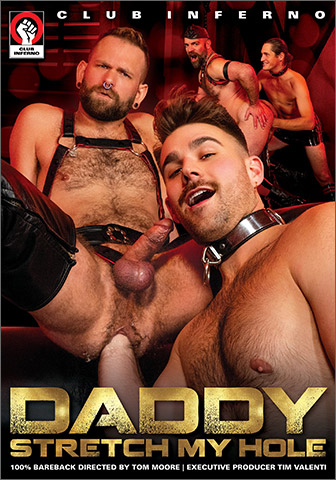 Studio: Hot House Entertainment / Club Inferno
Directed by: Tom Moore
Year of Production / Release: 2022
Country of Production: U.S.A.

CAST:
Declan Blake
Josh Mikael
Tony Orlando
Wolfie Braden Shaw
INFORMATION FROM FISTING INFERNO:
Any naughty boys looking to get stuffed by a hairy hunk's fist just needs to grab their finest collar, drop on all fours, and whimper out the simple command, 'Daddy Stretch My Hole'. From award-winning fetish director Tom Moore, this film follows four stretched-out men that are ready to be destroyed the meatiest fists they can find. Dom daddy Josh Mikael is ready to grab his boy Declan Blake by the collar and fill up him up with both his bareback cock and his pair of firm fists. After Declan Blake busts, the drained boy goes in to satisfy his daddy by filling him up with his cock and girthy forearms. Hairy hunk Wolfie Braden Shaw has been dragging around his boy Tony Orlando all day and is finally ready to stretch him out. The boy soon finds himself taking his daddy's entire fist, showing off his bright rosebud, and creaming all over his own leg. With his excessive body hair now smothered in lube, Wolfie Braden Shaw emits a series of heavy grunts and groans as his ass learns to take the entirety of Tony Orlando's closed fist. All it takes is for one of these studs to moan out, 'Daddy Stretch My Hole' and within seconds, they'll be filled to the brim with a thick cock and a gentleman's clenched fist.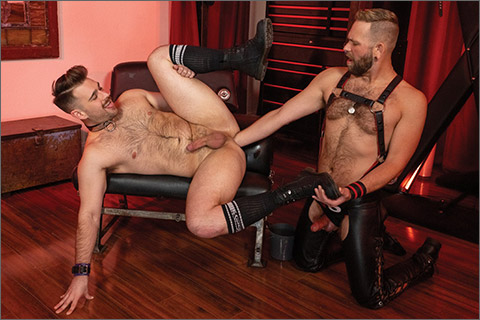 SCENE 1: Josh Mikael fucks & fists Declan Blake
With a metal collar wrapped around his neck, Declan Blake is ready to be used by dom daddy Josh Mikael. The horny top pumps his stiff dick into the boy's mouth before grabbing him by the collar and thrusting his raw, wet cock into the bottom's stretched-out ass. After some bareback inspired moaning from Declan, Josh grabs a handful of lube, glides his entire fist into Declan's gaping backdoor, and proceeds to stretch him out even more. Soon, the dominant fucker is squeezing both of his fists into the boy and spreading his cheeks to get a better look at his bright red rosebud. Going back in to ride Josh's meaty fist, Declan strokes himself off and blows a fat load, covering his fisting daddy in his mess of hot cum.

SCENE 2: Declan Blake fucks & fists Josh Mikael
Daddy Josh Mikael is in desperate need of getting his hole serviced by his boy Declan Blake. Bent over on all fours, Josh moans and his ass jiggles at every bareback thrust from Declan's young dick. The boy goes to satisfy his dom even more by lubing up his hole and rapidly shoving his two fists in and out of his wrecked ass. Now with both hands simultaneously disappearing inside of his daddy, Declan goes in even deeper until his forearms are consumed by Josh's gaping hole. Satisfied with his boy's performance, the daddy jerks himself off until his balls are bouncing everywhere and spitting out a creamy load.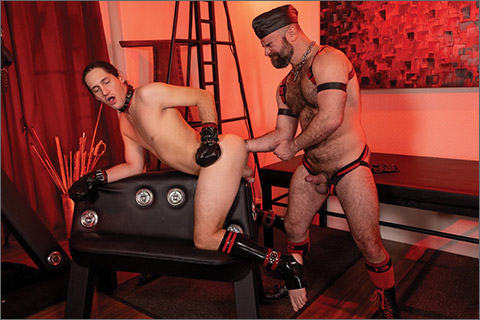 SCENE 3: Wolfie Braden Shaw fists Tony Orlando
Hairy daddy Wolfie Braden Shaw is dragging around Tony Orlando by the collar and getting ready to absolutely destroy his hole. After being gifted with a mouthful of the dom's cock, Tony bends over as Wolfie pulls down his shorts, rim his ass, and covers both of his manly fists in lube. The bearded daddy breathes deeply as he slowly inserts his entire hand into his boy and stretches out his hairless hole. Now on his back, completely stretched out with his legs thrown in the air, Tony shows off his exposed rosebud before Wolfie shoves his furry arm back inside of him. A few strokes later and Tony is nutting all over his own leg with his daddy diving in shortly after to eat up any loose seed that's spilling out of his cock.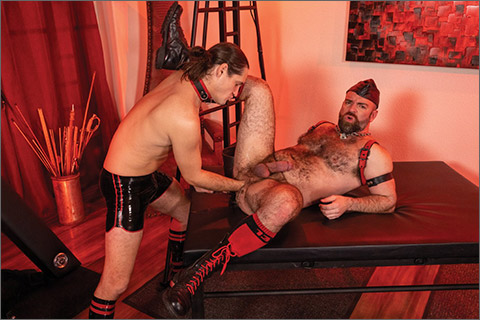 SCENE 4: Tony Orlando fists Wolfie Braden Shaw
Daddy Wolfie Braden Shaw wants to be filled up by his boy Tony Orlando, and he isn't about to wait another second for it to happen. Ropes of lube drip down from Wolfie's hairy ass onto his bulging balls and hard cock as the dom fucker lays down and lets Tony work his hands into his hole. Wolfie lets out a series of deep grunts as his boy's fists head deeper and deeper into his insides. Now with his pubes and thick body hair drenched in lube, Wolfie lays on his back and screams as Tony fist pumps inside of his exposed body. The intense, brooding grunts only increase as the daddy cums all over himself only to immediately collapse from exhaustion moments later.

WATCH THE SCENES AT THE NEW:
FISTING INFERNO