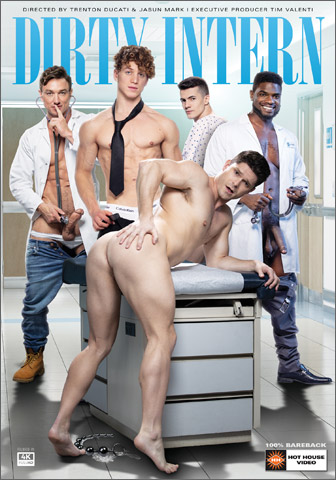 Studio: Hot House Entertainment
Directed by: Trenton Ducati & Jasun Mark
Year of Production / Release: 2021
Country of Production: U.S.A.

CAST:
Michael Boston
Felix Fox
Devin Franco
Tristan Hunter
Isaac Parker
Cade Maddox
Eric Rey
Devin Trez
Arad Winwin
INFORMATION FROM HOT HOUSE:
The 'Dirty Intern' and all the doctors, patients and staff at this healthcare office need some treatment for their swollen cocks, tight holes, high libido and extreme sexual tension. The latest Hot House feature from directors Trenton Ducati and Jasun Mark is just what the doctor ordered as they team up to direct a star-studded cast and bring the ultimate medical office fantasy to life. Cade Maddox pretends to be a doctor in order to get deep inside Eric Rey's smooth hole. New intern Michael Boston is presented with the opportunity to get pounded by patient Arad Winwin, and gladly takes it. Doctor Felix Fox helps Devin Franco unstuff his ass, just to get his own hole filled with raw meat. Isaac Parker comes to the office with a bulging boner issue, and receptionist Tristan Hunter does whatever it takes to help it go down. Doctor Devin Trez helps his patient Isaac Parker find his sexual awakening with a deep bareback dicking in the exam room. Next time you need a check-up, come hang with the 'Dirty Intern' to get your hole examined and your balls drained.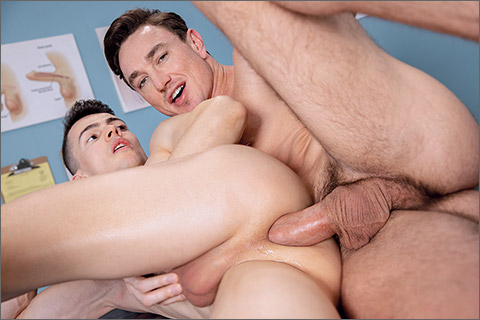 SCENE 1: Cade Maddox fucks Eric Rey
After Cade Maddox shows up to the doctor's office for his appointment, he gets restless waiting and sneaks off to one of the exam rooms. Surprisingly, Cade walks in on Eric Rey, who mistakenly thinks Cade is the doctor. Deciding to take advantage of the situation, Cade grabs a lab coat and starts to examine Eric. While examining Eric's ass, Cade sneaks a finger in Eric's hole, which is quickly replaced with Cade's tongue. After loosening Eric up with a deep tongue drilling, Eric turns around on the table to get the fake doctor rock-hard with his mouth. Now that "doctor" Cade is throbbing, Eric bends over and feels the instant stretching from Cade's inches in his ass bareback. Switching on his back, Eric holds his legs up while Cade pounds his smooth ass hard. When Eric wants control, he climbs on top of Cade and rides his cock hard and raw until Cade shoots a thick load all over his ass. Eric sits back on Cade's spent cock one last time and rides it until he shoots his own load that covers Cade's abs.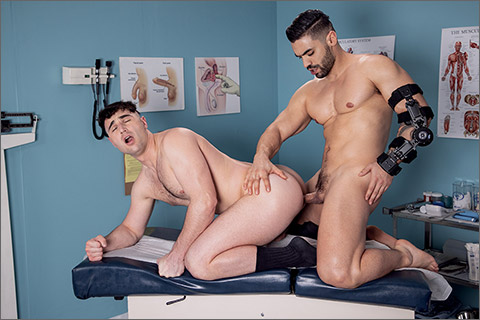 SCENE 2: Arad Winwin fucks Michael Boston
Injured hunk Arad Winwin is at the doctor's office to see new intern Michael Boston, about getting his cast off. During the visit, Arad whips out his hard cock from under his robe, prompting Michael to eagerly wrap his lips around it. After a lengthy cock-worshipping session, the 'Dirty Intern' hops up on the table to let Arad tongue-fuck his ass. The deep rimming is just a small preview of what Michael is about to receive. Arad joins Michael up on the table and works his thick cock into Michael's round ass bareback. Arad feels so good inside him, and Michael pushes back on Arad's cock begging him to go deeper. Arad gives the intern what he wants and relentlessly stretches his asshole. The strokes keep coming from Arad's meat from behind until Intern Michael rolls onto his back and gets his cock jacked while Arad slides past his prostate. After some time on his back, Michael climbs up on Arad's cock and rides it until thick ropes erupt from the tip of his cock. The intern takes one last taste of his patient's dick before it explodes all in his mouth.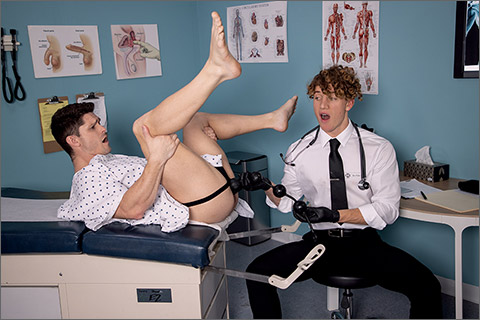 SCENE 3: Devin Franco fucks Felix Fox
Patient Devin Franco is visiting doctor Felix Fox for "multiple foreign objects in his rectum". Doctor Fox starts the visit by putting Devin's legs up in stirrups and looking at his hole. One by one, Felix removes multiple toys from Devin's hole. Once all of the toys are out of Devin's ass, Felix slides his fingers in and out, which signals Devin that the doctor might have other interests. The doctor gives Devin's ass a break and lays back in the stirrups to let his patient rim his smooth hole. Devin takes his time licking Felix's hole and making his way up to his cock. The doctor likes his ass played with too, so Devin gets off his knees and shoves his bare cock in Felix's ass bareback. Getting out of the stirrups, Felix flips over and grips the table while Devin pounds him from behind. Switching positions, Devin lays back on the table to let Felix ride his cock until Felix lets loose and shoots thick ropes all over Devin's thigh. Even after he nuts, Felix keeps riding his patient's cock before getting on his knees and taking Devin's load in his mouth.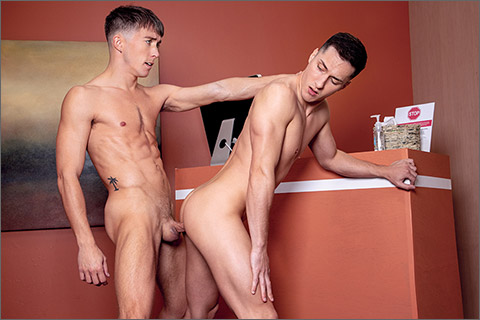 SCENE 4: Tristan Hunter & Isaac Parker flip-fuck
Receptionist Tristan Hunter is working the desk when Isaac Parker comes in with an extra-long-term boner issue. The urologist is out, so Tristan suggests they take care of Isaac's issue another way. Getting on his knees, Tristan pulls down Isaac's shorts and deepthroats his cock. Tristan really wants to help the patient, so he takes his time giving Isaac a sopping wet hummer. When the blowjob doesn't do the trick, Isaac decides to try swallowing Tristan's cock instead. Somehow, Tristan convinces Isaac that eating Tristan's ass will make it go down. It obviously doesn't work, so Isaac stands up and sticks his bare cock in Tristan's tight ass. Tristan's hole feels great wrapped around Isaac's swollen cock, and the bareback deep dicking is putting the boner to good use, but not necessarily helping the patient. Trying the flip flop treatment, the patient and receptionist switch places with Tristan planting his huge cock in Isaac's ass. Moving from the reception desk to a chair and then the floor, Isaac lays back, jerks his thick cock and lets Tristan pound his prostate until Isaac finally pops a load onto his abs. Happy he could help his patient, Tristan shoots his wad all over Isaac's body, adding to the mix.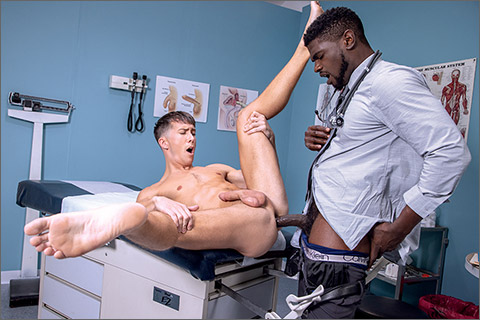 SCENE 5: Devin Trez fucks Isaac Parker
Isaac Parker is at the doctor's office visiting Dr. Devin Trez, seeking some helpful info on sexual experiences after recently coming out. Devin is obviously eager to help with Isaac's sexual awakening and asks his patient to drop his pants and bend over. Taking it slow, Devin works his fingers into Isaac's fresh ass. Isaac lays back on the table so that he can relax while the doctor keeps opening his ass up with his fingers. As Isaac loosens up, getting his hole played with feels better and better. He takes a spin at fingering himself for Devin, before laying back again and letting Devin introduce rimming to him. Devin's tongue has Isaac's hole puckered and the doctor knows the next step from here. The doctor drops trou and slowly works his massive, uncut cock into his patient's tight ass. After a few pumps of feeling his walls being stretched, Isaac sucks the cock that was just up his ass before bending over and taking it raw and hard. The newly christened bottom takes his doctor's cock bareback in multiple positions until finally, laying back and getting opened up while Isaac jerks out a well-deserved load on his abs. When the doctor is ready to blow, Devin pulls out and shoots his load all over his patient before sliding his cock back in Isaac's ass one last time.

WATCH IT NOW / MORE INFO AT:
HOT HOUSE ENTERTAINMENT
Hot House Backroom Members can see this film anytime online.
With extensive additional photography from every scene.
Members can download their favorite Hot House scenes.