Studio: Hot House Entertainment
Directed by: Trenton Ducati & Jasun Mark
Year of Production / Release: 2021
Country of Production: U.S.A.

CAST:
Aaron Chu
Cole Connor
Chris Damned
Johnny Ford
Felix Fox
Adrian Hart
Tristan Hunter
Max Lorde
Cade Maddox
Andy Taylor
INFORMATION FROM HOT HOUSE:
After the new President of the United States is finally sworn in, the bareback 'Capitol Affairs' begin. Boundary-pushing and award-winning directors Trenton Ducati and Jasun Mark show us how ten studs celebrate a new administration by relieving their sexual tensions. When Felix Fox hears the good news, he celebrates with his boyfriend Cade Maddox's cock up his ass. Delivery man Chris Damned shows up at the office to drop off his meaty package deep inside Adrian Hart's ass. While working on poses for his body building competition, Aaron Chu gets stuffed deep with Johnny Ford's throbbing muscle. After avoiding the insurgency, Cole Connor and Max Lorde find a hiding spot to fuck each other as hard as America had fucked them. After watching the inauguration, Tristan Hunter pounds Andy Taylor. If you're looking for patriotic fucks, horny protestors and deep, bareback poundings, get into these 'Capitol Affairs'.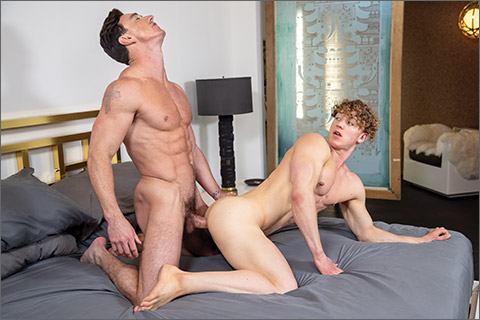 SCENE 1: Cade Maddox fucks Felix Fox
After the inauguration, Cade Maddox is waiting for Felix Fox to finish his shower to tell him the good news. After hearing he gets to stay with Cade as long as he likes, Felix climbs on the bed and Cade rips off his towel. After some passionate petting, Felix heads south to wrap his lips around Cade's thick cock. When Cade wants a taste, Felix bends over to present his smooth, pink hole for Cade to tongue-fuck. During his tongue bath, Felix starts begging for Cade's pole inside his ass, so Cade gives his man what he wants and sticks him deep and deep. Felix lays down and takes the brunt of Cade's force inside of him, somehow still begging for more. When Cade flips the stud over, Felix's moans get louder and more intense as Cade continues to drill Felix's prostate bareback. Felix takes control and climbs on top, but Cade's cock proves to be too euphoric is his ass, so Felix erupts with a thick load all over the bed while Cade slathers Felix's ass with his cum.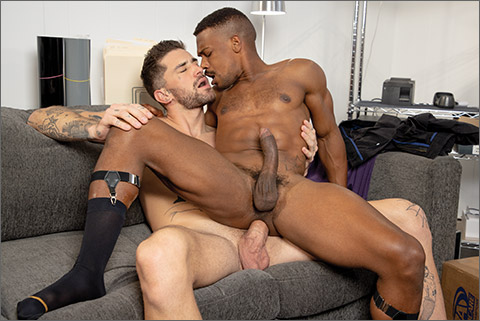 SCENE 2: Chris Damned fucks Adrian Hart
Adrian Hart says he's watching the inauguration, but he's really watching porn when delivery man Chris Damned shows up to drop off some packages. When Chris notices the gay porn on Adrian's computer, he helps himself to a handful of Adrian's bulge. Adrian takes the bait and the working men strip down with Chris getting down on his knees to suck Adrian's throbbing meat. Chris quickly moves from Adrian's cock, back to his hole to eat out Adrian's smooth ass atop his desk. Adrian returns the favor and wraps his lips around Chris' monster meat until they move to a couch where Adrian continues his deepthroating. Now that it's clear what they both want, Adrian stands up and sits right back down on Chris' thick pole. Adrian takes the delivery driver's package bareback in multiple positions before ending up on his back getting stretched to his limits. Now that Chris is in complete control, he keeps his cock planted deep in Adrian's crack until his cock bursts with a fat load all over Adrian's cock and balls. Using Chris' load as lube, Adrian strokes his cock until his load shoots all over his abs.

SCENE 3: Johnny Ford fucks Aaron Chu
Body builder Aaron Chu is working on his poses with his coach, Johnny Ford. Watching his client pose gets Johnny hard and he whips out his cock so Aaron can work out the muscle between Johnny's legs. Aaron keeps his lips wrapped around his coach's uncut dick before bending over to let Johnny rim his ass. Johnny wants more and Aaron is 100% in, so Johnny drops some spit on Aaron's ass and slides smoothly into Aaron's crack bareback. Aaron loves the feeling of his coach deep inside but wants to switch on his back to give Johnny total access. The relentless pounding from Johnny's pole doesn't stop until Johnny pulls out and coats Aaron's hole with cum. Now that his coach has busted, Aaron lays back and busts his own fat nut on his abs.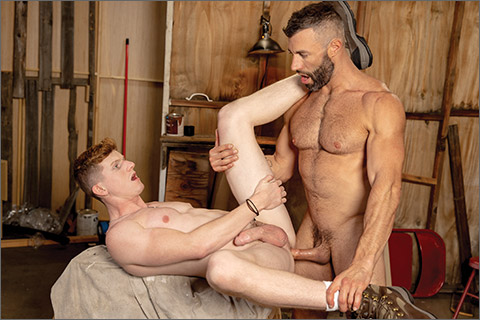 SCENE 4: Cole Connor & Max Lorde flip-fuck
Once 'Big Lie' believers Cole Connor and Max Lorde realize they've been lied to and the march on the Capitol is a full-fledged insurgency, they run away together to hide and figure out what to do next. In the midst of the chaos, they also decide to stop lying about their sexual feelings for each other. With their longings known, Cole's hard and Max gets on his knees to deepthroat Cole's flagpole. Max pulls down his shorts and starts to stroke his cock, making Cole want to bend over and give Max a taste of his hairy hole. Max takes his time getting in deep with his tongue before getting in deep and raw with his lengthy cock. After getting fucked bareback by his bud, the men switch places and Max is on his back as Cole is storming his rear. Max keeps getting his hole stretched out by Cole, until Cole shoots hits Max inside just right making Max shoot all over his abs. Watching Max pop sends Cole over the edge and he covers Max's hole with a warm load.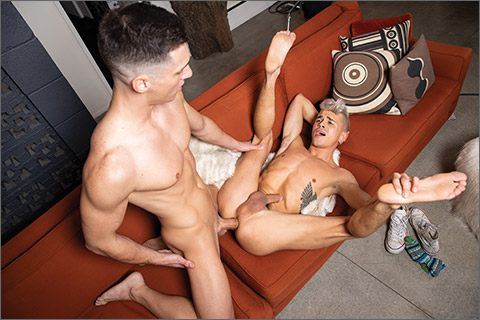 SCENE 5: Tristan Hunter fucks Andy Taylor
Now that America has a new President, Tristan Hunter and Andy Taylor celebrate by getting naked on the couch. Tristan strips Andy out of his clothes and lays him back on the couch plant his face between Andy's ass cheeks. Tristan takes his time savoring Andy's hole, prepping it for when he slides his fat cock deep in Andy's ass. After getting his hole drilled bareback, Andy takes another taste of Tristan's cock that was inside of him. Now that he's tasted his own hole, Andy gets on top to let Tristan fuck up into him while he sits back and strokes his cock. Tristan keeps thrusting to new depths until he can't hold back any longer and shoots his load all over Andy's ass. Sliding back in, Tristan pounds up, in and out of Andy's hole until Andy loses it and dumps his cum all over his leg.

WATCH IT NOW / MORE INFO AT:
HOT HOUSE ENTERTAINMENT
Hot House Backroom Members can see this film anytime online.
With extensive additional photography from every scene.
Members can download their favorite Hot House scenes.