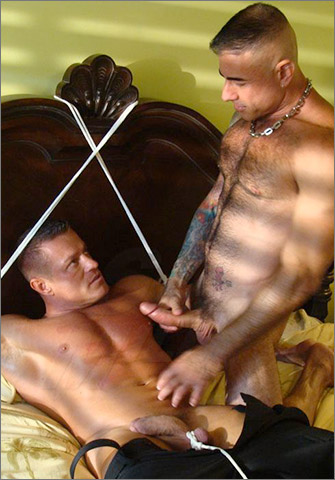 Studio: Steel Mill Media / Bound Muscle Jocks
Directed by:
Year of Production / Release: 2010
Country of Production: U.S.A.

CAST:
Drake Jaden
Nick Moretti
Tyler Saint
INFORMATION STEEL MILL MEDIA / BOUND MUSCLE:
PART 4:
Tyler Saint finally goes on the offensive when he traps Officer Drake Jaden in the police locker room after hours. The interrogation begins when Drake is strapped to a punching bag for some–PUNCHING, and more!
PART 5:
The interrogation continues, with Sgt Tayler getting more and more desperate and sadistic! He puts a police dog shock collar over Yeller, and soon has him yelping in pain over it. Finally, when the Sergeant turns his back to look into the locker, the young cop makes his move!
PART 6:
When Sgt. Tayler wakes up, he find himself on the other side of the torturing — and far from being the pussy that he seemed, Officer Yeller knows what it takes to get information from people. Even if that means doing a little blackmailing himself.
PART 7:
Officer Yeller still doesn't trust the Sergeant, so he does a little blackmailing and a lot of forcing cock! The image gallery has a few of the actual images that he took–and the Sergeant's expression is one of both humiliation and elation.
PART 8:
At last, it's time for Mr. Norris to finally get his comeuppance. He is acocsted in the shower by the two cops, and Officer Yeller lets the Lieutenant have his way with the pimp — in the form of brutal water torture!
PART 9:
Dirty Pigs comes to its conclusion as Officer Yeller decides that it's in his best interest to betray everyone. He ties the other two in a compromising position, a couple photos — and cum shots all around.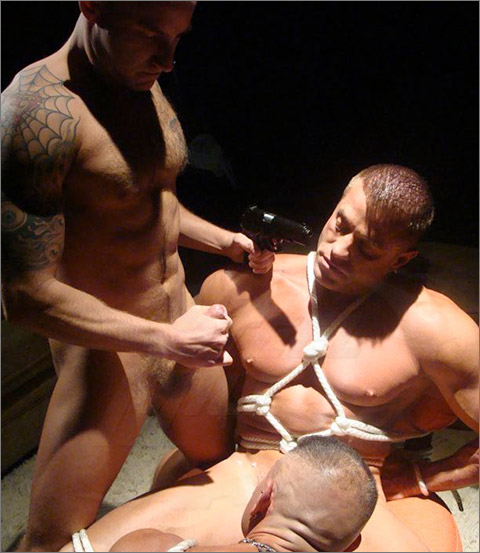 All Steel Mills productions have been remastered for online presentation.
WATCH THE SCENES NOW AT:
STEEL MILL MEDIA / BOUND MUSCLE JOCKS