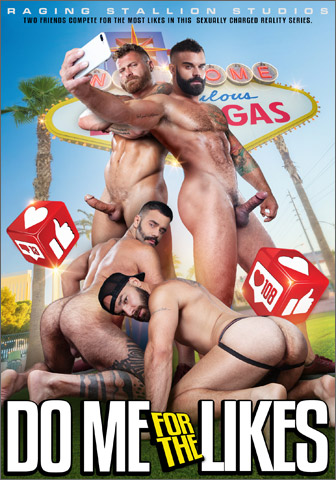 Studio: Raging Stallion
Directed by: Steve Cruz
Year of Production / Release: 2018
Country of Production: U.S.A.

CAST:
Woody Fox
Jay Landford
Carlos Lindo
Drake Masters
Riley Mitchel
Teddy Torres
Shane Jackson
INFORMATION FROM RAGING STALLION:
When the two buds Drake Masters and Riley Mitchel, enter a bet to see who can get more guy-on-guy action and more attention on their fan pages, they're basically just asking men in a numbers game to 'DO ME FOR THE LIKES'. Award-winning director Steve Cruz, mans the camera as the games begin to see who will fuck and suck the most muscle hunks and cum out on top? To start the games, Drake Masters orders food. When the hunky delivery guy, Carlos Lindo, shows up at his door, Drake knows he needs a sample of the delivery man's meat. The two studs suck each other off until Drake drops his load in Carlos' mouth and Carlos lets loose on the floor. Personal trainer Jay Landford is caught off guard when Riley randomly offers up his ass. Riley bends over to take Jay's massive uncut dick and gets a pounding that he films and can't wait to share with the world. Drake finds two beefy tourists Teddy Torres and Max Duro, on the street and takes them home to film a threesome. Teddy gets passed back and forth from stud to stud before both cover him with their creamy loads. After seeing Drake post his threesome video online, Riley decides to take some of Drake's sloppy seconds and offers himself up to Max Duro. Riley ambushes Max coming out of the shower and soon has the hunk deep inside his ass. Max pumps away until Riley's tight hole pushes Max over the edge. Max pulls out and the two studs dump their giant loads all over Riley's hot and sweaty body. For Drake's grand finale, he installs a camera above his pool and invites Woody Fox and Shane Jackson over for some fun. The two studs hop in the water and soon Shane is bent over with Woody deep inside of him with his thick, uncut pole. Woody pounds away until Shane is covered in cum. Some studs have sex to satisfy a sexual urge, while others crave fame and attention and can simply say 'DO ME FOR THE LIKES'.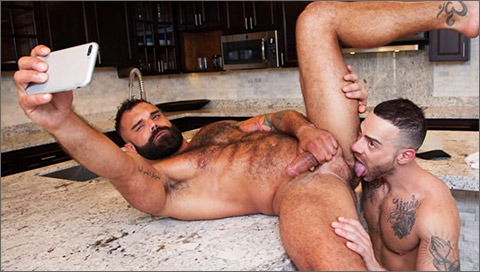 SCENE 1: Drake Masters & Carlos Lindo (all oral)
When Drake Masters orders food, he knows that the delivery guy, Carlos Lindo, is an order he needs to fill. Carlos isn't supposed to enter the house but makes an exception for Drake. When Drake drops his towel, Carlos can't resist getting naked to give Drake what he wants. Drake gets on his knees to service Carlos and his big thick cock as Drake pulls out his phone to film the encounter. Carlos sees the phone but doesn't care. He's just happy to get his dick serviced. All the sucking makes Carlos ready to give Drake's cock a try. The studs switch it up and this time it's Carlos who drops to his knees to suck on Drake's raging hard-on. He takes the big hairy dick down his throat until curiosity gets to him even more. Carlos throws Drake back on the kitchen counter and eats his hairy hole like it's the last one he'll ever get to lick. All the rimming brings Drake to the brink and he stands up over Carlos to deliver his creamy white load all over the delivery guy's hungry face. Carlos laps it up and with Drake's cum running down his throat and the big dick still planted firmly in his mouth, Carlos unleashes his cum all over the floor.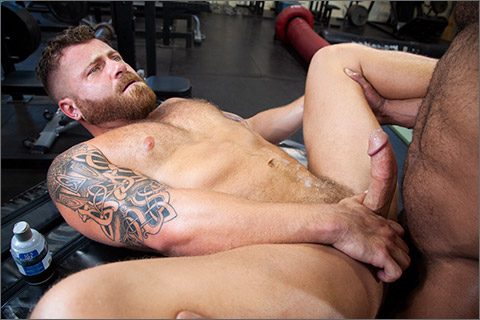 SCENE 2: Jay Landford fucks Riley Mitchel
Riley Mitchel is in a private training session with his PT Jay Landford, and has his mind set on getting into Jay's pants for the likes. Riley puts his phone down to record the training session and after about three sit-ups, Riley makes his move and kisses Jay. When Jay responds by kissing back, Riley rolls the muscle stud onto his back and pulls down his shorts to start sucking Jay's massive boner. Jay plugs Riley's face before he decides he needs more and bends his training client over to eat his furry ass. Jay opens the stud up with some deep laps from his tongue before sliding his monster cock deep inside. Riley moans out with each thrust to his hole as Jay keeps stretching his hole, getting further in with every plunge. Riley wants it even deeper and rolls over onto his back on the workout bench with his legs in the air. Jay sticks it in, going balls deep once again and continues his relentless reaming on Riley's ass. As Jay picks up the pace, Riley can't hold off any longer and spills his load all over his own chiseled hairy body. When Jay sees Riley unleash his load, he pulls out and blasts his own massive pent-up load all over Riley's throbbing hole.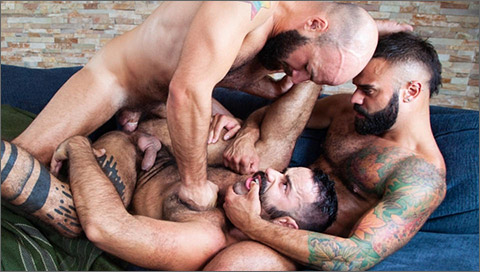 SCENE 3: Drake Masters & Max Duro fuck Teddy Torres
Drake Masters stumbles on two hunky tourists, Teddy Torres and Max Duro, on the street and decides to invite them home so he can have some fun with them. Drake wastes no time and gets on his knees to service the two beefy studs. He takes both hard dicks down his throat as his own monster cock grows in his hand. Drake loves all the dick in his mouth but wants a taste of Teddy's hairy bubble-butt and bends the scruffy stud over to eat his ass. When Teddy's asshole is nice and opened up, Drake slips his super hard cock into the hairy stud and pounds away, making Teddy grunt and groan with each thrust from Drake's probing cock. Max joins in and shoves his dick into Teddy's mouth to plug his face as he and Drake spit-roast Teddy. Max wants more, and soon he offers up his own hairy hole to take his turn getting plowed from Drake. Drake gives the stud what he craves until Teddy once again offers up his hole. This time it's Max's turn to give it to his bud and he slams his big dick deep into Teddy's ass. It feels amazing to Max and he pumps faster and faster until he's ready to blow. He pulls out and lets the cum fly as he unloads all over Teddy's hairy stomach. The sight of Max busting his nut is exactly what Drake needs to send him over the edge. With Teddy's head in one hand, and his throbbing cock in the other, Drakes lets loose and covers Teddy's face with a massive creamy load of cum.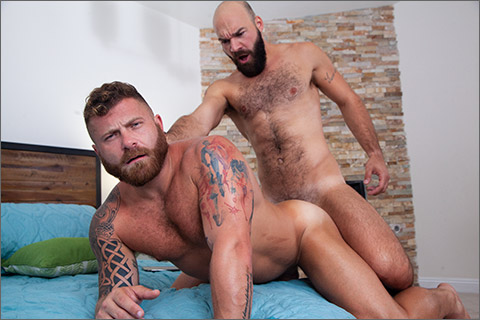 SCENE 4: Max Duro fucks Riley Mitchel
When Riley Mitchel sees that Drake Masters has posted a threesome vid, Riley decides to one-up his opponent and take some of Drake's sloppy seconds. Riley is at the door waiting for Max Duro when he comes out of the shower. Almost instantly, Max is hard as a rock and happily fucking Riley's throat. Max grabs the camera and films Riley servicing his cock until he decides to get a taste of the hungry stud for himself. Max takes Riley to the bedroom where he bends him over and shoves his tongue up his ass. Max savors Riley's succulent ass and enjoys every minute of eating it out but Riley is ready to feel Max's hard dick inside of him. Riley hops on to ride the hung stud and takes Max inside his ass. He moans out as Max pounds his hole harder and faster with each thrust. That really opens Riley up and he bends over to take Max from behind. Max grabs the camera again and films himself sliding his thick dick into Riley's ass once again. He pounds the stud, hitting the perfect spot until he flips Riley over one last time. This time Max doesn't hold back for anything! After a few strong thrusts from Max's hips, Riley's tight hole gets him close enough to pull out to blast his giant load all over Riley's hot and sweaty body. When Riley feels the cum hit his skin, he lets go with a torrent of his own and adds his jizz to the mix.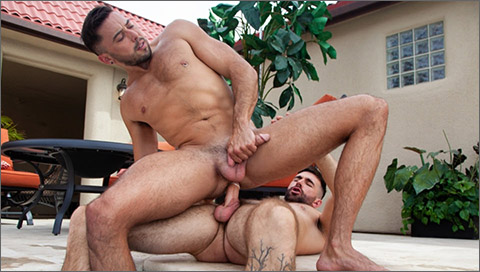 SCENE 5: Woody Fox fucks Shane Jackson
Drake Masters wants to film Woody Fox and Shane Jackson for his fan page and invites them over to take a dip in his pool. He installs a camera in the backyard and lets the guys go at it. The two studs get in the water and Shane immediately bends over to let Woody eat him out. Woody laps up Shane's hairy hole until he decides he wants Shane to suck his uncut dick. Shane can't resist such a nice cock and happily takes it in his mouth and down his throat. He services the hung stud until Woody can no longer fend off his desire for Shane's tight hole. Woody pushes his pole in Shane's ass from behind until Shane wants to take a ride. Woody lies back on the edge of the pool as Shane hops on and rides the big dick. Shane's ass feels amazing surrounding Woody's cock and it brings Woody all the way to the brink. Shane is hungry for Woody's cum and Woody is eager to give the stud what he wants. Woody pulls out and stands over Shane as he pumps his hard cock. Woody's balls tighten and his body tenses as his dick explodes all over Shane's face. Shane eagerly sucks what's left out of Woody's dick as he jacks himself off and blasts his own tight abs with cum.

WATCH THE SCENES AT:
RAGING STALLION'S MEMBERS SITE
Members at RAGING STALLION"S MEMBERS SITE can watch these scenes and download extensive Photo Content from this production and get discounted pricing on all DVD and Print purchases.