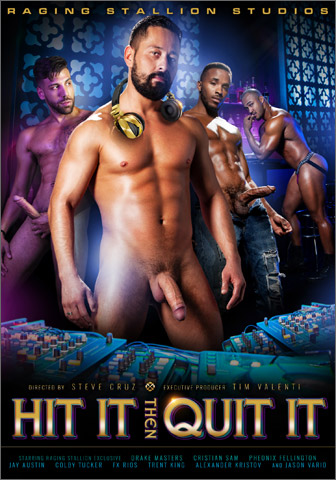 Studio: Raging Stallion
Directed by: Steve Cruz
Year of Production / Release: 2018
Country of Production: U.S.A.

CAST:
Jay Austin
Phoenix Fellington
Trent King
Alexander Kristov
Drake Masters
FX Rios
Cristian Sam
Colby Tucker
Jason Vario
INFORMATION FROM RAGING STALLION:
Working at a bar can be a tough job, but bartenders, barbacks, the DJ and even the bathroom attendants, have a secret code of conduct. Award-winning model-turned-director, Steve Cruz, leads nine horny hunks on the quest to HIT IT THEN QUIT IT. Phoenix Fellington hits the bar where Jay Austin and Colby Tucker are dancing for tips on stage. Phoenix stuffs their jockstraps full of cash until the dancers offer up their cocks and holes as a thank you. The three studs take turns fucking and sucking until Jay is slathered with the loads of all three hunks. When bathroom attendant FX Rios gets a glimpse of Trent King's massive cock at the urinal, he moves in to get a taste. Trent doesn't have cash to tip so FX suggests he shows his appreciation with his mouth. After swapping blowjobs, FX slams his giant dick into Trent's ass and pounds away until both studs drain their balls on Trent's perfectly sculpted body. Phoenix Fellington sees DJ Cristian Sam working the stage and knows immediately he wants a taste of the DJ's cock. As Cristian keeps mixing, Phoenix drops to his knees to suck the DJ's massive cock until the two drop their loads after swapping slobbery hummers. Drake Masters, Alexander Kristov and Cristian Sam meet up in the green room at closing time. The three muscle hunks take turns fucking and stuffing each other's faces full of cock until Alexander drops to the floor to take the loads from the two other studs all over his face and beard. After a tough night of work, Jason Vario cheers up co-worker Alexander Kristov by stuffing his thick cock up his ass. Alexander takes it hard and deep until Jason's cock erupts like a volcano all over Alexander's mouth. Come on in and stay awhile! While you're here, feel free to 'HIT IT THEN QUIT IT' and walk away with everything you came for.

SCENE 1: Phoenix Fellington, Jay Austin & Colby Tucker fuck around
Phoenix Fellington hits a bar where Jay Austin and Colby Tucker are gogo dancing. Phoenix stuffs their jockstraps with cash until Colby bends over and offers up his ass for Phoenix to explore with his tongue. The taste of Colby's hole gets Phoenix's cock throbbing before he gets on stage where Jay and Colby take turns servicing his monster cock with their eager throats and mouths. Seeing Phoenix's jacked bod is more than Colby can take and he bends Phoenix over to stuff his raging boner deep inside the ripped stud. Colby pounds away as Jay shoves his dick into Phoenix's mouth so the stud is plugged from both ends. After a nice cock sucking, Jay is ready for his turn at stuffing Phoenix from behind. They turn the stud around and switch it up as Jay continues to fuck Phoenix's tight ass. Colby wants his turn and gets on his back with his legs in the air for Jay to take a turn on his open hole. After plowing his fellow dancer, Jay wants a crack with Phoenix and opens his legs for the hung stud to enter his ass. It's a plowing that Jay won't forget as Phoenix leaves his hole gaping. All that cock inside Jay makes him blast his load and after Colby sees Jay's creamy cum land on his perfect abs, Colby lets loose and slathers Jay's face with jizz. Phoenix pulls out and adds to the mix as Colby gets down and licks Jay's sticky body clean.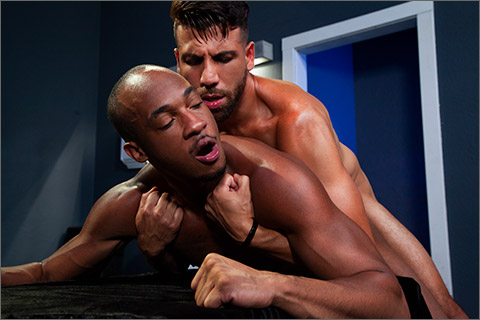 SCENE 2: FX Rios fucks Trent King
Bathroom attendant FX Rios gets a glimpse of Trent King's massive uncut cock as he finishes up at the urinal. FX quickly makes his move when Trent tells FX that he doesn't have change for a tip. "There are other ways you can show your appreciation," FX tells the stud as he pulls out his thick cock and presents it to the stranger. Trent gets the hint and sinks to his knees to take FX balls deep down his throat. After servicing FX, Trent is hard as a rock and wants his turn at getting his dick sucked. FX can't wait to get a taste of Trent and drops to the bathroom floor to take the giant cock in his mouth. It barely fits down FX's throat, but he gives it his all as he slurps it down to the base. FX is ready to fuck and bends Trent over the attendant's table to slam his cock deep into the muscle stud. FX pounds away from behind, opening Trent up until FX wants to look Trent in the eyes. Trent rolls over onto his back and continues to get pounded until FX fucks the cum out of the ripped stud's massive cock. When FX sees all the cum fly from Trent's dick, he can't hold back and pulls out to cover Trent's cock and balls with a fresh, warm load.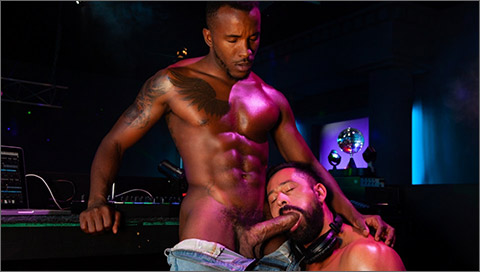 SCENE 3: Phoenix Fellington & Cristian Sam (all oral)
Phoenix Fellington sees DJ Cristian Sam working in the booth wearing a jockstrap and knows he wants what Cristian has between his legs. Phoenix drops to his knees and takes Cristian's thick cock down his throat and works the stud until he's raging hard. By this time, Cristian finds it hard to concentrate on mixing and can't resist burying his face in Phoenix's tight ass. Cristian rims the cocksucker hard and deep, getting Phoenix's cock rock hard. Cristian wants Phoenix in his mouth and turns the muscle stud around to take his dick deep down his throat. Cristian works the thick cock up and down as he jacks his own rod, getting both of them close to busting. Before he can cum, Phoenix wants Cristian's load all over his face. The two switch it up one last time and Phoenix gets under Cristian's cock to take his juicy load all over his face. With Cristian's fresh cum dripping from his cheeks and lips, Phoenix finishes himself off all over the floor as Cristian puts on his headphones and gets back to work without so much as a thank you to Phoenix, who's left on the floor covered in jizz.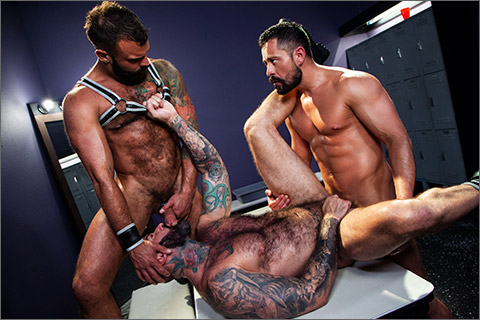 SCENE 4: Drake Masters, Alexander Kristov & Cristian Sam fuck around
Alexander Kristov is cleaning up glassware in the green room at closing time when Drake Masters makes his move and starts rubbing down Alexander's tatted, hairy body in front of a group of guys. DJ Cristian Sam joins the mix and the onlookers slowly disband to let the three studs have their fun. When the room is cleared, Cristian drops to his knees to service both Drake and Alexander at the same time. Drake takes over the cock sucking duties and gets both hung muscle hunks hard before he bends Alexander over and shoves his dick deep into Alexander's ass. Drake pumps away as Alexander sucks Cristian's hard cock to get him ready for his turn inside. Cristian takes his cue and enters Alexander's stretched hole to have his way. He pounds relentlessly as Drake fucks Alexander's face from the front. Drake gets between the two studs to offer up his hole to be fucked. Cristian happily gives Drake what he wants and slips his meat deep into the horny stud's ass. All this fucking gets the three hunks ready to erupt at the same time. In the end, Alexander is hungry for cum and gets on the floor between Cristian and Drake. Cristian is the first to nut and covers Alexander's beard with cum. When Drake sees the mess that Cristian has made, he lets himself go and adds to the cum in Alexander's beard and mouth. With his taste for jizz satisfied, Alexander drops his load on the floor and stands up where all three studs share a cum-filled kiss.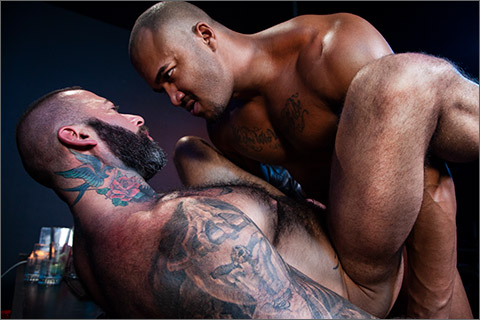 SCENE 5: Jason Vario fucks Alexander Kristov
Alexander Kristov is in a foul mood after a rough night of cleaning up at the bar and bartender Jason Vario knows just how to cheer him up. Jason walks around the bar and offers up his thick uncut cock for Alexander to handle how he pleases. Alexander doesn't resist the juicy dick and gets on his knees to suck it. Jason wants a bit more and bends Alexander over the bar to eat his hairy ass. Jason takes his time and savors every lick up and down until Alexander is ready to be entered. Jason turns Alexander onto his back and slides his throbbing cock deep into his barback to fuck him hard. Jason's cock feels amazing, but Alexander wants it harder from behind. The stud turns around and grips a bar stool for Jason to go back in and finish fucking him deep. When Jason yells that he's going to cum, Alexander makes sure not to waste a drop. The barback drops down to the floor one last time and takes every drop from Jason's erupting cock all over his face. With the taste of Jason still dripping from his tongue, Alexander dumps his own load all over the bar floor to cap of a tough night of work.

WATCH THE SCENES AT:
RAGING STALLION'S MEMBERS SITE
Members at RAGING STALLION"S MEMBERS SITE can watch these scenes and download extensive Photo Content from this production and get discounted pricing on all DVD and Print purchases.