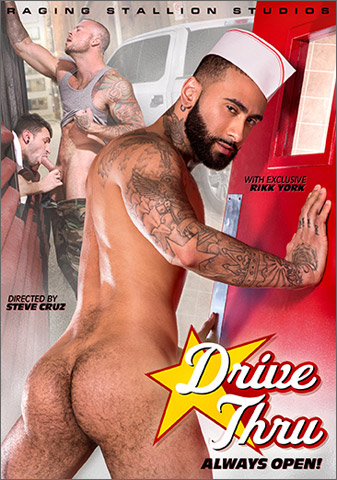 Studio: Raging Stallion
Directed by: Steve Cruz, Tony Dimarco
Year of Production / Release: 2017
Country of Production: U.S.A.

CAST:
Lucas Allen
John Ander
Bennett Anthony
Bruno Bernal
Noah Donovan
Sean Duran
Ian Greene
Peter Marcus
Dakota Rivers
Michael Roman
Rikk York
INFORMATION FROM RAGING STALLION:
What if there was a place where you could get it hot and ready anytime whenever you wanted? Come on down to the Raging Stallion 'Drive Thru'. We serve immediate gratification to satisfy even the hungriest appetite. Always giving it to you YOUR way! Every which way! Double the meat, protein style and loaded with special sauce just soaking through the bag! Grease it up and cum inside…the 'Drive Thru' is always open. Or drive up to the service window, our young and hung meat men are equipped to serve you. Whether you're looking for an Extra Thick Hot Dog or a simple Tossed Salad, this menu and staff have it all. Raging Stallion director Steve Cruz takes you to the 'Drive Thru' with his horny meat slingers who are more than willing to go the extra mile for customer service. Noah Donovan and Bennett Anthony dine-in but aren't satisfied with the service. When Bennett gets an attitude, workers Rikk York and Lucas Allen teach him a lesson with their cocks. After Bennett blows the employees, he gets pounded by his foodie friend, Noah Donovan, on the tabletop. Hopeful new hire Peter Marcus shows General Manager Dakota Rivers just how far he'll go to get the job. Will he get it? Sean Duran wants something that's not on the menu and Ian Greene and John Ander are happy to give it to him. Employee's Bruno Bernal and Lucas Allen get bored doing closing duties and decide to fuck at the cash register instead. Rikk York takes one last order for the night and ends up getting stuffed on both ends by Michael Roman. Pull up to the 'Drive Thru' and order what you like. You just might get lucky with some extra special meat between your buns.

SCENE 1: Rikk York, Noah Donovan, Bennett Anthony & Lucas Allen
Tatted ginger Bennett Anthony is dining in with Noah Donovan and the service from Rikk York and Lucas Allen is slow. After finally getting their food, an annoyed Bennett realizes his hot dog is cold. Irritated, Bennett flags Rikk down and lets him know his hot dog is cold and wants it replaced with some "big fat meat." Rikk takes note and tells his co-worker the irate customers wants some "big, fat meat" and Lucas says, "lets give it to him." The fast food employees approach the table with throbbing hard-ons and Rikk grabs Bennett by the head and shoves his mouth down to the base of his cock. Rikk switches off with his work buddy to face fuck the annoying customer. Bennett's foody friend joins in on the action in getting his swollen member serviced. Lucas joins Bennett on his knees as they alternate Rikk and Noah's cocks down their throats. Rikk wants a taste of his uncut co-worker, servicing Lucas' meat at the cashier counter. Lucas finishes as he jacks a load onto his abs while Rikk shoots a thick load on Lucas' thigh.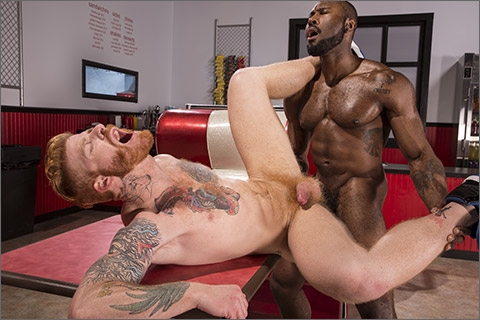 SCENE 2: Noah Donovan fucks Bennett Anthony
After their encounter with the diner staff, Bennett Anthony and Noah Donovan need to finish up their hot exchange. Bennett is bent over with Noah's face inside of Bennett's hairy ass. After tonguing Bennett's hole, Noah drives his massive wiener straight thru Bennett's 'Drive Thru'. After pounding Bennett doggy style, Noah flips him onto the tabletop and drills his eager center. Bennett's moans and screams echo throughout the restaurant as he strokes out a load into his thick, red pubes. Noah adds his cum to the mix and the two connect for one last kiss.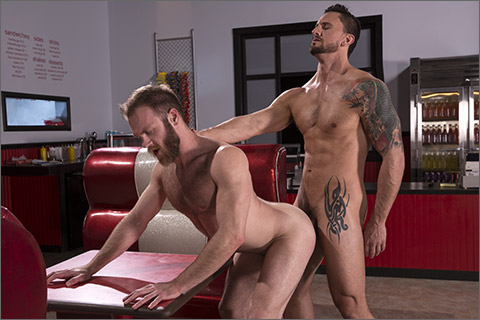 SCENE 3: Dakota Rivers fucks Peter Marcus
Hopeful new-hire Peter Marcus sits down with General Manager Dakota Rivers for an interview at the 'Drive Thru'. As Dakota reviews Peter's application, he notices he doesn't have any experience in the food industry. Peter quickly replies, "I'm a fast learner and I'm eager to please." Dakota wants to see just how eager Peter is. Guiding Peter to his knees, Dakota whips his cock out. Eager for the job, Peter begins to service his potential employer's fat cock. After checking Peter's oral skills, Dakota decides to drill his tongue into his bare hole. With Peter's hole slick with spit, Dakota stuffs his meat into Peter's man hole. After taking it from behind, Peter hops on the table, legs up, taking hard, powerful thrusts from Dakota. The intense drilling from Dakota's cock is too much for Peter and he blasts a thick white load onto his furry torso. Boss man Dakota strokes his hefty load onto Peter's hole. When it's all said and done, Peter still didn't get the job!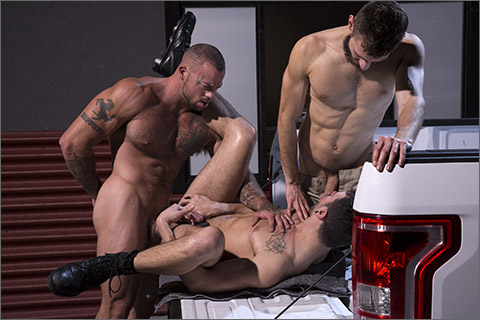 SCENE 4: Sean Duran fucks Ian Greene & John Ander
Fast food workers Ian Greene and John Ander are hard at work in the 'Drive Thru' when tatted stud Sean Duran comes to the order speaker asking for something with the "most meat." Ian tells him to pull up to the window and Sean asks for some cake. Confused, Ian and John tell the customer they don't sell cake. Sean looks down and says, "you have plenty of cake." Ian drops his pants and sticks his ass out of the Drive Thru window for Sean to bury his face in. The car waiting in line honks as Sean switches between licking Ian and John's cakes. The boys return the favor by taking turns slurping down Sean's wiener. Ian and John climb out of the window and meet Sean at the back of his truck where John gets bent over first. Ian feeds John his meat from the front while Sean pounds him from behind. Things move to the bed of Sean's truck and Ian gets his ass slicked and fingered one more time by Sean while he sucks on John's cock. Sean sticks his fuck stick into Ian's eager hole while John continues to face fuck Ian. Sean climax's a thick load onto Ian's ass and John releases thick ropes into Ian's awaiting mouth. Ian finishes with a milky shot to his abs.

SCENE 5: Lucas Allen fucks Bruno Bernal
Lucas Allen is cleaning up the restaurant at the end of the night with Bruno Bernal. It doesn't take long for the workers to ditch their closing duties and rip each other's clothes off behind the counter. Bruno hits his knees and is met with Lucas' fat, uncut dick. Gobs of spit drip from Lucas' cock as Bruno works down to the base. Bruno bends over the counter and opens up his ass for Lucas to toss his salad. With spit for lube, Lucas pushes his massive meat deep into Bruno's buns. Bruno grips the cash register as Lucas works Bruno's his open hole. Lucas sits up on the counter so Bruno can ride him. Bruno bounces on his co-workers tool until his load rockets across the counter. Lucas strokes his cock until his load oozes onto his thigh.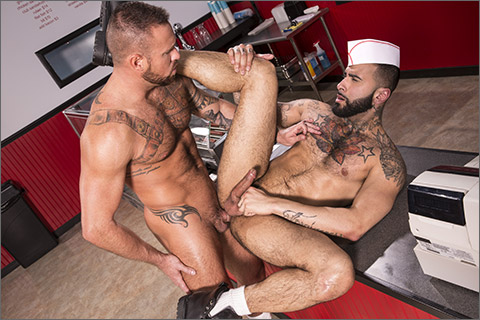 SCENE 6: Michael Roman fucks Rikk York
Rikk York mans the 'Drive Thru' as orders flow in. At the window, Rikk notices scruffy hunk Michael Roman outside staring and touching himself in Rikk's clear view. Rikk takes one last order and heads out to take the trash where he happily runs into Michael. Instantly, Michael grabs Rikk and starts tearing clothes off. Rikk hits the ground and dives straight down on Michael's fat cock. Mid blowjob, Rikk gets another order but puts it off on someone else. Michael returns the oral favor with a sopping wet hummer and slick rim job. The two take it inside and Michael enters Rikk on the counter. After taking it from behind, Rikk lies back on the counter and gets pounded deep. Michael keeps pounding until Rikk unleashes a hot load onto his hairy abs. Michael shoots his spunk all over Rikk's hairy ass.

WATCH THE SCENES AT:
RAGING STALLION'S MEMBERS SITE
Members at RAGING STALLION"S MEMBERS SITE can watch these scenes and download extensive Photo Content from this production and get discounted pricing on all DVD and Print purchases.