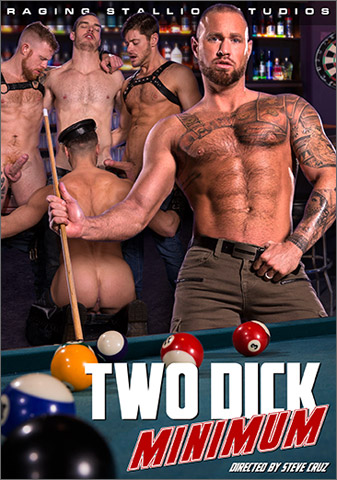 Studio: Raging Stallion
Directed by: Steve Cruz
Year of Production / Release: 2017
Country of Production: U.S.A.

CAST:
Jack Andy
CJ Phillips
Michael Roman
Manuel Skye
Mick Stallone
Jack Vidra
INFORMATION FROM RAGING STALLION:
Don't ignore the 'Two Dick Minimum' at our favorite cruise bar. This dark, anything-goes watering hole smells of beer, leather, sweat, and cum and you won't leave without getting your fill! Park your hog, cum inside, and take a load off or rub a load out. Steve Cruz directs a kinky gang of six muscled, hairy hunks who stop in to drink, cruise, and hook up. Customers Jack Vidra and Jack Andy close the bar down with an oral session that inspires the bar staff Manuel Skye and CJ Phillips to join in and make it an cocksucking orgy! After the patrons go home, Manuel and CJ have the bar to themselves, so of course Manuel takes the opportunity to ram his huge meat inside CJ's tight hole. One night, Jack Vidra cruises Mick Stallone and instigates an intense, connected outdoor fuck session behind the bar. Michael Roman uses the full power of his impressive physique to pound Jack Andy's hole, and Jack strokes off his huge cock as Michael is deep inside him. Manuel Skye interrupts Mick Stallone's pool game with intense oral, deep rimming, and a jaw-dropping cumshot that drenches Mick from his shoulders to his ass. Cum thirsty and leave with your balls drained – kick off your night at the bar, and don't forget the 'Two Drink Minimum.'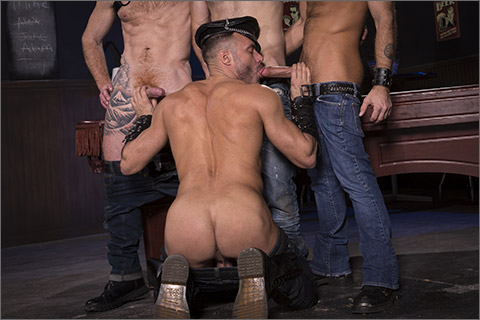 SCENE 1: Jack Vidra, Manuel Skye, CJ Phillips, and Jack Andy
The gritty cruise bar is closing down after a hot, sexy night, but Jack Vidra and Jack Andy aren't ready to go home yet. As the staff tries to clean up, they can't stop making out with each other. Manuel Skye announces last call, adding, "If you're not the one I'm fucking, get out of here!" Jack Andy and Jack Vidra ignore him, and instead pull their dicks out and rub them together. Manuel and his barback CJ exchange a conspiratorial look, as if to say, "Let's see how this plays out." Jack Vidra gets down on his knees and Jack Andy fucks his throat deep and hard. In the background, Manuel and CJ exchange deep kisses and grope each other's muscular bodies. As Jack Vidra worships Jack Andy's tool, Manuel and CJ come out from behind the bar and join them, instigating a four-man oral orgy. Jack Vidra sucks Manuel's massive meat as CJ attends to Jack Andy's throbbing tool. Manuel sinks to his knees to service Jack Vidra's lengthy cock, and adds to the intense pleasure by reaching up and tugging on Jack's plump, pink nipples. Jack Vidra leans against the pool table between Jack Andy and CJ, and Manuel services all their cocks at once. Using Manuel's face as a target, Jack Andy is the first to shoot, followed immediately by Jack Vidra's hot cum. With their loads blown, Manuel kicks them out (with a wink and a smile) so he and CJ can finish closing down the bar.

SCENE 2: Manuel Skye fucks CJ Phillips
Last call at the cruise bar has cum and gone, and with the patrons gone, the bar staff is free to do as they please. Barback CJ Phillips leans against the bar with his ass in bartender Manuel Skye's face, and he sucks eagerly on CJ's tight hole. Spreading CJ's butt wide, Manuel uses his tongue to fuck CJ's ass. When CJ's hole is nice and wet, Manuel stands up and pounds him doggy style. Their balls bounce in rhythm with their intense fucking. Laying down on the bar, CJ puts his right leg over Manuel's shoulder, giving him access to the sensitive depths of CJ's hole. Stroking his cock, CJ blasts his abs with thick, hot cum. Pulling out, Manuel lets loose with an enormous load, shooting multiple arcs of cum through the air and landing them on CJ's chest.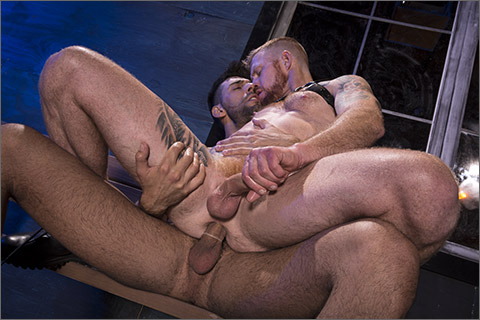 SCENE 3: Mick Stallone & Jack Vidra flip-fuck
Jack Vidra stands outside the cruise bar with his cock stiff and hard in his hands. He looks to the left and the right while stroking himself, and gets his wish when Mick Stallone emerges from the shadows. Kneeling down, Mick enthusiastically opens his mouth and swallows Jack's monster cock. Sitting down on a bench, Mick offers his cock to Jack, who greedily slobbers on Mick's long, hard shaft. Standing up, Jack and Mick rub their cocks together for a bit, then Mick turns around and Jack shoves his cock inside Mick from behind. Grabbing on to Mick's harness, Jack uses all the power of his muscular physique to pound Mick's tight hole. Switching roles, Jack sits down on Mick's cock, using his strong legs to fuck himself hard. Mick reaches up and pulls on Jack's supple nipples as Jack strokes his cock. With Mick filling up his hole, Jack jerks his meat until he blows a hot, white load on the ground. Kneeling on the bench, Jack pushes his ass in Mick's face, who enthusiastically rims Jack's freshly-fucked hole. Mick strokes his hard cock and blasts Jack's hairy ass with cum. After using his cock to smear his cum across Jack's hole, Mick leans forward to share a deep, connected kiss.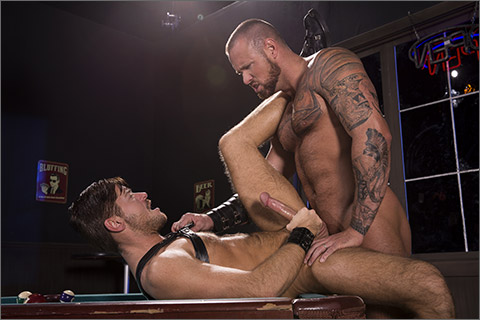 SCENE 4: Michael Roman fucks Jack Andy
In the dark alley outside the local cruise bar, big and muscular Michael Roman makes his move on ripped stud Jack Andy. They kiss passionately, then Jack frees Michael's bulge from his pants and wraps his lips around Michael's hard cock. Kneeling down, Michael returns the favor, tugging on Jack's balls and slicking up his shaft with slippery spit. The body hair that covers both men catches the light from the bar's signage. Bending over, Jack spreads his ass wide and Michael dives in face first. Moving inside the bar, Michael and Jack remove all their clothing (save for Jack's leather harness) and get down to business. Bracing himself against the pool table, Jack takes Michael's cock from behind. Putting all the power of his physique into his thrusting, Michael fucks Jack like an uncontrollable sex beast. Jack gets up on the pool table and throws his leg over Michael's shoulder. As Michael pounds his hole, Jack strokes his huge cock, getting closer and closer to cumming. Michael's thrusting is relentless and unyielding. With Michael deep inside him, Jack explodes with thick ropes of cum that drip across his hairy stomach. Michael grabs his hard meat and blows his load on Jack's cock and balls.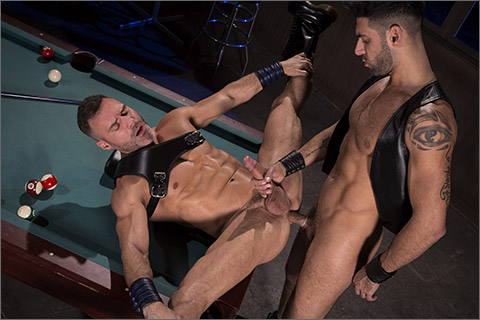 SCENE 5: Manuel Skye & Mick Stallone flip-fuck
It's a quiet night at the local cruise bar, which means that studs Manuel Skye and Mick Stallone can do as they please without interruption. As Mick works the pool table, Manuel works the bulge in his jeans. They approach each other and begin kissing deeply with lots of tongue. Mick grabs Manuel's nipple, then his ass. Undoing Manuel's belt and freeing his enormous cock, Mick eagerly drops to his knees and services Manuel's hard meat and hefty balls. Turning around and leaning against the pool table, Manuel gives Mick a taste of his sexy ass for a deep rim job. Rolling on his back, Manuel takes Mick's cock deep and hard. As Mick fucks him, Manuel strokes his thick cock, then pulls his legs wide apart to increase Mick's penetration. Moving to the bar, Mick bends over and takes Manuel's cock from behind. As Manuel picks up speed, Mick's ass jolts with every impact. The intense pounding brings Manuel to the brink of cumming, and he pulls out to shoot a massive, spectacular cumshot that drenches Mick's back with thick ropes of spunk. Perching himself on the bar, Mick strokes his boner until he flings his load into Manuel's open mouth. Standing up, Manuel makes out with Mick, sharing the taste of cum on his lips.

WATCH THE SCENES AT:
RAGING STALLION'S MEMBERS SITE
Members at RAGING STALLION"S MEMBERS SITE can watch these scenes and download extensive Photo Content from this production and get discounted pricing on all DVD and Print purchases.