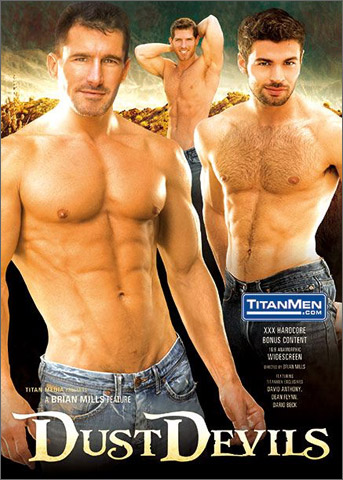 Studio: Titan Media
Directed by: Director: Brian Mills
Year of Production / Release: 2010
Country of Production: USA

CAST:
David Anthony
Dario Beck
Dean Flynn
Jock Hudson
JR Matthews
Spencer Reed
Christopher Saint
FROM TITAN MEDIA WEB SITE:
Can you feel the temperature rising? The dry desert heat brings out the best from some horny hikers, led by TitanMen exclusives David Anthony, Dario Beck, Dean Flynn, JR Matthews and Christopher Saint. Who knew the desert could be so wet? You won't believe your eyes when the dust settles. Surrender to the scorching sun as unforgettable action unfolds against breathtaking backdrops.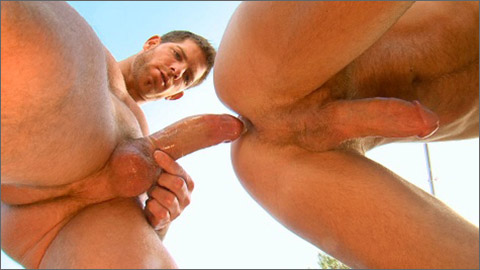 SCENE 1: Dean Flynn fucks Jock Hudson
While hiking through the great outdoors, shirtless Dean Flynn and Jock Hudson stop on the path to enjoy the view. But they're quickly distracted with each other as the smooth-chested Dean plants his tongue on Jock's pit. Dean rubs the hairy chest of his bearded bud, whose boner bursts beneath his jockstrap. Soon on his knees, Dean wastes no time working up glorious gobs of spit, planting his lips to the base as he deep throats Jock. Dean's dick pulses in excitement as he sucks; he reaches up to rub Jock's nipple as great side shots capture the action. Jock returns the favor as Dean whips his cock on the sucker's eager mouth: "Stick your tongue out!" Jock deep throats with ease, his scruffy beard bristling against Dean's balls as he licks them. Dean holds on to Jock's head and face fucks him before the sucker returns the favor, the two soon firing their loads. After a kiss, Jock gets pinned down as Dean plows his hole. The bottom's genuine smile gets even bigger as Dean grinds inside, with low shots capturing great penetration. Now on his back, Jock continues to get rammed—his hot bod caught in a great aerial shot. Dean coats the bottom's hairy stomach before Jock lets out a memorable gusher, a kiss ending the scene.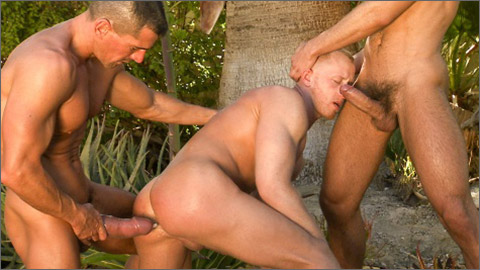 SCENE 2: David Anthony fucks JR Matthews and Dario Beck
Wandering the stunning rock formations, three cruisers are drawn to each other like magnets. Handsome David Anthony finds his smooth, sculpted body surrounded by tan and hairy Dario Beck and smooth JR Matthews. As David's big balls and cock rest in the breeze, his admirers rub his perfect frame. Dario is the first to get a taste of David's manhood, soon glistening with spit. A hot low shot looks up at the action, the three built bodies framed by nature's beauty. The three move to a more secluded area as Dario feasts on JR's dick, which explodes from his jockstrap. David spits down on JR's cock while cradling him in his bulging bicep. Dario then gets double-teamed: As David feeds his thumb to the toned cutie, JR slurps his uncut meat. JR then sucks David, who grips his own sac and spits down as JR licks it. The sucker's hot red cock throbs, and soon the three squirt. After munching on JR's hole, David shoves his monster meat inside as the bottom sucks Dario—who then bends over for JR, staying stiff as he gets fucked. David then plows Dario's ass deep before the three come again in a great sequence that has David's muscles tightening as he climaxes, the satisfied stud soon resting his head in Dario's chest.

SCENE 3: Spencer Reed fucks Christopher Saint
On his desert run, naked Christopher Saint finds himself face to face with muscle man Spencer Reed—whose huge dick twitches as he fingers his pit. Christopher approaches, resting his arms against the rock to surround Spencer. They aren't even touching, but their intense stare speaks volumes. What follows is a scene for the ages, starting with an amazing oral display from Christopher—clearly intoxicated by Spencer's dick ("Your cock is fuckin' gorgeous!"). His deep throat work—with gags prompted by Spencer's controlling hands—is constantly interrupted by their passionate kissing. Christopher grips Spencer's shaft and rubs it against his face, worshipping every inch. He then sits on Spencer's tongue before bending over for a fast and deep fuck that never lets up. "Take my ass, mate!" yells Christopher, the veins bursting from his neck as his ass lips cling to the top's thick shaft. Christopher then sits on the top, whose face disappears from the shot as the bottom grinds all the way down his dick. Now on his back with Spencer's hand on his pec, Christopher pulls the top down for a kiss as they frantically fuck, their muscles quivering. Spencer spits into the bottom's mouth before both breathless hunks shoot—including a big wad from the top that hits Christopher's chest. Spencer whips his hard dick on the bottom's cock before pulling him up for another deep kiss to end the incredible pairing.
BONUS FEATURES:
A behind-the-scenes feature includes laughs, desert challenges, fluffing and stroking. A cumshot collection, trailers and looks at TitanMen Tools and Lube complete the extras.

MORE INFO, PREVIEW OR WATCH RIGHT NOW:
TITAN MEDIA
Scenes Premier online prior to DVD release and are available to view anytime in the Member's Area.
Members can watch scenes from almost all Titan Media releases anytime online.