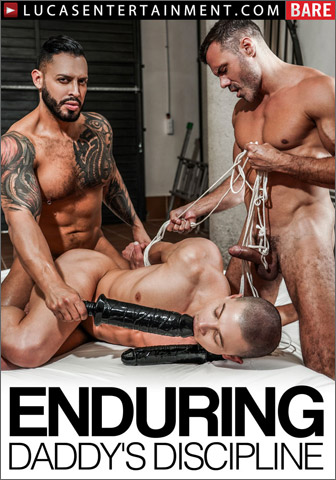 Studio: Lucas Entertainment
Directed by: Michael Lucas
Year of Production / Release: 2020
Country of Production: U.S.A.

CAST:
Ruslan Angelo
Tomas Brand
Benjamin Gomez
Geordie Jackson
Cade Maddox
Dakota Payne
Viktor Rom
Jesse Santana
Manuel Skye
INFORMATION FROM LUCAS ENTERTAINMENT:
When a young man doesn't know how to behave himself, it's only by Enduring Daddy's Discipline that he learns his lesson! Tomas Brand slams Jesse Santana with his hard, uncut cock. Big-bro Cade Maddox dominates Dakota Payne. Viktor Rom and Manuel Skye brutalize Ruslan Angelo. And Geordie Jackson destroys Benjamin Gomez's ass.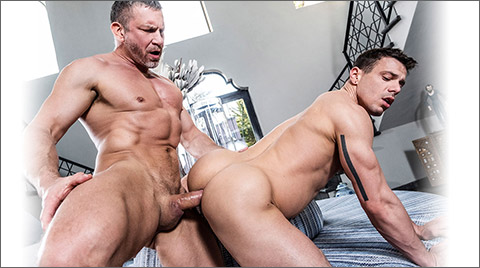 SCENE 1: Tomas Brand Slams Jesse Santana With His Hard Uncut Cock
The job of Tomas Brand, the King of All Muscle Daddies, is never done. There's always a young man in need of the guidance of a true daddy. Jesse Santana is one such young man, and Tomas is more than happy to give him all of the attention he needs. Jesse opens his mouth to suck on Tomas' daddy dick, and spread his legs so he can feel the powerful thrusts of Tomas' as he fucks Jesse bareback.

SCENE 2: Cade Maddox Dominates Little-Bro Dakota Payne
It's an unwritten rule that big bros are supposed to rough up their little bros so they grow up to be strong men, but Cade Maddox takes is further. And who wouldn't want him to? Cade is a gorgeous young man with an incredible body and a huge, fully engorged cock. When Cade Maddox gets Dakota Payne alone in the bedroom, Dakota quickly learns who is in charge. Cade brutalizes Dakota's ass by fucking him raw, and goes further by sodomizing him with a huge dildo.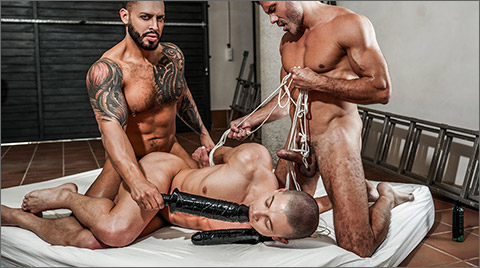 SCENE 3: Viktor Rom And Manuel Skye Brutalize Ruslan Angelo
Some young guys need to endure Daddy's discipline because the need to learn a lesson, but other guys are natural-born trouble makers, and that certainly describes Ruslan Angelo. No matter how many he's disciplined by a fatherly figure, he keeps finding himself in trouble. This is a job that needs not one, but two Alpha Daddies with rock-hard uncut dicks and a no-bullshit attitude to match. Enter Viktor Rom and Manuel Skye, and it's an understatement to say that neither one of them ease up on Ruslan Angelo once—which is exactly what he's asking for.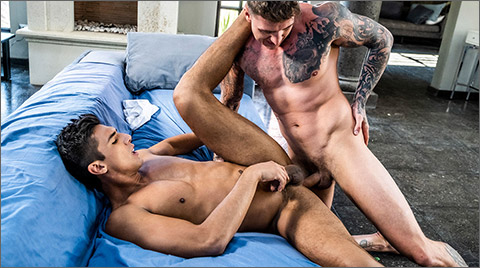 SCENE 4: Geordie Jackson Destroys Benjamin Gomez's Ass
Benjamin Gomez is a sweet and quiet young man, but sometimes he finds himself in trouble from time to time. He knows that his Daddy figure, the hard-ass Geordie Jackson, takes absolutely no insubordination, so he's ready to endure his Daddy's relentless and unforgiving discipline down his throat and up his ass until Geordie busts his nut.

SEE THIS NOW / MORE INFO:
LUCAS ENTERTAINMENT
Scenes Premier online prior to DVD release and are available to view anytime in the Members Area.
Members can watch scenes from all Lucas Entertainment releases anytime online.

VIDEO ON-DEMAND: Lucas Entertainment @ AEBN SMUTJUNKIES THEATER
DVDs & ON-DEMAND: Lucas Entertainment @ TLA VIDEO