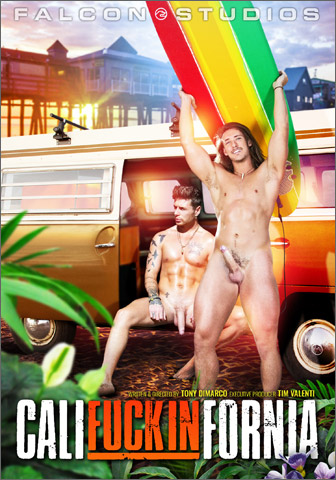 Studio: Falcon Studios
Directed by: Tony Dimarco
Year of Production / Release: 2020
Country of Production: U.S.A.

CAST:
Austin Avery
Dick Dawson
Devin Franco
Greyson Lane
Cade Maddox
Josh Moore
Dakota Payne
Colton Reece
Ryan Rose
Dan Saxon
FROM FALCON STUDIOS:
Buckle up for Falcon's bareback blockbuster movie event 'Califuckinfornia'! Watch two best friends set out on a steamy sexual adventure…an epic road trip down the infamous Pacific Coast Highway filled with seaside surfers, gas station glory holes, emotional revelations and everlasting memories. Join award-winning director Tony Dimarco, with an all-star bareback line-up of ten fresh-faced, big-dicked studs who like to ride more than just waves. It all starts in the Castro in San Francisco with Ryan Rose and Cade Maddox tearing off each other's clothes for a wild bareback romp, until Cade's sexy British boyfriend Josh Moore comes home with flowers only to find the rumpled sheets proving Cade's infidelity. The fight that ensues leaves Josh Moore homeless and looking to his buddy Dan Saxon in Santa Cruz for a place to stay. Josh gets off the bus to find Dan getting busy with power-bottom Devin Franco. After they finish, Dan invites Josh to hop in his VW van and get out of town for a journey down the PCH where Josh can let loose and relax. On the road, they stop to gas up. Dan uses the bathroom, where he finds a glory hole stall occupied by cute cocksucker Dakota Payne, who greets him with a deep throat and a winning smile. Dick Dawson joins them and they double-dick Dakota till Dan blows a huge load of jizz and joins a distraught Josh back in the van, simmering with anger and disapproval at Dan's laid-back beach boy approach to casual sex. Meanwhile, Dick and Dakota go for it in a balls-to-the-wall bareback buttfuck echoing through the filthy men's room till they both shoot their wad. Now, in a serious debate about promiscuity vs. romance, Dan dares Josh to pick up hot hitchhiker Austin Avery on their way to crash at buddy Colton Reece's mountain cabin. During the night, Colton finds Austin on the floor by the fireside and fucks the wandering stranger deep and raw. In the light of day, true confessions reveal more to their friendship than a platonic bond and so to explore their mutual crush, Dan and Josh pick up sexy young surfer Greyson Lane at a roadhouse cafe and go back to his beach shack for a seed swapping three way as they tag team Greyson and fill his hole with their sloppy loads. Torn between his old buttoned up life and a new chapter of sexual adventure, Josh decides to keep driving with Dan down the PCH to Mexico, as the sun sets in the west and night descends on another adventurous day along the sunny shores of 'Califuckinfornia'!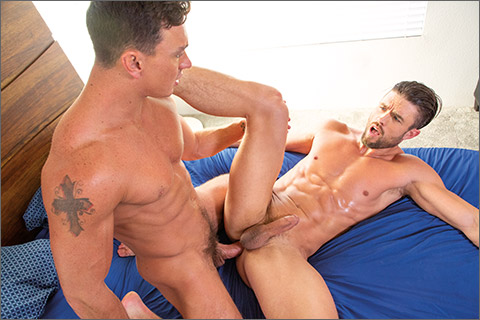 SCENE 1: Cade Maddox fucks Ryan Rose
Horned up and not a minute to waste, Cade Maddox and Ryan Rose get down to business in a secluded sundrenched Castro bedroom. The two muscle studs kiss deeply as they rush to get their clothes off. Ryan goes straight for Cade's cock, wrapping his mouth around his massive pole, but Cade is more interested in Ryan's hole and soon has him on all fours with his face buried between his muscular cheeks and his tongue deep inside, getting it ready for a bareback power-fuck. A bit of spit is all it takes to ease Cade's monster cock into Ryan's willing ass, which he reaches back to spread wide for Cade to invade. After a ball slapping pounding, Ryan sits as Cade jackhammers him from below, finally ending up on his back so Cade can batter his prostate and make them both squirt thick loads. Only when they're done do we see Josh Moore, Cade's sexy Brit boyfriend, coming home with flowers to find a sex strewn bedroom and a cheating boyfriend. They fight and Cade throws Josh and all his stuff out onto the street. Feeling betrayed and alone, Josh calls a bud in Santa Cruz for help.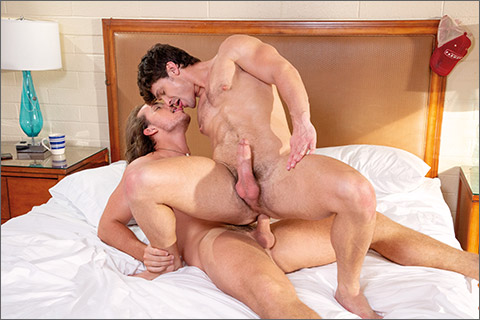 SCENE 2: Dan Saxon fucks Devin Franco
Fresh off the bus to Santa Cruz, Josh Moore heads to Dan Saxon's beach bungalow, where he spies his friend getting down and dirty through a window and heads to the boardwalk to wait for him to finish. Inside the bungalow, Dan is entertaining his latest fuckbuddy, Devin Franco, who can't wait to get his mouth on some hot surfer cock. After a lingering deepthroat face-fucking, Devin hops on top of Dan's uncut meat and rides him raw in the Santa Cruz sunlight. Bouncing and boning on the bed, writhing and rimming, plowing and pounding, Dan delivers a deep-dick, bareback drilling that has Devin begging for his creamy load up his eager hole. Soon Dan frosts his guts and Devin milks one out of his own and they collapse in a happy sweaty heap of afterglow. Josh returns and Devin splits so they can catch up, and soon it's clear that Josh and Dan have very different ideas and attitudes about love, sex and fidelity. Dan suggests a road trip down the coast together in his VW van and the adventure begins.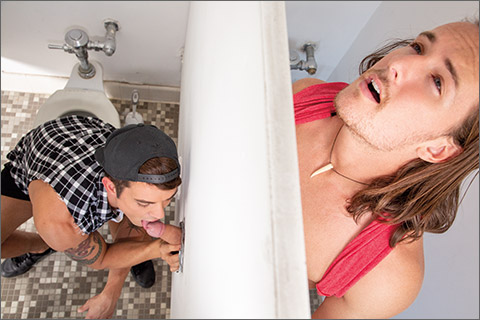 SCENE 3: Dakota Payne sucks off Dan Saxon
Road trip buddies Josh Moore and Dan Saxon have wildly different opinions about casual sex, as proven when they pull into a gas station to fill up the tank on their van. Josh uses the bathroom where cute cocksucker Dakota Payne is cruising the urinals and waving his big boner. Josh spots Dakota and scurries back out to the gas pump. Dan takes his turn, and his time, once he discovers Dakota and a glory hole stall inside. Never one to turn down an opportunity for sex or a sweet hot mouth, Dan puts his girthy uncut dick through the hole. Dakota pounces and works Dan's meat for all it's worth in a sloppy, drool dripping blowjob while Josh waits impatiently in the van. Dan joins Dakota in the stall, to better fuck his face and throat, and hunky stud Dick Dawson comes in to fill the other glory hole and give Dakota all the big cock the trashy toilet troll craves. Dan glazes Dakota's sweet face with an enormous load right in the eye and leaves him to polish off Dick's dick as he joins Josh back in the van.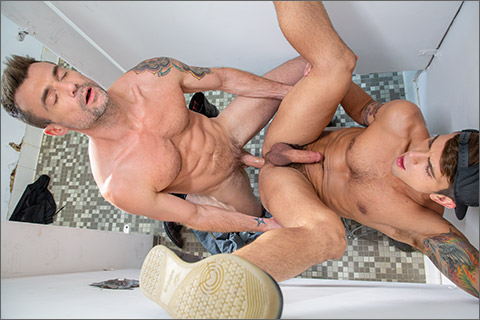 SCENE 4: Dick Dawson fucks Dakota Payne
At a roadside gas station, Dakota Payne and Dick Dawson are going for it in the glory hole stall. Moving on from mere blowjobs, Dick eats Dakota's hot ass and then barebacks him all over the bathroom: on the toilet, up against the wall and in front of the urinals, shoving his long, uncut cock deep inside Dakota's hungry little hole. "You want me to wreck that pussy?" Dick asks. "Yeah, wreck that pussy!" Dakota replies and Dick obliges, banging Dakota without mercy till they are both spraying their hot jizz all over each other's faces in explosive orgasms that echo off the bathroom walls.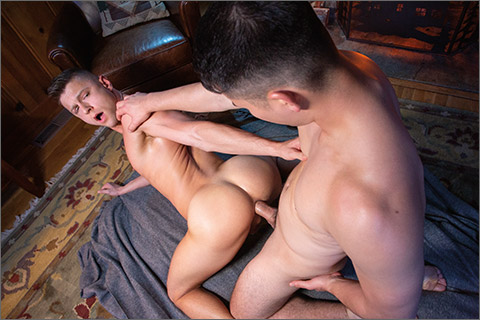 SCENE 5: Colton Reece fucks Austin Avery
In the van and back on the road, Josh is shocked and judgmental about Dan's ease and comfort with having random sex with strangers. Dan tells him to loosen up and their argument leads to a real conversation about love, their lives and relationships. On the way, they take a small detour to Dan's buddy Colton Reece's cabin in the woods, where they pick up a horny little hitchhiker named Austin Avery and introduce him to Colton. Later that night, Josh can't sleep and comes out of the room he's sharing with Dan only to discover Colton and Austin having sex in the den by the light of the fireplace and goes back to bed. Colton eats Austin's perky ass and gets it slick and wet with his tongue, primed for his fat cock to open him up and bareback the hole of this needy little nomad. Austin has a thick one too and they swap blowjobs till Austin demands Colton's big dick in his eager butt. The fireside fuck fest continues as Austin rides Colton's beer can to a cum splattering climax on the floor.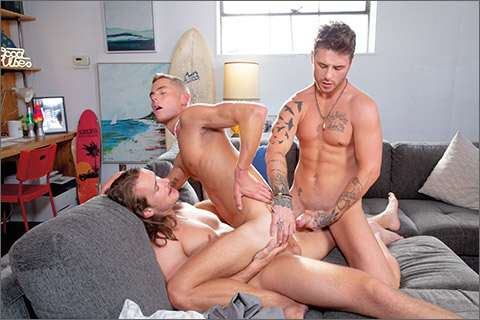 SCENE 6: Dan Saxon & Josh Moore fuck Greyson Lane
Josh Moore seems to have some kind of breakthrough and finally admits to road trip buddy Dan Saxon that he's always had a crush on him after they get back on the PCH, and Dan confesses the crush is mutual. With the ice finally broken, they decide they don't want their adventure to end. They stop at a diner and on a dare from Dan, Josh picks up smoking hot surfer boy Greyson Lane, and they go back to his beach shack for a three way. After some dick sucking in the van, they go inside for blowjobs on the couch and Greyson devours their tasty uncut British bangers. Dan and Josh happily take turns barebacking the younger dude, as Greyson takes them both on like a trouper, riding their beautiful cocks to a jizz dripping finish as they fill his hole with their delicious spunk. With a new sense of playful sexual freedom thanks to his enlightened friend Dan, Josh decides not to go back to San Francisco and new adventures await as the sun sets on the 'Califuckinfornia' coastline.

WATCH IT NOW AT:
FALCON STUDIOS
Falcon Members can watch scenes from this Release anytime online.
DVD Releases debut online prior to DVD Release.