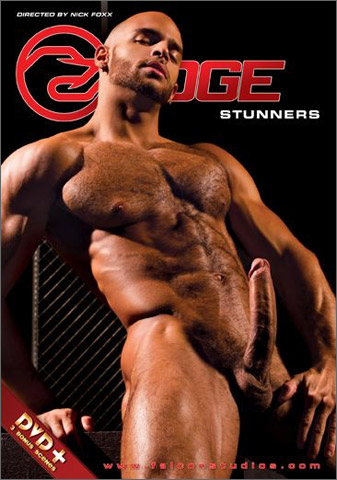 Studio: Falcon Studios / Falcon Edge
Directed by: Nick Foxx
Year of Production / Release: 2014
Country of Production: U.S.A.

CAST:
Josh Conners
Mike De Marko
Adam Ramzi
Colt Rivers
Nikko Russo
Billy Santoro
Andrew Stark
Paul Wagner
Sean Zevran
FROM FALCON STUDIOS:
The stunning, jockstrapped studs of 'STUNNERS' are horned up, raring to flip-fuck and eat each other's loads—mere words cannot do justice to these massive, powerful ejaculations. Director Nick Foxx shows every detail of the rough, connected, high-energy sex between nine stunning studs who don't hold anything back. Adam Ramzi and Sean Zevran set the scene with a new take on cumswapping and orgasms that will rattle your speakers. Colt Rivers takes Andrew Stark's lengthy cock deep and hard before eagerly lapping up Andrew's load. Paul Wagner and Billy Santoro wrestle for dominance in a rough and raunchy flip fuck that leaves Billy's face completely drenched by Paul's incredible, multi-spurt cumshot. Sean Zevran and Josh Conners trade, spit, strokes, and cum in a passionate, steamy fuck session. Hairy Mike De Marko and smooth Nikko Russo prove that opposites do attract with a wet, sloppy pounding that ends with two massive loads. The irrepressible urge to fuck and be fucked fuels the thrilling, high-energy connections in 'Stunners.'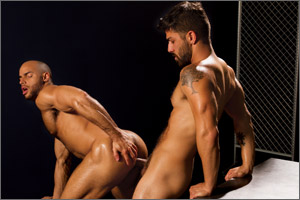 SCENE 1: Adam Ramzi & Sean Zevran flip-fuck
Sean Zevran is a stunning example of man, sexy face, sculpted, hairy and musclebound with an incredible 8-inch cock and ass for days. Adam Ramzi delivers fashion model looks with a lean, toned body fine ass and sizable cock. After they each put themselves on display, they join together in an intense exchange. Adam takes his mark, gets set and goes straight for Sean's undeniable ass. It begs to be eaten, licked and explored, and Adam expertly claims it. Sean's meaty cock also deserves attention and Adam gives it its due, gulping it down relentlessly. The energy builds as they connect in a wild 69 that has them both gasping for breath and wanting more. With both men standing, Sean bends over to let Adam fuck his fine hole. With feverish gropes and grabs and slams and rams, they are in sync and both have the sweat of sex dripping off them. Without missing a beat the tables turn and Adam find himself on his back taking Sean's huge cock deep inside him. Between the balls slapping his ass and the playful paw slaps and spitting they both share, the connection grows to a ferocious, passionate level that pushes them to the edge and finally over it when Sean jerks a massive load onto Adam's beard and shoots another stream into his mouth. Adam follows with an orgasm that leaves his abs covered in cum.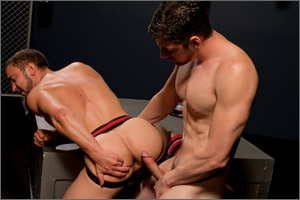 SCENE 2: Andrew Stark fucks Colt Rivers
Colt Rivers coyly licks his finger and teases his own hole. Andrew Stark—tall, toned, a hint of ginger in his dark beard—is getting his cock sucked and loving it. It's obvious how much chemistry Colt and Andrew have together; they're both rock hard and can't help smiling as they play with each other. Andrew is sexually intoxicated from a deep whiff of his musky jockstrap, then uses it to smother Colt's face. Colt's low-hanging balls swing as he gives Andrew head. Andrew bends down to eat Colt's ass, then uses his huge tool and every bit of his athletic strength to split Colt's ass open. Colt moans with blissful agony as he cums on himself. Andrew pauses to lube up his own cock with Colt's load, then resumes plowing Colt's tight ass. Finally, Andrew's load explodes into Colt's mouth, who laps it up like a good, eager pup should.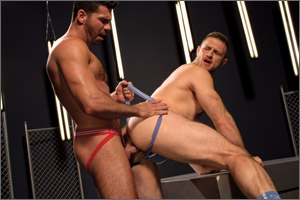 SCENE 3: Billy Santoro & Paul Wagner flip-fuck
Beefy Billy Santoro presses his thick, black hair against Paul Wagner's fine, blond chest hair. They're already kissing with deep tongue and groping at their jockstrapped bulges. Billy glides his tongue across Paul's furry chest, pauses to tease the erect nipples, and then slides down Paul's thick meat. Paul turns around to let Billy's tongue and beard rough up his ass. The red jockstrap that strained to conceal Billy's boner slips to the side, and Paul takes it doggy style, gasping, "You're so big." When it's Billy's turn to take it, his hole puckers in anticipation. Paul slams balls-deep into Billy, spitting in his face and punching at his chest. The two men grasp hands, creating an intense, intimate connection. Then Billy kneels on the ground, locks eyes with Paul, and opens his mouth to receive an incredible load. Paul shoots like a fire hose, covering Billy's eyes, nose, chin, and chest with giant white splashes of cum. Billy's orgasm leaves him breathless, and Paul leans across his heaving chest to kiss him one last time, mixing their cum and spit.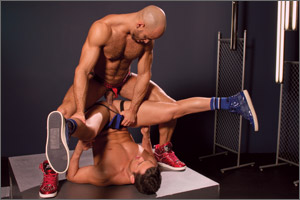 SCENE 4: Sean Zevran fucks Josh Conners
Sean Zevran and Josh Connors show off their physiques. Sean is massively muscled, hairy and bulging all over. Josh is smooth and toned, with big meaty pecs and lips made for dick sucking. Sean's enormous cock escapes his red jockstrap and Josh comes over to service it. Sean's ass clenches and flexes as Josh drenches Sean's cock with slick saliva. Then Josh eats Sean's ass, whose muscular body is poised like a racehorse stomping to leave the gate. Now that Josh has tasted Sean's ass from the outside, he wants to feel it from the inside. Sean strokes his cock in rhythm with Josh's deep thrusts. Then they switch it up with a flip. Josh likes it when Sean slaps him around a bit; it makes precum drip out of his cock and down his stomach. When Josh shoots, Sean picks up Josh's load and slaps him across the face with it, which only makes Josh want more. Josh gets down on his knees so Sean can shoot his big load directly into Josh's mouth. At the end they exchange deep, connected kisses, relishing the flavor of their mixed loads.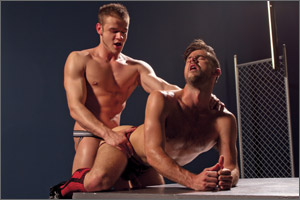 SCENE 5: Nikko Russo fucks Mike De Marko
Mike De Marko kneels and pulls out Nikko Russo's girthy uncut cock. Nikko, smooth and muscled, slaps his dick on Mike's face, stretching ropes of saliva and precum across Mike's lips. Mike strokes his own enormous girth while deep throating Nikko. Clearly, this muscled, fuzzy stud knows how to suck dick. The two stand up and jerk off by pressing their cocks together, and then it's Nikko's turn to get down on his knees. He cups Mike's balls and services his cock, but before long Nikko's interest has moved to Mike's hairy hole. Mike leans into it as Nikko eats him out with long, slow kisses and plenty of spit. With Mike's hole lubed up and ready, Nikko gives him a steady pounding that has both studs on the brink of cumming. Mike finally coats his furry abs with countless drops of white cum. Then Nikko's eyes roll back in his head and he shoots right on Mike's nuts. Mike playfully tastes their loads as the two lean in for a final passionate kiss.

WATCH IT NOW AT:
FALCON STUDIOS
Falcon Members can watch scenes from this Release anytime online.
DVD Releases debut online prior to DVD Release.