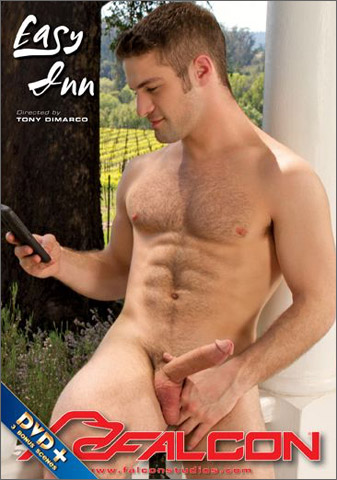 Studio: Falcon Studios
Directed by: Bruno Bond & Nick Foxx
Year of Production / Release: 2014
Country of Production: U.S.A.

CAST:
Chris Bines
Topher DiMaggio
Colt Rivers
Ryan Rose
Nikko Russo
Adam Wirthmore

FROM FALCON STUDIOS:
'EASY INN': normally it's a quiet getaway, but this weekend it's overrun by horny guys with big dicks, willing asses and fucking on their minds. Director Tony Dimarco shows you what happens when six studs have nothing to do… except each other. Topher DiMaggio isn't interested in breakfast when he finds Colt Rivers in the kitchen; they fuck right on the counter. Nikko Russo's cock sucking fantasy comes to life when Chris Bines finds him naked on the porch. Ryan Rose shows Adam Wirthmore that there's no need for sexting when there are plenty of horny guys in real life. Colt Rivers and Nikko Russo are restless until they find each other and connect for a cum-filled fucking. Chris Bines is just looking for a gym buddy, but he and Ryan Rose get their workout in at home in a scorching, spontaneous fuck session. For horny men who only want to fuck and be fucked, 'Easy Inn' is the place you'll want to be when you see all the passionate action and steamy fucking that happens there.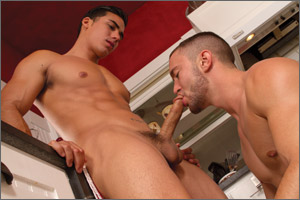 SCENE 1: Topher DiMaggio fucks Colt Rivers
Colt Rivers is cooking breakfast for the guys at Easy Inn, but Topher DiMaggio is hungry for Colt's tight ass. The craving is so intense that he goes down and eats Colt's firm ass right there in the Easy Inn kitchen. Topher strips down to expose his muscled physique and huge cock for Colt to suck on. The blowjob is just the beginning though. Colt present his hole again for a deep, sensual rimming in preparation for penetration. Once Colt's ass is slick with spit, Topher spears it with his thick tool. The walls of Colt's hole squeeze Topher's cock as he slides in and out. When the sexual tension reaches a climax, Colt cock releases his load, which triggers Topher to blast his cum all over Colt's smooth chest. Colt sucks out the final drops right into his mouth.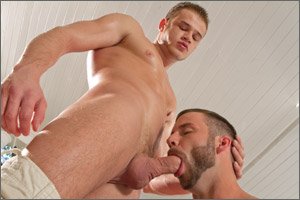 SCENE 2: Nikko Russo & Chris Bines
Nikko Russo is chilling naked on the porch. Eyes closed, with the breeze blowing over his body, he strokes his dick and gets lost in a sex fantasy. Nikko doesn't realize that he's acquired an audience. Bearded, blue-eyed Chris Bines watches Nikko silently, matching him stroke for stroke. Suddenly, the silence is broken: Nikko's eyes open and connect with Chris' gaze. Chris makes the first move, sucking Nikko's thick cock and big balls until he's gasping for breath. Nikko stands on top of a chair, grabs Chris by the neck and fucks his face. The rest of their clothes come off when they switch places: Nikko sucks on Chris' tool while Chris twists his nipples. They trade places again. Nikko's cock, bigger than ever, slides all the way down Chris' throat, and soon Nikko is primed to shoot his load. His cum erupts onto Chris' face, and Chris unloads simultaneously. Nikko tastes both loads, satisfied now that his fantasy has become reality.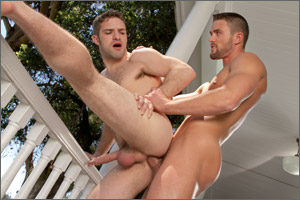 SCENE 3: Ryan Rose fucks Adam Wirthmore
Adam Wirthmore has a hard on. Pumping it with quick strokes, he snaps a dick pic on his phone. With the muscles on his gymnast's body rippling, a 5 o'clock shadow and a light dusting of body hair, he knows he's looking hot. Adam is ready to hit send when Ryan Rose, perfectly chiseled with a close beard, walks up behind him. "Whatcha doin'?" Caught and embarrassed, Adam tries to stuff his junk back in his shorts, but Ryan isn't going to let a hot stud like Adam slip away. Ryan doesn't waste too much time, allowing Adam to suck his dick and quickly getting his cock all up in Adam's tight ass. They fuck in every direction; Adam works his hips to feel every angle of Ryan's cock, and Ryan can't get enough of Adam's tight hole. After a marathon of fucking, they unleash their loads, Ryan's coating Adam's torso and face.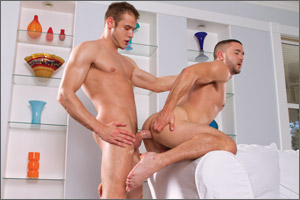 SCENE 4: Nikko Russo fucks Colt Rivers
You'd think EASY INN would be a great place to relax, but it's difficult to rest when there are so many hot guys to fuck. Colt Rivers is chilling out on the couch with his e-book when Nikko Russo strolls by. Their attraction is instantaneous, magnetic: lips touch, tanks tear off, and Nikko's hefty dick slaps across Colt's face for sucking. As he services Nikko's fat cock, Colt undulates his hips, which gets Nikko even more excited. He slaps Colt's ass, spits in the crack, and dives in tongue-first. When Nikko is ready to fuck, he pulls Colt's ass closer to mount it doggy style. Colt's moans fill the room, mixing with the slaps of their muscled bodies colliding. Nikko's shoulders bulge and his abs ripple as he pounds Colt into orgasm. Cum flies in all directions, Colt eats every drop he can scoop up, and Nikko delivers his load right into Colt's mouth.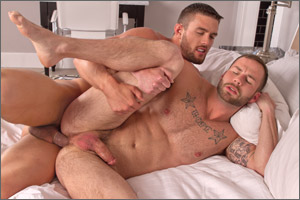 SCENE 5: Ryan Rose fucks Chris Bines
Looking for a buddy to hit the gym, Chris Bines knocks on Ryan Rose's door. He finds Ryan fresh out of the shower with a towel wrapped around his sculpted body and bulging package. The gym becomes an afterthought; the two studs land on the bed and commence a balls-deep sixty-nine. Chris has a trimmed beard and chest and an ass made for fucking. Ryan has the handsome face and the physique of a Greek god, with each muscle perfectly defined. Ryan moves on from Chris' dick to his ass, fingering and tonguing the crack. Chris doesn't need a second invitation to offer up his ass: he gets on his hands and knees and arches his back as Ryan penetrates that needy hole. The harder Ryan grinds into Chris, the closer Chris gets to orgasm. Ryan's face displays total sexual domination over Chris as he quickens the pace. The intensity rises to a peak: Chris showers his torso with cum and Ryan's load is accompanied by his primal growl.

WATCH IT NOW AT:
FALCON STUDIOS
Falcon Members can watch scenes from this Release anytime online.
DVD Releases debut online prior to DVD Release.