Studio: Falcon Studios
Directed by: Bruno Bond & Nick Foxx
Year of Production / Release: 2014
Country of Production: U.S.A.

CAST:
Chris Bines
Landon Conrad
Darius Ferdynand
Adrian Hart
Connor Maguire
Adam Ramzi
Ludo Sander
Andrew Stark


FROM FALCON STUDIOS:
'INTENSITY' builds. It swells, it overcomes, it makes hot studs surrender to relentless compulsions, seeking out passionate, manly sex. For 'INTENSITY, PART 2,' directors Bruno Bond and Nick Foxx turn up the heat under eight models whose smoldering sexuality builds up to an explosion of sweat, spit, and cum. Ludo Sander gets his hole filled twice: first from big-dicked powerhouse Andrew Stark, then from muscled, voracious Landon Conrad. For Connor Maguire and Chris Bines, kissing, sucking, and rimming sets the stage for a forceful pounding. Darius Ferdinand, with a strong jaw, chiseled physique, and lengthy uncut cock, swaps sensuous blowjobs with Adrian Hart, then gets seduced by Adam Ramzi for a cum-spewing hot tub flip-fuck. When you put men together in combinations like these, the only thing on their minds is sex, sex, and more sex. That's how these studs achieve a scorching-hot level of 'INTENSITY.'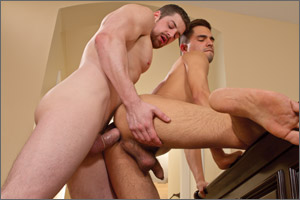 SCENE 1: Andrew Stark fucks Ludo Sander
Touch: it's the most primal means of communication, and from the moment Andrew Stark and Ludo Sander embrace, it's clear they're both ready to fuck. Andrew's body is tall, smooth and muscled. His rock-hard cock pushes deep in Ludo's mouth, but the blowjob is just the warmup round. Andrew spears Ludo from behind, eliciting a gasp of pleasure. "Oh, like that, slap that harder," says Ludo, and Andrew responds with gusto; he grabs Ludo's wrists and pushes him face-first into the bed with powerful thrusts. Andrew pulls his cock out of Ludo's ass to flip him over. It seems impossible that Andrew's monstrous cock can fit inside Ludo's slender body, but Ludo takes it hard until cum flies everywhere, with Andrew shooting his load directly into Ludo's mouth.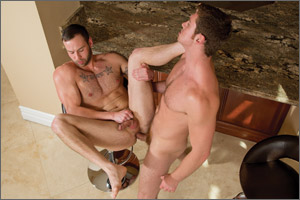 SCENE 2: Connor Maguire fucks Chris Bines
Sex-hungry studs Chris Bines and Connor Maguire meet up in the kitchen, eager to satisfy their craving for man-meat. A steamy make out session sets the tone and quickly escalates to cock sucking. Chris pinches his own nipples while he sucks Connor off, swallowing that big, hard dick as deep as he can. Connor then eats Chris' hole in preparation for fucking. With Chris' ass at just the right height, Connor pushes his girthy cock inside. Chris flips onto his back and Connor grabs him with both hands: one around Chris' ankle and one stroking Chris' cock. With his nuts primed to shoot, Chris jacks himself off and coats his furry stomach with big splatters of cum. Getting on his knees, Chris goes down on Connor until he's primed to shoot, and Conner jerks himself off onto Chris' chest.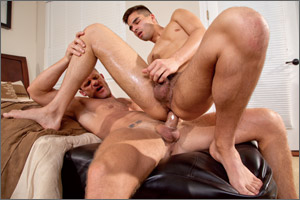 SCENE 3: Landon Conrad fucks Ludo Sander
Unfiltered, animalistic passion fuels the fire between Landon Conrad and Ludo Sander. Landon's imposing physique dominates the room: wide shoulders, bulging traps and powerful thighs. Ludo is on his knees with an elbow hooked around one of those thighs, steadying himself as he goes down on Landon's huge, face-filling cock. Landon's hips flex; he uses a hand to guide Ludo's head, making sure that his balls get sucked, too. They move on to fucking: Ludo enthusiastically rides Landon's cock, and Landon urges him on by slapping his ass. They go at it with vigor, and Ludo's tight bubble butt getting a thorough pounding from Landon's fat and engorged cock. They switch it up and Landon gives it to Ludo doggy style until they both cum, drenching each other with streams of semen.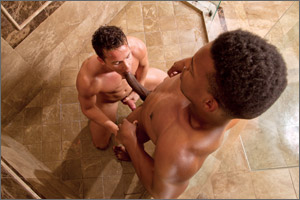 SCENE 4: Darius Ferdynand & Adrian Hart
Adrian Hart and Darius Ferdynand find a deep sexual connection as they share a shower together. Water courses over them as Adrian embraces Darius and caresses his toned pecs. Equally enticing is Darius' round, firm ass. Adrian grips Darius' cheeks, pulls them apart, and slips his tongue into the hot center; Darius revels in the sensation. Then they stand and face each other, their tongues and hard cocks tangling. Darius slaps Adrian with his uncut cock until Adrian goes down, then Darius responds in kind. They take turns sucking each other's dicks until the urge to cum is irrepressible. Darius shoots across Adrian's face, and Adrian covers his abs in thick, white rivulets.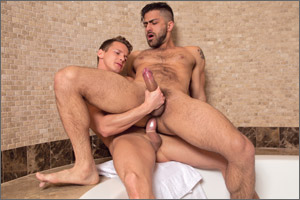 SCENE 5: Adam Ramzi & Darius Ferdynand flip-fuck
Emerging from the shower, smooth and chiseled Darius Ferdynand is ready for sex. His muscles are gleaming, his nipples are hard, and his cock twitches with excitement. In the hot tub a few feet away, Adam Ramzi watches like a hawk, massaging an enormous boner that easily attracts Darius' attention. Darius steps onto the ledge of the hot tub and displays his physique like a living statue, waiting for approval from his suitor. Adam welcomes Darius in with an open mouth and gets a vigorous face-fucking. Then they swap positions; drool and spit flow like sweat. Adam teases his tongue along the tip of Darius' cock, across his balls and into his hole. Adam then plunges his huge cock into Darius' ass. When they pause for a kiss, they switch positions, and Adam rides Darius' cock with pleasure. Moaning in anticipation of sexual release, they finally discharge their creamy loads all over each other's chests.

WATCH IT OR GET IT NOW AT:
FALCON STUDIOS
Falcon Members can watch scenes from this Release anytime online.
DVD Releases debut online prior to DVD Release.
Falcon Members get discounts on all DVD / Falcon Store purchases.

Hot or Not? Let us know.
[Total:

1

Average:

1

]
FROM FALCON STUDIOS: \u2018INTENSITY' builds. It swells, it overcomes, it makes hot studs surrender to relentless...","image":{"@type":"ImageObject","url":"https:\/\/films.gayeroticarchives.com\/wp-content\/uploads\/2014\/08\/525702.jpg","width":140,"height":200},"aggregateRating":{"@type":"AggregateRating","ratingValue":1,"ratingCount":1,"bestRating":5,"worstRating":1},"brand":"","sku":"","":""}