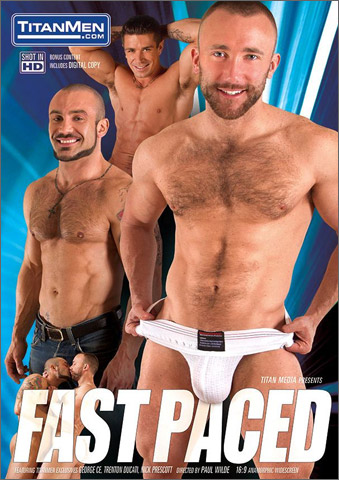 Studio: Titan Media
Directed by: Paul Wide
Year of Production / Release: 2014
Country of Production: U.S.A.

CAST:
JR Bronson
George Ce
Trenton Ducati
Jake Genesis
Nick Prescott
Marcus Ruhl
FROM TITAN MEDIA WEB SITE:
Grab it quick, grab it tight and don't let go…things are about to get out of control. Can you keep up with Fast Paced TitanMen exclusives George Ce and Nick Prescott? Brace yourself as they lead a pack of pros that drive it so hard your head will spin.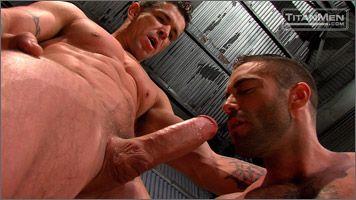 SCENE 1: Trenton Ducati & Jake Genesis flip-fuck
Trenton Ducati looks deep into the eyes of Jake Genesis, pulling him in for a kiss—the two tattooed jocks feeling each other's muscles. "Fuck, you're so hot," moans Trenton, rubbing Jake's jean bulge. Trenton spits on the stud's tight abs, licks it up and then kisses Jake's stomach—soon releasing Jake's throbber, which he engulfs. With his pec muscles twitching as he sucks, Trenton spits on Jake's cock—a wad sticking to his pubes. "Fuck my mouth!" Trenton yells, his own big dick throbbing as his face gets plowed—spit dripping to the floor as he gulps it up. Jake returns the favor, an overhead shot looking down at their defined bods and pulsing cocks. Trenton demands to see Jake's ass, diving his tongue inside before fucking him—Jake's slab bouncing with each thrust. They switch positions, Trenton yelling "Slap my ass! Harder!" as he gets fucked—his giant dick rock hard. Jake then sits down on it and rides, reaching back to put his arm around Trenton—who reaches around to flick the bottom's boner before the two squirt.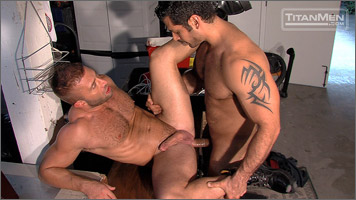 SCENE 2: Marcus Ruhl tops JR Bronson
With their lips locked, the scruffy chin of JR Bronson grazes Marcus Ruhl's face. After opening his own fly, JR is quick to his knees—one hand on Marcus' beefy pec, the other on his groin. JR releases the dark and handsome stud's big, floppy cock—immediately sucking the uncut slab. Marcus puts his hands on the back of JR's head, fucking his face. The breathless sucker comes up for air, a strand of spit connecting his mouth to the wet cock. Marcus sucks him back, JR's fuzzy pecs looking down on him. JR bends over the workbench to get his smooth hole munched, Marcus then fucking him from behind—his balls banging the bottom's ass. JR arches back and looks at the top in action, then gets on his back for more ("Aww yeah! That feels good!") as Marcus leans down for a kiss. They release their loads, coating JR's furry quad.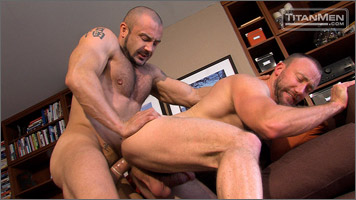 SCENE 3: George Ce tops Nick Prescott
Nick Prescott rests on the couch, his head in the lapb of muscular George Ce—who is quickly distracted from his book by Nick's furry chest. Nick wakes from his slumber, rubbing George's massive body. They kiss, Nick gripping George's pec and planting his mouth on the hunk's growing jean bulge. Nick soon opens wide to take in the thick rocket, George guiding the sucker's head down with his hands. George slides his hand inside Nick's shorts, rubbing his ass. They kiss, Nick's giant tent pole ready to pop. George releases the stiff-as-steel shaft and sucks it deep, Nick whipping it on his face before sucking him back. George eats Nick's hairy hole and strokes the stud's boner, his own cock throbbing. George fucks him fast from behind, Nick breathing heavy as his eyes roll up in his head. Nick gets on his back, his legs held up in the air as the top plunge fucks him from above before getting him flat on his back—an aerial shot looking down at Nick's defined abs and George's hot cum gutters before they shoot.

MORE INFO, PREVIEW OR WATCH RIGHT NOW:
TITAN MEDIA
Scenes Premier online prior to DVD release and are available to view anytime in the Member's Area.
Members can watch scenes from almost all Titan Media releases anytime online.
TO PURCHASE THIS, GO TO: TITAN MEDIA STORE