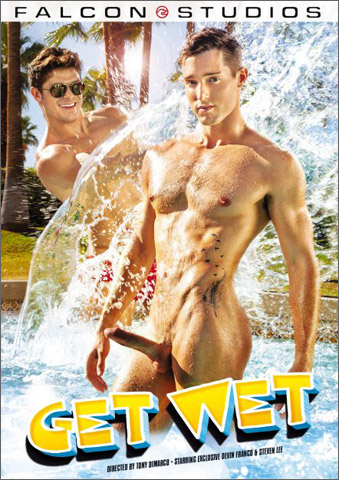 Studio: Falcon Studios
Directed by: Tony Dimarco
Year of Production / Release: 2019
Country of Production: U.S.A.

CAST:
Vadim Black
Nick Fitt
Devin Franco
Tristan Hunter
Shane Jackson
Skyy Knox
Steven Lee
Aaron Savvy
FROM FALCON STUDIOS:
When it's hot outside, sometimes the only way to cool off is to 'Get Wet'. That's exactly what director Tony Dimarco and his eight muscle studs do when they suck dick, eat ass, and fuck their buddies hard in the latest Falcon pool flick. It's a steamy day by the pool when tatted-top Vadim Black instigates some playful fun by stealing Devin Franco's speedo. Devin follows Vadim into the water where Devin offers up his tight hole for Vadim to fuck with his thick uncut dick. Steven Lee catches Skyy Knox's attention by pulling his thick cock out to lure the ripped stud into the pool. Steven's plan works, and Skyy ends up getting bent over to take Steven's thick dick in his willing hole. Tristan Hunter and Shane Jackson link up by the pool for some poolside fun. The two studs get hot and horny by flip-fucking before Tristan loads Shane's mouth with cum. Devin Franco is hungry for more cock, and he gets a mouthful and more from Steven Lee. Devin gets busy blowing Steven Lee to the base and doesn't stop until Steven takes over to return the favor. In the end, Devin gets his reward for a blowjob well done with a face full of cum. Nick Fitt throws water on Aaron Savvy while he's sunbathing, and he playfully joins the stud in the pool. Nick goes down for an underwater blowjob before bending over to take Aaron's giant dick in his tight hole. Aaron pounds away until Nick's face and body are covered in cum. Get to the pool and join the ripped studs of 'Get Wet' as they have their naughty fun in the sun.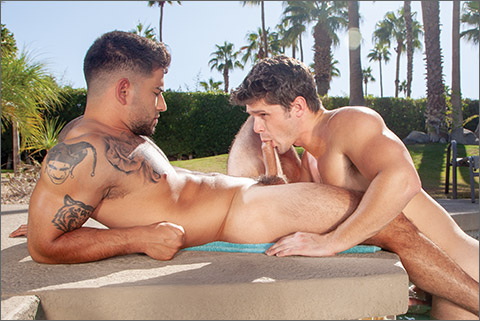 SCENE 1: Vadim Black fucks Devin Franco
It's a hot and steamy day by the pool when Vadim Black instigates some playful fun by stealing Devin Franco's swimsuit. With a beaming smile and a massive hard-on, Devin follows the playful stud into the pool where Vadim takes his cue and gets Devin's dick in his mouth. He works the thick pole up and down with his talented mouth until Devin is ready to switch it up. Devin takes control and wraps his lips around Vadim's uncut cock getting the stud primed to fuck his ass. Devin wants Vadim deep inside of him and offers up his fuzzy hole for Vadim to open up with his tongue. After tasting Devin's willing hole, Vadim stands up behind the stud and presses his fat cock deep into Devin's tight ass. Devin's eyes roll back into his head from the feeling of Vadim pumping him from behind. Vadim wants to face Devin as he's fucking his perfect body and flips the ripped stud around to pound away. All the pumping brings both hunks to the brink but it's Devin who blows first. His thick cum hits his own chest as his body tenses and he moans out. Vadim is right behind and pulls out to launch his load up onto Devin's chest, leaving Devin covered in cum.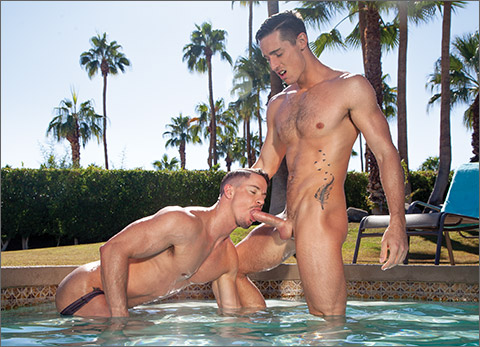 SCENE 2: Steven Lee fucks Skyy Knox
Steven Lee catches Skyy Knox's attention by pulling his massive dick out in the pool. Skyy likes what he sees and slowly removes his sunglasses and saunters down into the water where he takes Steven's dick in his mouth. Skyy deepthroats the hung stud as he gasps for air while savoring every inch of the dick down his throat. He eagerly works it up and down knowing that soon his reward will be to have it planted firmly in his ass. Steven is ready to open Skyy up and slips his tongue deep into the muscle stud's smooth hole. It's going to be a tight fit, but Steven is ready to dip his meat deep inside of Skyy. Steven takes it slow at first and gradually builds to a pounding as Skyy yells out to go deeper and faster. The horny studs switch up the action and Skyy climbs on top to ride Steven's throbbing hard-on for a deeper pleasure. After one last switch up, Skyy lies back to let Steven finish up exactly the way he likes it. Steven continues pumping Skyy's ass until he fucks the cum out of the panting stud. Steven loves the sight of all that jizz and pulls out to shoot his load all over Skyy's mouth and happy, begging face.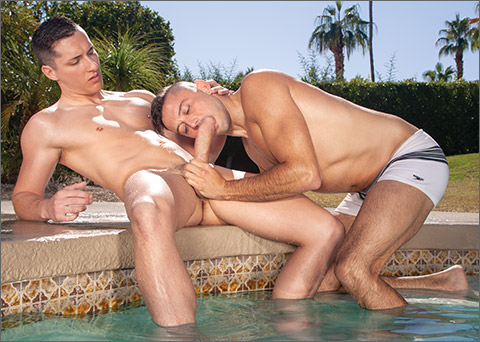 SCENE 3: Shane Jackson & Tristan Hunter flip-fuck
Tristan Hunter and Shane Jackson meet by the pool to catch some sun. After making out for a bit, the two studs hop in the water and Tristan makes his way underwater to suck Shane's cock. Shane is hungry for dick too and returns the favor under the surface, before leading Tristan to the edge of the pool to work Tristan's massive member with his mouth. Shane slowly works his way down Tristan's balls and eventually his smooth, tight hole. Shane uses his tongue to open Tristan's ass up with a deep and long rim job. Shane can sense that Tristan is ready for his dick and slips it inside the sun-kissed stud to pound him on the edge of the pool. Shane keeps the dick coming for Tristan until Shane decides he's ready for some cock in his ass too. Tristan lies back and lets Shane hop on to ride his cock deep. Shane eagerly bounces up and down on the big dick and jacks his own rod until he spills his load all over Tristan's thigh. Tristan reaches the edge and gives Shane what's he's craving when he feeds the hungry stud a nice big load.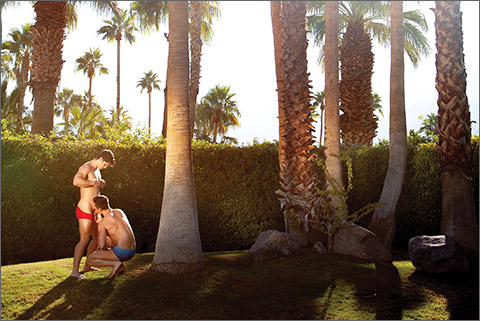 SCENE 4: Devin Franco & Steven Lee suck dick
Devin Franco and Steven Lee don't need a reason to get each other naked out by the pool. The two studs only take a minute to kiss before Devin drops to his knees to take Steven's big dick all the way down his throat. Devin loves having his face fucked and can't get enough as Steven leans against a palm tree and lets Devin have his way. Steven wants a taste of Devin's succulent hole and bends the stud over to tongue-fuck the horny stud. Steven's tongue feels amazing on Devin's asshole and it makes Devin even harder than before. With Devin throbbing hard, Steven opens wide to take the swollen member all in his mouth. Devin fucks Steven's face until he's ready to gag on more cock. Devin goes back down on Steven's stiff dick and gives him a sloppy, wet, stringy blowjob. Devin savors the tasty dick as glistening ropes of spit hang between his mouth and Steven's meat every time he comes up for air. Devin keeps working Steven's dick until it erupts on his face, giving the stud his reward for a job well done. With his face covered in jizz, Devin lets go and shoots his load in his hand and onto the grass as they come back together to finish off their meeting with one last kiss.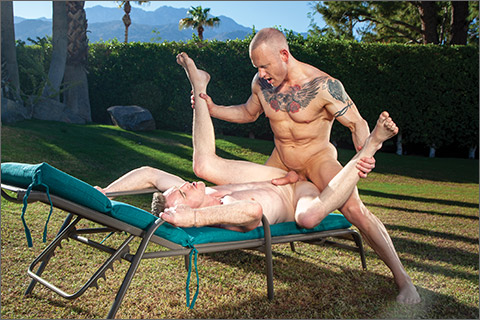 SCENE 5: Aaron Savvy fucks Nick Fitt
Aaron Savvy is out lying by the pool taking in the sun when Nick Fitt gets in the water. Nick can't seem to get Aaron's attention, so he throws water on the sunbathing stud. It gets the desired result and Aaron joins Nick in the pool. Nick goes down for an underwater blowjob that gets Aaron revved up and ready for more. Aaron carries Nick out of the pool and puts him on a lounge chair before taking Nick's long hard dick in his mouth. All the action is driving Aaron wild and he takes it to the next step by rimming Nick's tight ass. Aaron gets it nice and opened up before he slowly slides his hard dick into Nick's waiting hole. Aaron builds to a frenzy as he fucks his buddy faster and harder. The studs switch it up and after riding Aaron, Nick mounts up for a final run. This time there's no holding back and Aaron pounds Nick's ass until Nick blows a geyser of thick creamy cum. When Aaron sees Nick's load, it pushes him past the point of no return, and he pulls out to shoot his load all over Nick's eager face.

WATCH IT NOW AT:
FALCON STUDIOS
Falcon Members can watch scenes from this Release anytime online.
DVD Releases debut online prior to DVD Release.