Studio: Falcon Studios
Directed by: Chi Chi LaRue
Year of Production / Release: 2020
Country of Production: U.S.A.

CAST:
Troy Accola
Clark Davis
Nick Fitt
Adrian Hart
Cazden Hunter
Steven Lee
Cade Maddox
Colton Reece
Andy Taylor
Arad Winwin
FROM FALCON STUDIOS:
Are you ready for an all-out 'Mind Fuck'? Ten ripped and horny men come together in the latest all-sex, bareback fuck fest from award-winning director Chi Chi LaRue. These exceptional Falcon studs bring fantasies from the twisted mind of Clark Davis to life by laying it all on the line, shedding every inhibition and ravaging each other's bare cocks and raw holes. Bickering boyfriends, Cade Maddox and Troy Accola find the passion in their relationship again after a great grudge fuck. Clark Davis helps his friend Nick Fitt with his oral fixation, feeding his fat dick to his hungry friend and giving him his raw load. Adrian Hart can't take it anymore and finally gets brave enough to tell his best friend Colton Reece, that he wants to ride his dick, and Colton's totally down. Nick Fitt fantasizes about random sex with strangers, so he makes a pass on the delivery boy Steven Lee, and his fantasies come true. Andy Taylor snoops on his stepbrother Arad Winwin in the shower and gets his smooth ass pounded after Arad catches him. Clark Davis starts by edging his fine cock, but it's always better to release your load in a scorching three way with Adrian Hart and Cazden Hunter that ends in a cummy finish. You want a 'Mind Fuck'? Sit back, grab your cock, dive into these sordid fantasies and don't stop until you're satisfied, and your balls are drained.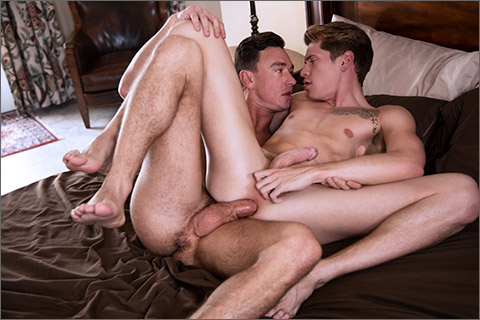 SCENE 1: Cade Maddox fucks Troy Accola
Bickering Boyfriends Cade Maddox and Troy Accola haven't been getting along lately. Troy walks away from an argument, but Cade's not having it. He's so enraged he throws Troy on the bed and exposes Troy's ass so he can take all his aggression out on it. Cade attacks, eating Troy's smooth pink hole, lapping up every inch of his crack. Troy likes it so much that he mounts Cade, grinding on the hard dick under Cade's grey sweatpants. Asking for more punishment, Troy pulls out Cade's girthy cock and swallows it down to the base. In a sexual frenzy, Cade flips Troy around to taste his tight hole and then urges his sexy blond boyfriend to get on and ride him. That's a ride Troy won't forget, because Cade aggressively delivers a rage pounding to Troy's hole reverse cowboy. Troy flips around, and Cade pounds away his pent-up aggression on Troy's hole, leading to him squirting his hot load all over his ripped abs. This turns Cade on so much, he pumps harder and faster, pulling out just in time to add to the puddle on Troy's abs and balls, and Troy cleans up the rest with his tongue.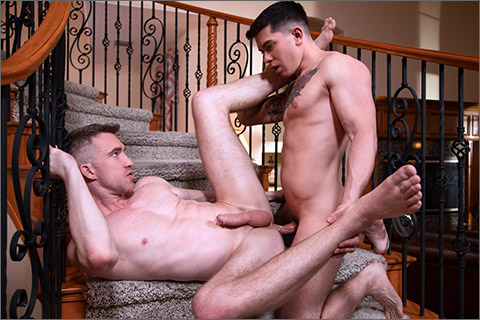 SCENE 2: Clark Davis fucks Nick Fitt
Nick Fitt has an extreme oral obsession for big dicks, and his good friend Clark Davis is always willing to offer his meat to satisfy Nick's desires. The two don't even make it all the way to the bedroom before Nick starts to indulge his cock sucking cravings on the stairway, slurping away on Clark's member. After face fucking Nick, Clark turns around so his cock-hungry friend can eat his hole. Rotating back to feed his eager friend some more dick, Clark wants a shot at Nick's hole. His desire to feel Nick's hot shaved hole wrapped around his big throbbing cock take over, and before you know it, Nick's legs are up around his shoulders, and Clark is drilling super deep. Nick can't help but bust his hot load while Clark is still pumping and thrusting. Getting ready to bust, Clark pulls out and squirts his hot load all over from Nick's abs and all over his chest.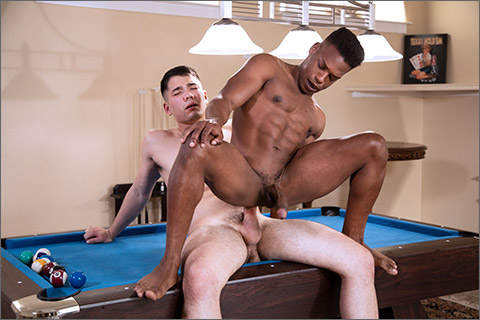 SCENE 3: Colton Reece fucks Adrian Hart
Have you ever had a best friend that you wanted to fuck with so bad you couldn't take it anymore? That's exactly how Adrian Hart feels about his best friend Colton Reece. Adrian decides to risk it all one day while the two were playing pool. Pulling Colton around after taking his first shot, Adrian makes his move. Colton is shocked at first but decides to go with it as Adrian starts to kiss him. Pushed against the pool table, Adrian slides down to suck on Colton's fat dick. Colton clears the pool balls and gets his sexy best friend on the table to taste his smooth hole. Colton joins Adrian on the table and maneuvers him face-down-ass-up, so he can give his best friend every bareback inch he craves. Colton starts out pounding Adrian from behind, before switching his attention to sucking off Adrian and fingering his tight hole. Colton turns up the volume relentlessly dominating his submissive best friend, flipping him around in multiple positions until Adrian is riding Colton feverishly. When Colton's hot creamy load rises to the surface he erupts all over Adrian's face, and Adrian follows with a thick load all over his smooth, ripped abs.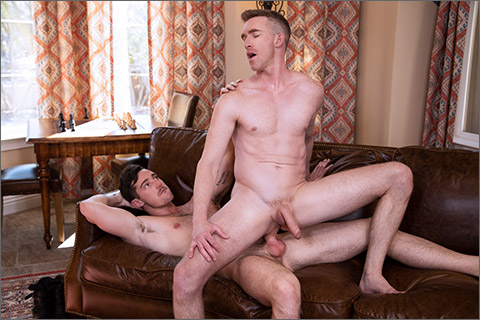 SCENE 4: Steven Lee fucks Nick Fitt
Complete strangers fucking. It's always intriguing and stimulating, but will it be a good totally or a totally fucked up experience? You never know unless you try! That's what Nick Fitt was thinking the day the sexiest delivery boy, he's ever seen, Steven Lee, arrived with a package. Steven felt the obvious sexual energy that Nick was giving off the second he opened the door, and it turned Steven on. After a brief hesitation, the two men start by kissing in the doorway, leading to the couch, until Steven decides to peak the eager boy's interest by feeding him his lengthy dick. After that, it was game. The two take turns sucking each other off, then Nick wants to eat some hot fuzzy delivery boy hole. Steven soon returns the favor, and after warming Nick up with a finger, Nick begs for Steven to deliver his 'huge package' inside him. Steven stuffs his massive cock doggy-style into Nick's hole bareback using only spit for lube. Staying inside, Steven grabs Nick and falls back on his back so Nick can take a ride on Steven's rock-hard dick. Finishing on his back so he can watch his delivery boy pound his hole, Nick busts his hot load all over himself as Steven edges before pulling out to deliver a load of his own all over Nicks stomach and chest.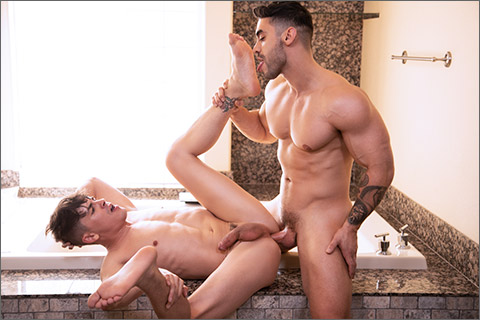 SCENE 5: Arad Winwin fucks Andy Taylor
Arad Winwin is rinsing his hard, wet body in the shower. He's feeling his chiseled physique and it gets him boned up and horned up. Arad reaches down and stokes his thick, veiny meat. Stepbrother Andy Taylor hears the water running and goes to investigate only to find Arad jerking his pole under the running water. Arad steps out and notices his pervy little stepbrother watching and invites him to come in closer for a kiss. The two lock lips and Andy reach's down to grab Arad's cock while Arad man-handles Andy's ass. As Andy's clothes hit the floor, so do his knees as he wraps his lips around Arad's throbbing shaft. Arad feeds his little bro his fat meat before bending him over and tongue fucking his hairless hole. Then, one finger, and two, and then all bets are off as Arad's raw cock slides deep inside Andy's ass. Bent over and taking it bareback from behind, Andy savors every powerful thrust Arad delivers. Wanting to feel his big bro at new depths, Andy plants his hole in Arad's lap and rides his thick rod before getting his load fucked out of him and spraying it all over his smooth abs. Moments later, Arad blasts the twinks face with his thick load.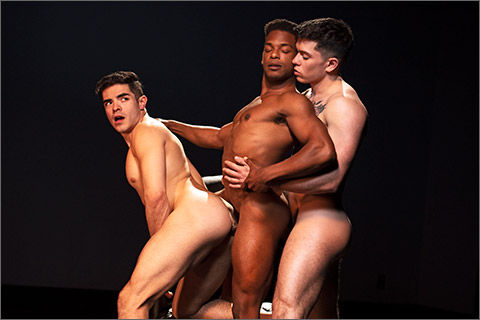 SCENE 6: Adrian Hart, Cazden Hunter and Clark Davis fuck train
Tatted stud Clark Davis is stroking his throbbing cock and edging to the fullest when he's joined by Adrian Hart and Cazden Hunter. Adrian and Cazden take turns slurping on Clark's dick. Clark wants to experience these two fine men in every way, so he deepthroats both muscle-studs. All three take turns being cock connoisseurs until Clark takes the next step and bends both studs over to eat out their holes. Cazden is the first to give up his hole and Clark glides his dick in while Cazden fills his mouth with Adrian's pole. After Cazden's hole takes a pounding from both cocks, Clark lines up behind Adrian to stretch his ass while Adrian keeps fucking Cazden. The fuck train continues until Cazden sits back in a chair and takes a blast to his face and mouth from both Clark and Adrian's rods, making sure to lap up every drop that's left over. With cum down his throat, Cazden jacks off to a cummy finish that leaves him covered in cum.

WATCH IT NOW AT:
FALCON STUDIOS
Falcon Members can watch scenes from this Release anytime online.
DVD Releases debut online prior to DVD Release.