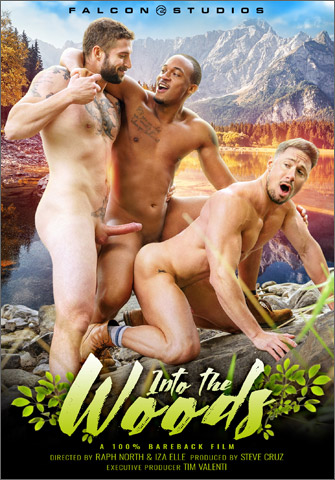 Studio: Falcon Studios
Directed by: Isa Elle & Raph North
Year of Production / Release: 2020
Country of Production: U.S.A. / Canada

CAST:
Gabriel Clark
Trent King
Skyy Knox
Thyle Knoxx
Jeremy London
Rafael Louis (Raphael Louis)
Edward Terrant
Derek Thibeau
Rocky Vallarta
FROM FALCON STUDIOS:
Unplug, leave it all behind and head 'INTO THE WOODS' with nine Canadian hunks, who navigate the wilderness hot on the trail for raw cock and eager-to-fuck holes. Directors Iza Elle and Raph North take you on a wild trip thru Canada's dense woods. When boyfriends Jeremy London and Thyle Knoxx went out for a hike in nature, they never thought they would stumble on hunky mountain man, Gabriel Clark, who fucks their holes bareback and eats their loads. Edward Tennant is lost in the woods when he chances upon Rocky Vallarta, who offers him a ride to safety if he helps him out. Edward will do anything to get his ride home and ends up riding Rocky's thick dick. Jeremy London is out for a hike alone when he stumbles on Derek Thibeau's campsite where Derek fucks Jeremy's ass and delivers a load to his face. Rafael Louis and Thyle Knoxx hike to the perfect spot for Rafael to breed Thyle's hole. Skyy Knox, Trent King and Derek Thibeau ditch a day of fishing to work over each other's poles next to the river. Head out into the great outdoors and get 'INTO THE WOODs' with horny adventurers hitting the trails and riding wood.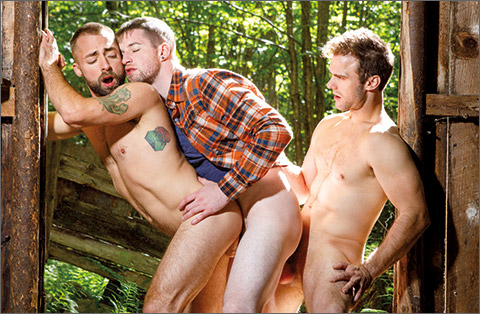 SCENE 1: Gabriel Clark fucks Thyle Knoxx who fucks Jeremy London
Jeremy London and Thyle Knoxx are hiking thru the woods when they stumble on Gabriel Clark working shirtless in his barn. After showing them around, Gabriel goes to find a saw and leaves the couple in the barn. Thyle goes for it and grabs Jeremy's bulge. Gabriel notices them having some fun thru a crack in the barn wall and whips out his cock while he watches. Thyle and Jeremy know they're being watched, so Thyle gets down to suck his man's cock while their new friend watches. Thyle is hungry for cock and invites Gabriel over to join them so he can suck both their dicks. Soon, Gabriel is on his knees eating Jeremy's ass while Thyle sucks his cock. All three take turns tasting each other's cocks before Thyle slides his meat into Jeremy's ass bareback. While Thyle fucks Jeremy, Gabriel gets to the back of the fuck-train and slides his dick in Thyle's hole. It's a cock-riding, hole-stretching frenzy in the woods that ends with Gabriel taking two loads in his mouth before spilling his own spunk on the forest floor.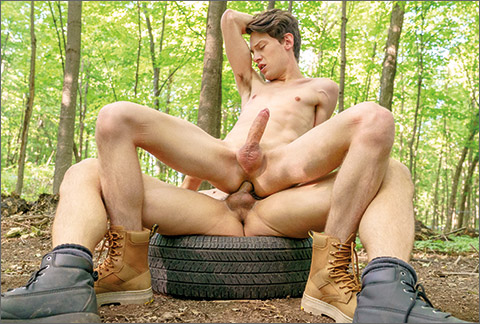 SCENE 2: Rocky Vallarta fucks Edward Terrant
Edward Terrant is wandering, lost somewhere in the woods when he just happens to find Rocky Vallarta working. When Edward explains he's lost, Rocky promises to give him a ride home if he helps him with some stuff. After Edward agrees, Rocky unzips his pants and Edward kneels down to suck it. He needs this ride home, so he makes sure the strokes with his mouth are long and deep. After fucking Edward's face, Rocky takes one look at his smooth ass and bends him over to slide his cock in. Edwards moans out as Rocky's cock sinks deeper into his ass. Willing to do whatever it takes to get that lift, Edward rides Rocky's thick wood on a tire. He bounces bareback on Rocky's raw cock until he strokes out a warm load that shoots all over Rocky's thigh. Making sure he earns his ride, Rocky stands over Edward and delivers his load straight to his open mouth.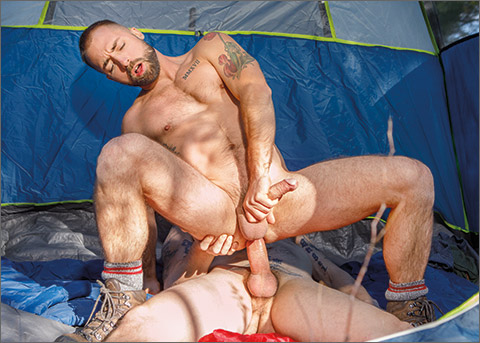 SCENE 3: Derek Thibeau fucks Jeremy London
While out hiking alone on the trails, Jeremy London runs into tatted stud Derek Thibeau undressing at his campsite. He decides to sit back in the brush and watch as Derek strips completely naked and takes shower. Jeremy starts stroking his bulge thru his shorts at the site of Derek's soaking wet body, glistening under the water and sun. After Derek towels off, Jeremy accidentally breaks a stick and gets noticed. Since he's already here, Derek invites him into the campsite to give his uncut cock a sopping wet hummer. The thick cock grows rapidly in Jeremy's mouth and he struggles to get his mouth down to the base. Derek wants more and bends Jeremy over a tree to introduce his raw cock into his tight hole. Jeremy reaches back and spreads his ass so Derek can have full bareback access. They move the fucking inside the tent where Jeremy impales his hole on Derek's fuck stick. Switching positions one last time, Jeremy ends up on his back letting Derek have total control of his ass. Derek keeps pumping while Jeremy jerks out a load that hits his abs. Jeremy is still hungry for cum, so Derek takes him out of the tent and covers the bearded studs face in a thick load.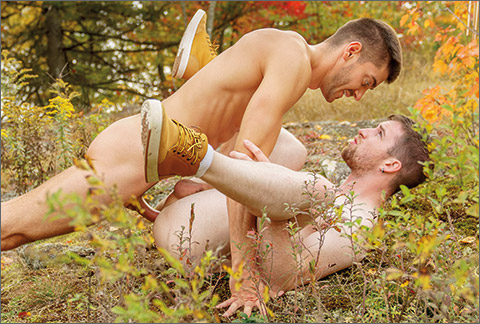 SCENE 4: Rafael Louis fucks Thyle Knox
Rafael Louis and Thyle Knoxx hike to the perfect spot for Rafael to breed Thyle's hole. Once in their spot, they proceed to ditch their clothes. While Rafael plays with Thyle's nipples, Thyle is busy unzipping his buds' jeans to pull out his massive cock. They both take turns gagging on each other's cock before Thyle gets bent over, has his hole rimmed and Rafael's cock sliding up into his ass bareback. Thyle takes it hard doggy style and Rafael delivers a passionate pounding from behind. Switching positions, Thyle gets down in the dirt and spreads his legs so Rafael can get between them and drill his hole. Rafael keeps pumping Thyle's hole in the wilderness until he can't hold back any longer and paints Thyle's ass with his thick cum, and Thyle drains his load.

SCENE 5: Trent King & Derek Thibeau fuck Skyy Knox
Close friends Skyy Knox, Trent King and Derek Thibeau are out in the wilderness fishing. It's not long before they get bored, and the trio ditches the poles and fills Skyy's mouth with their own meat poles instead. Skyy, on his knees, alternates back and forth between each cock in front of him. While Skyy fills his throat with Trent's cock, Derek gets behind to mount Skyy's eager crack. When Trent lines up to slide his cock in Skyy, Derek surprises him by sliding into his hole with his hefty cock. Isolated and out of site, all three get their share of cock and bareback hole until Derek can't hold back any longer and blows his load all over Skyy's muscle butt. Skyy makes sure to lick up whatever's left from Derek's cock, while Trent pounds him from behind and adds his load to Skyy's ass cheeks. Now that's it's Skyy's turn, Trent gets under Skyy and takes his warm load directly in his mouth.

WATCH IT NOW AT:
FALCON STUDIOS
Falcon Members can watch scenes from this Release anytime online.
DVD Releases debut online prior to DVD Release.