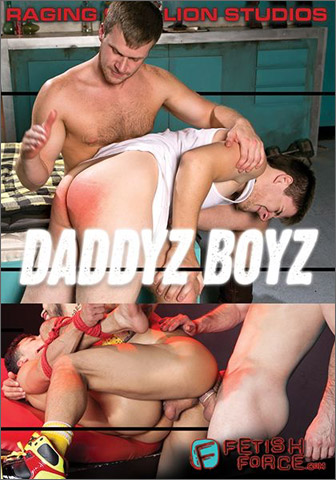 Studio: Raging Stallion / Fetish Force
Directed by: Tony Buff
Year of Production / Release: 2013
Country of Production: U.S.A.

CAST:
Brian Bonds
Tony Buff
Jerek Miles
Armond Rizzo
Preston Steel
Draven Torres
Chase Young
INFORMATION FROM RAGING STALLION:
In Daddyz Boyz, none of these sexy boyz is spared the rod, and their daddyz deliver discipline in nearly every hot, kinky way imaginable. Director Tony Buff aims to coax pleasure out of pain with a cast chosen for toughness as well as tenderness. It's common for sexual gratification to be achieved through kissing and petting, but achieving gratification though pain is a carefully acquired — and administered — taste. Daddyz Boys offers nearly four hours of tantalizing punishment. Chase Young is the lazy boy of Daddy Preston Steel. A spanking reminds Chase that chores come first. Spanking is followed by foot worship, which is how Daddy Preston takes the edge off a hard day. Ungrateful Jerek Miles can suck himself, but not when he ought to be making dinner for Daddy Brian Bonds. Brian's hand, belt and cock set the record straight. Boy Draven Torres anchors a quartet of scenes. By refusing to say "uncle" to the lashing given by Daddy Tony Buff, he earns the right to be tied up and edged to the point of insanity by Tony's loving and chastising hand. Then Draven gives an "electric" Daddy performance paired with boy, tied-up muscle hunk Armond Rizzo, who rides that cusp of pleasure and pain. Then Daddy Supreme Tony Buff joins them and he and Draven deliver double penetration to Armond. Whether you're a daddy or a boy, Daddyz Boyz will speak to your dominant and submissive sides and provide you with non-stop master and servant kink that always satisfies.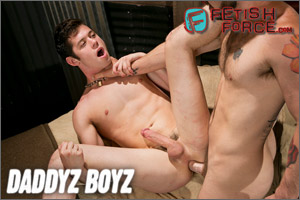 SCENE 1: Preston Steel & Chase Young
Naughty Chase Young did not finish his chores, so daddy Preston Steel needs to punish him. The way Chase dresses and shakes his booty makes one suspect that he gets into trouble a lot. He's perfectly smooth and his shorts, made from old Levi's with the legs torn off, would get him arrested on nearly any street in the country. The way Chase's high, round buns fill those skimpy shorts would doubtless attract lustful glances. Daddy Chase has a full beard, but he's completely dressed as he begins to flog his boy. Chase's bare back is soon a pulsing red. Preston orders him to "Lose those little things you call fuckin' shorts" and he applies the lash to Chase's buns. Chase dutifully responds, "Oh, Daddy, punish my hole." When he's satisfied that the punishment has fit the crime, Preston tosses the flogger aside and massages Chase's inflamed skin. As the welts begin to recede, Preston eats and fingers his boy's hole, then strips to fuck it. The two-position boning of Chase grows with intensity until it concludes with crossfire cum shots.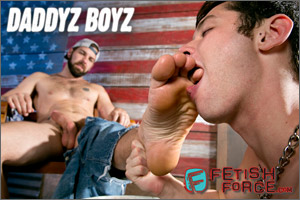 SCENE 2: Preston Steel & Chase Young
Cute Chase Young's final chore of the day is to give his Daddy, Preston Steel, a foot massage. Bare-chested and furry, Preston settles into a chair and props his feet up. Chase kneels before him, smooth, naked and eager to please. He removes Preston's boots and socks. Then he massages Preston's feet, sucking the toes and licking the soles — first one foot, then the other. Chase enhances the routine by trying to deep-throat one of Preston's entire feet, managing to get all five toes in his mouth, up to the ball of Preston's foot. Pressing the soles of Preston's feet together, Chase fucks the space between them. Preston, meanwhile, has pulled his hard cock out of his jeans and strokes it until cum spills out, cascading in rivulets over his hand and onto his tummy.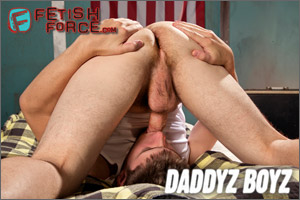 SCENE 3: Brian Bonds & Jerek Miles
Jerek Miles is lying on a bed. His eyes are closed, and he's massaging a hard on under his tighty whities, imagining some kind of good time. He pulls out his dick, letting his lightly hairy balls hand out over the waistband. While he lazily tugs on his cock, he yanks off a sock and holds it up to his face, inhaling deeply. Doing a few shoulder stands to warm up, Jerek kicks his feet back past his neck so his cock points directly at his mouth. He can't quite suck it, but he can nibble at the tip. He's interrupted by Brian Bonds, who is angry that Brian is not helping with the work that needs to be done. But, Brian reasons, if Jerek wants to cuck cock so bad, he may as well suck Brian's. Brian's tan torso is covered with hair. He lowers his jeans and aims his erection at Brian's mouth. It slides in smoothly and goes in all the way. Brian gives Jerek's balls a squeeze, then plops his own nut sack in Jerek's mouth. Pulling away, he uses his cock as a jism delivery system straight into Jerek's waiting mouth.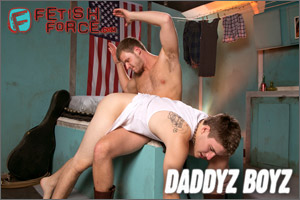 SCENE 4: Brian Bonds & Jerek Miles
Jerek Miles' bare white buns are getting spanked. Expecting dinner to be made when he gets home from work, Brian Bonds finds his boy Jerek sucking himself. It demands a spanking. Jerek endures the punishment patiently, as his bare ass turns pink, then red on Daddy's lap. Brian makes a sexy Daddy, with a hairy chest. Patiently explaining his demands to Jerek, Brian administers a! slap! with! every! word! When his hand tires, Brian continues the spanking with a wide leather belt. Jerek groans and gasps as the color of his butt cheeks darken, mistakenly screaming "Fuck," which only causes Brian to grit his teeth and spank harder. Grinning fiendishly, Brian tells Jerek there's one last thing: Brian intends to fuck him. Lying on his back and obediently pulling his knees back, Jerek assumes the position. Jerek slides his cock home and pumps until Jerek's explosive spooge soothes the pain.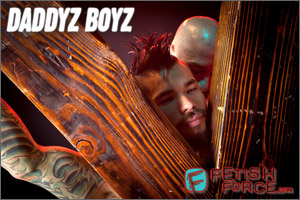 SCENE 5: Tony Buff & Draven Torres
In a dark room, naked Draven Torres clasps the arms of a St. Andrew's cross while taskmaster Tony buff flogs him. Draven's coal-black hair is waxed into a Mohawk of sorts. His, high, round buns reflect the light. Draven presses his neck into the "V" of the cross as if it were some kind of guillotine. Tony coaches him, offering reassurances; then he resumes the flogging, faster and harder than before. Draven grimaces; tears run down his cheeks. Tony stops. He lays his cheek upon one of Draven's muscular shoulders, rubs his back. Then the flogging commences again: shoulders … back … ass … legs … rest. Draven's cries split the silence. Tony hugs him. Draven signals for more. He could make it stop at any time, but he doesn't. Tony swaps one flogger for another. Draven's back is criss-crossed with raised welts. He releases his grip on the cross, but still he wants more.

SCENE 6: Tony Buff & Draven Torres
An erection juts out from Draven Torres' sculpted muscles. His nipples are rigid pinpoints of flesh. Tony Buff stands behind him holding a skein of rope that he uses to tie Draven's wrists behind his back. As Tony works, the rope becomes an elaborate harness, binding Draven's arms to his sides and encircling his pecs. Tony kisses him and strokes his erection, playing with the foreskin. Tony blindfolds Draven with a yellow bandana, and makes him lie on the floor. Tony licks Draven's cock, flicks his tongue across the tips of his nipples. Then he sucks him in earnest and slaps his balls. Draven is a trembling mass of hard muscle, unable to do anything except utter sounds that express what he feels. Again and again Tony uses his hand and mouth to bring Draven to the point of release, always stopping short of orgasm. Draven's cock is dripping when Tony finally brings him to full release — not once, but twice.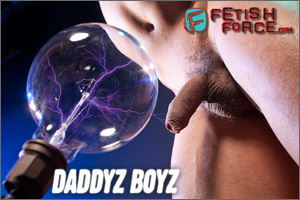 SCENE 7: Draven Torres & Armond Rizzo
Draven Torres and Armond Rizzo: dueling muscle. Armond is lashed to a post, his arms overhead like St. Sebastian. He's naked and his uncut cock dangles heavily before him. He cannot see Draven behind him, bringing out the instrument he's about to use on Armond's flesh. Before this is over, Armond will sizzle in more ways than one. Draven's jet black hair is gelled to a high ridge that runs from his forehead to the nape of his neck. His cock is rock hard, and he's about to put Armond to the test. Draven's wand crackles with electricity every time it touches Armond's skin. Armond screams when the wand touches the tip of his foreskin, but he gets a kiss for his endurance. Imagine what it must feel like to see the wand approach but be unable to move, waiting for the moment it's close enough for the charge to leap in a violet arc to your skin. The next instrument Draven wields is a plasma globe; it, too, delivers lightning-like flashes of stimulation. He touches it to each of their bodies in turn. Then Draven puts his toys aside, he presses his body close to Armond's and strokes him to an intense orgasm.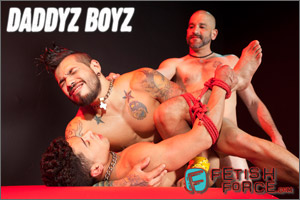 SCENE 8: Tony Buff, Draven Torres & Armond Rizzo
Three generations of Daddyz and Boyz. Armond Rizzo flies through the air, his naked body flung by his daddy, Draven Torres, onto a table padded in red leather. Draven wears a yellow jockstrap that showcases his glutes like parentheses. Next to him is his daddy, Tony Buff. They both carry coils of red rope that they use to tie Armond's ankles to his wrists. With Armond stationary, Draven attends to his boy's ass. Draven's tongue parts the soft tissues of Armond's silky pucker. Tony silences Armond with kisses, then he strips, exposing his massive hard cock and packing Armond's gullet with it. Draven decides that what is good enough to eat is good enough to fuck. His fat cock plundering Armond's hole evokes screams when Tony lets Armond breathe again. Tony decides to give his boy what he is giving to Armond, and plunges his dick into Draven, creating a daddy and boy fuck sandwich. Finally, Tony joins forces with Draven and adds his cock to Armond's tight hole, closing the chapter of Armond's ordeal. The double-fucking by Armond's captors continues until they all combust is loads of spooge.

WATCH THE SCENES AT:
RAGING STALLION"S FISTING CENTRAL / FETISH FORCE

Hot or Not? Let us know.
[Total:

0

Average:

0

]