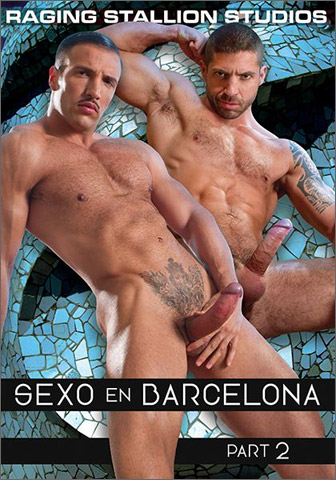 Studio: Raging Stallion
Directed by: Tony Dimarco
Year of Production / Release: 2013
Country of Production: U.S.A. / Spain

CAST:
Aybars / Aybars Turker
Axel Brooks
Damien Crosse
Marc Dylan
Goran
Donato Reyes
Adrian Toledo
INFORMATION FROM RAGING STALLION:
SEXO EN BARCELONA – PART 2 shows all the sexual possibilities that the hottest city in Spain has to offer. Part 2 of this two-part scorcher will spice up your lust life with tons of uncut Latin cock and loads of dark skinned studs. Barcelona in summer is hot 'round the clock. Sunset brings relief from the day's heat, but the fire in men's loins remains. Director Tony Dimarco spins the hands of the clock to chronicle a day in pursuit of sex, from morning to midnight. Seven studs from two continents submit to the urge to merge, adding more heat to the equation. Heat that is quenched by the release of scalding cum that sets their libidos at rest…for now. The day begins for Aybars and Donato Reyes with sex on the balcony. Both beauty, both beast, their passion ends with sprays that rival the crashing waves of the Mediterranean pounding below. Marc Dylan is the midday snack for Damien Crosse, whose unwavering gaze turns Marc's cock to stone. Night conceals many things, but not the need that drives men out to the sex club in search of other men. Axel Brooks cloaks himself in darkness to await the unsuspecting Adrian Toledo, pouncing like a predator to satisfy his hunger for sex. Even later, when the club is nearly closed, Marc Dylan, who got turned on watching Axel and Adrian, finds Goran. They continue the night's debauchery with an intense exchange that steams and sizzles. Every hour of the day is filled with rugged lust and aggressive Latin passion in SEXO EN BARCELONA – PART 2.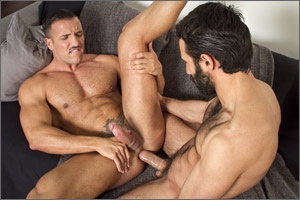 SCENE 1: Aybars fucks Donato Reyes
Aybars and Donato Reyes both have muscular shoulders, a deep chest and hair curling over the neckline of their sexy tank tops. They make out on a sunny balcony over the Mediterranean. Aybars kneels; Donato sucks in his breath as Aybars sucks in his cock, crossing his arms to peel the tank off. Then each does what the other just did and they're naked. Oral foreplay veers to rimming, with Aybars, the furrier of the two, especially eager to plunge his tongue into Donato's hole and hunk Donato eager to accommodate. Aybars signals his further intent by sliding his fat cut cock along the crevice of those smooth, tan buns. Donato is ripe for the taking. The sounds he makes as Aybars cock pounds relentlessly into him convey sexual bliss. Swiveling to a sit fuck affords close views of the walls of Donato's hole grasping the shaft that fills it. Donato flips onto his back as he's about to cum, jerking a heavy load onto his abs while Aybar's belly slams against his balls, adding to the intensity of the orgasm. Aybars add a load that's twice the volume, collapsing on Donato chest to chest for a last kiss.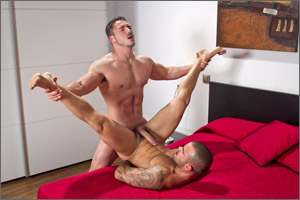 SCENE 2: Damien Crosse & Marc Dylan flip-fuck
When Marc Dylan answers his doorbell, Damien Crosse bursts in with such force, you suspect foul play. Bodies collide, tongues meet, and the intruder's momentum propels Marc into the bedroom, whereupon they fall on the bed. Damien's too horned up to waste a second. While they're bouncing on the bed from the impact, Damien's got his shirt off. By the second bounce, Marc has removed his and Damien is sucking his cock. The landscape of Marc's chest is hard as rock, ridged in all the right places and complemented by a thatch of hair. Damien maintains constant suction and unbroken eye contact until his hard on demands relief. Marc is quick to trade places, grabbing Damien's hairy balls like a handle while his mouth descends over Damien's uncut cock. They arch and stretch into a power 69, Damien feeding on Marc's ass while Marc continues to suck. The intensity and uninhibited action continues with a smooth roll that finds Damien's cock lodged in Marc's chute. Each plunge sends jolts of sexual energy through Marc, who is sparked to switch roles again. Marc turns Damien around and spikes him from behind. Sweat pours and muscles ripple as they grapple towards orgasm. Damien shoots a load that covers his chest, with Marc's jism in hot pursuit.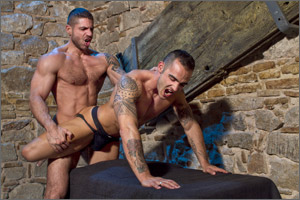 SCENE 3: Axel Brooks fucks Adrian Toledo
Nightfall in Barcelona may bring relief from summer's heat, but not from the heat that leaves Axel Brooks horned up beyond belief. Backing into a dark corner at a sex club, he waits for prey: Adrian Toledo. He grabs Adrian by the bicep and neck, pulling him into a deep kiss. Adrian offers no resistance as Axel feeds on him like a vampire, jump-starting his libido. The stone wall props up Axel's body when Adrian pushes him back, to tear down his jeans and suck. Blue-black reflected light makes the saliva dripping down Adrian's chin glisten. The moving shadow of a ceiling fan beats out the rhythm of thrust and suck. Adrian holds his phone out to film his rapture and ravishment. He pulls back Axel's foreskin and presses the hard points of his nipples into the piss slit. Axel hauls Adrian to his feet, biting the cheeks of his ass and plunging his tongue into Adrian's smooth hole, outlined by the black straps of his jock. Adrian cries out when Axel enters him in one stroke, commencing a pounding. Adrian's cum shot is like someone turned on a faucet: his cock pumps continuous streams of jism. Axel cums in Adrian's face and spreads it with his cock.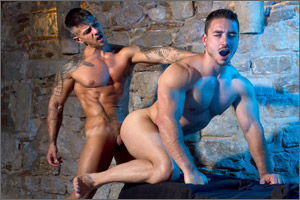 SCENE 4: Goran fucks Marc Dylan
It's late, and there aren't many guys left at the sex club, but Goran still hopes to connect with someone. In the shadows, a muscular hulk, Marc Dylan leans against the wall. Goran approaches, making sure the first point of contact is cock. Marc, wanting the same, responds with a kiss. Goran lifts Marc's shirt and the shadows accentuate his muscled body, from massive pecs to the deep cleft dividing his abs. Goran sinks to his knees in need of harder flesh to hold and to suck. Marc wants to suck, too, but Goran would rather eat his meaty ass, so Marc holds his cheeks apart. His hole provides the appetizer and the main course, when Goran puts his meat where his mouth was. Marc bucks, his cock and heavy balls swaying in counterpoint to Goran's thrusts. The find something for Marc to lie on and for Goran to get the leverage to fully deliver a power fuck. Goran's orgasm begins with sweat coursing down his tanned torso followed by a thick white eruption that baste Marc's stomach.

WATCH THE SCENES AT:
RAGING STALLION'S MEMBERS SITE
Members at RAGING STALLION'S MEMBERS SITE can watch these scenes and download extensive Photo Content from this production.