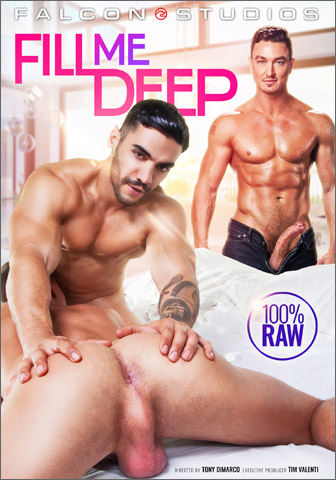 Studio: Falcon Studios
Directed by: Tony Dimarco
Year of Production / Release: 2020
Country of Production: U.S.A.

CAST:
Austin Avery
Jackson Cooper
Cazden Hunter
Steven Lee
Cade Maddox
Ryan Rose
Nic Sahara
Arad Winwin
FROM FALCON STUDIOS:
In this modern world of instant gratification, random encounters off hook-up apps, and the anonymity of bathhouse culture, sexual communication often falls by the wayside. That's not the case in 'FILL ME DEEP', Falcon's sizzling new bareback all-sex feature directed by Tony Dimarco. Eight of Falcon's hunkiest models get the opportunity to tell their scene partner what they like about each other and what they want sexually, which sets the stage for scorching hot interludes as they shed their clothes and their inhibitions. Falcon Exclusive and total top Steven Lee tells vers stud Jackson Cooper that flip-fucking is not on the table, and Jackson is totally cool with getting his raw hole pounded. Boyish bottom Austin Avery lets dom top Arad Winwin know he likes getting his ass eaten and being fucked a bit rough and his wishes are granted. Cade Maddox wants to breed Nic Sahara's hole, and what Cade wants, Cade gets. Steven Lee returns to give greedy bottom Cazden Hunter exactly what he needs. And longtime friends and frequent fuck-buds Austin Avery and Ryan Rose, don't need to negotiate, they just do what they do best: assume their favorite positions and make each other squirt. "Less Talk, More Cock" is a great motto — and once the raw sex starts, these fucking hot barebackers don't say a lot except focus on fulfilling everyone's erotic expectations when tops take over bottoms in, 'FILL ME DEEP'!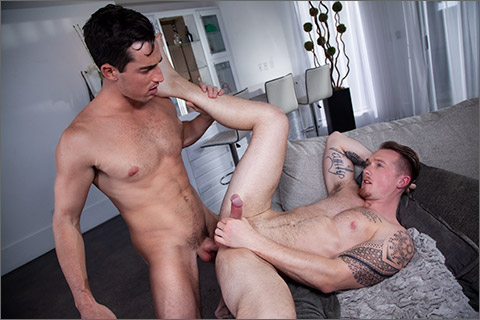 SCENE 1: Steven Lee fucks Jackson Cooper
As Steven Lee tells Jackson Cooper what he typically looks for in a guy, muscles, tattoos and a big beefy butt, Jackson realizes he's 3 for 3 on the checklist. Agreeing that they both first came out as young twinks, when Steven was more of a bottom while Jackson was a total top, those tables have turned, and Steven only wants to drill a hot ass. Now vers hunk Jackson readily gives it up for that long thick dick swinging between Steven's legs. Tall and muscular, the two are well matched, and t-shirts and jeans come off to reveal their sculpted bodies and big cocks. After mutual blowjobs to get them both rock hard, they keep true to form, and Steven mounts Jackson's hot raw ass, plowing him bareback and deep to prove that the best things in life come in spurts.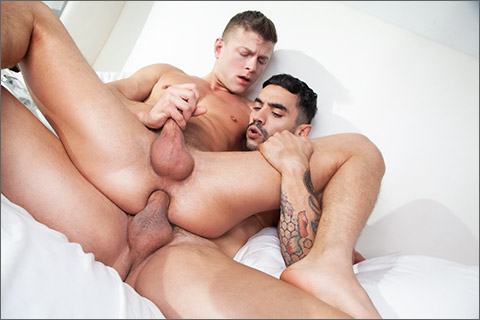 SCENE 2: Arad Winwin fucks Austin Avery
When hot dom top Arad Winwin meets voracious bottom boy Austin Avery, the sparks fly. Arad likes it rough, pinning a guy down and using that hole for his own selfish pleasure. All this info makes Austin's eyes light up. Austin loves having his ass eaten with lots of spit before getting drilled raw with a giant cock. Arad happily agrees, taking charge with his extra-large meat once they strip down to just their underwear. Built and heavy hung, Arad feeds the horny little cocksucker, then chows down on his hungry hole as requested. Careful what you wish for, Austin learns, after having his ass expertly rimmed. With his hole prepped for cock, Arad delivers the promised bareback, power fuck that leaves Austin's hole gaping and begging for more. Sporting a hefty dick himself, Austin shoots an impressively massive load all over his abs, then Arad hoses his hole with a barrage of jizz, stuffing it back in at the finish.

SCENE 3: Cade Maddox fucks Nic Sahara
"What I would "like" to do to him, is different than what I "can" do to him," says Nic Sahara when talking about handsome stud Cade Maddox. "I'm versatile, so, ya know, him fucking me, that's great. But, um, I would like to fuck him one day." With an overgrown frat boy smirk, Cade replies, "Join the club." Speaking of clubs, that's exactly what Cade is packing, and Nic is more than happy to leave his wish unfulfilled, submitting to Cade's bareback buttfucking expertise. Cade works him over hard with cocky authority and dumps a huge load in his hole, then sticks it back in to fuck a juicy stream of jizz out of Nic's thick tool in a sweet and steamy climax.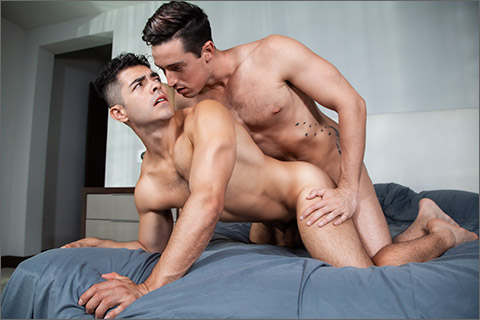 SCENE 4: Steven Lee fucks Cazden Hunter
When devoted bottom Cazden Hunter is paired with dedicated top Steven Lee, it doesn't take long to work out what's going to happen. "I like to get bred," admits Cazden, whose beefy bubble butt backs up his boast. "I like it rough," asserts Steven, and his fat throbbing dick proves he's a man of his word. Cazden gulps down Steven's girthy cock while his haunches get worked up. Steven impales the perky bottom bareback. Everybody leaves totally satisfied, and drained of their cum.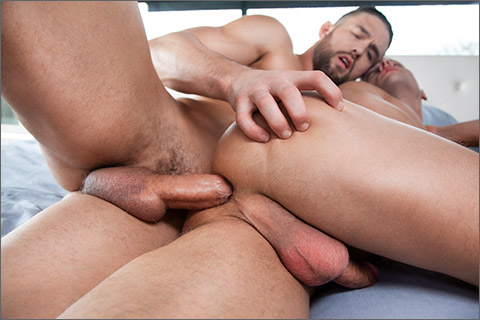 SCENE 5: Ryan Rose fucks Austin Avery
Muscle-hunk Ryan Rose and Austin Avery are longtime friends and regular fuck buds, so the attraction is mutual, and the chemistry is electric. "I like to be owned," says Austin. Ryan laughs and teases with a knowing wink, "bottom." Austin nods enthusiastically, knowing it's true. Soon the two bronzed and built buddies are naked in a big bed, with Austin devouring Ryan's amazing cock till he gets turned facedown for an epic ass eating and raw, balls deep bareback fuck from Ryan making them both spray huge loads of jizz and leaving Austin coated in cum.

WATCH IT NOW AT:
FALCON STUDIOS
Falcon Members can watch scenes from this Release anytime online.
DVD Releases debut online prior to DVD Release.