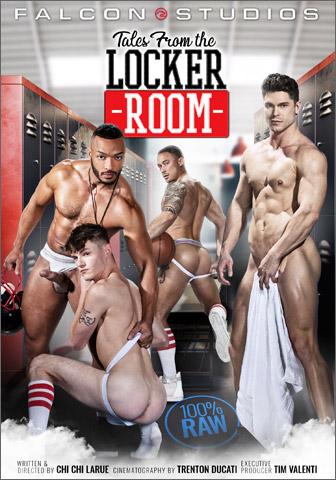 Studio: Falcon Studios
Directed by: Chi Chi LaRue
Year of Production / Release: 2020
Country of Production: U.S.A.

CAST:
Kirk Cummings
Dillon Diaz
Devin Franco
Julian Grey
Avery Jones
Matt Lockwood
Taylor Reign
Jesse Zeppelin
FROM FALCON STUDIOS:
Ripe jocks, musky socks and throbbing cocks are all part of the supercharged sports fantasy, 'TALES FROM THE LOCKER ROOM'. In this bareback gym fuck fest directed by award-winner Chi Chi LaRue, there's nothing like the distinctive scent and manly aroma of an all-male sports facility. Eight ripped athletes make up this stunning cast to play out every guy's secret fantasy of being seduced by the coach or dribbling the balls of hot teammates. Sexy young twink Avery Jones can't believe his luck at landing a dream job as a towel boy where he steals musky socks and funky jocks from the laundry, till he gets caught by Coach Dillon Diaz who has a pouch bulging with a giant schlong. Team doctor Julian Grey checks out star player Matt Lockwood for injuries while Matt checks out the doc's crotch, then Matt gets rimmed, pounded and creampied on the locker room floor. Devin Franco is a young DILF who demands Coach Jesse Zeppelin give his son more game time, but this proud dad is a pushy power bottom who sees the real action in Coach's office. Kirk Cummings and Taylor Reign are two horny athletes who sneak into the gym after hours to perv out on sniffing dirty jockstraps and getting themselves so hot and bothered they suck and bareback fuck right there on the bench. Remember, if you can't be an athlete, be an athletic supporter and take one for the team in Falcon's, 'TALES FROM THE LOCKER ROOM'!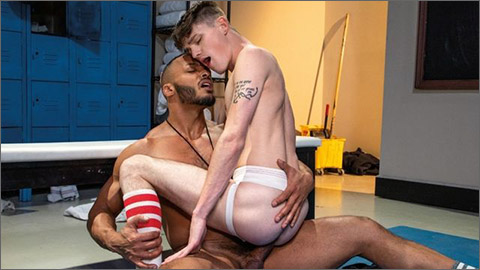 SCENE 1: Dillon Diaz fucks Avery Jones
For a hot young twink like Avery Jones who fantasizes about sports heroes and stealing their dirty underwear from the laundry, a job as Towel Boy is a dream come true. Heavy on the cum, it turns out, for just as he thinks the locker room is deserted and he can bust one out sniffing and sucking on sweaty jockstraps, he gets busted by Coach Dillon Diaz. This isn't the first time, and Avery was warned what would happen: buff Coach Dillon slowly strips down to nothing but his whistle, feeds the boy his thick hard dick, eats his ass upside down, tonguing him deep to get him wet and ready, then delivers a slow and intense raw, bareback fuck that leaves Avery a quivering heap of grateful cum covered power-bottom.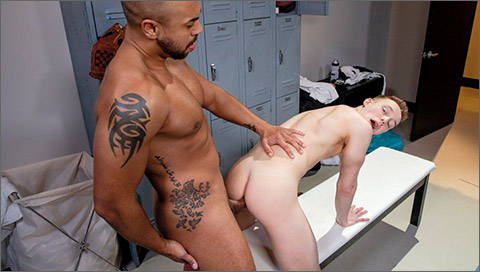 SCENE 2: Julian Grey fucks Matt Lockwood
Star player Matt Lockwood has a history of leg injuries, so Team Doctor Julian Grey, checks out the ripped athlete thoroughly. Seems Matt has been checking out Julian too, and in a smooth mutual seduction, the jock and the doc go for it right there in the locker room. With the sounds of the game happening on the court just outside surrounding them, Doctor Julian sucks on Matt's toes and fingers his tight butt thru his jockstrap making this baby-faced star moan. Julian rims his hairy hole till the eager player begs for some of the doc's dick, and Julian has a huge one to slap in the boy's face. The vocal slut can't get enough of doc's cock and rides him bareback on the floor till he shoots a geyser of jizz, matched by Julian's own big load which Matt gobbles up and drains doc's balls.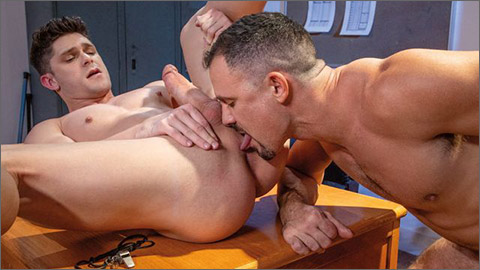 SCENE 3: Jesse Zeppelin fucks Devin Franco
Assertive and irritated sports dad Devin Franco is a stunning young DILF who is pissed that his jock son doesn't get enough game time and bursts into Coach Jesse Zeppelin's office to complain. But Devin's bravado and bluster dissolve immediately in the gaze of the sexy seasoned athlete, and within a few seconds they're tearing each other's clothes off. Coach Jesse is packing his pouch with some serious meat and when it flops out fat and heavy in Devin's face, the dirty DILF pounces with a greedy deep throat and submits to a brutal face-fuck. Coach Jesse can suck a mean dick too, and, soon Devin is on his back on the desk getting blown and tongue-fucked to prime his hole for that bareback, relentless and raw Coach meat that makes his eyes roll back in his head. Jesse pounds a load out of Devin, which Coach slurps up, then creampies his ass, and Devin licks Jesse's thick dripping dick clean.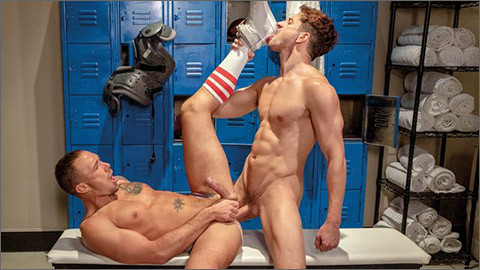 SCENE 4: Taylor Reign fucks Kirk Cummings
Horny cock hounds Kirk Cummings and Taylor Reign are two secret fuck buds who sneak into the locker room at night like jockstrap thieves and manscent bandits. On this raid, they score a jackpot and find a trove of their teammates' sweaty and musky jocks. Taylor takes the lead in this game of scratch and sniff, and makes Kirk his butch bitch like a boss, choking him first with his cock then with his jockstrap wiped on his aromatic asshole. After some deep rimming and fingering, Taylor spits on his lengthy cock and shoves it in hard to Kirk's hungry hole for a bareback power fuck. Taylor is a talented top and jackhammers Kirk while stroking his bud's hefty hog and milks a load out of his full nuts. They share a cummy kiss till Taylor frosts Kirk's guts with his jizz and they leave fresh scents and stains for the next horny jocks to enjoy.

WATCH IT NOW AT:
FALCON STUDIOS
Falcon Members can watch scenes from this Release anytime online.
DVD Releases debut online prior to DVD Release.