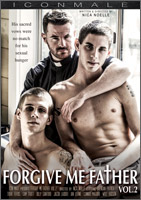 Studio: Iconmale
Directed by: Nica Noelle
Year of Production / Release: 2015
Country of Production: U.S.A.

CAST:
Trent Ferris
Wolf Hudson
Jacob Ladder
Ian Levine
Connor Maguire
Brendan Patrick
Billy Santoro
Sam Truitt
PROMOTIONAL INFORMATION:
Handsome and sensitive Father Patrick (Brendan Patrick) is tormented by memories of his secret past before joining the priesthood. As he listens to male parishioners confess their lustful sins, the sexually frustrated priest begins to unravel, and struggle with his own unmet desires. Enter the tortured Father's alter-ego: a sexy, evil twin who has no trouble acting on his lust for another man's flesh. It's psychological warfare at its most sinful, with explosive, real sex scenes featuring the hottest stars in gay cinema.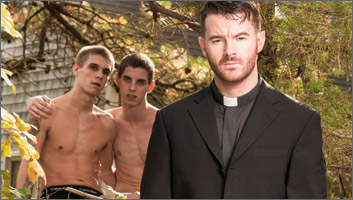 SCENE 1: Sam Truitt, Brendan Patrick, Trent Ferris
Aspiring priest Brendan Patrick is reflecting on a big mistake that he made with one of his young students. He reaches for a big bottle of alcohol and writes down his feelings about how the devil tempted him in Trent Ferris' chambers one night. He walked inside for a private meeting and was surprised to see another boy there, sitting on the bed. Sam Truitt and Trent Ferris are like brothers, only closer. Brendan admits that he's a little uncomfortable by the situation, so the boys decide to help him, and each other, to relax. Sam pulls Trent in for a passionate kiss, shocking Brendan. The priest decides to leave, but the boys pin him down on the bed and rip off his pants. Trent starts sucking his already stiff cock. while Sam rubs his hairy chest. Soon all three guys are naked in the bed and Father Patrick is sucking on Sam's big dick. The priest tries to resist but he can't seem to pull himself away from the beautiful boys. He watches and gets sucked off while the two boys eagerly fuck each other on the bed. After all three guys bust their creamy loads, regret starts to set in for Brendan. He just committed a major sin.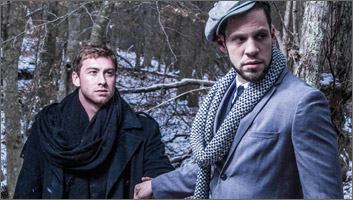 SCENE 2: Connor Maguire, Wolf Hudson
Connor Maguire needs to get a weight off his chest, so he goes to confess his sins to Father Brendan Patrick. He was partying one night with a friend who introduced him to Wolf Hudson, and the two guys hit it off right away. They go into the kitchen to grab a refill, and Connor realised that he was drunker than he thought he was. He was feeling sick and dizzy, so Wolf brought him into the downstairs bedroom to lie down. Connor asked Wolf if he would stay with him and talk turns to attraction. Wolf says he doesn't label himself sexually and grabs Connor's hand. Seeing no resistance from his friend, he leans down and starts kissing Connor. Soon the guys have their shirts open and are making out chest to chest on the bed. Connor slips his hands down Wolf's pants and the guys free their raging boners from their jeans. Wolf takes Connor's full length into his throat, getting his friend nice and hard so that he can stick it inside his asshole. After a passionate fuckfest, Wolf explodes in a huge burst of cum, followed immediately by his new close friend Connor.

SCENE 3: Billy Santoro, Jacob Ladder
Billy Santoro hasn't confessed in a while, but he feels a lot of Catholic guilt about a big sin that he had committed over the summer. He was renting out his summer house and a young man came to see it. After showing Jacob Ladder around the place, the two sat down to chat. Jacob says he's interested in the place because he's trying to get away from his problems. Billy presses him about what's going on, and Jacob confesses that his ex-boyfriend outed him to his family. The two get so wrapped up in conversation that Jacob misses the last boat out of the island, so he's going to have to spend the night. Billy wastes no time to make a move on the beautiful boy. The two start kissing on the couch, licking and teasing each other until they're both fully naked. Billy cups Jacob's ass while sucking him off then flips him over to pin him down on the couch to have his way with him.Billy teases Jacob's ass before sliding inside, making Jacob moan. The guys flip around and Billy bounces on Jacob's cock. Then they switch back and Billy pounds into Jacob until bother guys finish by jerking themselves until they come at the same time.

WATCH IT / DOWNLOAD IT NOW AT:
ICONMALE
On-Line Only Presentation, Members can Download the presentation for later for "off-line" viewing.
Members have access to a vast array of photos from each scene.