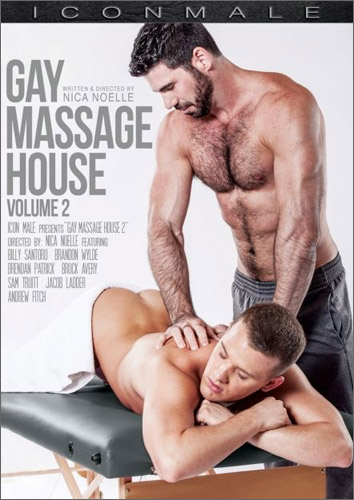 Studio: Iconmale
Directed by: Nica Noelle
Year of Production / Release: 2015
Country of Production: U.S.A.

CAST:
Brock Avery
Andrew Fitch
Jacob Ladder
Brendan Patrick
Billy Santoro
Sam Truitt
Brandon Wilde
PROMOTIONAL INFORMATION:
Closeted gay men are back for more sexual healing in Icon Male's Gay Massage House Volume 2. Muscular masseur Billy Santoro suspects young client Brandon Wylde is partying to hide from his secret gay urges. Sensitive hunk Andrew Fitch loosens up religious repressed teen Jacob Ladder, and jacked and sexy Brock Avery takes on gorgeous teen Sam Truitt and hot Irishman Brendan Patrick.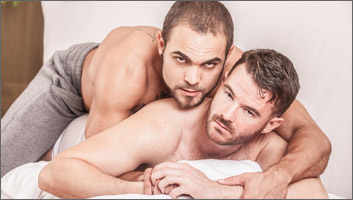 SCENE 1: Brendan Patrick & Brock Avery
Brock Avery works as a masseuse in a special kind of massage house, that deals primarily with guys who are closeted. He tells them that he can greatly reduce their anxiety with his special massages. His first client of the day is Brendan Patrick, who grew up in a very conservative family in Ireland. He carries a lot of shame about this, that affects every aspect of his life. While Brock is massaging Brendan's naked body, he asks him if he has a girlfriend. Brendan says he hasn't had one in a while. Brock spends a lot of time running his hands over Brendan's ass, then he makes him turn over to rub his chest and nipples. The masseuse takes some oil and starts tugging on Brendan's hard cock, then wraps his lips around it to start blowing his client. Brendan moans as Brock deepthroats his stiffy. Brock drools on Brendan's hard-on until he can't take the mouth teasing anymore and Brock hops up on top of Brendan and slips the hard dick inside his ass. Brock bounces on top of Brendan on the massage table, moaning loudly. Brock has a huge, shaking orgasm and cums all over his six-pack. Then Brendan dumps a big load onto his masseuse.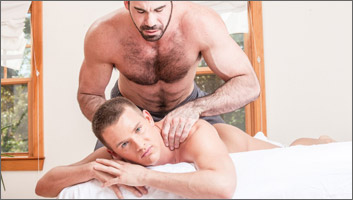 SCENE 2: Billy Santoro & Brandon Wilde
Billy Santoro is a masseuse who specializes in helping closeted gay men come to terms with their same-sex attractions. Brandon Wilde's therapist referred Billy to him, because he knows that deep down Brandon's stress is mostly being caused by denying his true feelings about men. Billy is excited to get his hands on Brandon's tight little body. He starts with his client's upper back and gradually bring his hands lower until he's spending extra time oiling up Brandon's perky cheeks. Then Brandon turns over and Billy starts massaging his front. While he rubs oil on his legs, Brandon's cock starts twitching and getting rock hard. Billy grabs Brandon's member and starts giving him an oily handjob, then leans down and starts making out with his client. Billy kisses Brandon all over his body where his hands had been just a second ago. Billy takes off his clothes and joins Brandon on the massage table, but this time it's to give his client a prostate massage. Billy throws Brandon's ankles over his shoulders and thrusts into him while sucking his toes. The guys both finish by cumming all over Billy's hairy stomach.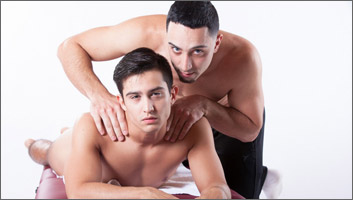 SCENE 3: Andrew Fitch & Jacob Ladder
Jacob Ladder is next up to get a massage from Andrew Fitch. Jacob knows he's gay, but grew up in the bible belt, so he's pretty deep in the closet. Andrew's job is to get him out and wake up his attraction to men by giving him a full-body rubdown. He starts by rubbing Jacob's chest, trying to ease up his tension. Jacob's manhood is covered by a blanket, but as Andrew moves lower, he takes it off altogether and rubs right near where Jacob's legs meet. Jacob's breathing starts to get heavy as his desire rises. Then Andrew starts rubbing his cock and balls and leans in for a sensual kiss. Jacob slips Andrew's pants off and starts returning the massage on Andrew's shaft. Andrew takes good care of Jacob's body, kissing, sucking and licking it all over. He props Jacob up with a towel and slips inside to massage his client in one of those hard-to-reach places. Andrew continues kissing Jacob while fucking him, until Jacob gets the happy ending that he was desperately needing.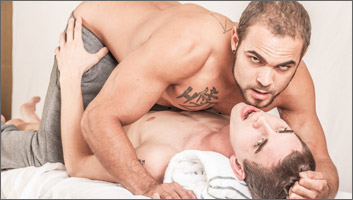 SCENE 4: Sam Truitt & Brock Avery
Brock Avery's next client is Sam Truitt. Sam is a freshman in college, and up until recently was a straight-A student. Lately his grades have been slipping, he's been getting into fights with guys and he's been suspended from the basketball team. Brock thinks he knows why, and also how to cure Sam's new aggressive behavior. While Brock is rubbing oil into Sam's back, he starts asking the twink questions about school and girls. Sam snaps at him, unable to relax under the questioning. Brock slowly peels down the blanket used to cover Sam's body until it's completely off, and then he starts rubbing oil onto the boy's ass cheeks. Brock makes Sam turn over and notices that his client's dick is huge and hard, so Brock wastes no time stuffing it into his mouth. Brock lays back on the massage table while Sam shoves his big dick in and out of the masseuse. The guys flip around and Sam gets his turn being the bottom, stroking himself while getting fucked. The expert masseuse Brock manages to fuck his client and takes Sam's load in his mouth at the same time, before having his own earth-shattering orgasm.

WATCH IT / DOWNLOAD IT NOW AT:
ICONMALE
On-Line Only Presentation, Members can Download the presentation for later for "off-line" viewing.
Members have access to a vast array of photos from each scene.