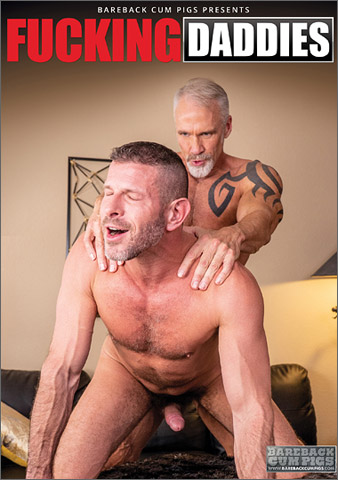 Studio: Bareback Cum Pigs / Bareback That Hole
Directed by:
Year of Production / Release: 2019
Country of Production: U.S.A.

CAST:
D Arclyte
Ray Diesel
Drew Dixon
Mateo Fernandez
Alex Hawk
Jake Morgan
Brendan Patrick
Dallas Steele
Clay Towers
INFORMATION FROM BAREBACK CUM PIGS / BAREBACK THAT HOLE:
The thought of being taken by a daddy turns you on, doesn't it? Or maybe fucking an older man makes your heart pound? Perhaps you're more the versatile type and prefer to flip fuck with a hot and sexy daddy? Regardless of what side of that cock you're on, we feel you. Guess we all have daddy issues to some degree. Lucky for you, we know what you need. We got your back with Dallas Steele, Jake Morgan, D Arclyte, Alex Hawk, Mateo Fernandez, Brendan Patrick, Ray Diesel, Drew Dixon, and Clay Towers. These fucking daddies and daddy fuckers are sexy and hot and will have you drooling, stiff, and shooting multiple loads as they fuck. All hard, all raw and bareback, the way it should be… Fucking Daddies!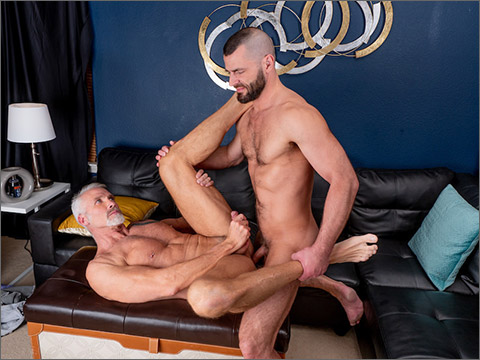 SCENE 1: Dallas Steele & Jake Morgan flip-fuck
Hunky silver daddy Dallas Steele is on the leather sofa, making out with bearded Jake Morgan. The tattooed daddy soon has Jake stripped and gets on his knees to suck the younger man's cock. But this isn't just dick sucking. This is about dick tasting and savoring, the desire to satisfy an oral craving as well as Dallas wanting to please Jake. The dark-haired hunk enjoys the dick service but is soon just as cock hungry as Dallas. Jake returns the favor, his lips super stretched out by the fat tool. But what Jake wants, and needs, is a good fuck. And Dallas knows this, which is why, although the blowjob feels good, he gets Jake on all fours and buries his face in that sweet ass. Dallas rims Jake, priming him for a raw fuck then slides home. He fucks nice and easy, at first, letting Jake get used to his girth. Dallas then builds, slamming Jake and using him like a sex toy. But this is no ordinary wham-bam-thank-you-Sir, may-I-have-another type of fuck. Dallas takes his sweet time building as he fucks Jake bareback. We get to see Dallas pumping in and out of Jake and you can just about feel Jake's hole on your cock, feel the pressure as Dallas stuffs you full of throbbing daddy meat. And just when we thought they were close, they flipped on us! Jake slides into Dallas and gives the silver daddy a good pounding, fucking the cum out of him before pulling out and practically showering Dallas with jizz. A cum lover's delight as Dallas and Jake shoot loads and loads of thick, creamy seed!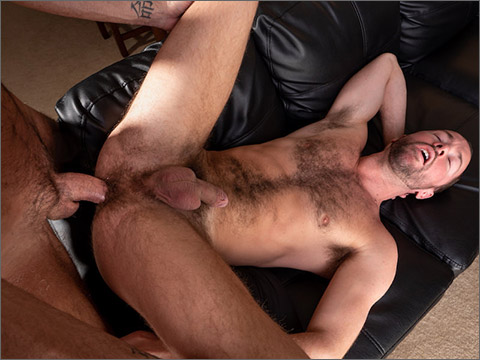 SCENE 2: D Arclyte fucks Alex Hawk
With today's modern society and it's many obligations, sometimes couples can become distant and fall out of sync. Bearded and tattooed D Arclyte knows this, which is why he and sex pig extraordinaire, Alex Hawk, make sure they always make time for date night. It might consist of sitting watching television and holding hands or going to the movies. Or, in this particular instance, it's all about dinner and dessert. And there's enough cock for Hawk to call his bearded daddy dinner, just as Hawk's savory hole is Arclyte's dessert! The two make out a bit and slobber on cock, but it's Arclyte's eating of Hawk's ass that will leave you drooling. It doesn't take long for daddy to slide that raw cock home, taking his sweet time as he fucks Hawk bareback. After all, sometimes you just want that dessert to last, don't you? Like taking small bites from his favorite cake, Arclyte relishes in the sensation presented before him, the delicacy that is Hawk's hungry hole. Daddy speeds up, stuffing Hawk full of succulent meat. Sadly, like dessert, all good things must come to an end. While riding Arclyte, Hawk whips out a frothy load and glazes Daddy's belly. Then Arclyte adds the proverbial cherry on top with a creamy finish that splatters everywhere.

SCENE 3: Mateo Fernandez fucks Brendan Patrick
Brimming. To be full to the point of overflowing. As in, brimming with cock. Which is precisely what Brendan Patrick is about to do in this scene with Mateo Fernandez. The handsome, bearded bottom daddy gets a huge surprise when Mateo reveals his monster cock. And from the moment Brendan starts sucking the thick slab of fresh young meat, he's brimming. Mateo barely fits in his mouth! Mateo returns the favor but soon buries his face in Brendan's ass. Mateo rims the hairy, puckered entrance then pushes up against bearded daddy Brendan. Slowly but surely, Mateo stretches Brendan open and starts pumping. Mateo fucks tattooed Brendan bareback on all fours, like a dog, then flips him onto his back, stuffing Brendan full of monster meat. Eventually, Brendan straddles Mateo and goes for a ride, impaling himself on Mateo's engorged and enormous throbbing shaft until each of them spews big, messy loads. Now they're brimming with cum. Yum!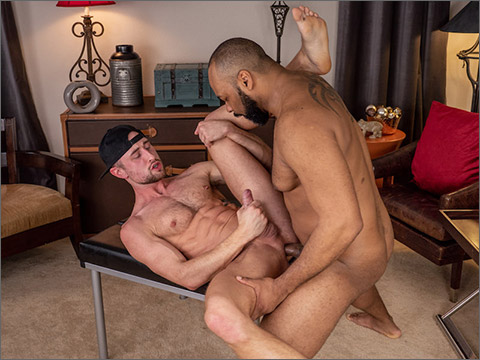 SCENE 4: Ray Diesel fucks Drew Dixon
British power bottom, Drew Dixon, needs dick and there's no one better to give him what he wants than monster hung American, Ray Diesel. Drew chows down on Ray's big brown monster cock, then Ray returns the favor. He sucks the skinny little white boy before once more offering up his own meaty tube steak. Ray sucks on the curved slab but he doesn't stop, not even when he gags, or when Ray fucks his face, and even then, it's only to come up for air. Soon tattooed Drew is on his knees, ass up. Ray makes a meal out of his hole, and the sex faces Drew makes are HOT! It's a rimming delight for those who like to eat ass or get tongue fucked. Ray primes Drew full of spit, getting him ready for that "Diesel Dick." Things get deliciously nasty as Ray continues with more dirty trash talk. And as he breaks past Drew's first, then his second, inner ring, the dirty talk gets even filthier! Drew doesn't just take Ray's raw cock. He doesn't just get fucked bareback. Drew gets his hungry hole STRETCHED and pounded, deep and hard, the way a whore should be taken. Ray fucks the cum out of the power bottom then splatters his own seed all over Drew. It's a copious load, one of the largest we've ever seen. For full effect, we suggest you pop in those earbuds and listen to these horny bastards rut like pigs!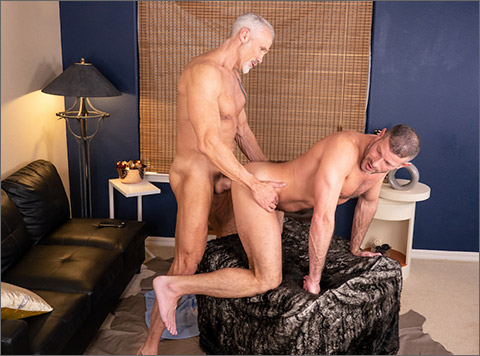 SCENE 5: Dallas Steele fucks Clay Towers
When Clay Towers walks in on Dallas Steele, who is playing on his phone, daddy wants to know what he wants. In case there's any doubt, Clay wants cock! Dallas stands and Clay immediately gets to work. He takes as much of Dallas as he can, in his mouth and down his throat. Servicing the head, shaft, and balls, Clay clearly enjoys the throbbing shaft. After a while, though, Dallas needs to satisfy his own oral craving and returns the favor. Except as he sucks Clay, Dallas wants more. He rims the slightly hairy, hungry hole, priming Clay full of spit and getting him ready for that thick, raw cock. Dallas then slides home, slowly pumping Clay before picking up speed. Dallas fucks Clay bareback, pounding him deep and taking him hard. The goateed silver daddy rides the whore, taking him deep, before Clay straddles and impales himself on Dallas. Clay takes that dick even deeper up his ass, edging daddy until neither can hold back any longer. Dallas spews all over Clay, then seeds his hole, fucking the jizz out of Clay, who sprays a big load all over himself. Now, doesn't that make you want a dick of your own?

WATCH OR DOWNLOAD THE SCENES NOW AT:
BAREBACK THAT HOLE
On-Line Only Presentation, with extensive photo galleries. All films can be downloaded or viewed on line.

WATCH IT NOW AT: AEBN / SMUTJUNKIES THEATER
AVAILABLE FROM: TLA VIDEO